This post contains affiliate links, and I will be compensated if you make a purchase after clicking on my links at no extra cost to you.
I love reading books almost as much as I love cats. If you're reading this then I'm sure you're either a cat lover or buying a cat lover a present. Either way, these books will scratch your itch.
I know I sound like a bookworm when I say this, but these books should be on everyone's to-read list, especially if you love cats. I've read all of these, and I promise there are no spoilers in the article.
To be honest, if I had to choose which book to start with, I'd choose Dewey. It's a true story and it really reminds one of the positive sides of life. Check them out – I promise you, you won't fall asleep… unlike Mikey.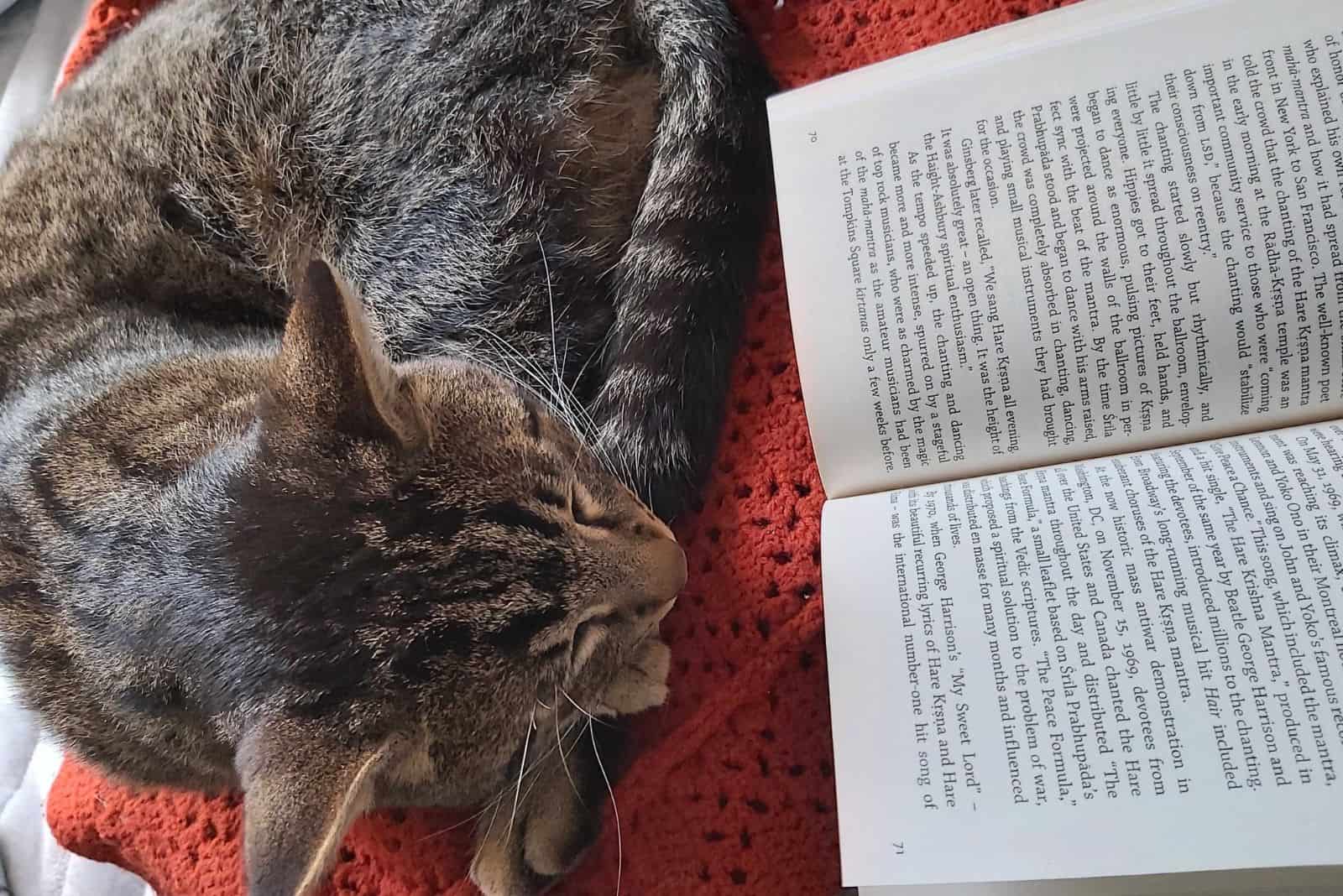 1. Catakism: Bow To The Meow
This book by Jeff Lazarus is a comic masterpiece that describes why people are obsessed with cats, in a witty way.
If you've found yourself setting up a photo shoot for your cat, or you've spent way too much money on clothes and treats to spoil your furry friends, then you're on the path of worship, and this book is definitely for you.
I'll admit it, I spoil my cats a little too much and I am a firm believer in Catakism, lol. As much as we don't want to admit it, it's cats who own us and not the other way around.
2. Iris Grace
Iris Grace by A. C. Johnson is an extraordinary book about a therapy cat. Yes, you've read correctly; a therapy cat. People usually think of dogs when it comes to therapy, but this book features a cat and a girl that was diagnosed with autism.
Iris is the name of the girl, and this cute Maine Coon on the cover is named Thula. This is the cat that changed this girl's life! Iris always had trouble with communication and social interactions, but Thula knew how to calm the girl down.
Thula helped the girl and made her life so much better! I won't spoil it anymore, I'll just say you won't make a mistake if you choose to buy this book as a gift, or read it yourself!
3. Boris
Boris is a terrific collection of poems about a domestic cat who thinks it's so much more than just a cat. His owner loves him and this is felt through the free verse.
This gray cat is the main part of this story about love, compassion, and friendship. Cyntia Rylant's poems will appeal to all readers, regardless of whether you like poetry or not.
However, these poems will mostly warm the hearts of those who have felt the hardships and happiness that come with the friendship we share with our cats. This book is an awesome gift and a must-have on every cat lover's bookshelf.
4. Seven Lives And One Great Love
Lena Divani did a great job writing a story about a "wise" cat that's living a seventh life and is full of stories from all the lives he already lived. A cat named Sugar Zach will entertain you and teach you about what really matters in this life.
Most importantly, he'll remind you that we only have one life! Sugar Zach does a great job of "domesticating" people and he does so with this hesitant woman who eventually loves him.
5. Dewey The Small-Town Library Cat Who Touched The World
Vicky Myron, an incredible author, shares a true story about a cat named Dewey that was adopted by library staff.
This cute ginger cat touched the hearts of readers from around the world. He teaches us that no matter how hard our lives may sometimes seem, we can make it better and we should make things better for us and those around us.
However, if you read this amazing book, you'll have to buy its sequel, Dewey's Nine Lives.
6. My Life In A Cat House
All cat owners live in a cat house, they just don't know it… Gwen Cooper, the author of this amazing book used to identify as a dog lover… until she adopted her very first feline friend. She adopted a rescue kitten and her life changed forever.
She experienced the warmth and love in her heart, like you and I know, and very soon one rescue cat turned into two, then five, until she found herself living in a cat house, and that life is never boring.
7. The Company Of Cats
I've told you this list has it all, and what is a list of the top 10 books without a murder mystery? The author Marian Babson feels that a millionaire's cat might just be the missing clue that will solve this case.
A decorator named Annabel starts working for Arthur Arbuthnot, who ends up dead. Annabel realizes that everyone hates him, besides his cat Sally.
Arthur left everything to Sally in his will, and Annabel has to keep her safe until they find out who murdered Arthur. Are you going to channel your inner Poirot now or what?
8. I Am A Cat
I Am a Cat is an extraordinary Japanese satire classic that tells a story of a stray kitten and his comic observations of people that surround him.
I believe that all of us, at some point, have thought our cats were laughing at us, and this author makes it into a great story.
9. A Street Cat Named Bob
If I know anything about books, this one is a real tear-jerker! You'll have your eyes filled with tears, but you won't be able to stop reading. James Bowen shares the true story of an injured cat who meets James, a poor street musician.
James nurses the cat and lets him go, but Bob decides to stay with James, which changes his life forever.
10. How To Tell If Your Cat Is Plotting To Kill You
Where would we be if there was no comedy? I, for one, am a true comedy aficionado, and this book is an amazing escapist book that will bring tears to your eyes, but only tears of laughter.
People often fear many things, the apocalypse, zombies, etc. but sometimes, the greatest threat is your furry little friend. Genius! This brilliant comic piece will not only make you laugh, but it will also teach you how to deal with frenzied cat behaviors.