I often dreamed about my wedding day and considering my love for my cats, I'd really like it if they were part of my big day. Just imagine silly, cute cats as ring bearers or "groomsmen".
My cats are well-adjusted and usually well-behaved, but if they were part of a wedding ceremony, especially outside, I think they would freak out.
However, I can totally see some of them accidentally being a part of someone's wedding day and doing something like what the following three wedding crashers did.
The Three Cat Wedding Crashers
The first one up is this random ginger cat who crashed a wedding by lying on the bride's dress. It then proceeded to play with the train of the bride's dress while she walked down the aisle.
If you ask me, I wouldn't mind my cats chilling on the train of my wedding gown on my big day. Lol!
I'm guessing that for this bride, it wasn't as fun as it was for the cat who got a free ride down the aisle. Cats make our lives so much better, but they sometimes do unexpected things that can make us angry.
My cats did not crash any weddings, haha, but they do assert their presence every day no matter what I'm doing.
Take a look at another cat who simply decided to get some rest while the bride and the groom exchanged their vows.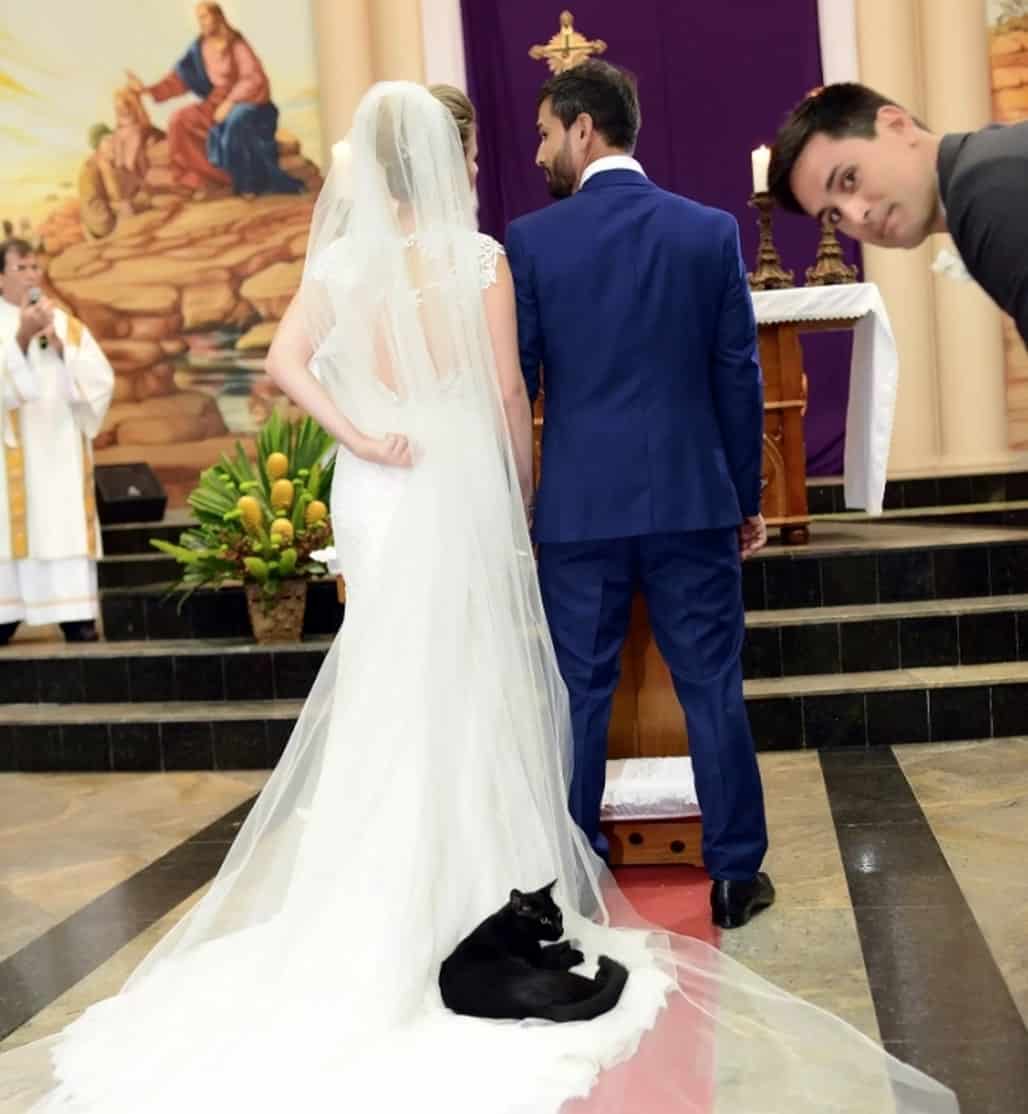 This cat's like, "this is my church, and I can do what I want". Hahaha, cats are hilarious!
Here's another one that simply wanted to see what these two people (aka the bride and the groom) were munching on!
This was a Ukrainian wedding. It's tradition in some parts of Ukraine for the groom to bring the bride candy as a part of the dowry. This cat simply wanted to get in on this deal!
One anonymous user commented:
"If I was the groom, that would be my cat, lol"
Nice, hahaha, taking back what they're giving away. We're married now, what's yours is mine! Cats are really fun little creatures; our lives would be so dull without them.
Even though my cats sometimes make me mad by spilling my coffee or getting in the way when I'm carrying a cake in my hands (true story, I almost dropped a two-tier cake once!) I still can't imagine my life without them!