This post contains affiliate links, and I will be compensated if you make a purchase after clicking on my links, at no extra cost to you.
As we all know, cats enjoy being outside, but it's not always safe to let them out, especially not on their own. It doesn't matter if you live in the suburbs or in the middle of an urban city, an unnecessary encounter might be just around the corner.
There are always dogs, strays, tomcats, or even people that are likely to harm your furry friend. This is exactly why an escape-proof cat harness is an awesome idea!
I've put together a list of the TOP 10 escape-proof cat harnesses for you to choose from!
I've also written about my experience with them, and let me tell you: my cats are not "escape artists" anymore! Continue reading to find the best cat harness for your feline buddy.
TOP 10 Escape-Proof Cat Harnesses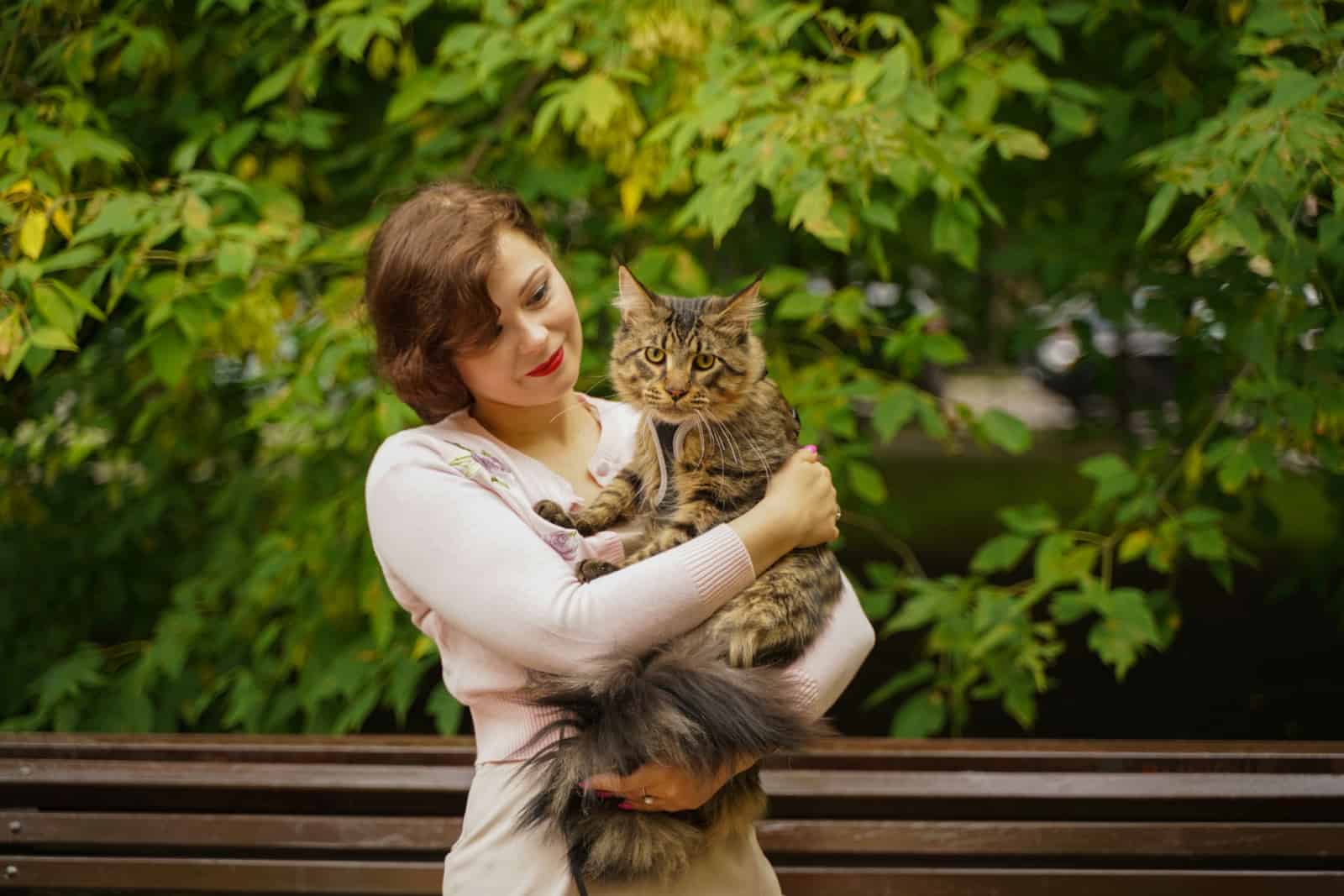 Training your cat to walk on a leash can be difficult with some breeds, but it's definitely worth it! Walking your cat is a great idea; you're providing them with sunlight and fresh air, while keeping them fit and safe at the same time.
However, there's one important thing to note before you check out the products you'll choose from. Never attach the leash directly to the cat collar, because cats can easily escape from them.
As for these products, there are many different harnesses and they differ in style, size, or durability. I did try a few different types before I tried this one, but there was always an issue.
Now with the one I currently have, I hit the jackpot! You'll see the first one linked on the list. On its Amazon page, you even have the measurements sketch for neck and waist girth, so there's no confusion if it's your first time putting a harness on your cat.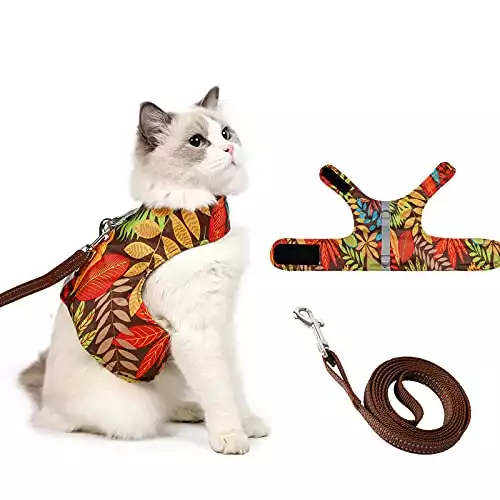 If you're searching for a harness that closes with Velcro for a cat who doesn't tolerate a full vest strap, this option will cover a little less of the cat's body but it is great and escape-proof.
The two buckles allow you to alter the fit, but be sure to check that it's not too big when you put it on your cat, or else your cat may wriggle out.
The harness is available in four different colors, with color-coordinated leashes, as well as four different sizes. It is made of breathable mesh material that most (but not all) cats like, and it comes with two D-rings for attaching the leash.
| Pros: | Cons: |
| --- | --- |
| Soft mesh materials | Some cats might be repelled by the material |
| Four colors available | |
| Easy to put on | |
| Leash included | |
| Affordable price | |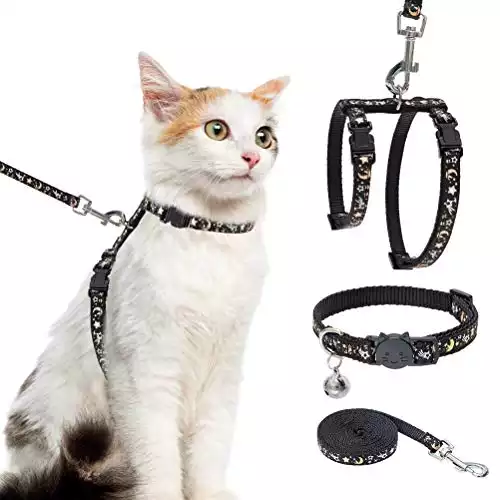 Featuring a glow-in-the-dark pattern for additional safety at night, this Cat Harness With Leash And Collar Set comes in "H" style and there are different colors available, i.e. pink, red, or black.
Along with the included leash, it also comes with a collar that's got a matching bell that will have your cat looking and sounding stylish during your walks.
The "H" shape allows you to put the harness on your cat without having to persuade them to put its head through the tight hole of a cat collar every time. Two quick-release buckles secure the harness.
There are also two adjustable straps that let you adjust the size so it can fit your cat perfectly. Cat owners that suffer from arthritis might find the buckles too small and uncomfortable to use, which is a huge disadvantage to a lot of customers.
| Pros: | Cons: |
| --- | --- |
| Quick-release buckles | Buckles might be uncomfortable for owners with arthritis |
| Metal D-ring | |
| Two separate adjustment points | |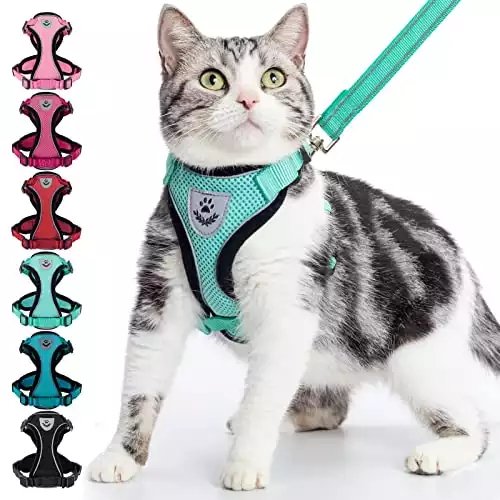 With its four adjustable straps, Pupteck Cat Harness & Leash Set are sure to fit any cat just right! The soft-edge design protects the material and makes the harness more durable.
The included reflective strips and metal D-rings serve as extra protection for your cat at night and remain escape-proof if a cat gets startled. This harness comes with a leash, and there are six different colors available.
This design also includes two quick-release buckles that make the harness very easy to secure and put on your cat. However, with only two sizes available (S and M), this type of harness is not suitable for large cats.
| Pros: | Cons: |
| --- | --- |
| Quick-release buckles | Not suitable for large cat breeds |
| Metal D-rings | |
| Six different colors to choose from | |
| Reflective harness | |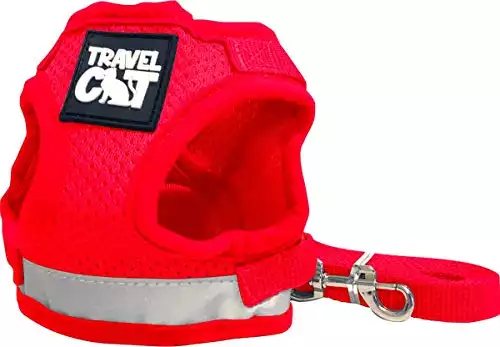 This Travel Cat Harness is specially designed for adventurous cats and it comes in sizes ranging from extra small to large.
It is made of breathable mesh material and has reflective strips for additional security, as well as a long leash that keeps your cat secure and keeps you worry-free while you go on your walks.
The adjustable straps ensure a secure fit and help prevent your cat from escaping. To ensure that the harness is properly attached, this design requires precise measurements of your cat. Otherwise, your kitty will be able to escape.
| Pros: | Cons: |
| --- | --- |
| Adjustable straps | Price is a bit high |
| Breathable materials | |
| Reflective strips | |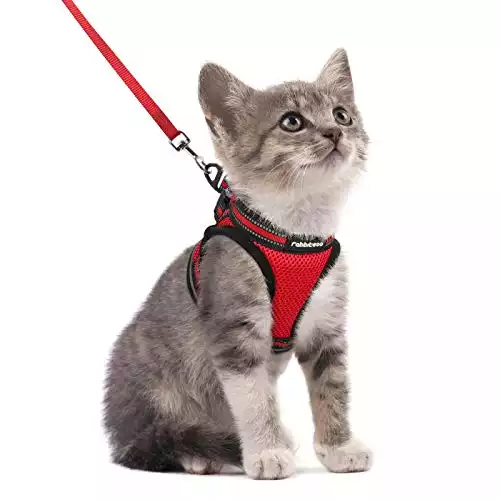 The Rabbitgoo Cat Harness is highly praised by a lot of customers. It's considered to be one of the best cat harnesses there is, mostly because it can be safely adjusted for kittens and adult cats.
With adjustable straps and quick-release buckles, this option is easy to put on and take off and provides a snug fit that keeps your cat from swinging freely.
Rabbit Goo Harness is made of breathable mesh material, and with its soft edge design, there's no chafing. Additionally, its reflective strips make your cat more visible, protecting it during late-night walks.
A metal D-ring allows for secure attachment of the supplied lead. Smaller cats might be able to escape very easily from this harness if it isn't adjusted the right way.
| Pros: | Cons: |
| --- | --- |
| Soft-edge design | Isn't escape-proof if incorrectly adjusted |
| Adjustable straps | |
| Suitable for small and large cats | |
| Doesn't chafe | |
| Included leash | |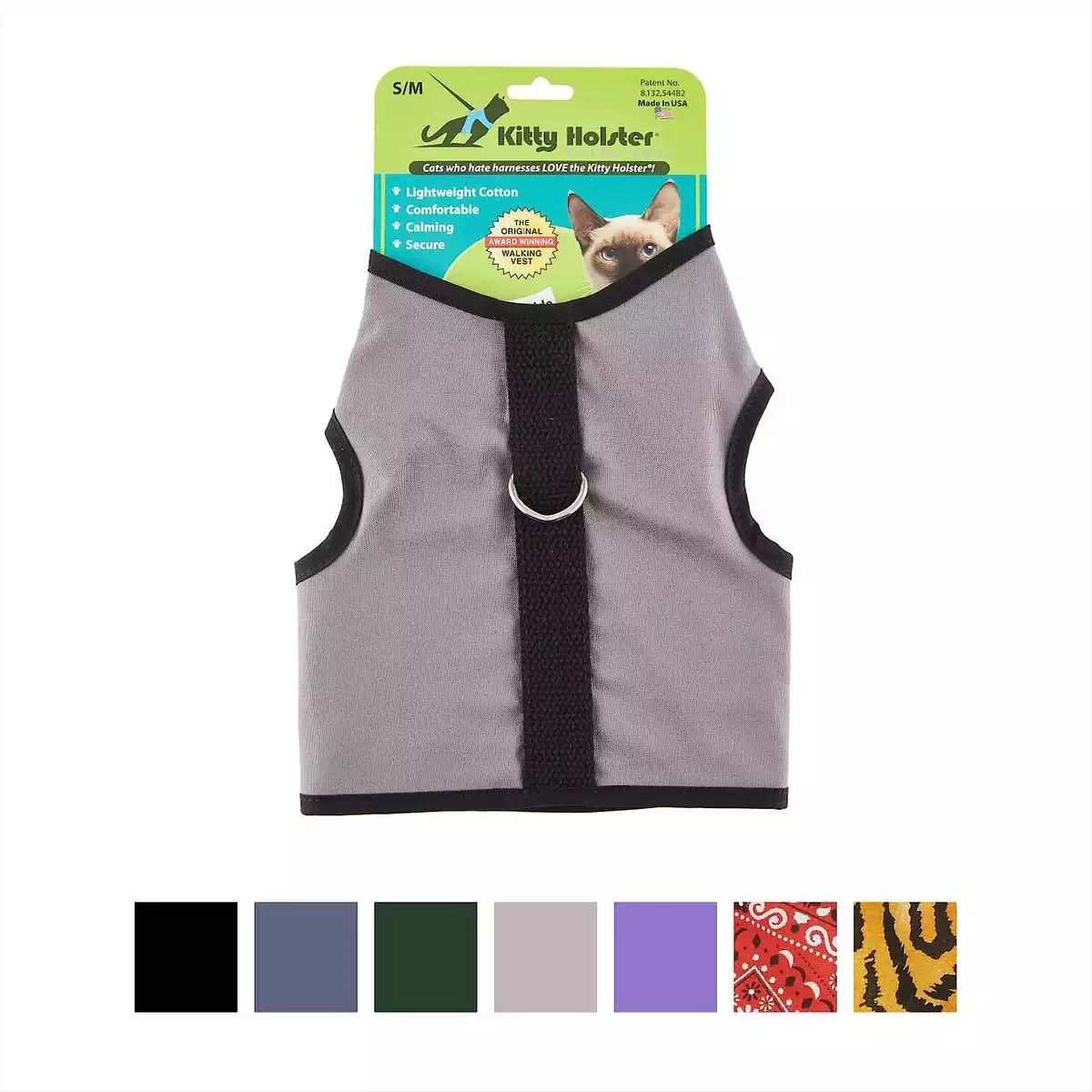 The Kitty Holster Cat Harness comes in four sizes to fit cats of all ages. The velcro strap is durable, easy to use, and doesn't require your cat to stick its head through the collar.
The metal D-ring, to which the leash is easily attached, keeps your cat safe and secure. This harness is also available in the colors gray, blue, purple, green, and black or an additional tiger stripe pattern and a red bandana.
As one of the top choices, this harness is a bit expensive, especially as a leash is not included. With its limited adjustment options, it is critical that this harness fits correctly in order to avoid the risk of losing your cat.
| Pros: | Cons: |
| --- | --- |
| Durable velcro straps | Price might be a bit high |
| Suitable for all cat sizes | |
| Multiple colors available | |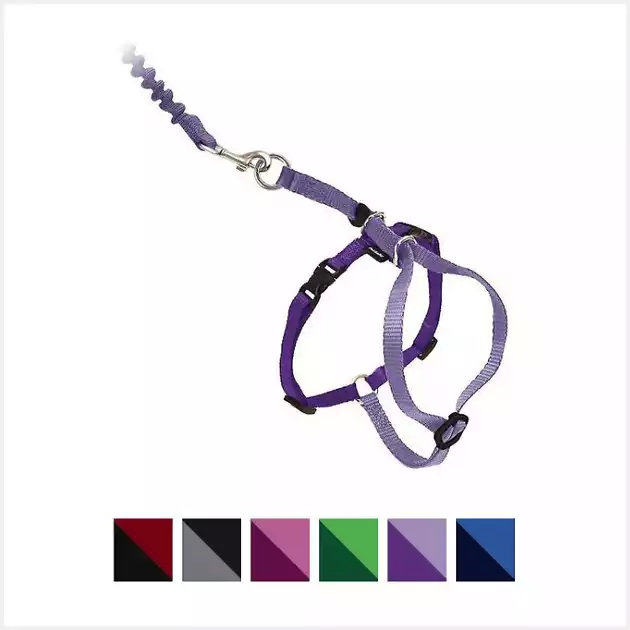 The PetSafe Cat Harness and Bungee Leash is a simple H-style harness that uses a shoulder strap instead of a traditional collar to reduce the pressure on your cat's neck as much as possible.
Quick-release buckles and their few adjustment points are there for a more secure fit, which makes this harness one of the best escape-proof cat harnesses on the market. This one is highly popular with nervous cats.
The H-style design protects your cat without overwhelming it with too much material. The included leash is quite long, plus it uses a bungee design to prevent your cat from tripping or getting startled. This harness has no reflective material.
| Pros: | Cons: |
| --- | --- |
| No tugging with the bungee leash | There's no reflective material |
| Long leash included | |
| Quick-release buckles | |
| No pressure on cat's throat | |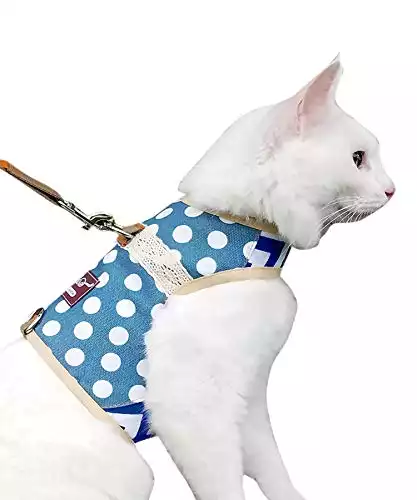 This adorable cat harness combines the safety of a jacket-style harness with adorable prints. It comes in sizes XS, XS, S, M, L, and XL. There are a variety of prints and colors available as well.
Each look comes with a perfectly matched leash, and the harness has two separate D-rings to which the leash is attached, allowing you to choose the best position for you and your cat. It closes with Velcro.
| Pros: | Cons: |
| --- | --- |
| D-rings and velcro | Some cats might not tolerate this shape |
| Available in four sizes | |
| Most escape-proof | |
| Matching leash included | |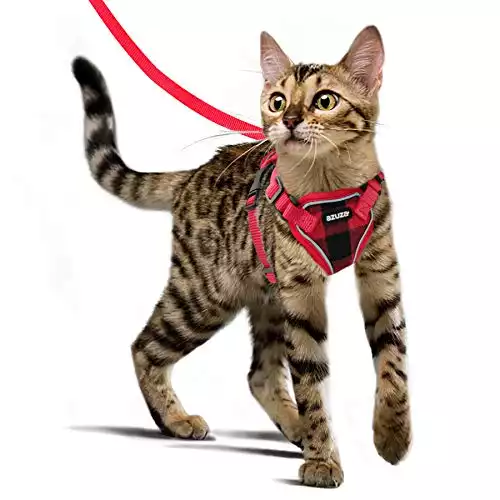 The Azuza Escape-Proof Cat Harness and Leash is made from quality and breathable mesh material to ensure cat comfort even during hot summer days. Also, reflective patches make your cat more visible during your late-night walks.
To match your cat's style (and suit you), the harness is available in black, pink, and royal blue. This option only prevents your cat from escaping when it's properly secured.
Azuza harnesses are available in extra small or small sizes only and are not suitable for medium-sized or large cat breeds.
| Pros: | Cons: |
| --- | --- |
| Matching leash included | Only suitable for smaller cat breeds |
| Breathable materials | |
| Reflective | |
| Multiple colors available | |

Designed with a special fish buckle, the Red Dingo Classic Cat Harness and Lead Combo is durable, pretty, and adjustable at the same time.
This harness is easy to adjust as its "H" shape and the adjustable straps allow it to fit your cat just right and keep it from running away. A skinny cat may escape if the harness is not properly attached.
There are two disadvantages to this harness, first is that it only has one measurement range for the neck and chest, so it may not fit all cats.
And also, the fish-shaped buckles can be tricky to use, especially for cat owners who suffer from arthritis. However, what's good is that it comes with a leash, and the buckles are extremely durable.
| Pros: | Cons: |
| --- | --- |
| Durable fish buckles | Has only one size |
| Stylish design | Fish buckles might be tricky for some owners |
| Leash included | |
| Adjustable straps | |
How To Pick Out The Best Escape-Proof Cat Harness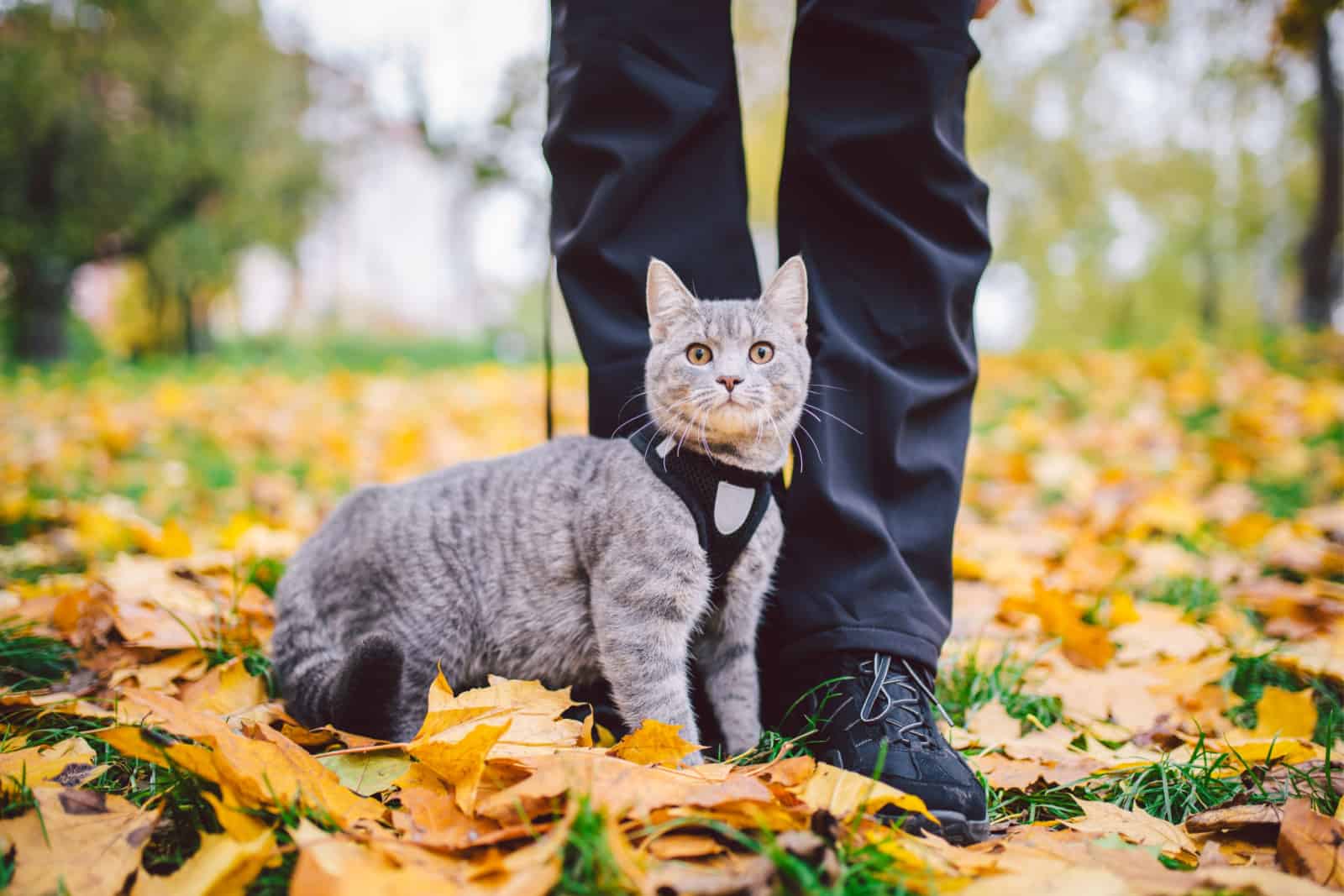 Our dear cats have a skill for fitting into objects where they don't seem to have enough space, e.g. jars, or boxes of any size. No matter what the situation is, their ability to dig and fit into things also makes them great at escaping.
Therefore, it is important to pay close attention to several points when it comes to escape-proof cat harnesses.
Cats are incredibly flexible, especially compared to dogs, so they require special harness adjustments so they can't run away. Cats are smart, so no harness is completely secure.
Cats have a way of squirming out of anything they get into, but there are certain things you can do to make their escape more difficult. Now here's what you have to pay attention to when you're choosing the best escape-proof cat harness.
Cat's Comfort
Making the cat's harness escape-proof is all about making your cat feel comfortable, and the choice of harness style depends on your knowledge of your cat's preferences.
A lot of harnesses have soft edges to preserve the material, but some cats don't like having something pulled over their head.
The H-style harness does not have padding on the edges but has fewer contact points and does not feel restrictive to the kitten.
An Adjustable Cat Harness
It can be time-consuming and expensive to find or customize a harness that will suit your cat perfectly. If you don't order a custom harness, you're out of luck. However, this is where adjustable straps get their fame.
Most harnesses come in different sizes, and straps allow you to tighten or loosen the model you choose to better fit your cat.
The more straps you can adjust, the safer the harness is, and it also provides a better fit and prevents magician cats from escaping.
Double Fasteners
When it comes to cat harnesses, buckles or Velcro are common fasteners. They work well on their own, but the velcro occasionally breaks, and the buckle snaps in.
If one of the attachments broke, a dual attachment with both velcro and a strong buckle on the strap would provide resilience.
If your cat panics halfway through and struggles enough to loosen the velcro on the harness, the buckle will keep the harness together and secure it long enough for the cat to calm down.
Durability
As an additional safety measure against escapes, the harness you choose should be built to endure whatever your cat does. Always look for the best quality, which includes double stitches and stainless steel D-rings.
Buckles and Velcro also need durability and strength. Polyester is generally tougher than nylon, but when the materials are mixed, both fabrics have advantages in addition to breathability and strength.
There Are Also Different Styles
In addition to making sure cat harnesses are escape-proof, there are some additional features to look for when choosing the best one for your cat.
Harnesses may look pretty, but if your cat doesn't like the material or the design doesn't include safety features, your search will have been in vain. The following are the different types of harnesses available:
Vest-Style Harness
A tough all-around option, the cat vest-style harness is durable and strong. It's also safe, one of the safest options for cats. You can find them in a variety of colors and styles to keep your cat looking fashionable while walking.
H-Harness Type
The H harness has a simpler design than the vest harness and consists of multiple straps that go in an H shape. It has fewer contact points than a vest, making it perfect for nervous cats who don't like being tightened.
Thanks to this minimalist design, your cat will have more freedom of movement.
"Figure 8" Type
This is a hybrid of the H Harness and Vest Harness which tightens down if the cat tries to escape. This can prevent your feline friend from escaping, but if your cat is prone to being nervous, it could feel trapped.
How To Measure Cats For A Harness?
Of course, you need to take your cat's measures before purchasing a cat harness. How can you do that? A fully fitted harness should fit snugly, leaving room for one finger between the cat and the harness.
This will allow your cat to breathe and move without feeling any discomfort. If your cat is particularly restless, use a tape measure or string to measure around the neck and behind the front legs. Double-check all measurements just to be sure.
How To Get Your Cat Accustomed To Its Harness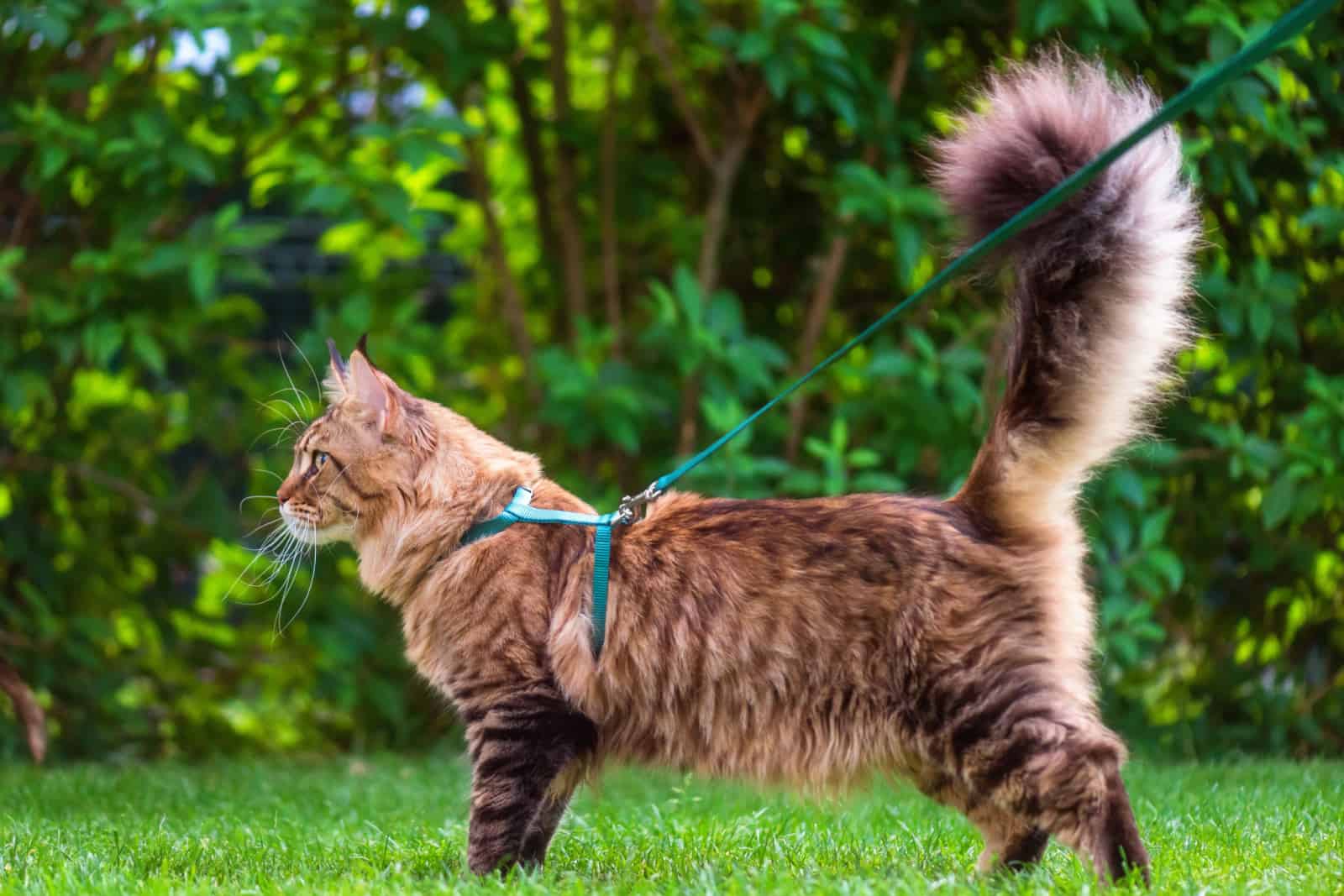 As with any new situation or thing, it is important to get your cat used to it. In this case, your cat needs to get used to the harness before you go on a walk outside.
Whether you're in a quiet small town, in the countryside, or in a big city, make sure your cat is comfortable with the harness to take the stress out of new experiences.
Now, the following steps are here to help! And each of them should last a few days, i.e. the process of familiarization.
1. Getting To Know The Harness
Before you put your cat in the harness, you need to make sure the cat is accustomed to the smell and look of it. Place it next to your cat's favorite spot in the house so your cat can get used to it.
2. Trying The Harness On
Once your cat has become accustomed to seeing the harness, follow the package instructions to properly fit your cat's harness. Distract your cat with a treat. By letting your cat wear the harness during meals, it will feel like something positive.
Another way your cat can get used to the weight and feel of a harness is by letting the leash go so your cat figures it out as well.
Don't try this outdoors! You don't want your cat to run away and have its leash stuck somewhere. It's best to start practicing indoors where your cat feels safe and doesn't run anywhere you can't find it.
3. Going Outdoors
Once your cat is accustomed to the harness (it may need to wear it inside the house for a few days before going out), gradually introduce it to the outside world.
If you have an indoor-only cat, be prepared for it to be nervous about new and undiscovered areas it can now sniff around. Your cat will be even more curious but will also have doubts about everything.
Don't try to take your cat for long walks on the first try. Instead, stay near your house, so your cat can run home if it happens to escape the harness.
Once your cat is comfortable with the harness and your garden, you can take it on long walks around the neighborhood or even farther.
Final Thoughts On Escape-Proof Cat Harnesses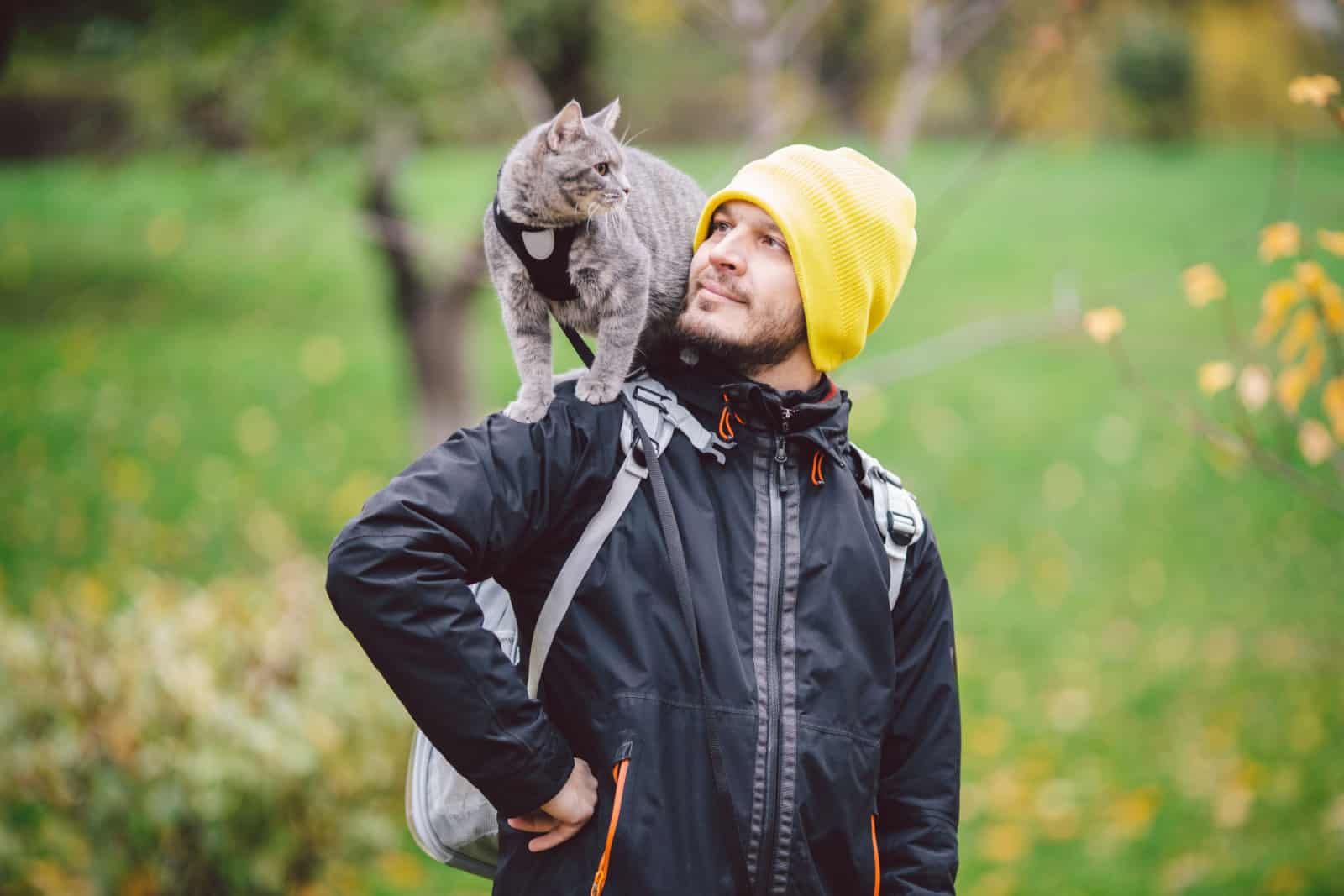 To conclude, an escape-proof cat harness is a great idea, but just be careful and follow the guidelines when choosing it so you get the perfect one. There are three main types; vest, figure 8, and the "H" type.
How to choose the right one will depend on your cat's preference and also a bit on your taste.
Primarily you need to take your cat's comfort into account, and then the best choice would be an adjustable and durable cat harness that has double fasteners and quick-release buckles.
I hope this article helps you find a new harness that will fit your cat just right!