Not many things disturb a cat owner more than discovering that their cat might have worms. If you're one of these owners, you understand the panic that follows such a discovery.
You've probably read all the online articles, and already taken your cat to the vet. The vet has given your cat a deworming medication, and you feel very relieved.
However, you might now be wondering "how long will it take for my cat to be worm free?" Keep reading this article to learn how long after deworming a cat are the worms gone.
How Long After Deworming A Cat Are The Worms Gone?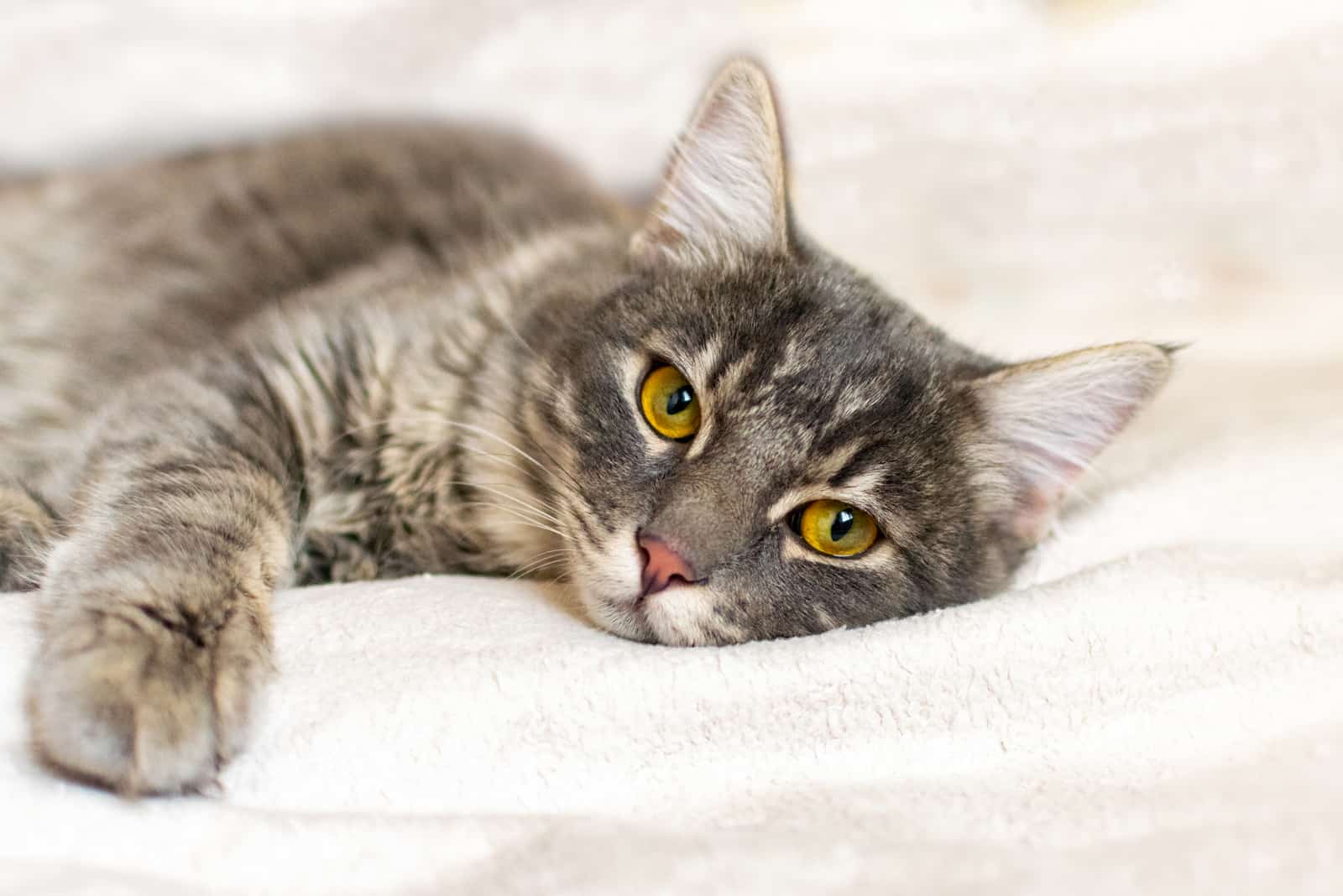 You've already scrubbed your house clean. You've read many articles that taught you how to wage war against a worm infestation. Bleach, vinegar, and boiling water are already your best buddies, but now you want to know just how long you will have to use them for?
If you are looking for an easy answer, the one we would give you would be "one to two weeks", but it is a little more complicated than that. Sometimes dewormers to be taken again after a few weeks, so cleaning has to continue.
The fully-grown worms that can severely threaten your cat's health often need several months to fully develop. This means that, by the time you destroy the grown parasites, the larvae they leave behind will only start developing later.
If you do not address this, your cat will again be pestered by fully-grown worms, which you will again deworm, only to leave more larvae dormant and just waiting to grow up and start the cycle all over again.
Since this is the case, it is important that you address the worm eggs just as you are addressing grown worms.
The problem with this is that dewormers only destroy active worms, which means that worm eggs will not be affected by it. This is why you have to time the other deworming session right, to be sure that the additional medication is effective.
Worms develop differently according to their type and the age and general health of a cat. Veterinary scientists recommend the following schedule should be applied;
• Middle-aged cats should undergo deworming at least once a year.
• Kittens should be dewormed every two months, then monthly when they get a bit older.
• For senior cats, deworming twice a year will likely be enough.
Read on to learn more about the different types of worms, the potential dangers of infestation, and methods to prevent an infection from occurring.
Types Of Worms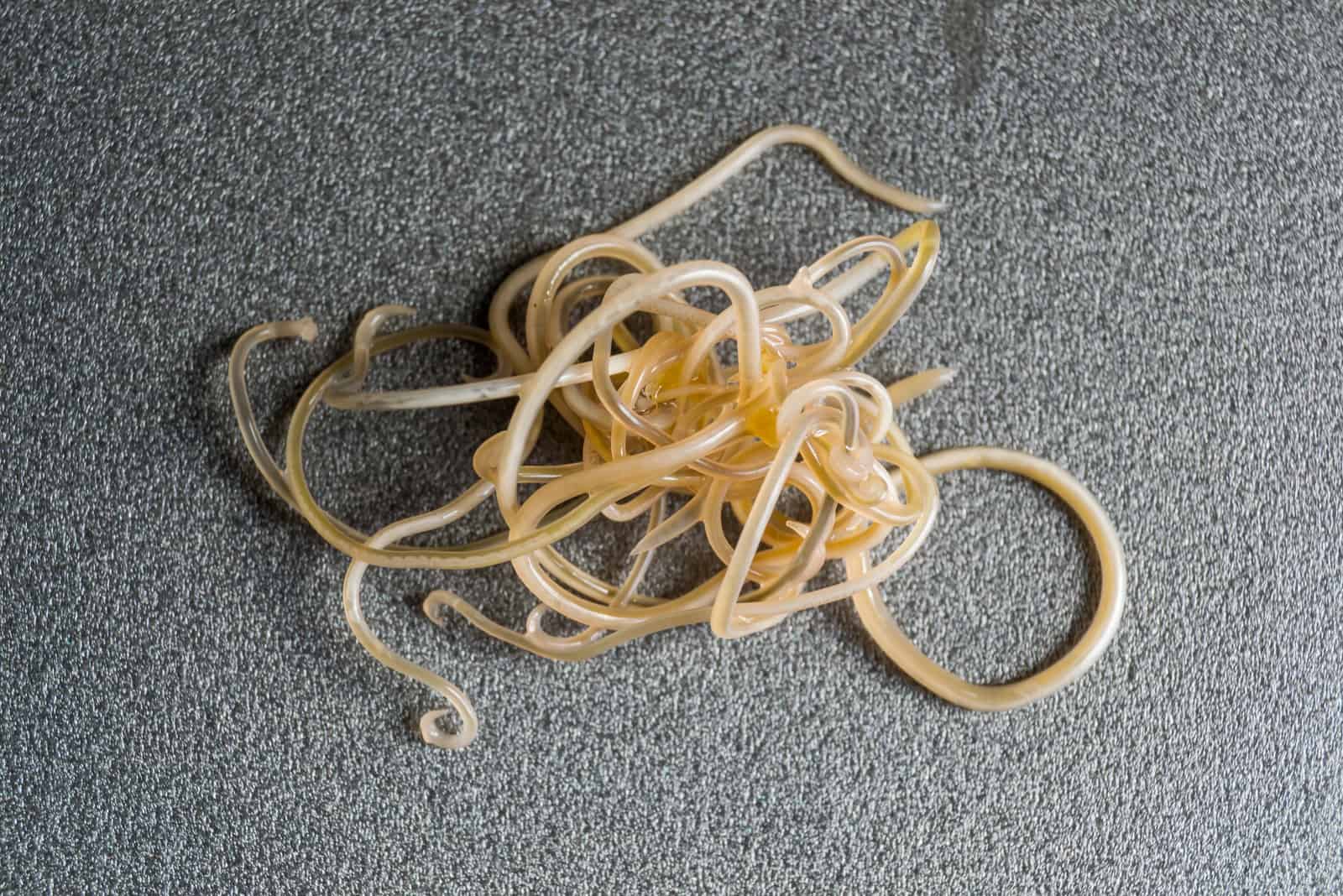 There are many types of worms, so not every worm infection is the same. Some worms are intestinal worms, which means they will develop in the cat's intestines and spread infestation through the cat's feces .
Others have different means of spreading their larvae from the infected animal.
It is important to make sure your infected cat is not spreading the worm eggs during this time.
One of the most important things pet owners have to know is how adult worms thrive and how they spread worm eggs.
Most dewormers will require at least 10 days to do the job. For certain types of worms and dewormers, a few weeks may be required. Some deworming medication may require you to give your pet a second dose. The safest thing to do is to consult your vet.
You can, of course, try buying an over-the-counter dewormer yourself and apply it to your cat, but it is probably best if you get a professional opinion on such matters, especially if you suspect an infection has already taken hold.
The information from the vet will help you set up a deworming schedule for your infected cat, which will be invaluable in helping you to prevent further reinfection.
Let's learn about some different types of worms and how long it takes for dewormers to eliminate them so you can prevent the spread of new parasite eggs.
Roundworms
Roundworms are the most common type of worm that can infect a cat. They are so well-adapted to living inside a cat that roundworm eggs can even be transmitted to a kitten through its mother's milk, causing infection when the kitten is just a few weeks of age.
Loss of appetite and discomfort in the abdomen are just some of the symptoms of roundworms, and pet owners must be able to recognize them. Leaving these cat worms untreated will inevitably lead to humans suffering from parasitic infection too.
Roundworms are most likely to be contracted through ingestion of roundworm eggs. This means that if you can keep your house clean, the chances of your cat getting infected will decrease.
Of course, if your cat is an outdoor rambler, the odds of them contracting roundworms greatly increases. Eating infected rodents, like mice, rats, or moles, is also a very common way for a cat to get infected.
Of course this also applies to your cat's litter box, which has to be clean at all times, especially during the cat deworming process. Roundworms are common intestinal parasites, which means that their primary home is the cat's poop.
Consult your vet on the best cat dewormer medication for your pet.
Tapeworms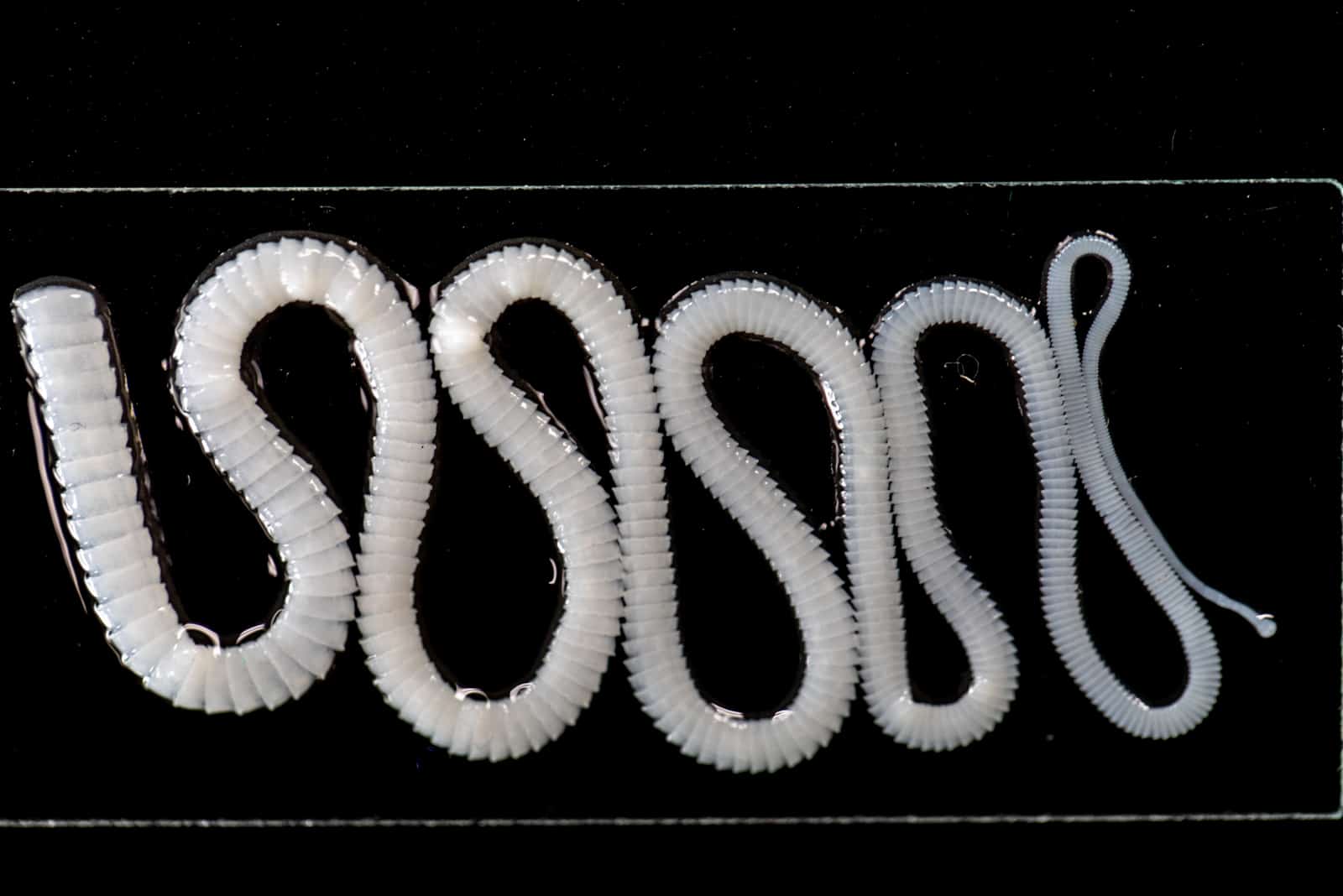 Tapeworms are a type of worm that are transmitted by fleas. Fleas will usually be infected with tapeworm eggs, and will transmit the parasite to your adult cat when they bite them.
Tapeworms will then attach themselves to your cat's small intestine, and deprive your pet of nutrients.
This may quickly become a problem, because a large number of parasitic tapeworms can easily affect your pet's health.
Tapeworm infestation will often cause weight loss, diarrhea, and other symptoms which will negatively affect your pet's health.
Look for these symptoms in your pet's appearance, and make sure to check their litter boxes for segments of dead worms, since that is also indicative of tapeworms.
The best prevention for this is to have your cat on regular anti-flea medication. If your pet is an outdoor cat, try to make sure other cats don't come near it, since they can easily transmit tapeworm-carrying fleas.
Consult your vet to get a prescription for an effective deworming medication.
Hookworm
Hookworms are a serious threat.
These worms can also be transmitted via mother's milk, but the ingestion of infected cat's stool is usually the primary source of infection.
These parasites are true to their name, because they have little hooks which they use to hook onto your pets stomach.
More often than not, this will cause your cat to start bleeding and they may become anemic.
If you notice any unusual symptoms or see blood, be sure to take action. Leaving hookworms untreated for a long period of time can very quickly result in death.
If you notice your cat bleeding suddenly, or if you detect signs of anemia, please consult your vet, because untreated hookworms can end in tragedy.
Heartworms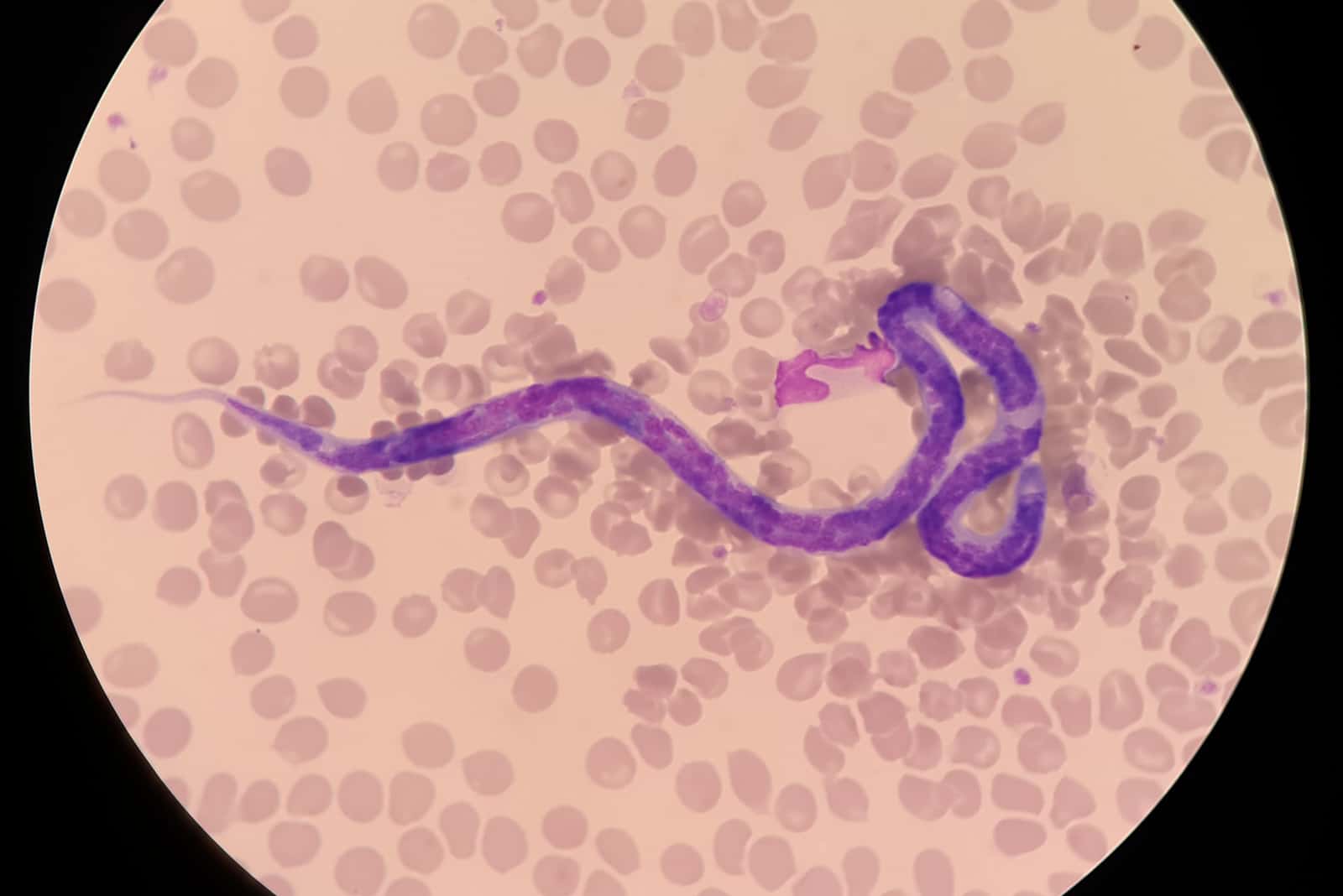 Heartworms usually have a partner in crime – mosquitoes!
Mosquitoes will bite into an infected animal and, in the process of drawing blood, they will also suck out some baby heartworms with them.
These will then be transferred to some other victim – which could well be your cat!
Both cats and dogs can suffer from heartworm disease, but the cats have certainly got the shorter end of the stick. There is no way for a cat to be treated for heartworm disease.
The only way of protecting your cat is prevention. There are lots of heartworm disease medications that are given to dogs, but cats can't receive these medications.
This means that there is no way to cure your cat if it contracts heartworm disease.
This makes it absolutely crucial that you take your cat regularly to the vet, who will then prescribe proper heartworm prevention medications.
Also, mosquito repellent spray is a necessity, especially during warmer weather when mosquitoes plague many countries across the globe.
Symptoms Your Cat Might Still Have Worms After Deworming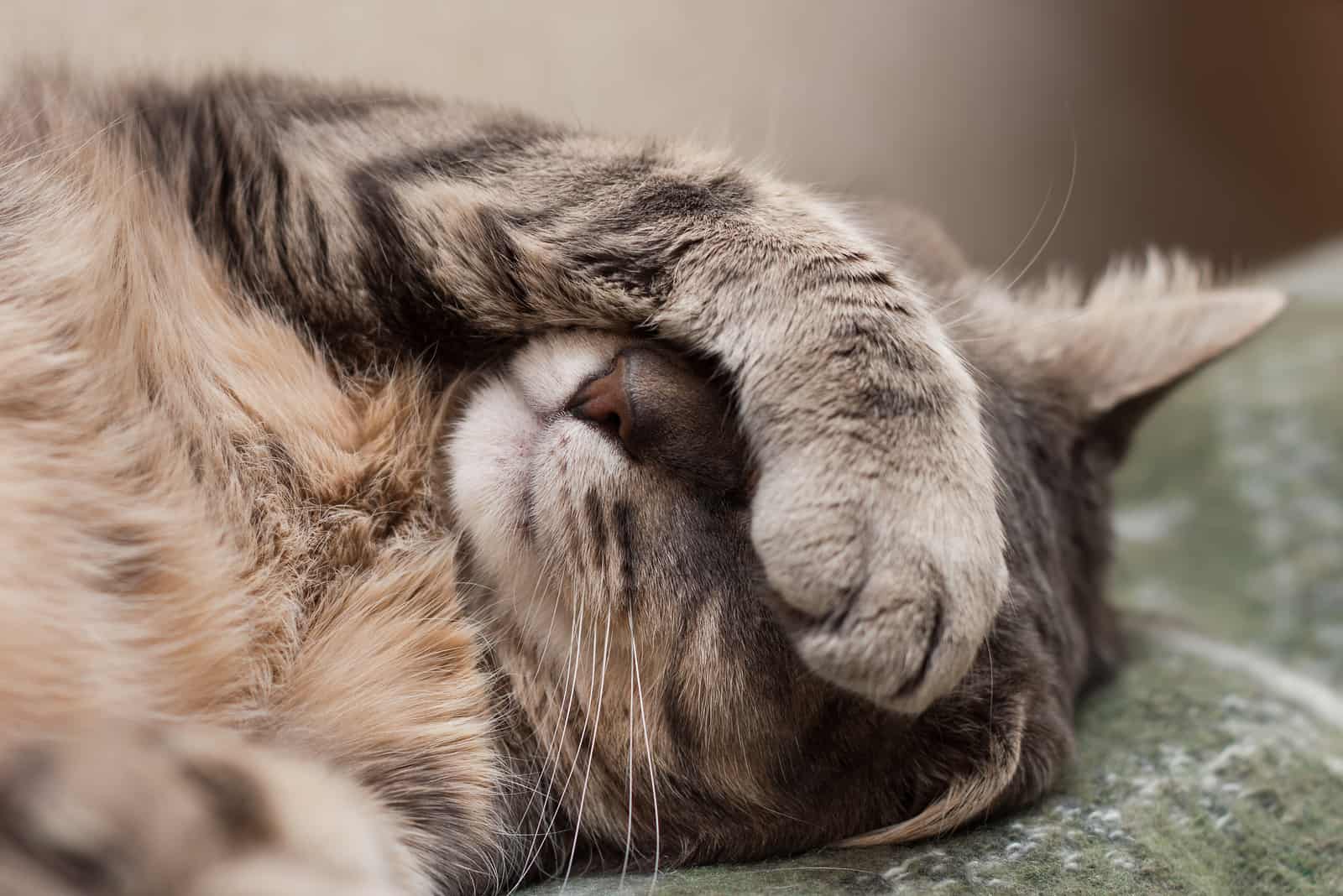 So, your cat is going through a deworming treatment, but you are still concerned about it having worms? Don't worry! We have compiled a list of things which will indicate whether or not your cat still has worms.
• Sudden weight loss shortly after the deworming process.
• A dull fur coat that has not returned to its usual state.
• Abdominal bloating that is still present days after deworming.
• Excessive coughing that has continued, or has started again shortly after deworming.
• Diarrhea which has returned a few days after deworming.
• Breathing difficulties which have reappeared, or never went away.
• Inexplicable collapsing just days after deworming.
• Lack of energy which is apparent shortly after deworming.
• Vomiting which is still present or has reappeared after worm medications.
• Signs of dehydration.
• Your cat seems anemic or is bleeding.
How Do Dewormers Work?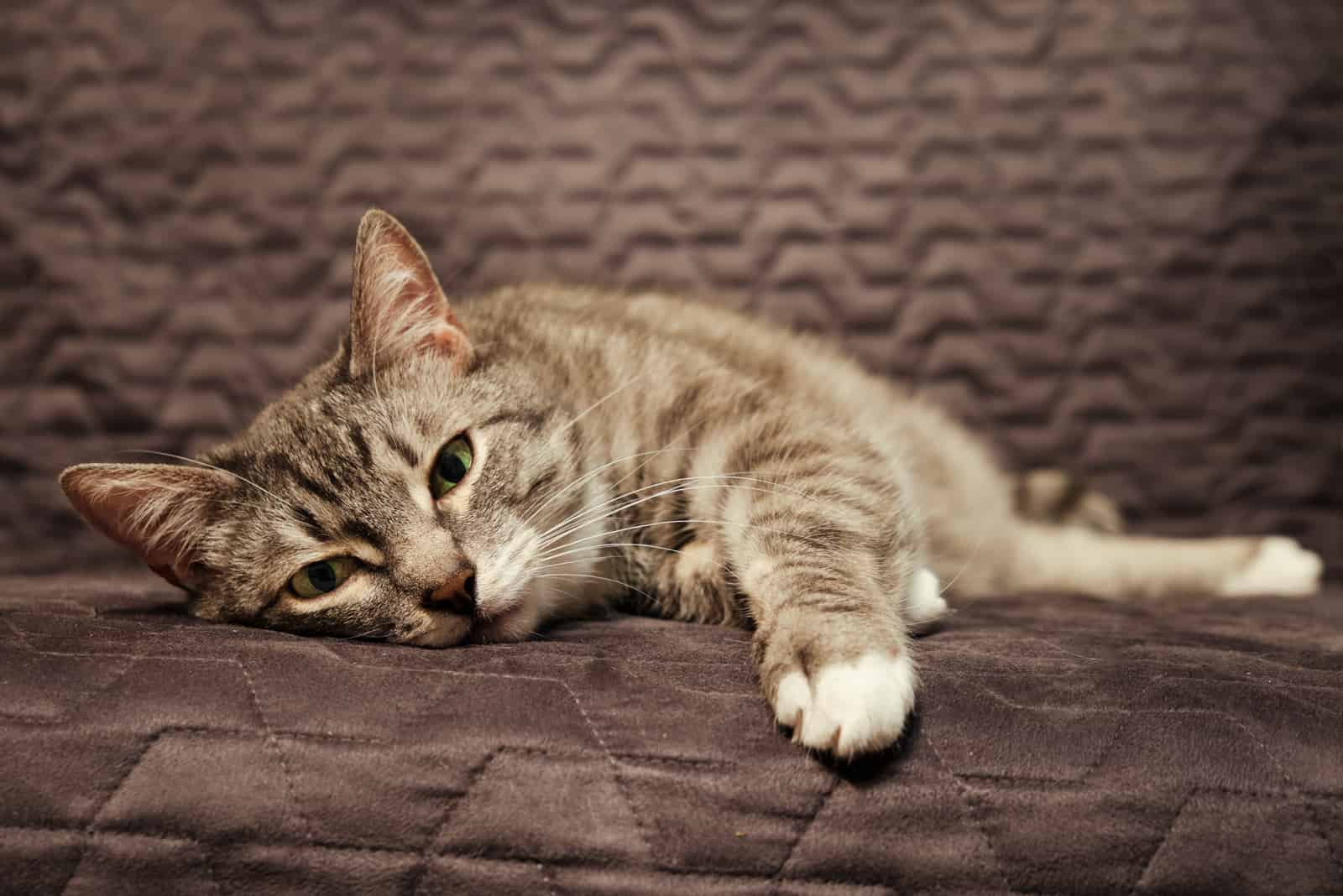 If you have a cat, you will probably have to go through the process of deworming at some point.
It is very easy for your cat to contract worms, especially if it is an outdoor cat. This is why you may want to learn more about dewormers.
Probably the most important thing to know is that not every dewormer is going to work for every type of worm. So if you're buying some over-the-counter dewormers, make sure that you buy the correct one.
Most dewormers will eliminate worms in a week or two. However, some types of worms require dewormers that must be repeated after several weeks. These additional doses are important to get the job done and should not be missed.
It is generally always best to consult your vet, so you can develop a good deworming schedule, and they can also warn you of some of the potential side effects of the medication.
Your vet can perform a laboratory test to determine which type of worm is pestering your cat. The test will show which anthelmintic (praziquantel, for example) should be prescribed to effectively deal with the type of worm your cat has.
Your cat will also be given appropriate sorbents, to protect your sick pet from intoxication caused by the medicine.
Dewormers are anti-parasitic medications that will destroy any parasitic eggs and larvae in your cat's body, which will then be expelled from the cat when they poop.
It is important to note that dewormers only work when there are live worms at large in your cat's system. While vaccines work to prevent the contracting of parasites, dewormers will only work if there are active worms.
Worms will be killed off in a matter of days, but remember that a second dose may be required after a few weeks to eliminate the worms that were larvae at the time of earlier treatment.
Final Thoughts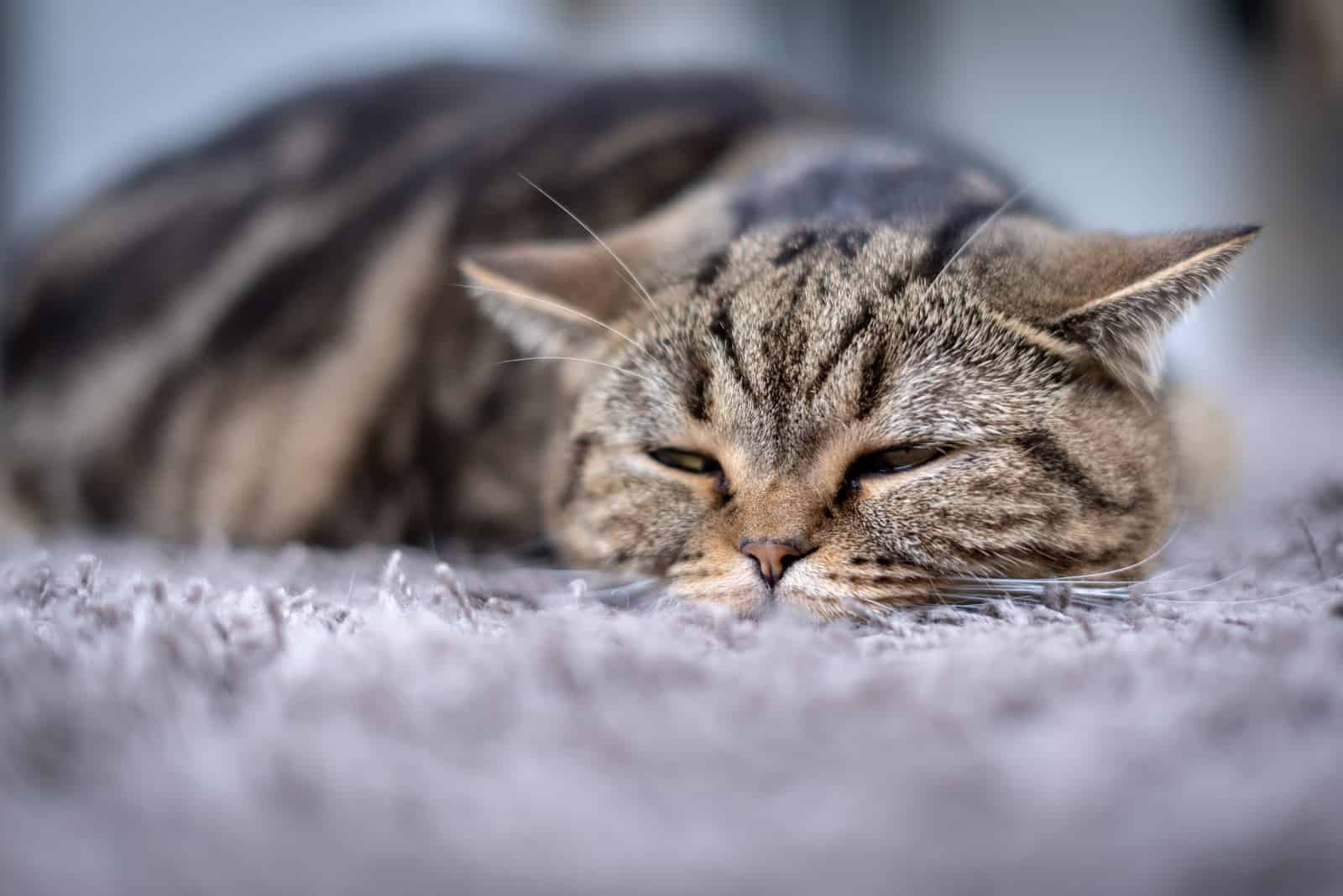 Worms are very fond of cats as a host, and your cat is always in danger of bringing them home. Which means that you're in danger too!
As a cat-owner, you have to accept that the deworming process will be something you will have to do, at least semi-regularly. This is especially important if your cats are allowed to roam outside.
Of course, regular visits to the vet are a no-brainer, but you can also educate yourself on the types of worms, how they're contracted, and how long after deworming a cat are the worms gone.
We hope that this article was helpful to you, and we wish you good luck with your furry friends and their squiggly adversaries!