If you have stumbled upon this article, you are here because you want to find the perfect name for your cat. Well, luckily you are in the right place.
Here, you will find the top 40 alcohol names for cats, and I am sure you won't have any trouble choosing the perfect one for your pet.
Whether you want the name to remind you of your favorite alcoholic tipple, or you want the name of an alcoholic beverage that reminds you of your cat's markings, we have the right name for you.
This article brings together the best possible choices of alcohol names for cats.
In the text below, you will find the greatest name ideas for alcohol names for cats; all the best examples, with explanations, and advice.
The examples are divided into three categories to ease your search: male, female, plus a bonus six unisex names.
Top 28 Male Alcohol Names For Cats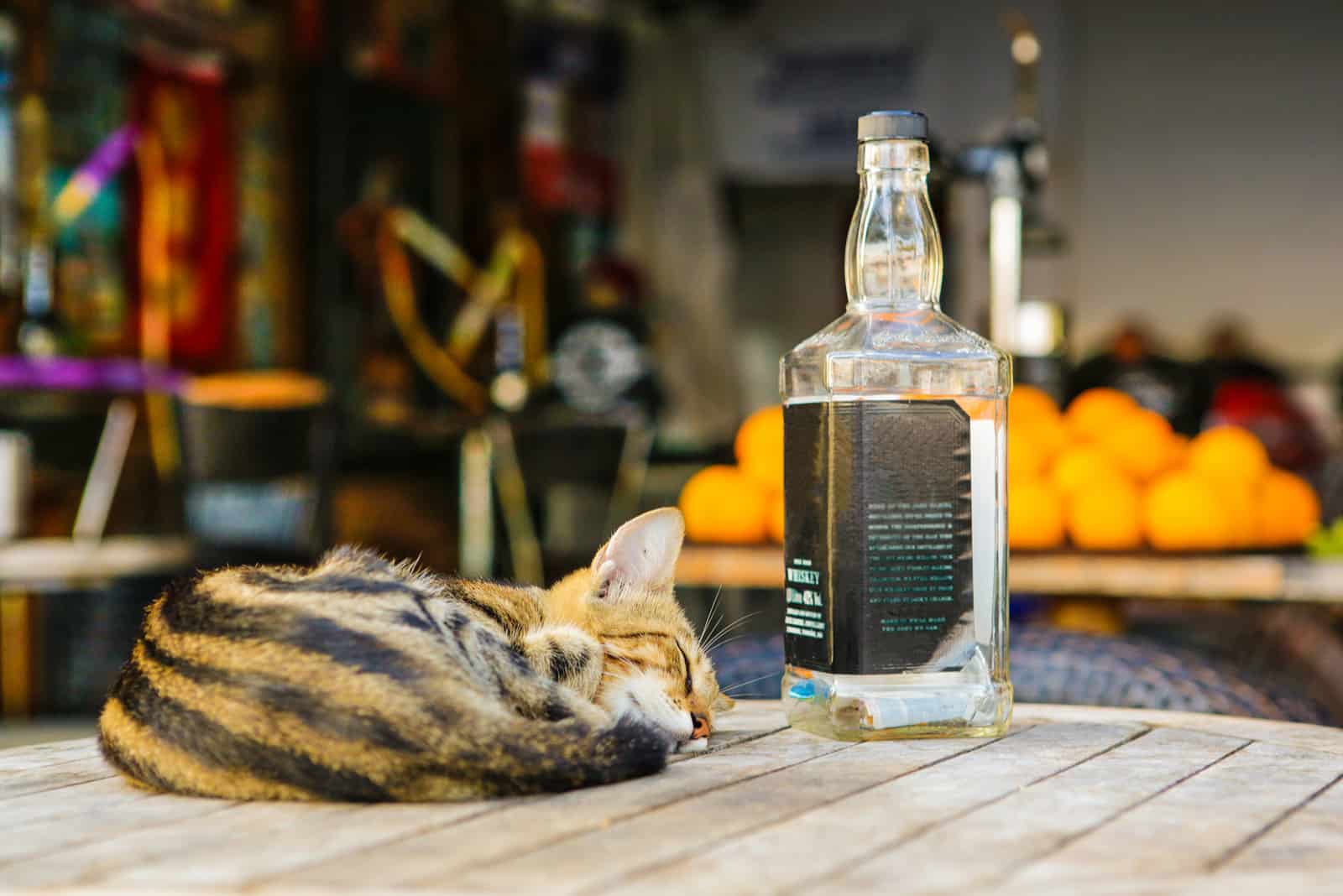 The following is the list of best male cat names inspired by alcohol:
🐾 Tom Collins
The Tom Collins is a well known cocktail composed of lemon juice, simple syrup, club soda, and gin. Its name has a refined sound, so your cat will sound sophisticated.
Also, the name Tom is always cool for a cat, so this is an ideal name for a tom-cat..
🐾 Jack Daniels
Jack Daniels is the classic Tennessee whiskey. This is a very cool name for a light brown cat.
This would also be a cool name for a cat with long whiskers, since the founder of this whiskey distillery had a huge mustache.
🐾 Johnnie Walker
Johnnie Walker is a type of Scotch whiskey, and calling your cat Johnnie sounds cool to me.
Naming your cat after this drink can have an inspirational meaning as well, since the catchphrase of Johnnie Walker is "Keep Walking". No matter how hard it gets in life, always keep walking, and pet your cat. lol
🐾 Captain Morgan
A flavored spiced rum, this is a cat's name that makes him sound like he might be a pirate.
🐾Whiskey
Drinking an occasional whiskey lowers the risk of heart disease and so does petting your cat. Imagine petting a cat named Whiskey? You can't get better than that!
Whiskey is also a pretty cool cat name, because of the cat's whiskers. It sounds as though you're sweet talking about their whiskers.
🐾 Jameson
This is an Irish whiskey. Jameson is a tasty, decent quality whiskey.
A lot of people wonder how Jameson tastes so good, I bet they'll wonder about your cat's name as well.
If perhaps you liked the aforementioned names Jack, Johhnie or Julep, but are still indecisive, you can check out these other interesting cat names that start with the letter J.
🐾 Hendrick
Hendrick's Gin is a brand of gin, made in Scotland and slightly infused with cucumbers and roses.
I can imagine a gray cat proudly bearing this name.
🐾 Gordon
Gordon's Gin is a dry gin from London. It is high quality with a delicate flavor, and is often enjoyed mixed with tonic.
Gordon is kind of a nerdy pet name, but very cute.
🐾 Jagermeister
An interesting drink blended with various plants, roots, and flowers; 56 to be exact! All of them are chosen carefully to make this strong liqueur.
It is said that this drink has a special character, so it's a great name for a cat with a big personality. To shorten the name, you may refer to your cat as Jago, which sounds cool to me.
🐾 Merlot
Merlot is a type of grape which is used for making a dark red wine. It is a much-loved, medium-dry wine that works with many types of food.
The name Merlot sounds mysterious and interesting, a little like 'Merlin'. This name would best suit a black male cat.
🐾 Mojito
Mojito is one of my favorite drinks. It is a cocktail made out of white rum, brown sugar, mint, lime, and sparkling water. It has a little vitamin C, so it is actually good for immunity.
Mojito is a great name for a striped cat, perhaps with brown and white stripes.
🐾 Amaretto
Amaretto is a drink which goes well with many other drinks. It is a sweet Italian liqueur, enjoyed on its own or in mixture with other drinks.
This name is best for a sociable cat which gets along well with other cats.
🐾 Bitters
Bitters are drinks which contain neutral alcohols mixed with different plants, fruits, and extracts. It is a really cool name for a pet.
I see it on a cat which can get a bit bitter, so it would be fabulous for a moody cat.
🐾 Cognac
Cognac is a type of brandy, a special type which originates from France.
I see a brown, or ginger cat with this name. A ginger cat named Cognac would be adorable.
🐾 Cosmo
Cosmo is a name derived from the Cosmopolitan cocktail. The Cosmopolitan is usually seen as a girly drink, but once you try it you will see why it is so popular.
This name suits a British shorthair cat, especially a chubby one.
🐾 Gimlet
A cocktail made of gin and lime juice, the gimlet is an easy and tasty recipe.
The name is way cooler than the recipe and it reminds me a little of the word gremlin. It is one of the coolest alcohol names for cats.
🐾 Guinness
Guinness is a dark stout, known for its complex taste and made in Ireland's capital city, Dublin.
A dark brown cat would be worthy of the name, actually the name Guinness would be worthy of a dark brown cat.
🐾 Julep
A mint Julep is a sweet, refreshing drink composed of bourbon, sugar, water, crushed ice, and fresh mint. It's a truly interesting combo.
Julep sounds as if your cat is some sorcerer's little helper.
🐾 Liqueur
Liqueur is a name in general, for any drink composed of spirits and additional flavors. Sweet, bitter, and strong all at once.
You can refer to your cat Liqueur or Licky, this name is suitable for any cat with a funny character.
🐾 Moscato
A wine made out of white grapes, known for its sweet flavor and a taste of orange or peach.
It also has the word cat in the name, making Moscato a really great name for a cat.
🐾 Pinot
Pinot Noir is a light, dry wine. It is one of the most popular red wines. People drink it on its own, or mixed in some cocktails.
Pinot is a sophisticated cat, a cat who knows their own mind, and doesn't care about anyone else's.
🐾 Prosecco
Prosecco is a sparkling wine. A cat named Prosecco will surely make you smile, and it is a beautiful and rare name.
🐾 Riesling
Riesling is a German white wine, usually drunk in cocktails mixed with tonic. Riesling sounds pretty cool, and your cat will surely have a unique name.
🐾 Schnapps
Schnapps or rakija in some countries, is a very strong alcoholic drink. Usually consumed as a shot.
Schnapps is a super cat name, it sounds extremely cute and unique.
🐾 Tannin
Tannin is a type of plant which is sometimes added into wine. Tannin is a lovely name and it carries real character.
🐾 Vermouth
Vermouth is a fortified wine, usually flavored with herbs and spices. It is a unique name, indeed.
If you have a Maine coon cat, this name will definitely go with their striking look.
🐾 Gin
Gin is a strong alcoholic beverage, containing up to 43% of ethyl alcohol. Gin is becoming more and more popular, in different mixtures with other drinks.
A cat named Gin will surely win the hearts of everyone who visits you.
🐾 Martini
A refined cocktail made out of vermouth and gin, a martini is usually decorated with an olive in the glass, lemon peel, or even a slice of onion.
If you call your cat Martini, you can shorten it to get Marty, either way it's a very cool cat name.
Suggested: Best 200+ Mischievous Cat Names
Top 12 Female Alcohol Names For Cats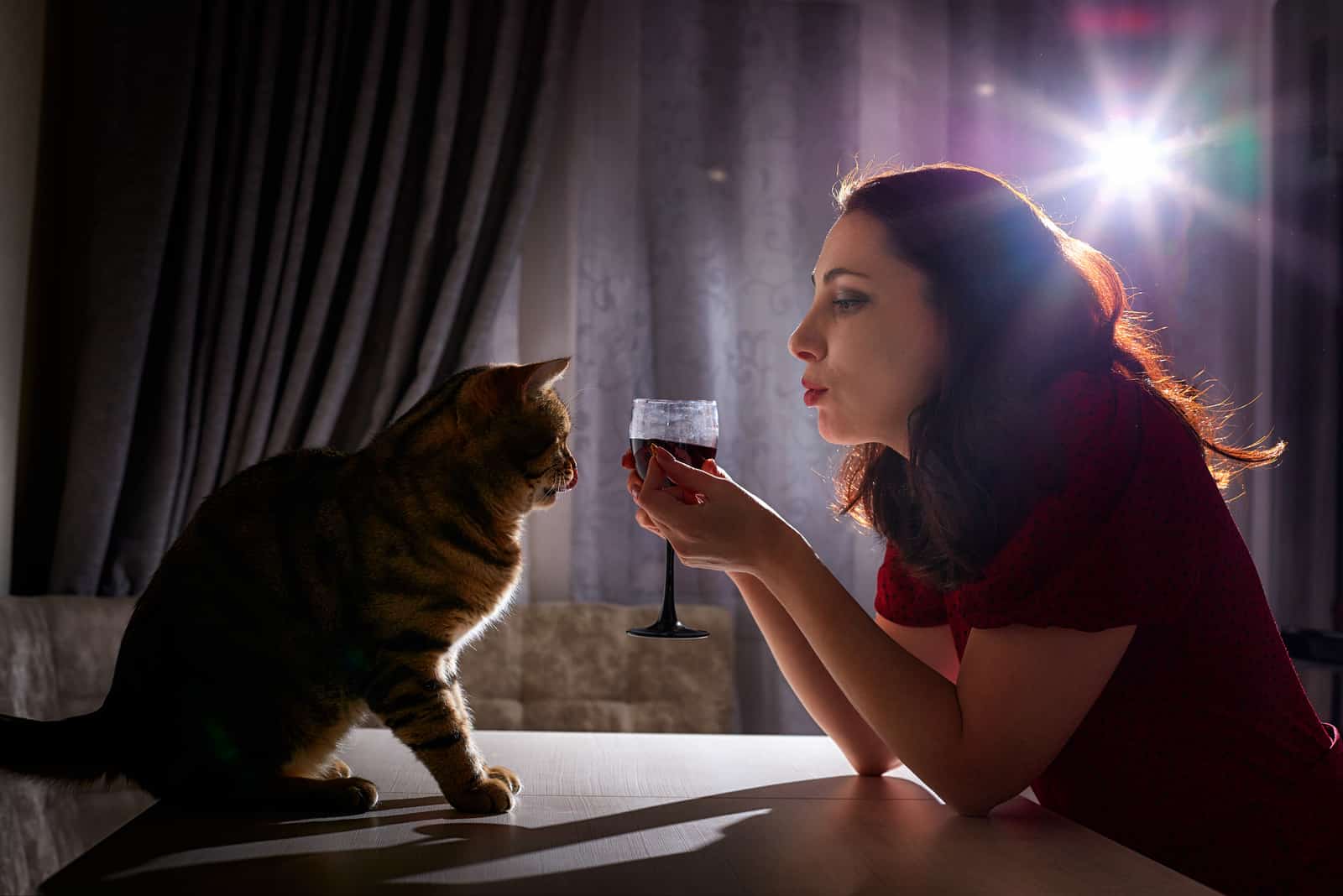 This section provides the list of greatest alcohol names for female cats:
🐾 Stella
Stella Artois, a famous pilsner beer from Belgium. It has a little bit more alcohol than most other beers.
Stella is a fairly traditional name, which also carries an alcoholic connotation. Pretty smart choice for a cat's name.
🐾 Skyy
Skyy vodka is an American vodka spirit with 40% alcohol. A strong drink, with a chic name.
Reach for the sky! I would choose this name for any type of female cat.
🐾 Margarita
The margarita is a popular cocktail made from tequila, orange liqueur, and lime juice. One of the best options for a hot summer's day!
Margarita is a lady cat, one who sits and judges people all day. I know you know at least one cat worthy of the name Margarita.
🐾 Chardonnay
Chardonnay is a dry wine, relatively low in alcohol. The name sounds fancy, and if it is too long for when you need to yell it out, you can use the nickname Char.
A very chic choice.
🐾 Mimosa
The mimosa is a combination of champagne and citrus juice, usually orange.
This name would be ideal for a light orange cat with a sparkling personality.
🐾 Kahlua
Kahlua is a coffee liqueur. A mysterious, dark brown female cat simply needs this name.
🐾 Bailey
Baileys Irish Cream is an alcoholic liqueur from Ireland which tastes like a mixture of cream, cocoa and Irish whiskey.
Bailey is a cute name, I would choose it for a beige colored cat. If you like this name, you might like some other cat names that end in Y.
🐾 Tequila
Ay, ay, ay, tequila. This is a strong drink, and I believe everyone has tried it at least once in their life.
It is made out of a plant called agave, and it usually contains between 35% to 50% alcohol.
I would name a multicolored cat Tequila, preferably a white and gray cat.
🐾 Daiquiri
Daiquiris are drinks that are usually made out of citrus juice, rum, and some sugars. They are usually strawberry-based, or lemon-based.
I would name a white cat Daiquiri, or perhaps a black and white cat.
🐾 Campari
Campari is an Italian alcoholic liqueur, usually consumed as an aperitif.
Campari as a cat name is an excellent choice; it sounds cool, fun, and unique.
🐾 Havana
Havana is a brand of rum. Reminds me of summer, the beach, and freedom.
Naming a cat Havana would instantly summon up the feeling of summer.
🐾 Vodka
Of course, we couldn't leave out Vodka. Totally unusual for a cat name, but understandable in any language of the world.
Such a simple drink, no color, no distinct aroma, just the strength and the name. A cat named Vodka will be the boss in the hood.
Extra: Top 6 Unisex Alcohol Names For Cats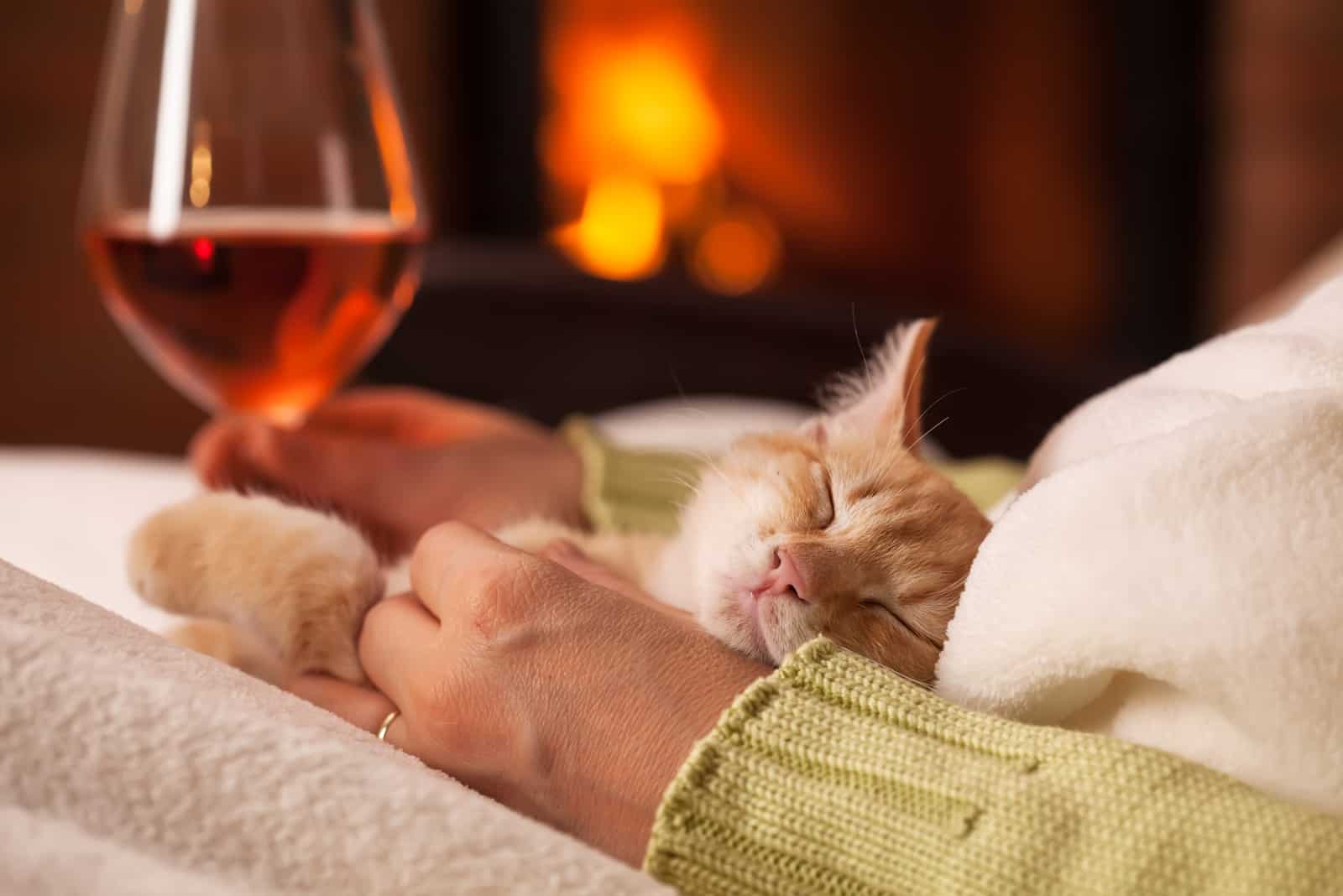 Here is a list of alcohol names for cats that are suitable for both male and female cats:
🐾 Malibu
Malibu is a liqueur with a coconut flavor made from Caribbean rum. The mixture of the drink and the name, everything sounds so cool and tropical.
It reminds me of the beach and hot days; this name befits a chilled out cat. Ideal for a cat who is laid back and relaxed.
🐾 Hennessy
Hennessy is a cognac made from wine. A really good way to lose yourself on a friday night!
It is, however, a great idea for a cat's name. Totally unique and one of my favorite choices.
🐾 Mai Tai
The Mai Tai is a cocktail made out of Curacao liqueur, orgeat syrup, lime juice, and rum.
The name Mai Tai is the best choice for a siamese cat.
🐾 Moonshine
This drink is a strong liquor which is made illegally. It is made traditionally at home and it used to be made at night, hence the name.
This name makes me think of a Russian blue cat or a Scottish fold breed.
🐾 Bacardi
Bacardi is a company that is best known for their white rum which bears the same name.
A Bacardi cat would be a classic Persian cat breed. I can see the name Bacardi being chosen for a white Persian cat.
🐾 Tipsy
Tipsy spritzers are ready-mixed drinks in cans. I actually like the name because of the word's meaning.
Tipsy means slightly drunk, and that is one of the best feelings in this world, being tipsy and befriending a cat.
If your cat is rather silly or clumsy, then the name Tipsy would be an ideal choice.
Final Thoughts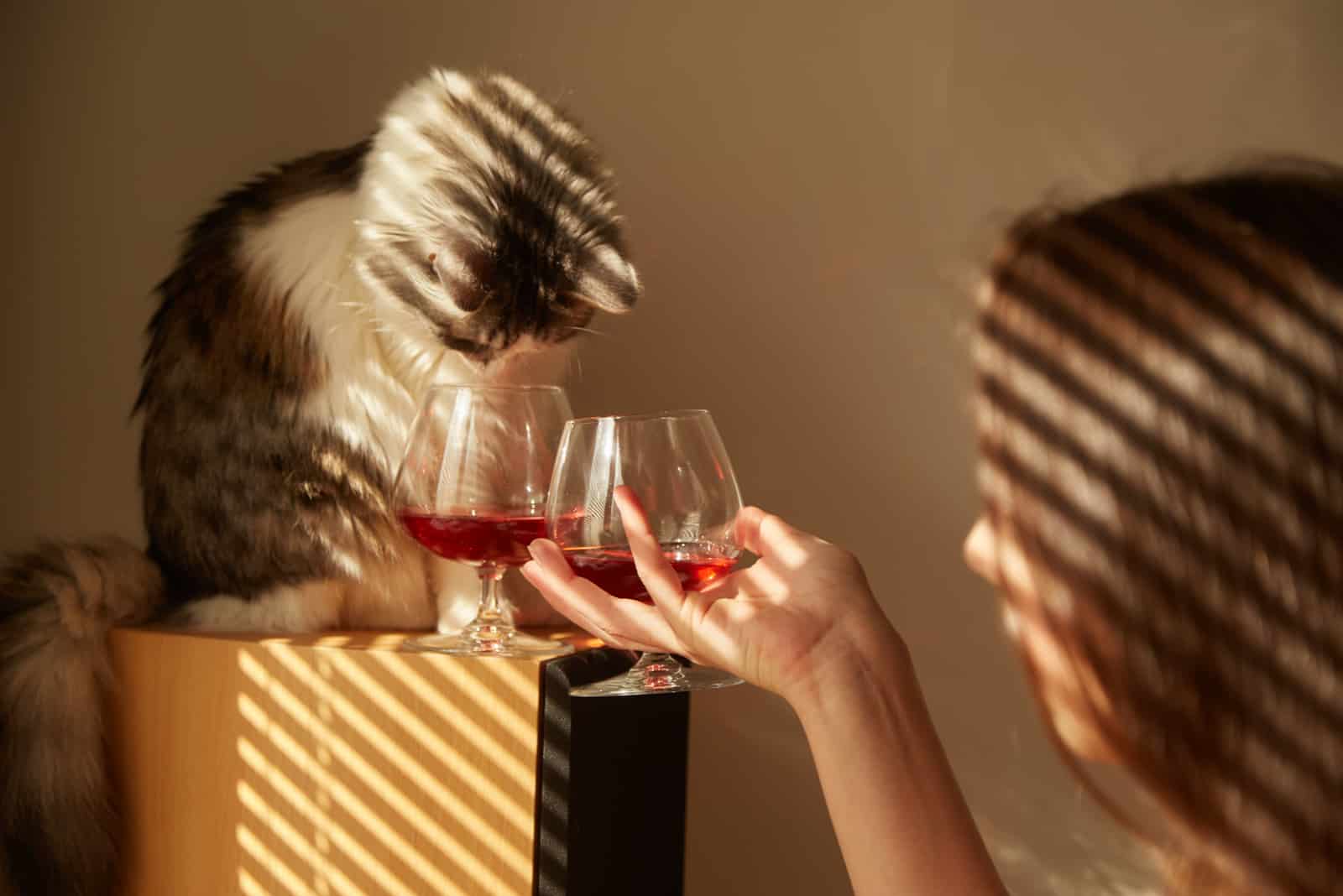 I hope this article was useful in helping you find the best name for your beloved pet.
Whether you are searching for a cat name or a dog name, I believe you will get lucky and find the most suitable name in one of these examples of alcohol names for cats.
This is a great way to name your cat, especially if you have fond memories connected to a certain beverage, or you enjoy one special drink on a Saturday night and are fond of the name.
You can choose an alcoholic name for your cat even if you have never tried alcohol, but you like the name of a certain drink.
These alcohol names are cool and they have lots of personality..
Read the explanations of drinks behind their given names, use our helpful tips, and you are sure to pick the best possible alcohol name for your cat.
If you are still indecisive and want to browse through some other name ideas, have a look at these Arabic cat names or perhaps some of these interesting Pokemon inspired cat names.
Whichever name idea you find the best, I hope you will use our tips when naming your cat.