This post contains affiliate links, and I will be compensated if you make a purchase after clicking on my links, at no extra cost to you.
If your cat is suffering from anxiety, experiencing stress, or is in pain, you might want to consider over the counter sedatives for cats. These are substances that help calm cats down and relieve anxiety and pain. They are sold without a prescription, so they're easy to get online or in your local pet shop.
Cats that are experiencing a stressful event such as traveling, going to a vet appointment or hearing a thunderstorm, benefit greatly from sedatives. They can also be given to cats that have undergone surgery or are in pain due to an injury.
Luckily, there are many safe over the counter sedatives and they come in various forms, such as sprays, drops, treats, and even collars. In this article, I will review the top 11 cat sedatives that have been proven to be efficient in calming felines.
Over The Counter Sedatives For Cats: Top Picks
Mild sedatives are a great way to make your cat feel better without the fear of your cat experiencing negative side-effects associated with the use of stronger medications that require a vet's prescription.
I am a veterinarian and I've made this list based on my experience working with my little patients and cat owners' feedback on which products work the best. There are many over the counter sedatives for cats out there, so this list of the 11 best options will be of great help when choosing which one to buy!
Best Overall: Feliway Classic Pheromone Diffuser
Best Budget: Petlinks Catnip Spray
Best Spray: Relaxivet Calming Spray
Best Oil: Billion Pets Hemp Oil
Best Chews: Pet Naturals Calming Chews
Best Collar: Sentry Calming Collar
Below, I've reviewed the top products which I recommend to owners with cats suffering from anxiety caused by specific events, and also for cats that are always mildly anxious for no apparent reason.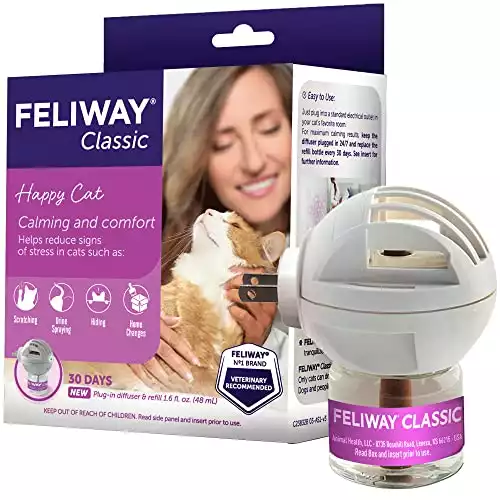 Pheromone diffusers are becoming increasingly popular among cat owners due to their efficiency in calming cats down. One of the most widely used products is the pheromone diffuser from Feliway, which has been on the market for over a decade.
Feliway pheromone diffuser is a solution composed of artificially synthesized pheromone-like molecules, which have the same influence on cats as natural cat pheromones. Pheromones are "cat messengers" that relax a cat and make them feel safe.
Place the Feliway Classic pheromone diffuser in a room where your cat spends a lot of time, and plug it into an outlet that allows the mist to spread across the room nicely and not behind furniture or curtains.
Many cat owners have reported their felines becoming a "completely new cat", with stress-related behaviors such as spraying and scratching completely diminishing. This product is one of my go-to products to recommend to owners of anxious cats.
Pros
✅ Is affordable and long-lasting
✅ It covers a large surface area
✅ Will efficiently reduce stress-related unwanted cat behaviors
Cons
❌ It takes about a week before a noticeable change in cat behavior is observed
Pet Naturals Calming Chews
Key benefits:
It's fact-acting, it takes 30 minutes for the effects to be observed

Efficiently reduces problematic cat behaviors

Cats love the chicken liver flavor of the chew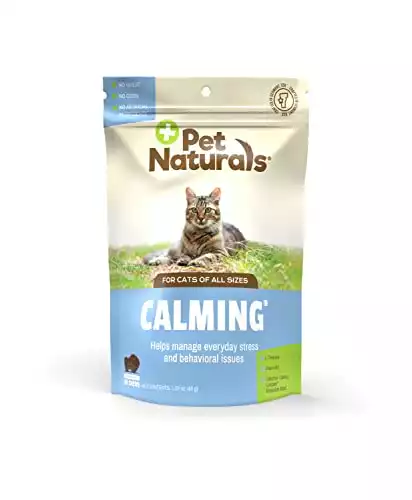 Cat chews from Pet Naturals are a top-rated and well-known product with many positive reviews. And for good reason; it does its job and does it quickly.
Cats love chewing on these chicken liver chews, and they're safe to be given once a day or a few times a day if the cat is extra-stressed. They contain no artificial ingredients, so they're entirely safe for cats.
An amino acid L-Theanine, Vitamin B, and Colostrum Calming Complex biopeptide blend (blend of proteins, carbohydrates, and fatty acids) are the key calming ingredients that have been proven to relax cats with no side effects such as drowsiness.
Pros
✅ Efficiently relaxes cats in a short time period after they eat it
✅ Can be given two or three times a day if needed
✅ Does not contain wheat or corn
Cons
❌ It not a long term solution for cats suffering from chronic anxiety
Billion Pets Hemp Oil
Key benefits:
Will effectively provide your cat with a sense of calm

It's flavorless, so your cat will not protest against it

Supports a cat's overall health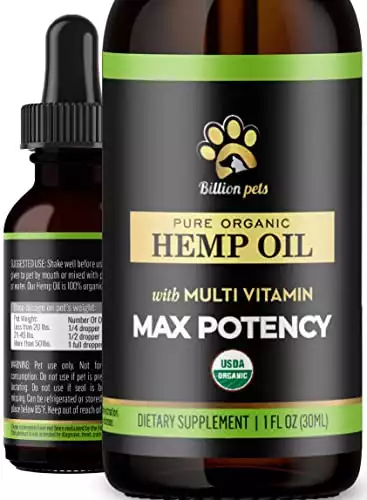 Vet-recommended hemp oil is a natural way to relax felines and canines prone to getting anxious and aggressive during a car ride or a trip to the vet. This product can also be used for cats suffering from separation anxiety, or during, for example, New Year's eve when there are a lot of fireworks.
Besides calming down your cat, Billion Pet's hemp oil can be used as a dietary supplement. This product contains Omega 3-6-9 fatty acids, Vitamin E, Vitamin C, and other healthy substances that will boost your cat's overall health, especially digestive function, ease joint pain, and make your cat's coat extra-shiny.
As these are flavorless, these drops can be placed in your cat's mouth directly or mixed in with the food, and I've never had a cat owner complain about their cats protesting against these drops. Note that pregnant and nursing cats should not be using these drops.
You need to be careful while dosing your feline; make sure only to use 1/4 of the dropper, as more than this amount can cause tummy issues.
Pros
✅ Easily given to pets as since you can simply add a few drops in your cat's food
✅ Boosts joint health, shiny coat and immunity, apart from relaxing your cat
✅ Has excellent customer reviews
Cons
❌ Overdosing can cause gastrointestinal upset, so make sure to give your cat the proper dosage
Bach RESCUE REMEDY PET Dropper
Key benefits:
Relaxes cats before and during stressful events

Safe for both cats and dogs

It's made of five natural flower essences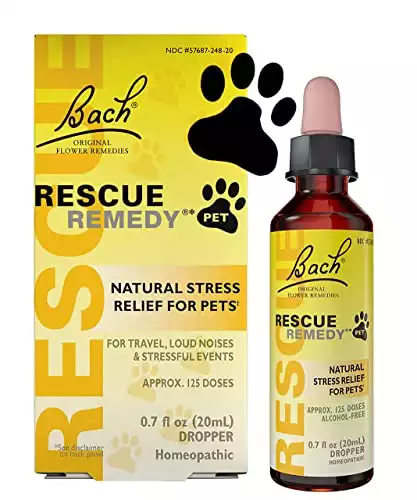 Pet droppers from Remedy are a very convenient option for calming down your cat. All you need to do is give your cat four drops of the formula orally or mix it with the food or water. As cats are not fans of the first option, your best choice might be mixing the drops in with food.
One bottle contains 130 doses, with one dose meaning four drops. You can give your cat multiple doses a day, depending on the amount of stress and anxiety your cat is experiencing. It's advised to administer it a few hours before a stressful event (such as a vet visit).
This product is also safe for dogs, so don't hesitate to use it whenever your doggo gets anxious. You don't need to worry about this product having artificial flavors, colorings, or alcohol.
Pros
✅ Completely cat-safe and alcohol-free
✅ Works amazingly for cats that are nervous travelers
✅ Causes no side-effects often associated with sedatives, such as drowsiness
Cons
❌ Offers a short-lasting effect, which is usually around four hours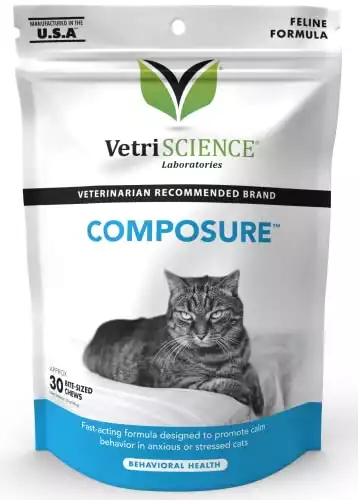 If you're looking for a product with effects you will see quickly – this is the perfect option for you and your cat; these cat treats will do precisely that.
Cat treats from Vetriscience contain natural ingredients such as amino acid L-Theanine and Vitamin B that efficiently offer mild sedation to cats. One bag of these cat treats contains 30 chewable treats, which are safe to be used daily.
You will be able to see your cat's change in behavior half an hour after eating one of these, and your cat will be noticeably less anxious. If you have a picky eater on your hands, you can choose between multiple flavors, such as chicken and trout.
I recommend cat owners give their kitties one chew before a vet visit, as it will help ease their nerves. However, if your cat suffers from chronic anxiety, this product is not the best as it does not offer long-lasting effects.
Pros
✅ It's safe to be given to cats daily
✅ Efficiently promotes good behavior in cats
✅ Comes in multiple flavors you can pick from
Cons
❌ Does not offer long-lasting effects
Relaxivet Calming Spray
Key benefits:
Great for cats that are stressed out when in a cat carrier

Very easy and convenient to use

Is odorless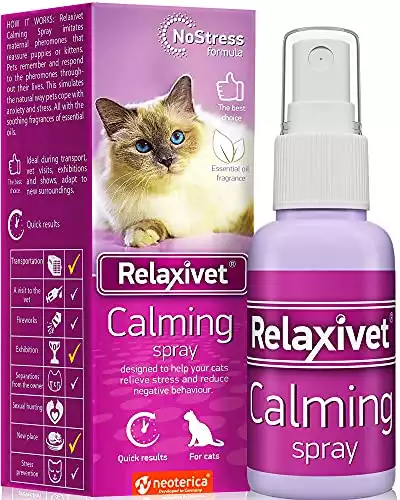 This calming spray from Relaxivet will help ease your cat's anxiety and stress caused by several different events. Apart from relaxing your cat, you can be sure this spray will reduce unwanted stress-caused cat behaviors, such as scratching, fighting, urine marking, and excessive meowing.
Pheromones within the spray will offer only mild sedation, making your vet visit or a car ride much more effortless. Spray the cat bed, favorite sofa, scratching post, car, cat carrier, or any surface your cat will be in contact with.
Note that the effects of this product take time to develop, so make sure to spray the surfaces a few days before a stressful event. In general, pheromones do not offer their benefits within minutes, but rather days. However, it's recommended to re-spray the surfaces twice a day or more.
Pros
✅ Pheromones stimulate a cat's natural way of relieving stress and tension
✅ Results can be observed quickly
✅ Very easy to use, but make sure do not spray your cat directly
Cons
❌ It's only a short-term solution, and should only be used prior to your cat experiencing a stressful event
NaturVet Quiet Moments Calming Aid
Key benefits:
Contains ingredients famously known to relax cats

Ginger in the formula calms an upset stomach

Cats like the taste, so they will not protest against eating the chews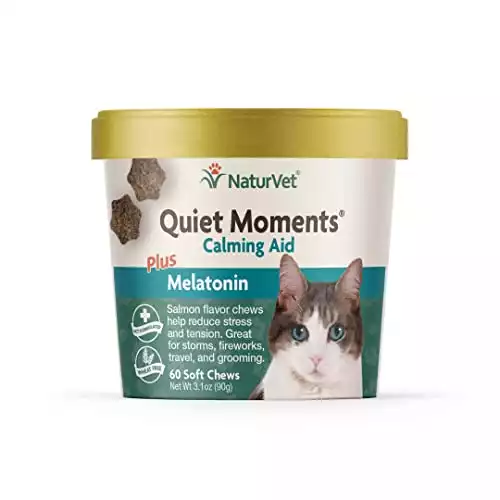 For a very affordable price, you can get 60 soft chews that will keep your cat stress-free for quite some time.
Give your cat two chews about half an hour before a stressful event, such as a grooming appointment. Make sure to use at most 4 or 6 chews a day. Give these chews whenever you know your cat will be anxious, but it's not meant to be used for chronically stressed cats.
It is formulated with Tryptophan (an amino acid), Thiamin (vitamin B-1), chamomile, and melatonin. All of these are well-known substances that calm down cats. Ginger within the formula is there to aid an upset stomach which is often caused by motion sickness.
Pros
✅ Will reduce your cat's tension associated with stressful events
✅ These chews are soft, so eating them will not be an issue for older cats
✅ Is very affordable
Cons
❌ Does not offer a long term solution, as effects are only seen for a few hours after a cat eats the chew
Sentry Calming Collar
Key benefits:
Released pheromones relax cats and minimize problematic behavior

Effects are usually seen after the second week of a cat wearing it

It's completely safe to be used, with no adverse side-effects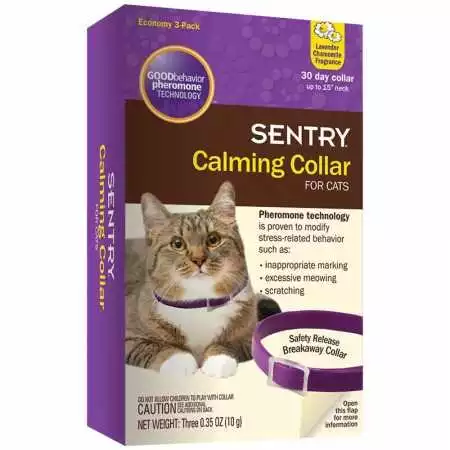 Cat collars that release pheromones work on the same principle as pheromone diffusers. The goal is for the released pheromones to minimize or eliminate stress-related behavior like improper marking, destructive activity, clawing, and antisocial behavior.
Put the collar on the cat and make it comfortable for the neck. Allow the collar to move freely around the neck. The cat immediately detects the presence of the pheromones when the collar is put around its neck. For 30 days, your cat will continue to get the relaxing pheromone released from the collar.
The individual cat and the type, length, and severity of the issue, as well as behavior modification, all play a role in how long it takes for certain behaviors to change. The first two weeks after wearing the collar are often when certain habits improve, although other cats may take a month to show noticeable progress.
Pros
✅ Has no side-effects
✅ Calms a cat down for extended periods of time
✅ Should be replaced monthly, which many owners find convenient compared to giving drops, sprays and calming treats daily
Cons
❌ Some cat owners might consider it a bit pricey
Comfort Zone Cat Calming Pheromone Collar
Key benefits:
Eliminates stress and provides a sense of safety

Change in cat's behavior can be observed after a week (or two)

Very convenient to use, as you only need to change it once a month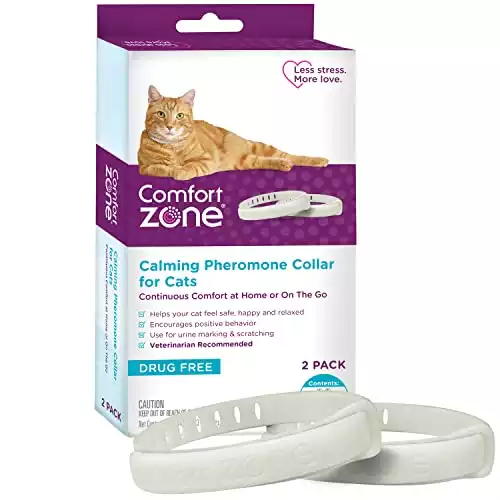 This product from Comfort Zone emits an odorless mist that replicates a cat's natural relaxing pheromones, ensuring your cat feels secure and calm.
Your cat is more likely to minimize stress-related behaviors, like scratching and urine spraying, when they feel less anxious, so this product could be a life-saver for cat owners whose cats display these problematic behaviors.
The cat collar is one-size-fits-all and should be worn 24/7. Please note that the effects will not be evident immediately but rather after a week or two. One collar should be used for a month, after which you should get your cat a new one.
This is a top-rated product despite having been on the market for a short period (about two years), and it has excellent reviews, which is always a good sign. Knowing many cat owners are satisfied with this product makes my job easier, as I'm sure recommending this product to a patient will (most likely) be a success.
Pros
✅ Keeps cats feel safe and calm
✅ Efficiently eliminated unwanted cat behaviors, such as urine marking and scratching
✅ Lasts about a month
Cons
❌ Is not a good option for cats that don't like wearing collars, or cats that are extra-energetic and wearing a collar means increased risk of the collar getting stuck on something
Petlinks Catnip Spray
Key benefits:
Made with natural catnip oil

No mess associated with using dried catnip

Very affordable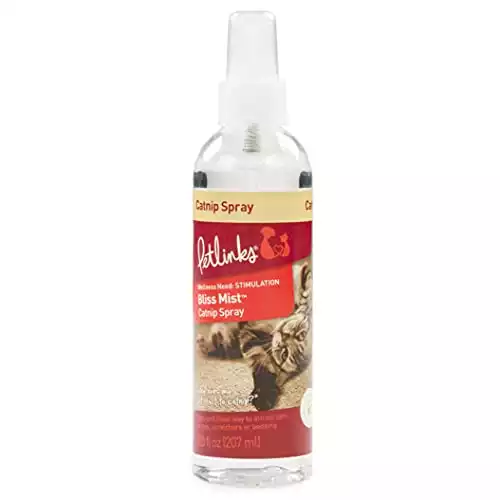 Every cat loves catnip, right? I know most of my little patients do, and their owners report a significant change in behavior using this catnip spray from Petlinks. This spray usually provides a cat with a sudden burst of energy, but then it calms them down.
All you need to do is to evenly spray your cat's bed, toys, or an area they spend a lot of time in. This product is made with natural catnip oil, so you don't need to worry about any unnecessary and harmful chemicals being present.
It's important to note that you should not spray it directly onto your cat, and make sure to keep it outside your cat's reach.
Pros
✅ Will provide your cat with mild sedation
✅ Effects can be observed not long after spraying
✅ Easy to use and leaves no mess
Cons
❌ Some reports it's not potent enough
Richard's Organics Pet Calm
Key benefits:
Relaxes cats before and during anxiety-causing events such as traveling

Contains no artificial colors or flavor

Can be used for cats and dogs, and they both like the taste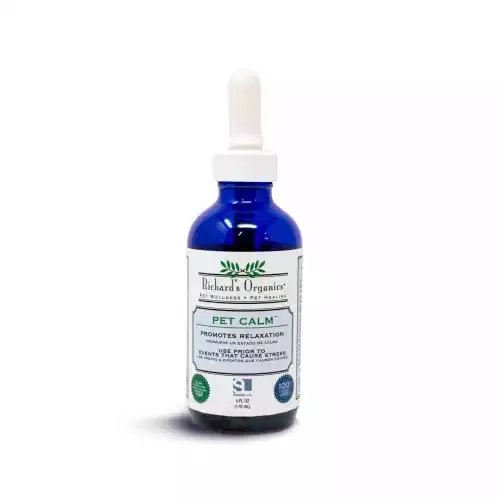 You can calm dogs and cats' anxiety with Pet Calm without making them drowsy, a common side-effect of many pet sedatives. It's perfect for stressful situations, including traveling, grooming, thunderstorms, and veterinary visits.
It has been demonstrated that the product's active ingredients, which include valerian root extract, chamomile, skullcap extract, and passionflower extract, ease pet stress, including separation anxiety.
These calming drops may be used directly from the dropper, but make sure to use them no more than once every 4-6 hours. Note that this product should not be used for pregnant and nursing cats, so if your kitty is pregnant or is nursing, you should check out some other cat-calming products.
Pros
✅ It's a product with many positive reviews
✅ Offers natural relief from stress and anxiety
✅ Contains herbal supplements
Cons
❌ Relieves only short-term stress
A Notable Mention: Benadryl
Diphenhydramine is a well-known allergy drug also marketed under the brand name Benadryl.
Technically speaking, Benadryl is not a sedative but an antihistamine with a side effect of sedation. Antihistamines like this one are frequently used to treat allergy symptoms; however, its off-label use is as an over-the-counter cat sedative.
Dry mouth, high heart rate, and urinary retention are all side effects of Benadryl usage. This drug should also not be given to cats with certain medical diseases, such as glaucoma, high blood pressure, or specific urinary issues, as well as kittens, older cats, and pregnant cats.
Consult your veterinarian to ensure you are using the proper dosage and formulation.
In Conclusion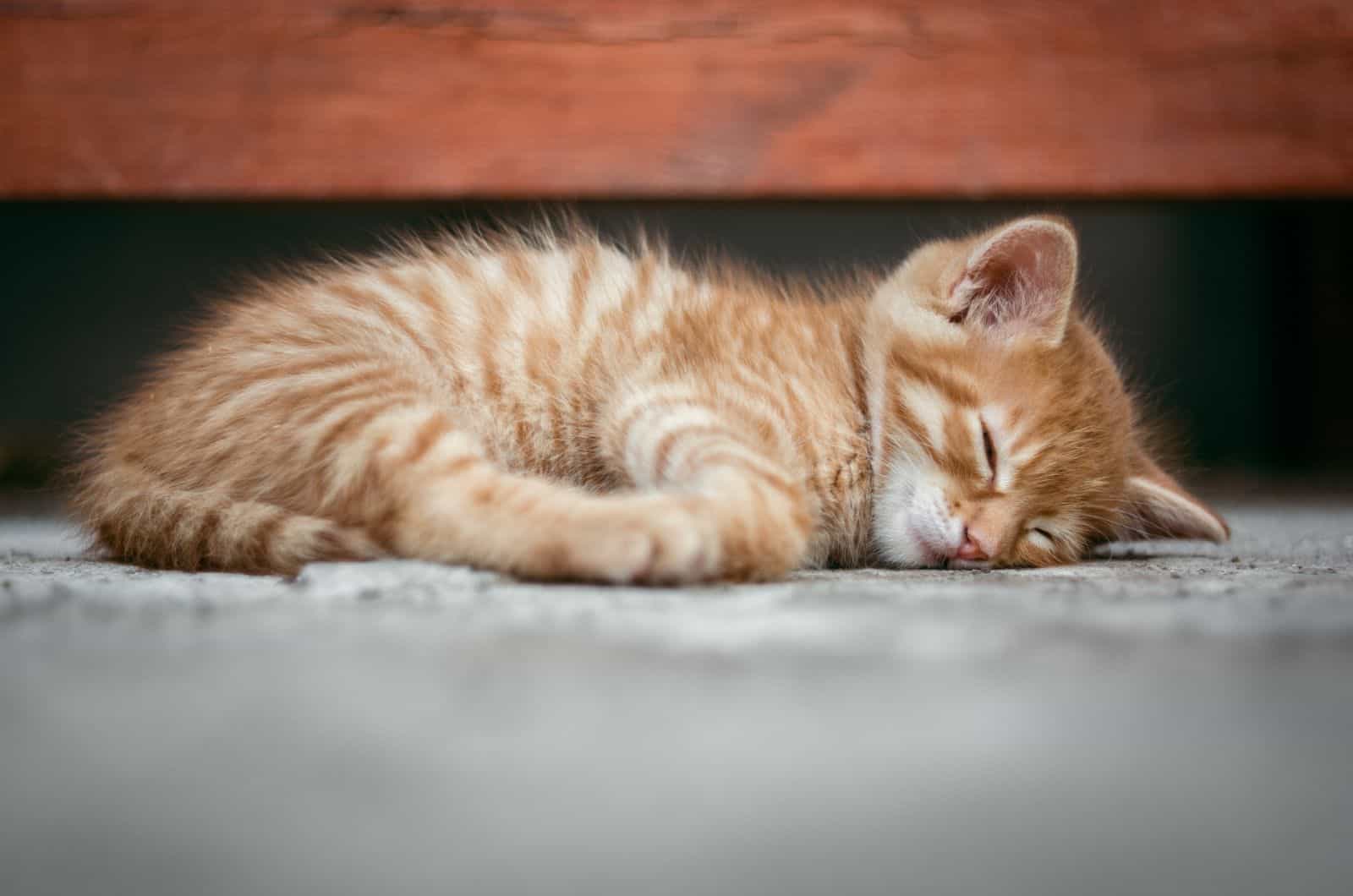 There are a bunch of over-the-counter sedatives for cats on the market today. They mildly sedate a cat, which results in your cat's troublesome behaviors minimizing or even completely disappearing.
Pet owners can choose between chewable tablets, pet calming drops, sprays, and collars, and opt for whatever suits their feline the best.
Many cats suffer from travel anxiety, which can be observed in cats becoming restless, nauseous, and even aggressive before a car ride. Vet visits and grooming appointments are also common causes of stress, as are loud noises such as thunderstorms and fireworks.
For a product to have a calming effect on your cat when it needs it, make sure to use it on time.
Pheromone-based products do not act in a matter of minutes but rather take days. On the other hand, most sprays and oil products work hours after application, but the effects disappear after a few hours.
If your cat does not seem to be better after using over-the-counter sedatives for cats, visiting a veterinarian is the best option.
Perhaps your cat needs a prescription anti-anxiety medication, and those drugs are unavailable in your local pet shop.
Whatever the case, I hope this article has been helpful, and I'm sure you'll be able to manage your cat's stress and stress-related unwanted behaviors efficiently!
If you're interested in learning about herbs that help cats calm down, I suggest you read: Top 8 Natural Sedatives For Cats: Safe Ways To Relax A Cat
Like this post? Share or pin it for later!