This post contains affiliate links, and I will be compensated if you make a purchase after clicking on my links at no extra cost to you.
I have spent many years trying out different products, from cat food to cat litter. If you've been reading our website, you know that I've tried different types of litter in the past, so it was about time I reviewed crystal cat litter as well.
The amorphous silica gel granules, which crystal litter is made of, are super porous. This makes them lightweight and highly absorbent; two features all cat owners appreciate in a litter.
I've tested out the top five crystal cat litters from different brands, and I offer you my experience and unbiased opinion of each one.
My Review Of 5 Best Crystal Cat Litters
Crystal cat litter is, in general, highly absorbent, easy to clean, non-toxic, lightweight, and has great odor control. However, it is also a bit more expensive than most regular cat litter (e.g. clay litter).
It is non-clumping, non-biodegradable, and can be fairly dusty which adds to another problem – tracking. Also, some can be uncomfortable for your cat's paws.
I hope my review will help you decide which of these is the best for your feline friend!
Pretty Litter is a crystal litter, just like all others on this list, but this one is the only one that has the "superpower" of being able to change color. This litter changes color in reaction to the acidity of your cat's pee.
Depending on the pH level, it can change color to dark yellow, red, orange, or blue/dark green. Read more about what each color can tell you about your cat's health in the Pretty Litter Color Chart.
I tried it before I tried the other litters on this list, and it performed very well. At the time I was also concerned about FLUTD, so it was a precautionary measure.
Pretty Litter was a great way to check my cat's health and set my mind at ease, and it is a helpful tool for providing more info to my vet. It has great odor control and is a very helpful indicator of potential health issues that might have gone unnoticed.
Otherwise, urinary issues would only be noticed in the latter stages once the cat showed other symptoms. This litter is also very absorbent, and my cats liked how it felt. It is non-clumping and fairly easy to clean due to its lightweight, just like some of the other litters on this list.
However, what's different about Pretty Litter is that it is less toxic than most other cat litters. It is not as friendly to the environment as all-natural litters made from recycled materials.
However, it is eco-friendly to a certain degree; it is less dusty than others, and it doesn't emit any toxic chemicals. The main downside to it is that one bag won't last for a whole month if you have more than one cat.
| Pros: | Cons: |
| --- | --- |
| ✔️cats like the texture | ❌Price might be too high |
| ✔️great odor control | ❌Loses absorbency if cats use the same spot more than once |
| ✔️color-changing particles | |
| ✔️less dust than other brands | |
Fresh Step crystal cat litter seems to be the number one type of litter in many other reviews. There are numerous customers that claim it is the best choice. After reading some great reviews, I just had to try it!
First of all, the crystals they use for this litter are a bit large, which helps reduce tracking of course, but can be unpleasant for cats. Two of my cats refused to use it since, I guess, they weren't really comfortable using it.
But on this note, my other four other cats didn't have a problem with the size of the crystals. The litter is also very low on dust, but I've read other customers saying that each bag of litter is different, and that it sometimes produces more or less dust.
Mine was really low on dust, but then again, I only tried one bag of litter. I also liked the absorbency level; it seems to sucks in every drop of my cats' pee. It also dehydrates cats' feces very well.
The price isn't as high as other crystal cat litter, so I think this one is a must if you want to try out crystal cat litter. It is cheaper than others, plus it is very easy to clean up.
The main disadvantages of Fresh Step crystal litter is that it is not uncolored or unscented. I didn't mind the scent, but some customers do complain about it. Plus, you need to stir it often in order to get the desired absorbency and odor control.
| Pros: | Cons: |
| --- | --- |
| ✔️High odor contro | ❌It is a bit dusty |
| ✔️It's quite affordable | ❌Might be uncomfortable for your cat |
| ✔️High absorbency | |
| ✔️Low tracking | |
Dr. Elsey's clay litters are more popular than their crystal formula. However, they're doing just fine, considering their crystal litter can be found on many top lists.
They make their crystal cat litter from crystals that are a bit bigger than most other types, in order to minimize tracking as much as possible. However, their crystals are still smaller than those of the previous product on this list.
Dr. Elsey's crystal litter is comfortable for cats' paws but there is still tracking. When my cats used it, there was tracking. It seemed to me that there was more tracking than with Fresh Step crystal litter.
Another thing that might be problematic is that Dr. Elsey's crystal litter contains herbs too, but they didn't declare which ones. This might be an issue for owners whose cats are prone to allergies; not knowing which herbs it includes can pose a risk.
It performed very well when it came to odor control and absorbency. It absorbed and controlled the odors of both solid and liquid waste very well. I like the fact that it's unscented, as did most other customers. However, there are some downsides to it.
Dr. Elsey's unscented crystal cat litter is not dust-free, it is expensive, and if your cats are diggers, they can easily scatter the litter around. I also found out that many customers were furious at the price difference on Amazon and Chewy.
Luckily, I shop on Chewy a lot more and I bought this litter there. But when I started writing this review, I realized there used to be higher prices on Amazon.
It seems they've cleared that up and now the prices are almost the same, if you can find them in stock.
| Pros: | Cons: |
| --- | --- |
| ✔️Cats seem to like it | ❌The price might be too high |
| ✔️Low dust | ❌Cats can easily scatter it around |
| ✔️Unscented and lightweight | |
| ✔️Low tracking | |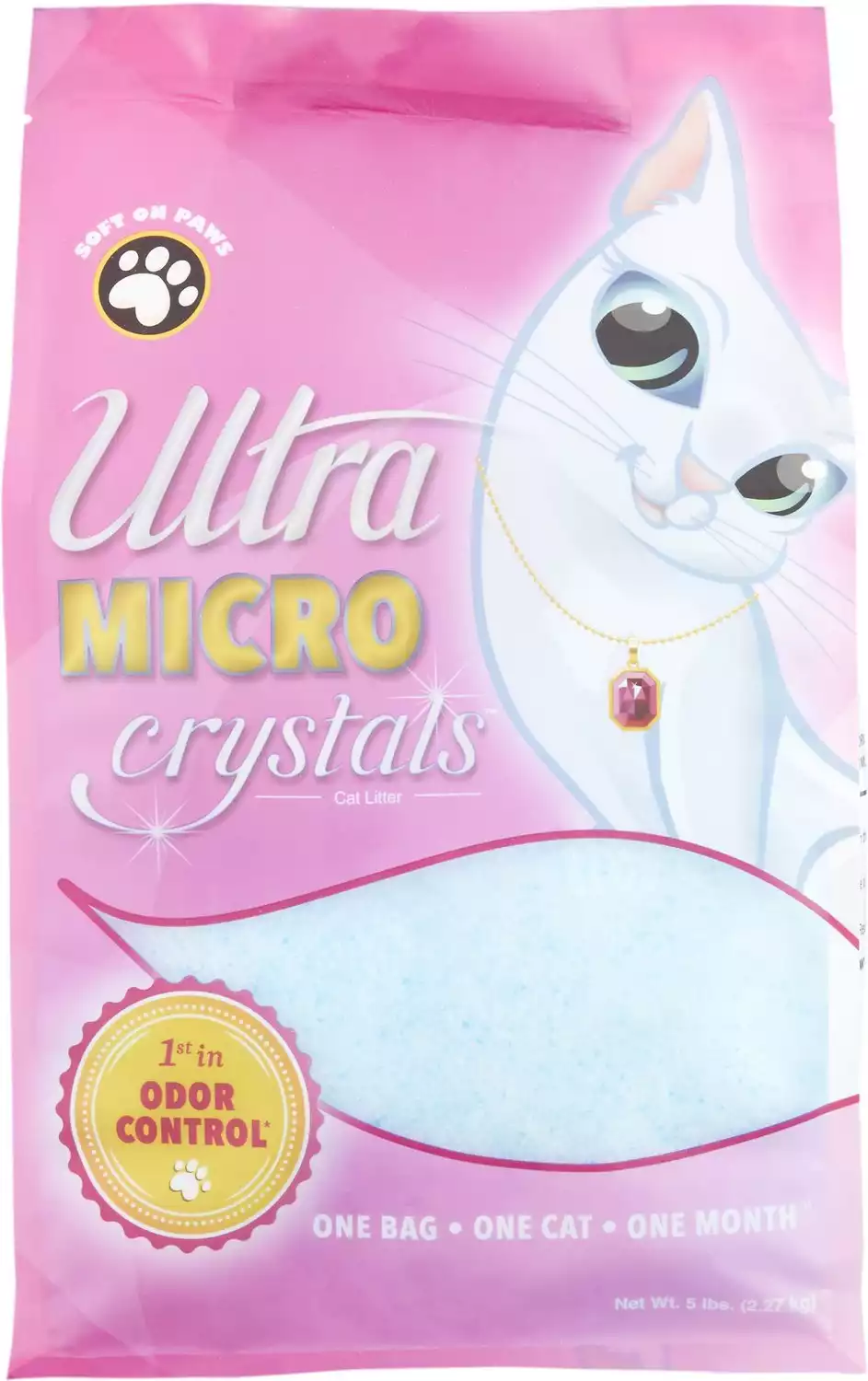 Ultra Pearls Micro Crystal Litter is one of the most consistent and popular crystal cat litters on the market. It has existed for more than 20 years and is still popular and loved by many cat owners.
I found its odor control to be great, especially since all my cats had to try out the litter box with this litter in it. I didn't use an automatic litter box with this litter, but despite that, its odor control was really great.
There are no additional scents which is a plus for most cats. Another huge plus is the size of the crystals. Their micro crystals are comfortable and I haven't met a cat owner who complained about them.
Many cat owners stated that their cats refused most other types of litter, but they loved this one. Ultra Pearls Micro Crystal Litter is also quite affordable and I would definitely recommend it if you are looking for a great, affordable crystal litter.
The only disadvantage of this product is the dust, which, of course, leads to tracking. I found it quite dusty, but everything else was good so I still believe it's worth a try since tracking can be solved with various trapping mats.
| Pros: | Cons: |
| --- | --- |
| ✔️More affordable than other crystal litters | ❌It is quite dusty |
| ✔️The size of crystals | |
| ✔️Highly absorbent | |
| ✔️It's lightweight and unscented | |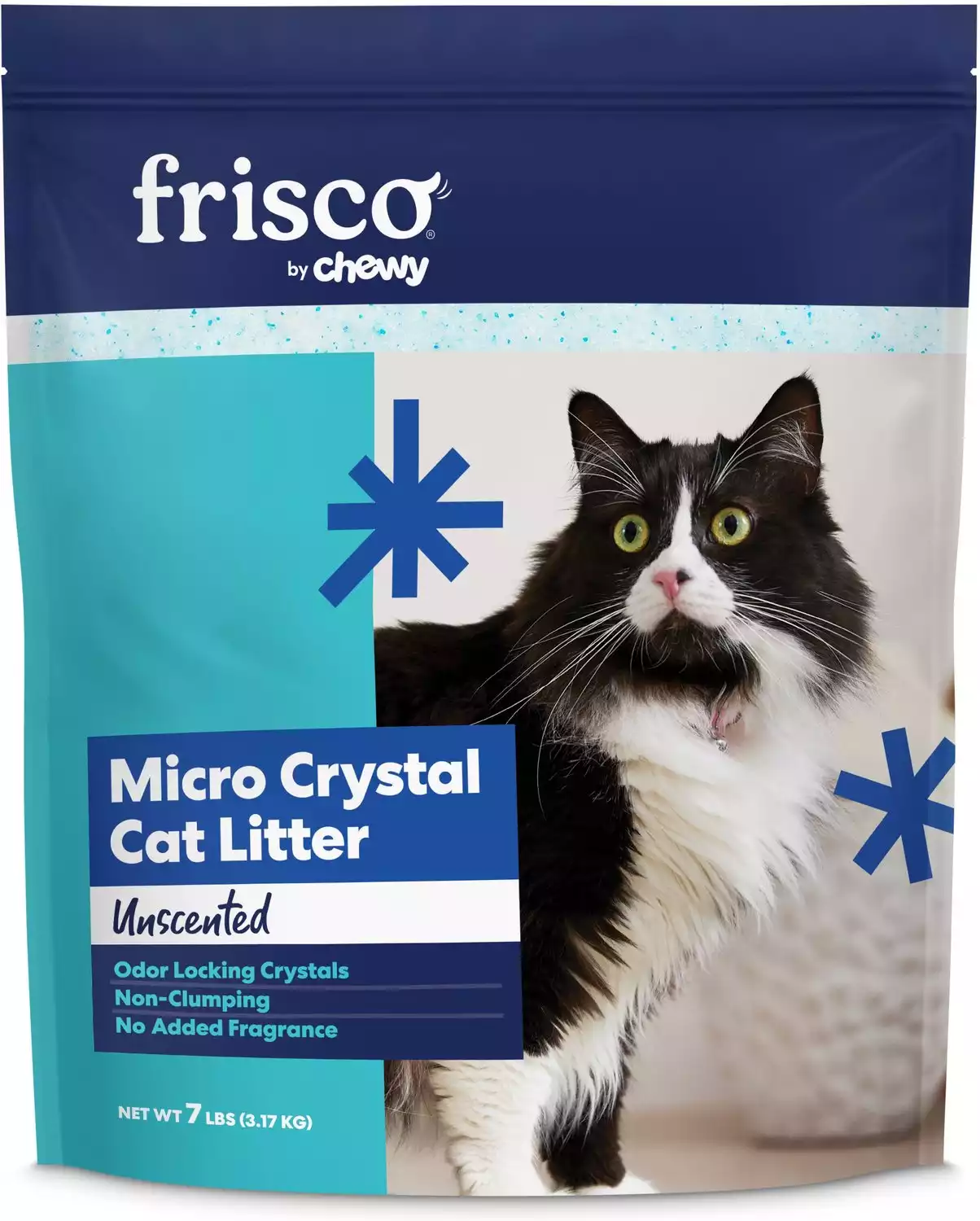 This Frisco Unscented Micro Crystal Cat Litter is yet another great choice for all owners who want unscented cat litter. Most cats dislike artificial scents, so buying an unscented litter is always a great idea.
This type of litter has great odor control and it's highly absorbent. Their crystals act quickly to absorb all liquid waste, controlling the smell and preventing the spread of bacteria.
The main disadvantage I encountered when I tried it, is that one bag will definitely not be enough for multi-cat households. However, if you have just one cat, I believe it can last for a month.
This litter is also non-clumping, so it's easy to clean with a stir every now and then in between cleanings. The best thing about this litter is the size of the crystals, which is suitable for even the most delicate of paws.
However, you might have to deal with the problem of tracking, since it can get quite dusty. I use a trapping mat, because if I didn't I believe my house would be covered in dust from all the different kinds of litter I try out with my cats.
This is why I didn't have a big problem with dust here, but you should consider it if you decide to try Frisco.
| Pros: | Cons: |
| --- | --- |
| ✔️Great odor control | ❌It is dusty and there's tracking |
| ✔️Comfortable for cats' paws | |
| ✔️Non-clumping type of litter | |
| ✔️Easy to clean | |
How To Properly Use Crystal Cat Litter
Crystal cat litter is very easy to use and, most importantly, it's easy to clean up. Simply scoop the waste and mix the litter about twice a day to achieve the desired absorption.
When you notice the litter no longer controls the smell or absorbs your cat's pee, that is a clear sign it's time to replace it. This happens when crystals in the litter are most likely saturated and must be replaced with a new batch.
An 8 lb bag of most litters from the list above can last up to one month, but only in single-cat households. I've found that many cat owners whose cats use an automatic litter box, choose this type of litter.
I totally recommend this, because crystal cat litter sifts through easily and it won't clog the mechanism of the litter box. However, it also performs very well with a regular litter pan or box.
This type of litter should be stored in a dry area because the silica gel in it is so absorbent that it will absorb the humidity from the air in a room as well.
If you keep the bag in a damp spot, the litter won't be able to absorb all the moisture in the litter box once it is poured in. Once you open the bag, seal it and keep it in a dry and well-ventilated area.
I've read that some cat owners reuse crystal cat litter, and I've tried it on one occasion too. If you decide to try, follow these steps:
• Combine the crystals with vinegar, baking soda, and boiling water
• Let it sit for a couple of hours
• Rinse and drain the crystals, but this time use cold water
• Leave it again for a few hours, or overnight
• Rinse again, a few times, until all the smell and color is gone
• Dry it in the oven at 250 °F until the litter is completely dry.
Final Verdict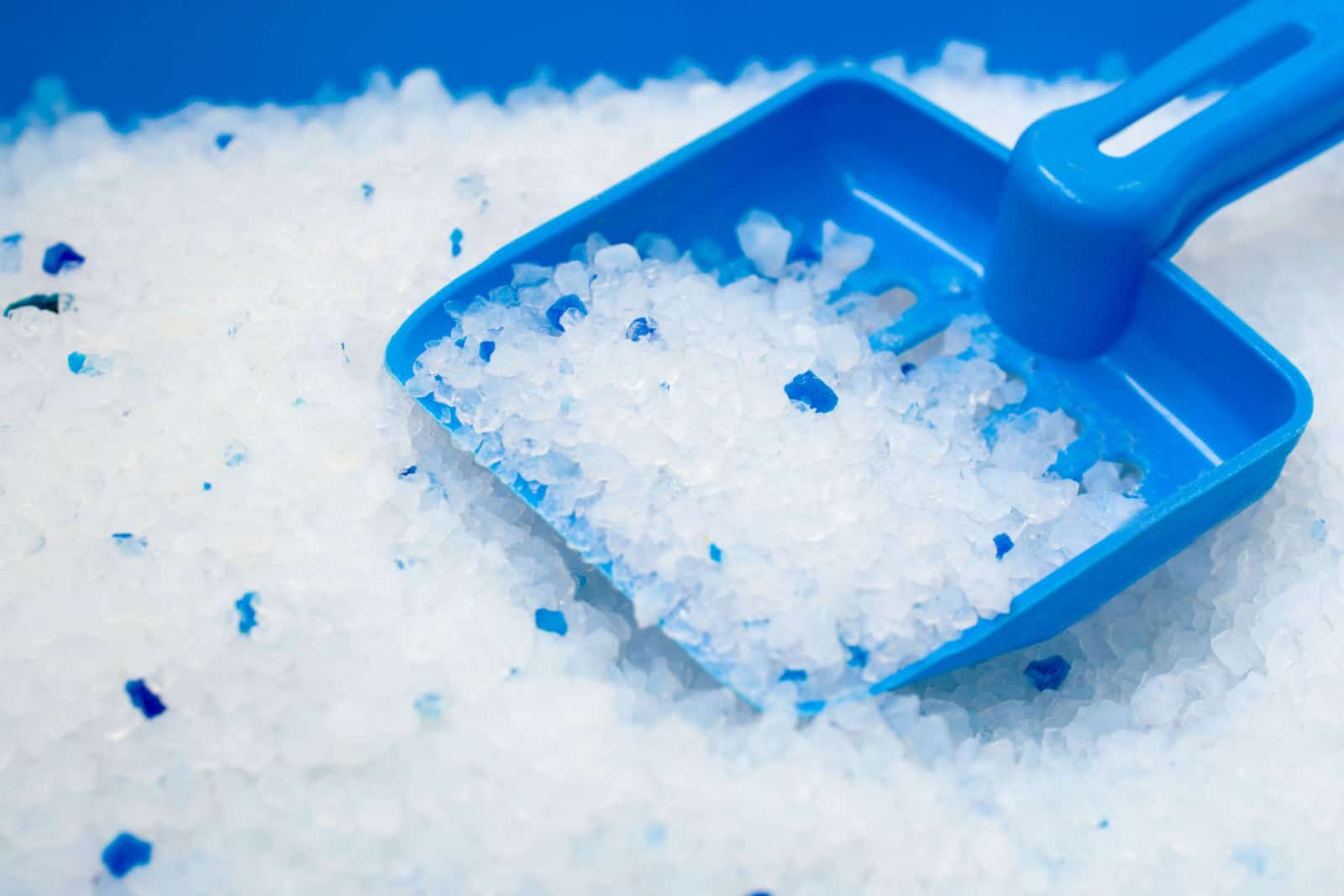 All in all, I always say your cat and its preferences are the key factor when making a decision like this. Always see what your cat chooses and what is the most suitable for its needs.
My overall conclusion on the 5 best crystal cat litters is that the Pretty Litter outperformed the rest of them, but only by a whisker. All of them performed very well in terms of odor control and absorbency, and they're all lightweight and easy to clean.
I think crystal cat litter is worth a try, and I truly hope that my review will give you a better insight into what they're like so you can decide more easily.
Related Articles:
• Best Cat Litter For Heavy Urination + Helpful Health Tips
• Skoon Cat Litter Review (Tried It, Liked It, Wrote About It)