This post contains affiliate links, and I will be compensated if you make a purchase after clicking on my links at no extra cost to you.
If you've read my other product reviews, you've probably noticed how I always try to give the most info about my experience with the product I'm writing about.
In this Applaws cat food review, I've provided a little section for every one of the top 5 Applaws cat foods, giving you some insight into what it was like when my cats tried each of them.
I hope this review gives you all the info you need, and that it helps you decide whether or not you want to try Applaws.
About Applaws Cat Food Brand
Applaws originally debuted at pet shops across the UK in 2006. Later, the trademark began to appear in America, Europe, and Australia. Applaws described themselves as "high quality, 100% natural, and premium pet food."
Applaws must be examined closely to determine whether it is a wise option for your cat. The easiest way to see what types of food Applaws has to offer is to go on their official website.
When you click on the cat categories, you'll see that they offer dry food, wet food, cat treats, food for senior cats, adult cats, and kitten food. There are also different pouches, mousse, broth foods, and pâtés.
Their official website is neatly done, and you can easily get a sense of everything they offer, so you'll know what to look for if you decide to give them a try.
Now, I tested out only five of their products. They are usually listed as the top five Applaws cat foods, so I decided to see what they're like.
Recall History
Applaws dry cat food has been recalled only once, in 2021, but only products manufactured and sold in the UK. This was due to the potential connection with a bone marrow disorder known as pancytopenia in felines.
This recall was done voluntarily, and there is still no proof that the food was a direct cause of the disorder. The Royal Veterinary College is reviewing the incident.
General Info
Applaws is a pet food company that sells wet, dry, and broth options of food for cats and dogs. They've been in business for more than ten years.
Applaws cat food is manufactured using human-grade, high-quality ingredients. Their dry food is prepared in the United States, while the wet cat food is produced in Thailand.
Applaws claims that their recipes are as good as other well-known cat food brands. Their cat food is exclusively grain-free, and every formula contains at least 80% chicken meat to provide the required protein supply all cats crave.
Applaws uses all-natural components and there are no artificial flavors or colors.
Types Of Applaws Cat Food
Applaws, like most other cat food brands, offer a line of wet food and dry food products. Applaws dry food is available in five different flavors. These recipes include identified meats and adhere to the brand's claim of no artificial flavors, colors, or preservatives.
They've been enriched to suit the nutritional requirements of a well-balanced diet. Their wet recipes are among the most basic on the market.
Applaws wet food is manufactured without any additions, including vitamins, minerals, and extra amino acids, in addition to avoiding animal by-products and artificial substances.
Applaws wet food is not a nutritionally balanced diet or fit for a complete meal. Applaws dry food can be fed as your cat's only source of food, but Applaws wet food should be supplemented with other meals.
Most Applaws cat food choices, other than not being suitable for whole meals but rather just supplements, are also fairly expensive, which is the biggest disadvantage for most pet parents.
Applaws Cat Food Review Of Top 5 Products
Now we get to the most important part, is Applaws worth trying out? I hope my review and experience help you out and answer all the questions you might need.
Helpful tip: Always check out the entire ingredient list of every product, just to be sure that you want to feed that particular food to your cats.
I've tried two types of dry food and three wet cat foods. The only thing that I am sorry about is that at the time I tested these foods, there was no Applaws Tuna with sardines or with prawns.
I've read some great reviews, but there were no products available at the time of my purchase. Maybe I'll try them out another time. So, let's see what I concluded about the top 5 Applaws products.
Note: The rating in the following table is taken from the Amazon and Chewy product pages.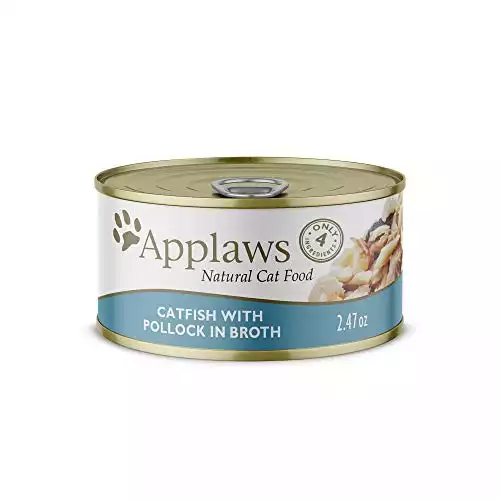 All-natural ingredients are what I always like to hear! This Applaws cat food doesn't contain any artificial colors, flavors, or preservatives. It is made with limited ingredients, with real protein as the primary component.
This Applaws natural wet cat food offers a wide variety of flavors you can choose from, which is great for curious cats.
Bring in a little change in your cat's everyday diet plan, and introduce them to some new flavors and textures. However, even though many cat owners have nothing but praise for this product, you have to remember that it is only to be used as a supplement.
You can use it as a cat treat or as a topper to your cat's dry food recipe.
My Experience
My cats liked the taste of this one, so I put it into their bowls with dry food every two days. We finished one batch, and now we're on our second one. I mix in the Applaws mousse one day, and this one the other.
Among Blue Buffalo and Nulo for example, I always make room for some new cat food brands I'm reviewing (especially if my cats like them).
Pros:
✅ animal protein is the primary ingredient
✅ omega fatty acids
✅ high moisture content
✅ wide choice of flavors
Cons:
❌not suitable as a whole meal, but as a supplement
❌it isn't grain-free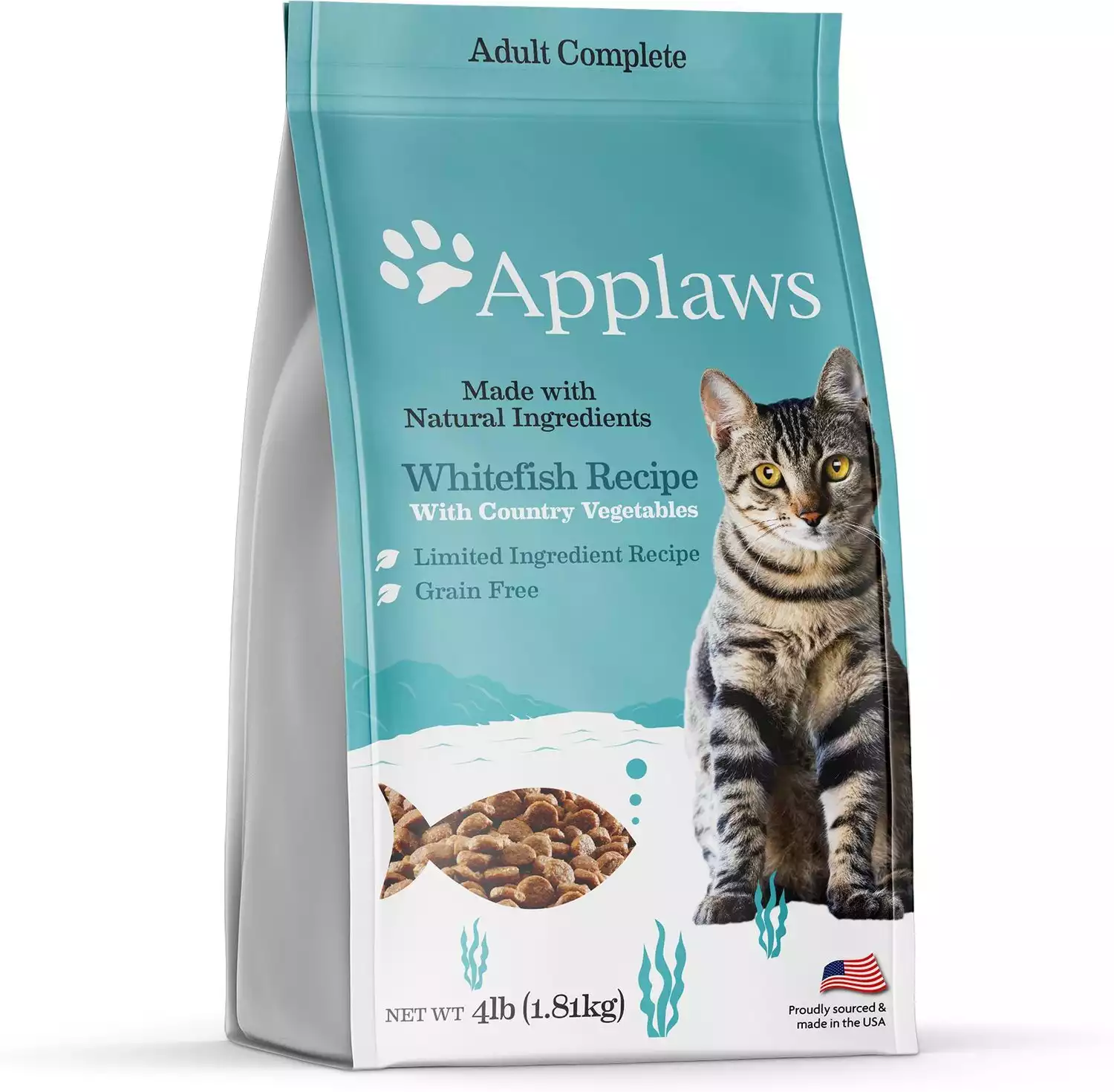 This cat food recipe, unlike other foods on the list, can be served as a complete meal. It is also grain-free and made from natural and limited ingredients. The first and most important ingredient in this kibble is whitefish.
It is full of lean proteins which are great for active cats. The real, all-natural ingredients of this Applaws Adult Complete Recipe are going to make your cat crazy for more.
The perfect combo of meat and vegetables, taurine, carbohydrates, and essential amino acids, can really benefit your cats.
This food promotes good heart health and good vision in cats. It is yummy food that contains no artificial additives.
My Experience
My kitties loved this food! There were no health issues while my cats ate this kibble, and they seemed to like the taste and the crunchiness. All cats are different, my cats ate this food but I don't think I'll stick to buying it.
It is low in moisture content, and if they sometimes refuse to eat their wet food, I don't want their dry food meals to be super dry if you get me.
Pros:
✅ grain-free formula
✅ healthy recipe
✅ full of vitamins, amino acids, and proteins
✅ made from natural ingredients
Cons:
❌ customers reported packaging issues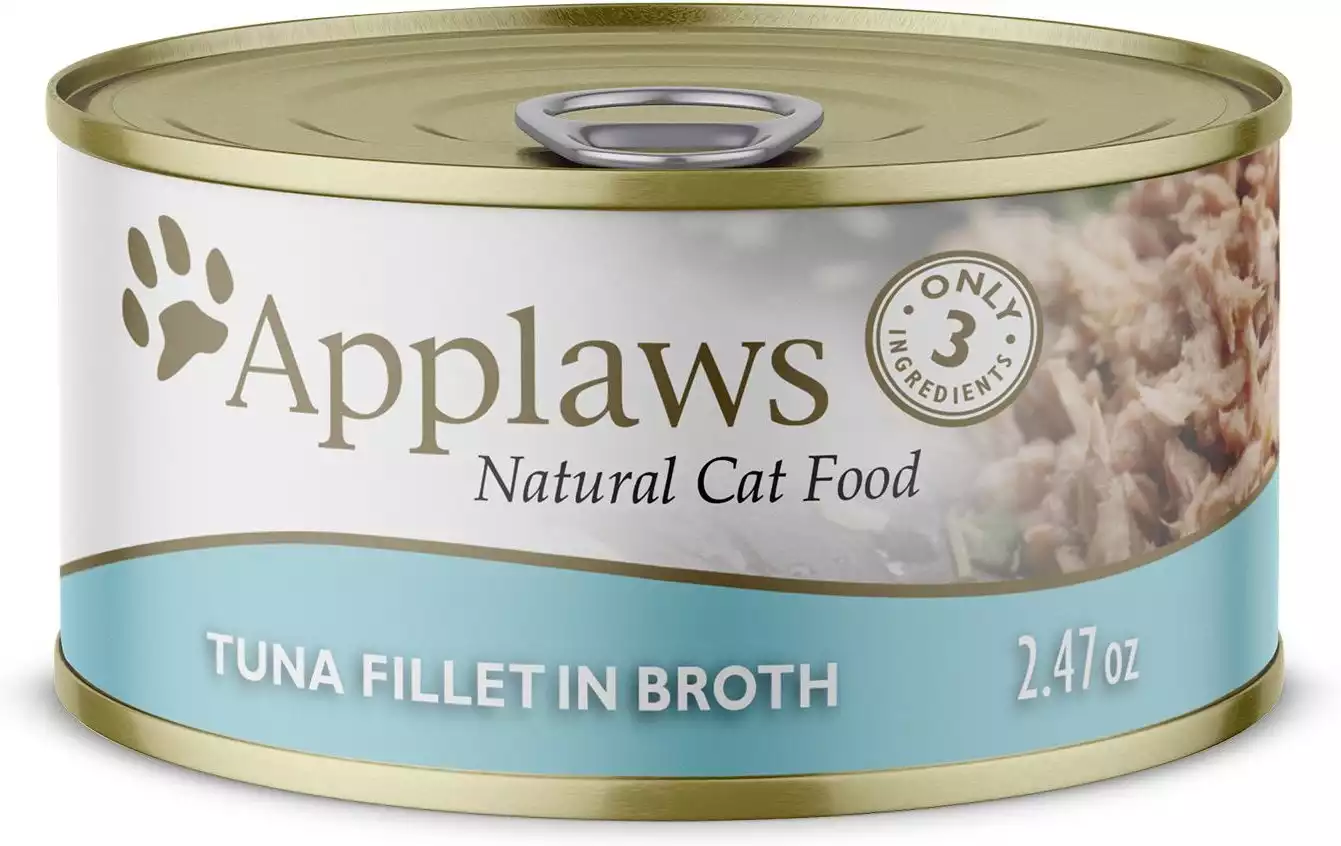 Yum, yum, tuna! The primary source of protein in this can of cat food is, of course, tuna. Sounds unbelievable, but it's true: this can of cat food contains tuna, broth, and a splash of rice. There are no additives, oils, or additional flavors.
Now, every cat owner would rush at it and buy the whole rack! But, the rice makes it unfit for a whole meal.
This cat food has a high protein content, is low in fat, but it is extremely high in carbohydrates, which brings us to the conclusion that the rice was totally unnecessary. This cat food is suitable for supplemental usage only!
Even though it's a simple recipe that appears terrific at a first glance, this cat food is not the best choice for your feline friend.
My Experience
My cats aren't that choosy when it comes to food, but with this one, they seemed to be. I was surprised at first, but then I thought it must be the rice.
I don't remember feeding them rice, or cat food that contained this much rice, so I concluded that must be what repelled them. Two of my cats finished their bowls, but I didn't continue feeding them this.
I figured that since we have to test out five different foods, I won't bother them with this one anymore.
Pros:
✅ no harmful additives
✅ no meat by-products
✅ animal protein is the first ingredient
✅ suitable for cats prone to food sensitivities
Cons:
❌ high carbohydrate content from rice
❌ not suitable as a whole meal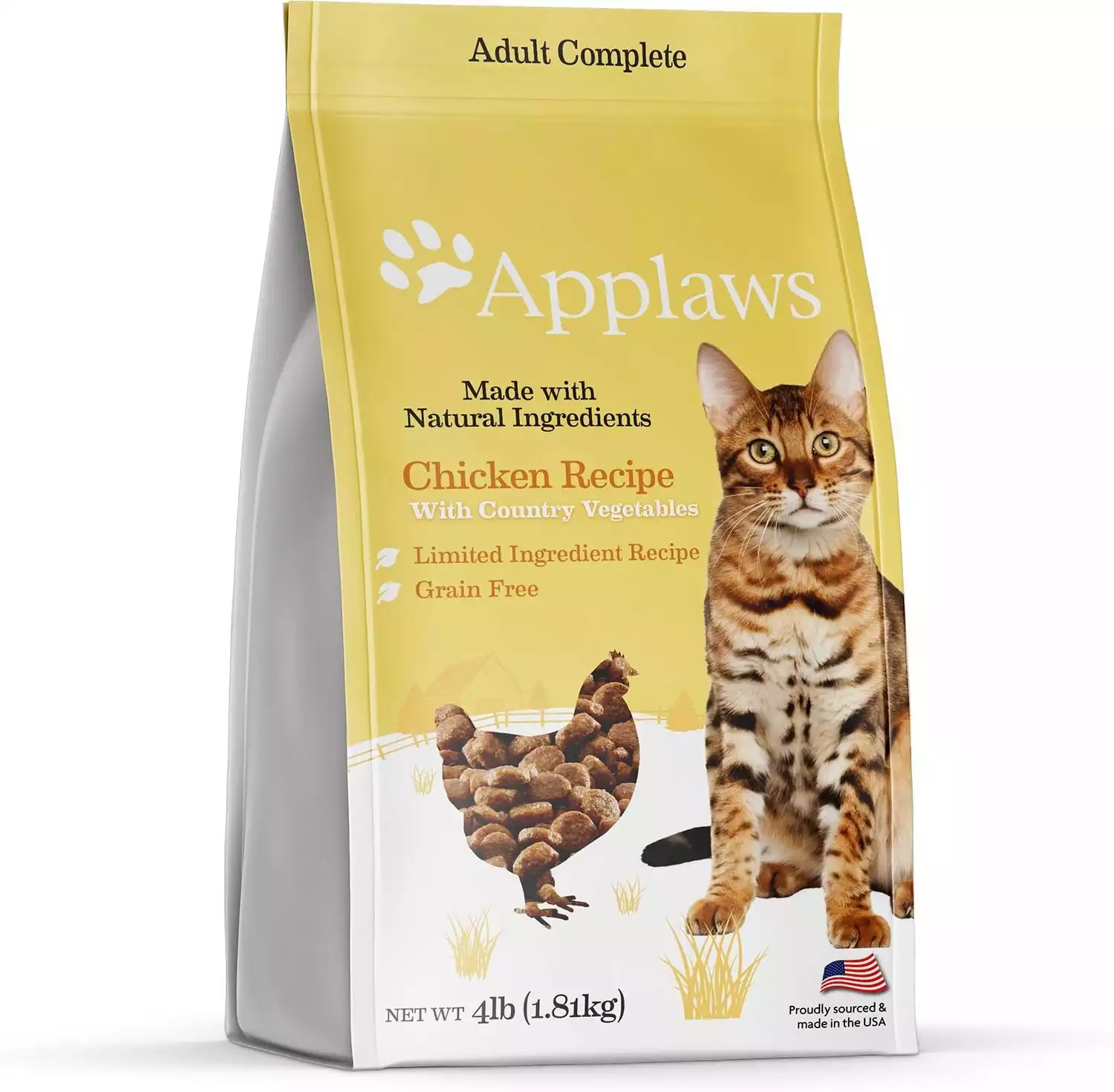 In this Applaws dry cat food chicken (chicken breast and chicken meal) are the primary protein sources. This type of food is nutritionally balanced and can be served as a complete meal. It is safe to feed this to your cat without any supplements or toppings.
This Applaws chicken breast natural dry food is also grain-free, with the addition of lentils, chickpeas, and peas, which also weigh in on the protein content, plus they add fibers, carbs, and other good nutrients.
This food also contains a natural additive called "natural flavor" which enhances the taste of the food, leaving all cats craving for more.
This food is full of vitamins, amino acids, and minerals, and overall, it provides cats with moderate protein content and is high in carbohydrates.
The only disadvantage this food has is the low moisture content. This is why it might not be the best choice for most cats.
My Experience
My cats seemed to like it, but every meal they ate of this dry food, after about 30 minutes, they would run up to their water bowls. Every single time.
This didn't stop them from eating the food, but it can be a dangerous choice if you have a cat that isn't keen on drinking water, or that doesn't like eating wet food.
Combining this Applaws food might be good, if your cats aren't choosy, so you're 100% sure they're getting their hydration from other sources.
Pros:
✅ formula for complete and balanced nutrition
✅ good for cat's digestion
✅ contains taurine
✅ high in fiber content
✅ limited ingredient recipe
Cons:
❌ high carbohydrate content
❌ low moisture content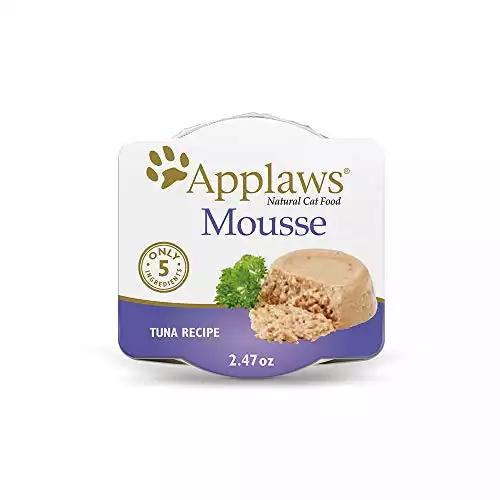 This tuna and pumpkin mousse recipe has no artificial ingredients, and its main ingredient and primary source of protein is tuna.
It is high in moisture and cats absolutely love this texture. There are a lot of cat owners that say their cats won't eat anything else ever since they tried this product. I see nothing bad about that, except if it is literally "nothing else".
This Applaws mousse is not fit for a complete meal. That is the only, and the main disadvantage, as your cats will need to eat other foods as well.
So, if your cats are ok with having a diverse menu every day, adding this mousse to one of their meals is a great idea!
My Experience
If you've read my articles before, you already know I love pumpkin and I love feeding it to my beloved cats. So, it is no surprise that I added this particular food to my cats' diet.
My cats absolutely loved this mousse from Applaws, and I still buy it on occasion to serve as a special treat.
Pros:
✅ tuna is the first ingredient
✅ full of omega-3 fatty acids
✅ high moisture content
Cons:
❌ some customers reported their cats hated the texture
Where Can You Find Applaws Cat Food?
Applaws cat food can be bought on the official Applaws website, Amazon, or Chewy. I bought all products I tested for this article on Chewy, except the tuna and pumpkin mousse, which I could only find on Amazon at the time.
My advice to you is to buy from whichever website is cheaper. Even though their prices are similar, or frequently the same, you can check the prices out and buy from the website that works best for you.
Also, bear in mind that Chewy often offers lower prices for two items or for a combo of different items bought together. (This helps me a lot since having six cats isn't that much fun when you have to buy their monthly supply of kibble! Lol)
How Much Does It Cost?
Applaws cat food products are in the same price range as some other brands that are considered pricey cat foods, like Purina or Royal Canin. This indicates that the Applaws ingredients are healthy but also pricey.
There is one advantage, after all, and that is the usage of human-grade ingredients, which most other expensive cat food brands do not use. Applaws Company also makes an effort to verify that its components are not harmful to the environment.
I guess it is up to you to give it a try and see for yourself as I ordered one type from Amazon and (luckily) my cats didn't have any problems. However, I didn't find any reported issues with Chewy's packaging or shipping, so maybe give that a try!
Another thing I wanted to note is that you should always read the fine print. When you're choosing any type of food for your feline friend, check the entire list of ingredients.
When it comes to Applaws, most of their foods are for supplemental use only. Check out this video I linked below that explains this.
To Sum Up… Is Applaws Good For Your Cat?
Yes, Applaws uses only natural ingredients and no wheat or artificial additives. This is why it is healthy for your cats. They concentrate on high-protein recipes and nutritious diets, all of which are good for your cat if you know how to balance it out.
Their dry foods are fit for whole meals, but their wet foods are better for supplement usage. This is a major disadvantage, especially if your cats don't particularly like to drink water. Do not risk your cats getting dehydrated.
However, if your cats don't mind a little mixture, provide them with a taste of Applaws wet and dry foods, along with their usual cat food.
If you're unsure how to set up your cat's diet plan, talk to your vet or a cat nutritionist to find the perfect solution. All in all, even though it's a bit pricey, Applaws cat food is a good choice for your cat.
Read Next: What's The Best Food For Kittens In 2023?