This post contains affiliate links, and I will be compensated if you make a purchase after clicking on my links at no extra cost to you.
Finding a cat-friendly Christmas tree is a struggle that many cat owners face almost every year. If you have a curious kitty (and most cats are!), and you don't want it knocking down your favorite ornaments off the tree, then you're in the right place.
This list of cat-friendly Christmas trees and tree alternatives will keep your cat's paws off your baubles. Many of them will also work to keep your dog away. All of the listed products are cat safe.
Read on for cat-friendly Christmas trees that will get you feeling festive!
Cat-Friendly Christmas Trees For The Upcoming Holidays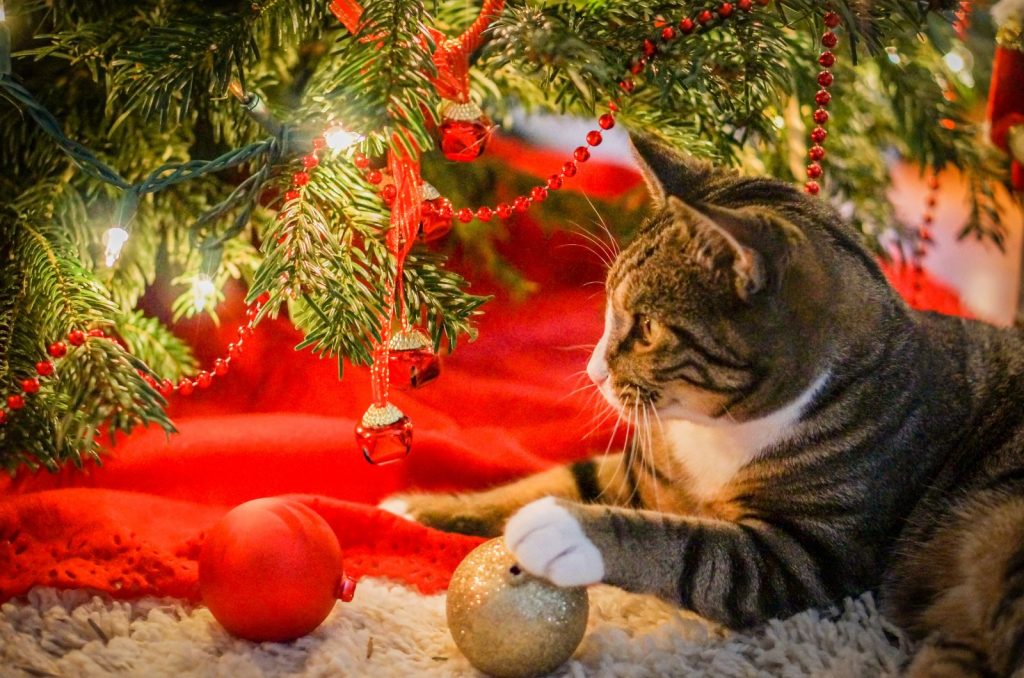 In the following list of products, you'll find the artificial tree that I've bought and which I believe is a great alternative to traditional trees. If your Christmas tree needs to look good and be pretty cat-proof, this is a good option.
I've been using this one for a few years now as the main indoor Christmas tree, and my cats don't even notice it anymore. At first, however, they used to investigate it all the time, have a scratch at the poles, and sniff around it.
I wrapped the pole of the small one in sisal rope and my cats switched to scratching only that one, and they always stop after the first two or three days after I put up all the trees and Christmas decorations.
The only thing that bothered me was that the biggest tree was a bit wobbly at first, but you can easily secure it with DIY gifts (as I did), which help support the base of the tree.
The second product on the list below is another beautiful cat-friendly Christmas tree alternative that, I believe, would fit beautifully into any household. You simply put it up on any wall and it will make your home more Christmassy in no time.
I always put this one up on the wall in the hallway. The third product from the list is the second-best tree I could find. The base of the tree stops felines from meddling with your hanging ornaments and climbing on the Christmas tree.
The base is also great because you can glue sisal rope around it if your curious cat seems persistent in hanging around it. The rest of the listed products are some of the best cat-safe Christmas trees I could find.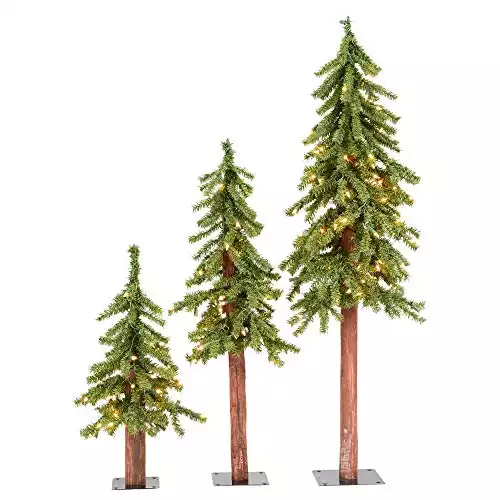 Buying this artificial (but giving off real tree vibes) Christmas tree was the best idea ever! The Vickerman Realistic Artificial Alpine Christmas Tree Set includes 185 clear lights and a set of three trees in sizes of 2', 3', and 4'.
This is probably the best choice for any household during the holiday season. The trees come pre-lit with clear micro lights and have green PVC tips on realistic wooden poles, as well as flat metal tree supports.
These long-lasting trees require no special upkeep and will truly complement any decor. This set also comes with a one-year warranty in case of any malfunctions upon the arrival of the package.
Pros:
✅ Comes with lights
✅ Realistic wooden post
✅ Made from long-lasting materials
Cons:
❌ Tallest tree can be a bit wobbly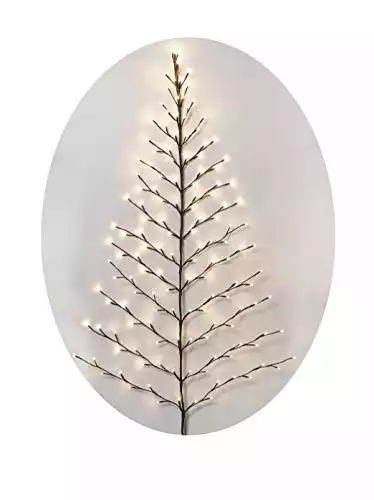 This everlasting Christmas wall tree is an amazing Christmas tree alternative or a simple wall decoration. I use it as a wall decoration in my hallway, but you can experiment and put it up anywhere around your house.
It is set up with 144 ice-white lights and is 5 feet tall. Its branches are simply formed, and you could also use it on the outside of your home since the battery compartment is very well sealed.
It works on a timer, which is set for six hours, and it goes off at the same time every day. The only thing you need to buy additionally is the batteries because they're not included. You need to buy four AA batteries for this tree.
Pros:
✅ Can be used as a decoration
✅ Can be used as a tree-alternative
✅ Contains white lights
✅ Works on a timer
Cons:
❌ Batteries not included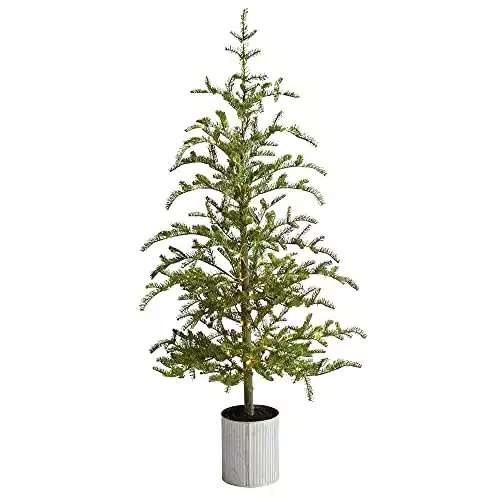 In case you don't like the set of three Christmas trees which I have, then I would truly advise this one to be your next choice since it looks amazing and is very cat-friendly. The materials which it is made of include plastic, metal, and iron wire.
This artificial Christmas tree will make anyone look twice because it really looks like it's been planted in a pot. It is very realistic in appearance, and it lets you display your favorite ornaments and express your unique style.
If you're still worried that your cat will be persistent in lurking around the Christmas tree, you can wrap sisal rope around the base of the tree, so when your cat approaches it, it has something safe to focus its attention on.
This Christmas tree is made from high-quality materials, and it doesn't require any maintenance. You don't need to trim the branches or water it, even though it looks like a real tree. Every day, the tree will look new and full.
This product is perfect for the holidays as it is so lifelike. However, this tree is solely for indoor use. When you take it out of the package, you need to just bend it and separate the branches for a perfect look.
Pros:
✅ Realistic appearance
✅ Made from high-quality materials
✅ Sturdy base
Cons:
❌ No wire in the branches
❌ Packaging might ruin it, so it's tricky to buy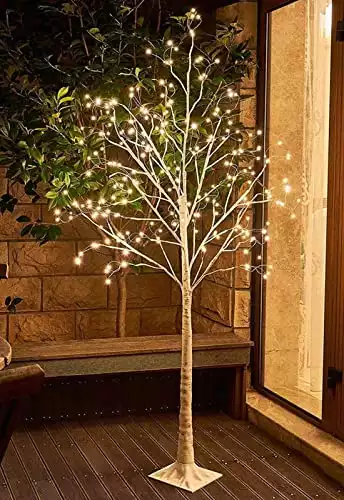 This pre-lit birch Christmas tree is six feet tall and another great cat-friendly Christmas tree option. With its long tree pole and lit branches, it gives off a modern, yet Christmassy feeling.
It comes with 288 LED yellow lights, which can be controlled by a remote control (you can check out the video below the product on Amazon for further instructions).
This tree design and its eight light modes provide a pleasant Christmas atmosphere, and it is so eye-catching for anyone who passes your window.
Pros:
✅ Includes 288 LED lights
✅ Tall and bright
✅ The tree skirt is high above the ground
Cons:
❌ Might be too minimalistic for some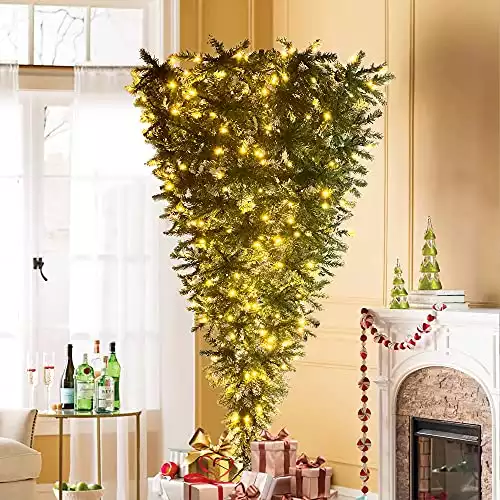 Upside down, boy, you turn me… lol, and now the song's stuck in my head. This pre-lit upside-down Christmas tree, you'll surely make a statement while ensuring your cat doesn't get tangled in its branches.
This tree is 7.4' but it is still a terrific choice for small spaces because it's narrow at the bottom, so it can fit perfectly in a tight corner. It is also great because it leaves more room for gifts, and keeps all your precious ornaments out of reach for your cats.
This differently-shaped Christmas tree will be a talking point for anyone who comes to visit you for the holidays. It looks authentic from a distance, thanks to its green foliage and snow-flaked, realistic-looking branches.
This pre-lit tree has 400 LED lights and is just waiting for you to decorate it with your favorite ornaments. Following the easy steps, simply attach the parts to the base and separate the branches to create the final look.
Pros:
✅ Great choice for small spots
✅ Tall but widens upwards
✅ Includes 400 LED lights
Cons:
❌ Might require a lot of gifts around the base to repel cats
This is another upside-down Christmas tree, except this one doesn't come with its own lights, and its branches are a bit denser. It's built from eco-friendly materials, and its 1100 branch tips are used to produce the realistic impression of a full, authentic pine tree.
The solid metal stand secures the tree better than the usual plastic ones, so there's no issue with the tree's stability. This 7-foot artificial Christmas tree has a bushy appearance with a beautiful pine-green color.
The tips of the tree branches are precisely shaped and made to resemble a real spruce tree. This tree is ideal for both indoor and outdoor use, and it is long-lasting.
There is enough room to place all your hanging ornaments, lights, and greeting cards, or any other holiday decorations you like. It is also very simple to store.
You simply divide it into manageable parts, fit each component into the central pole, and it can all be finished in a matter of minutes. Be sure to check the pictures on Amazon to see how awesome the tree looks when it's decorated for Christmas.
Pros:
✅ Nicely shaped
✅ Easily assembled
✅ Stable base and bushy appearance
✅ Easily set up and stored
Cons:
❌ Might not be suitable for everyone's taste
Display your favorite Christmas ornaments with this eye-catching Ornament Display Tree Stand. Its sturdy metal branches support all your decorations without dropping them and with no bent branches.
This tree stand has 174 ornament hooks and is ideal for displaying your Christmas baubles and ornaments. With this cat-friendly Christmas tree, you'll easily spread holiday season happiness.
The stand's remarkable stability, provided by a solid iron base, allows you to confidently put up all your Christmas decorations.
It only takes about fifteen minutes to put this Christmas display tree up, using a screwdriver, you can also modify the position of each branch.
This tree stand is long-lasting and rust-resistant to compliment your glass and shiny ornaments. Be sure to check out the product info and other smaller ornament holders which go well with this tree stand. You can buy it in black or gold.
Pros:
✅ Modern style
✅ Incredibly stable stand
✅ Long-lasting
Cons:
❌ Might be hard to assemble
The LED branches of this Christmas tree set have an authentic birch appearance. The stems and branches are handmade, which adds to the realistic appearance of this artificial tree.
All the branches are adorned with warm white lights, which are simply beautiful; perfect for creating a festive mood at any Christmas party.
This outdoor/indoor, LED energy-saving Christmas tree is fitted with pre-tested LED lights before packaging and is guaranteed to last up to 30,000 hours.
The well-designed and beautifully illuminated tree creates a pleasant environment in any room thanks to its warm yellow lights. All branches can be bent and are flexible enough for you to hang any Christmas ornaments on.
You can DIY all the branches to suit your desired look. They may be dispersed like a genuine tree or twisted into a group. The square attaches to the base, and tiny holes on the base of the tree allow you to easily attach it to any type of floor.
This tree is also simple to assemble as it is separated into two components that are very easy to put together.
Pros:
✅ Long-lasting LED lights
✅ Easily assembled
✅ Flexible branches
Cons:
❌ Might be too minimalistic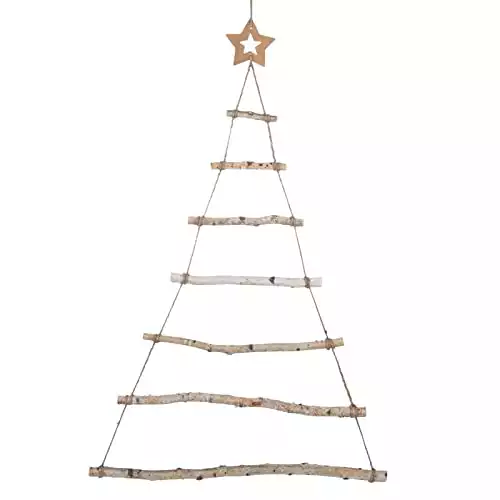 With this lovely Christmas tree-formed decoration, you'll have the Christmas spirit in your home without the hassle of regular Christmas trees and cats and dogs getting all caught up in it.
By hanging presents or stockings on it or under it, you can give it more of that Christmas feeling.wsy This Christmas tree wooden ornament holder can be hung anywhere you choose!
Choose the wall or window, next to a fireplace, or somewhere in the corner where you'd put a regular Christmas tree. This is very minimalistic and is actually a great idea for small homes and cat lovers.
This unusual decoration will create a pleasant and rustic ambiance in your home, making it ideal for brightening up any small space for Christmas.
Pros:
✅ Minimalistic and vintage style
✅ Can be used as additional decoration
✅ Great alternative for small spaces
Cons:
❌ Lack the green Christmas vibe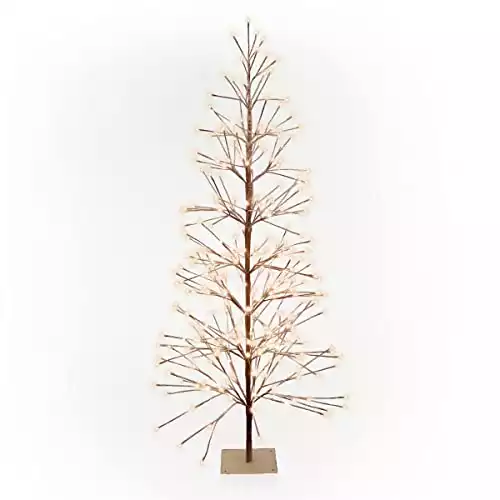 This Frosty Brown Christmas Tree will add a festive touch to your decor! This tree is ideal for individuals who want an ornamental tree for the holiday season but don't want to bother with the cleanup or with the purchase of real trees every year.
Most importantly, this tree won't be interesting to your feline friend. It comes equipped with 296 sparkling, warm-white LED lights and is an excellent accent to any setting, whether indoors or outdoors.
This cat-friendly Christmas tree is nearly six feet tall, which makes it ideal for providing festive happiness to your house or front porch. Alpine Corporation company is a renowned designer and marketer of high-quality home decor in the USA.
Pros:
✅ Tall and minimalistic
✅ Modern design
✅ Made from high-quality materials
✅ Includes warm-white LED lights
Cons:
❌ Might be too minimalistic to some
This is definitely something new and different, but it will certainly bring that festive feel into any house! The colorful lights of this Spiral Christmas Tree come in 16 different colors and have 8 light modes which are controlled by a remote.
This tree is also incredibly easy to assemble, and once you attach the star to the top, the whole thing will light up. It is safe to use; simply plug it into a common 120 V outlet. There's no need for batteries, and there's no need to be concerned about weak lights.
It can be used inside and outside. The Spiral Christmas Tree, with its classic, one-of-a-kind design, is great for Christmas events and snow-themed celebrations.
If you put it up outside, your neighborhood will surely enjoy this cheerful Christmas display.
Pros:
✅ Easily assembled
✅ Great for Christmas parties
✅ Indoor and outdoor safe
Cons:
❌ Might be too festive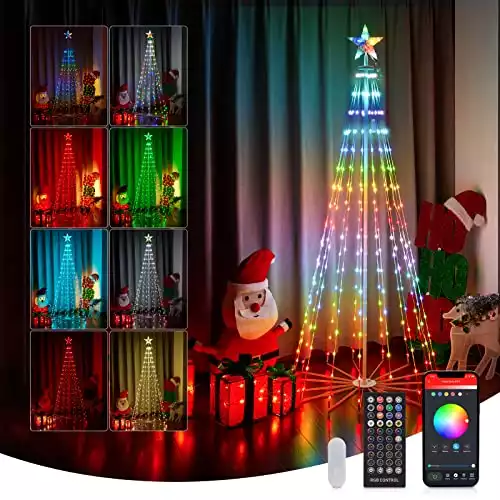 Why is it smart? Well, with this tree, there's no need to cat-proof Christmas trees or worry whether your favorite ornaments are out of your cat's reach. This tree, similar to the previous Spiral Christmas tree, has it all.
Christmas feel, cheerful lights, and it's cat safe. You can have your own light show and even connect the remote control to your phone, so you can control the lights using your smartphone.
Besides the smartphone app, it also has four music modes for the ultimate Christmas mood.
You can use this incredibly colorful Christmas tree alternative to let your imagination go wild. This Smart Cone Christmas Tree is simple to assemble and reuse. It is also easily stored since it doesn't take up much storage space.
Pros:
✅ Comes with remote-controlled lights
✅ Different light modes
✅ Simply assembled and stored
Cons:
❌ Might be too shiny and colorful
This goes well with the Ornament Display Tree Stand. This is simply the tabletop version which can go with it or on its own if you don't have much room for a big Christmas tree.
This rotating ornament display tabletop tree will look beautiful in every home, and the only things you need to buy are two C batteries. Select a few of your favorite ornaments and decorate this small but perfectly formed tree alternative.
Pros:
✅ Simple tabletop decoration
✅ Can be used as additional decoration
✅ Ideal for small spaces as tabletop tree
✅ Minimalist Christmas tree alternative
Cons:
❌ No batteries included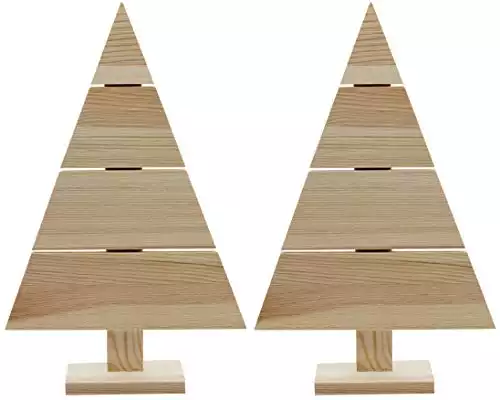 Creative and minimalistic, this Christmas Tree Decor gives you lots of scope to decorate your wooden Christmas tree in any way you like.
You can use the wood stain method, add pictures, ornaments, decorations, paint, or any other creative way to decorate this wooden tree. It's made from high-quality thick wood with a sturdy base.
This is ideal for rural and rustic vintage decors, but I'm sure it will fit well into any home. You can browse through the product reviews on Amazon to check out how other people decorated this particular tree and get inspiration.
Pros:
✅ Made from high-quality wood
✅ Provides a possibility for DIY decor
✅ Simple vintage decor
Cons:
❌ Few customers received broken pieces
This one isn't really a Christmas tree per se, but it can serve a Christmasy purpose just fine if you're worried about your cat getting stuck in your regular Christmas tree.
Put up some Christmas tree lights around the house instead of a tree, and put this Boluo Cat Scratcher somewhere visible, so it serves as a decorative alternative in your home and fulfills your cat's needs for Christmas shenanigans.
This beautiful cat scratching post is wrapped in natural green sisal rope and carpet. The base tower is built of sturdy chipboard and is secure and stable, preventing tipping and shaking and providing safety and stability. It can handle an 18-pound cat.
This is great for fearless cats who like to leap to the top. Again, it is made of 100% natural sisal rope which is hand-twined to offer the best quality for your feline friends. This is also a great gift idea for your dear friends who have pet cats.
Pros:
✅ Affordable price
✅ Festive appearance
✅ Perfect cat "Christmas tree"
✅ Cat-safe Christmas decoration
Cons:
❌ Not a real Christmas tree
Last but not least, this pre-lit pencil Christmas tree is probably the one that most resembles a "normal" Christmas tree out of all these. The pine needles give off a realistic vibe, but the tree is fully artificial.
The sturdy base and long naked pole are great for deterring cats who might be curious about it. Put your gifts around it, some pine cones on it, and you'll have a decorative Christmas tree that will fool anyone into thinking it's a real tree.
It comes with warm white LED lights which provide a festive touch to any room. The metal wire connections make the branches flexible, so it's unlikely to break, and it means you can form them any way you'd like.
The package comes with a 3-piece construction set which keeps its shape and reduces setup time, and all the branches are easily separated and fluffed.
Pros:
✅ Three-piece for an affordable price
✅ Naked tree post high up
✅ Sturdy base of the trees
Cons:
❌ Tree lights might be too bright
Finally…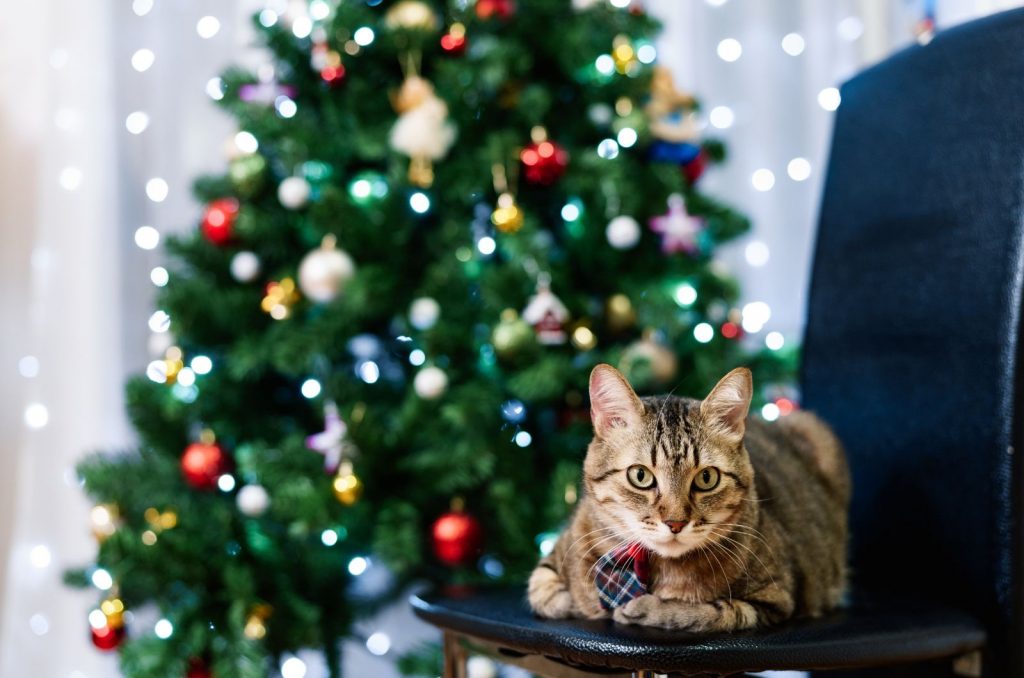 All in all, I believe that all of these products are great cat safe options. It all depends on your own preferences. You can also try decorating your house in other ways to compensate for not having a Christmas tree.
If you decide to buy the Christmas cat scratcher, or the Christmas Tree Wooden Ladder because you don't have room for a big tree or have a very determined kitty, you can put up lots of different decorations and lights around the house and yard.
This way, you won't even miss the regular Christmas tree. I hope you'll find the right cat-friendly Christmas tree for your home! Keep up the holiday cheer and enjoy Christmas along with your feline friends.
If you know your cat likes exploring new things (such as a new Christmas tree or Christmas tree water), I suggest reading: 12 Ways How To Keep Cats Out Of Christmas Tree and Cat Drinking Christmas Tree Water – Should You Be Worried?