This post contains affiliate links, and I will be compensated if you make a purchase after clicking on my links at no extra cost to you.
If your cat goes to the litter box frequently, or you own multiple cats like me, then you'll definitely want to have a litter suitable for heavy urination.
The best type of cat litter should have great odor control and be highly absorbent but also have the ability to absorb the solid waste of multiple cats.
If your cat's been experiencing heavy urination lately, or if that's normal for your cat, you're probably wondering if there is anything that might make litter box cleaning easier. Take your scooper and read on to find the best cat litter for heavy urination.
12 Best Cat Litter For Heavy Urination
I have tested out some of these, and I'll put the one I use for my cats as number one since it holds that place with my six kitties. While I simply can't test out all these types of litter, I have done my research on them.
Some of these have more than 30 thousand reviews, and I have to say that I'm pleasantly surprised. These are some good litters and have been shown as great choices for cats with heavy urination.
I hope that you'll find my unbiased review of them helpful, and I also advise you to look at the product reviews on Amazon and Chewy, depending on where the product is available at the time.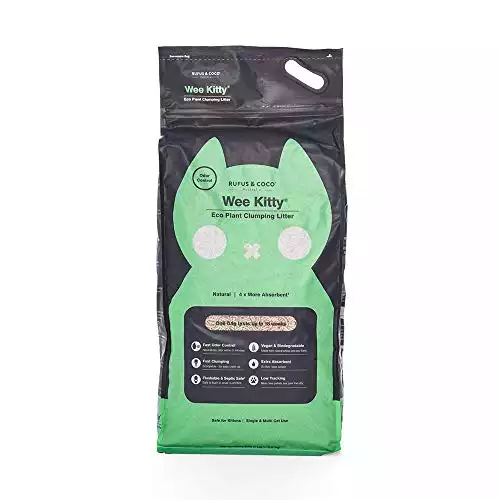 Rufus & Coco Wee Kitty Tofu Cat Litter is an excellent choice if you want vegan, eco-friendly cat litter. This litter is made of organic, absorbent wheat and soy fibers that are both long-lasting and capable of trapping ammonia odors in minutes.
The Rufus & Coco Wee Kitty Tofu Cat Litter absorbs up to four times its own weight in liquid and clumps, making scooping a breeze every time.
The large pellets and low dust help keep tracking to a minimum, and because it's natural, you can use it as ground fertilizer in your yard!
The only disadvantage of this cat litter is that you must thoroughly clean the litter box in between fillings because the urine smell can become more embedded in the cat litter box. Despite this, I think it's the best one, and it's still pretty great for my cats.
For a low price, you get a bag containing 20 pounds of litter (plus, it is often on discount if you buy it on Amazon or Chewy).
Pros:
✅ Natural ingredients
✅ Fast-clumping litter
✅ Biodegradable and flushable
✅ Low tracking
✅ Great odor control
Cons:
❌ Low-dust might contribute to more tracking
See more about tofu cat litters here: Tofu Cat Litter Review: 12 Best Products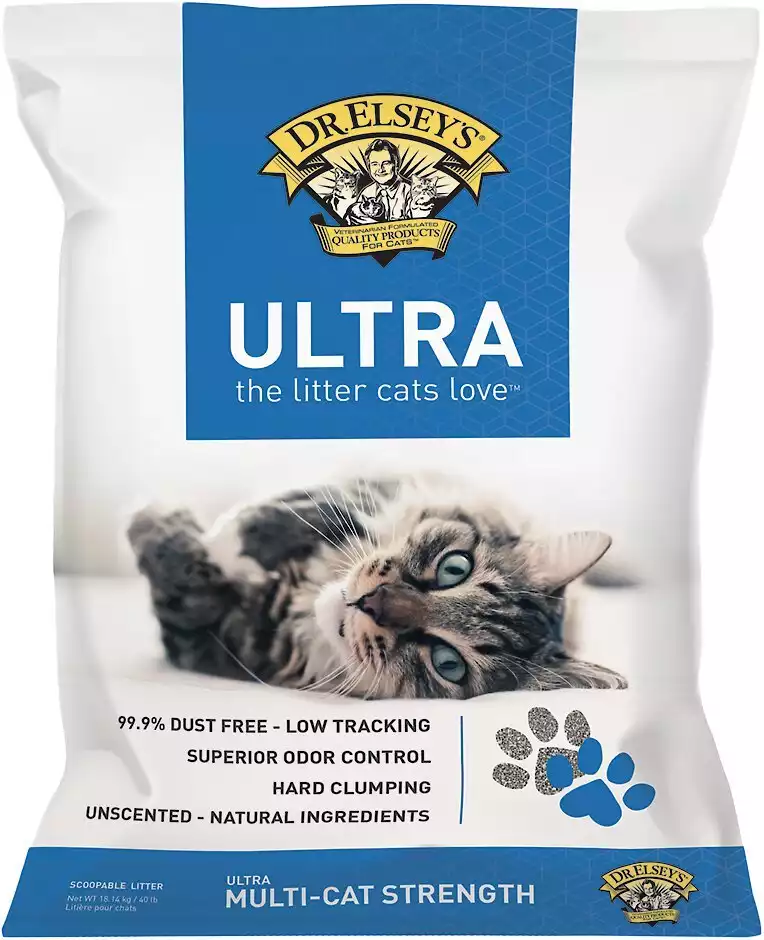 Dr. Elsey's cat litter protects you from allergy triggers. If you and your cat are having trouble with heavy urination, you should definitely consider switching to this natural litter. This type of litter is 99.9% dust-free and hypoallergenic.
Litter particles are manufactured with 100% clumping clay and are the ideal size for all paws. This litter stops moisture from reaching the litter tray, and it immediately allows you to scoop and clean more easily.
There is also less tracking than with other types of litter. This litter is highly absorbent, and it's great for single or multi-cat households.
Also, this cat litter has strong odor control which will keep your home smelling fresh and free of any artificial odors. All in all, a lot of cat owners feel that this is, by far, the best cat litter for heavy urination.
Pros:
✅ Hypoallergenic and highly absorbent
✅ 99% dust-free
✅ Clumping clay cat litter
✅ Suitable for multi-cat households
Cons:
❌ Granules are too big to some cats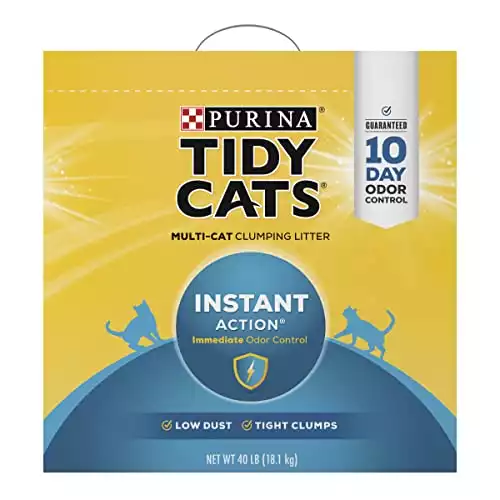 Purina Tidy Cats Clumping Litter is extremely loved by cat owners, and there are a few different versions of it. This one is simply great at absorbing cat urine, and its rapid clumping and odor prevention are extraordinary.
The rapid formation of clumps also makes it easier to clean up, and the litter lasts longer. Purina litters are not completely dust-free, but pretty close to it. There is almost no dust, and there is no tracking.
The triple formula of this cat litter does a great job of neutralizing the odors of urine, poop, and ammonia. It is highly absorbent, as I've said, and it helps keep the litter box fresh.
Your home will smell fresh, and cleaning will be simpler and stress-free. Any moisture that comes into contact with the Purina Tidy Cats Clumping Litter is immediately completely absorbed.
Pros:
✅ Great absorption
✅ Great odor control
✅ Clumping cat litter
Cons:
❌ Doesn't perform well with cat feces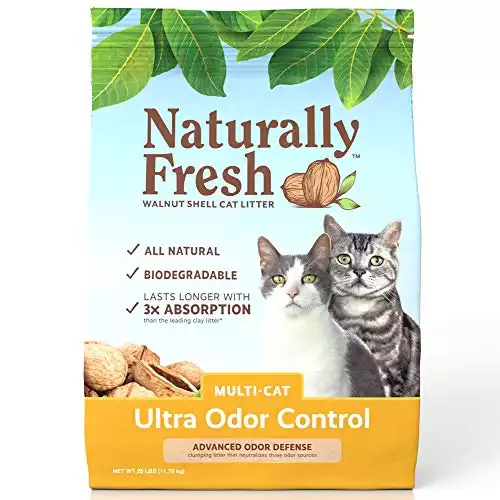 This litter is 100% natural and is made entirely of walnut shells. It is more than suitable for heavy urination and cats that suffer from urinary issues. When urine touches this cat litter, it is absorbed completely!
Your cat's pee doesn't even get the chance to spread around the litter box. The litter quickly forms into tight clumps that are super easy to scoop!
Pine and corn are also used in this type of litter, so it has a fresh scent and is free of any harmful chemicals.
This way, you have naturally scented litter without anything artificial! It smells fresh and a bit sweet, and it's great at masking foul odors.
This type of litter clumps quickly and is great at trapping foul odors before they get the chance to spread around. It's easily cleaned, and it provides more time in-between fillings.
This lightweight litter is great for cats since they can easily move the shells around. Plus, it's completely dust free!
Pros:
✅ Clumping and lightweight litter
✅ Made from 100% natural ingredients
✅ Ideal for heavy urination
Cons:
❌ Some customers reported too much dust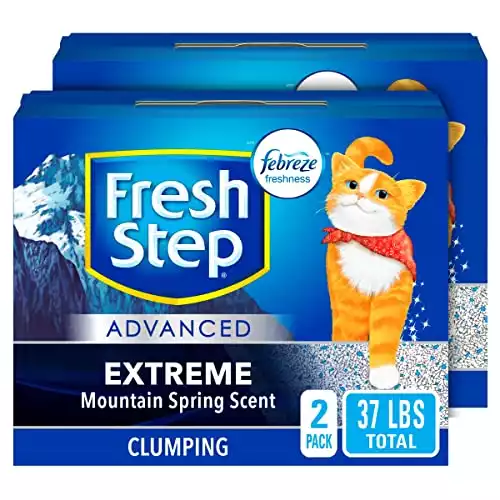 Fresh Step Advanced Clumping Cat Litter traps all odors by using ammonia blockers and activated charcoal. They work by inhibiting the growth of bacteria and neutralizing harmful enzymes. Your home can stay odor-free for more than a week!
This type of litter is low-tracking and low on dust, it is great since it can keep foul odors at bay for as long as ten days. The only disadvantage that's been reported is that the litter doesn't clump very well, so it doesn't make the clean-up easier at all.
Pros:
✅ Amazing odor control
✅ Scented cat litter
✅ Great absorption
Cons:
❌ Some customers reported it doesn't clump very well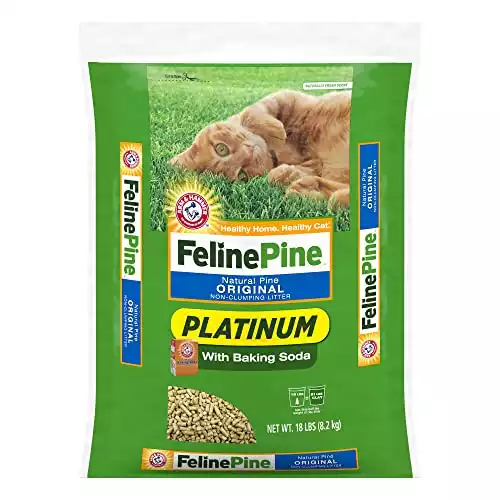 This type of cat litter is extremely absorbent as well. It absorbs large amounts of pee very quickly, which is ideal for heavy urination. It clumps very fast and easily, the clumps are tight and stick together, so clean-up is rather easy.
The only downside to this type of cat litter is that it produces some dust. There isn't tracking, it's not harmful for your cat(s), but it can get smelly if your cat takes more regular trips to the litter box.
Pros
✅ No tracking
✅ Clumping
✅ Quickly absorbs any amount of urine
Cons:
❌ Not completely dust-free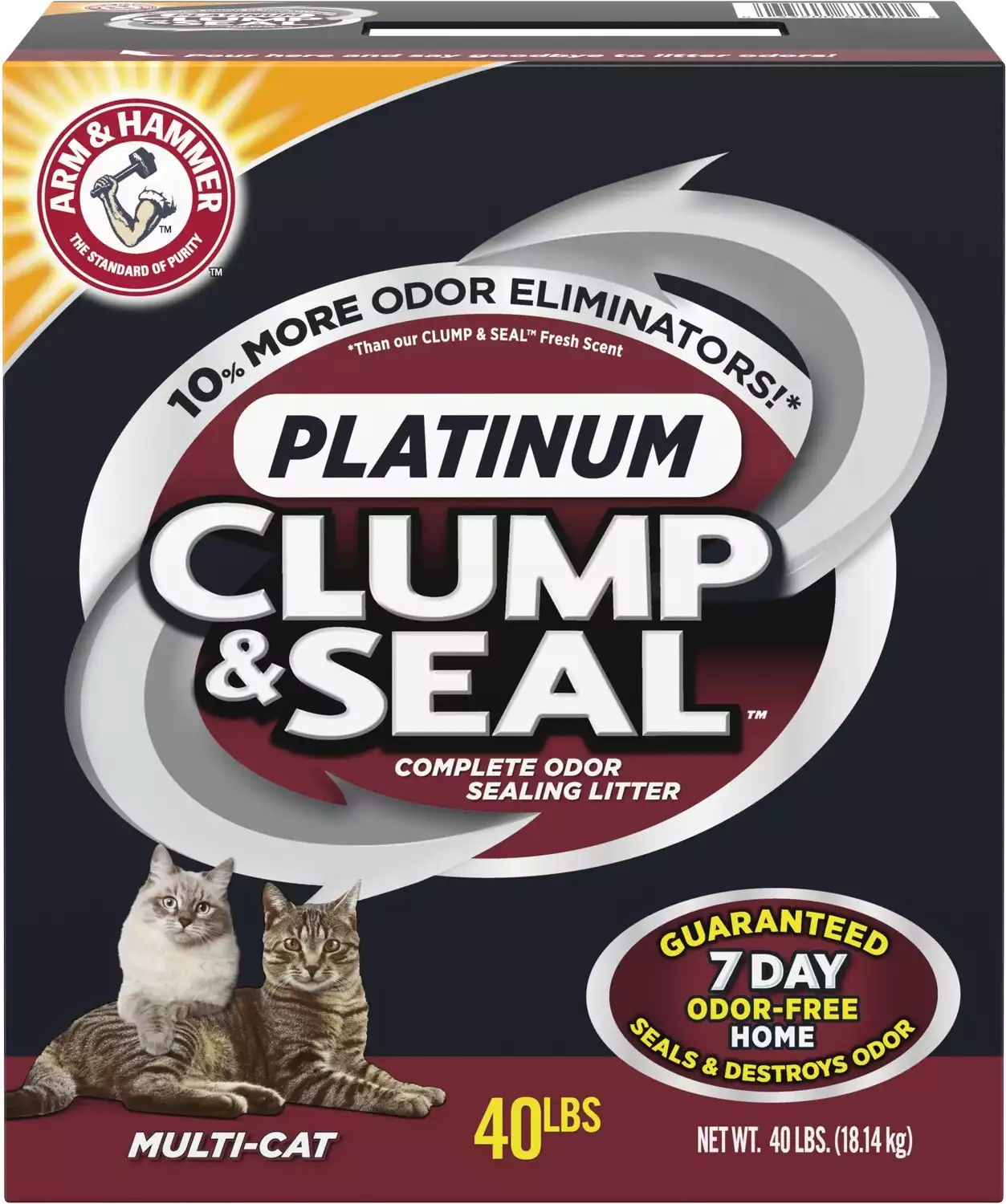 This Arm & Hammer Clump & Seal Platinum Lightweight cat litter is high-quality. It has a high absorption rate and quickly forms large clumps to prevent your cat's urine from spreading throughout the litter box.
It's made from plant-based materials and has great odor control. Any moisture that comes into contact with the litter activates the baking soda and clumping particles in it, so they absorb everything in a matter of seconds.
This Arm & Hammer cat litter has excellent odor control and is dust-free. It's also lightweight, which makes cleaning your cat's litter box almost fun.
Changing the litter in your cat's litter box will be easier, and you won't have to carry a heavy bag around if you decide to replace the litter completely.
Pros:
✅ 100% dust free
✅ Highly absorbent
✅ Made from plant-based materials
Cons:
❌ Some cats might be repelled by the scent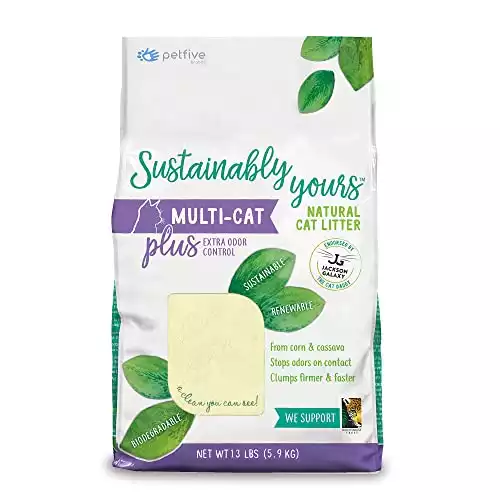 If urine is not absorbed in a timely manner, your cat's litter box can develop an unpleasant odor. As a result, you need the best cat litter that can absorb a large amount of cat urine in a short period of time.
This Petfive Sustainably Yours Natural Multi-Cat Litter contains corn and cassava, which begin working immediately and neutralize the odor of cat urine.
The odor and urine are trapped by the quick and hard clumping action, resulting in a cleaner and fresher litter box. When removing these clumps, they do not break. This cat litter is free of chemicals and dust-free, so it poses no health risks to your cat.
Pros:
✅ Highly absorbent
✅ No artificial chemicals
✅ Great odor control
✅ Dust-free litter
Cons:
❌ Not suitable for long-haired breeds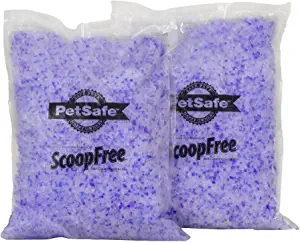 Petsafe Scoopfree cat litter is non-clumping, but that does not get in the way of the excellent odor control that it has. The crystals are highly absorbent, and they do a great job of preventing smells from spreading around the house.
This litter has a lavender fragrance and will keep your home smelling nice and fresh. It is also low on dust, and there are no artificial scents.
Another thing worth noting is that this litter is great for all cat breeds, especially smaller ones, since it's lightweight so cats can easily dig into it, and there are no clumps that sometimes scare small kitties.
Pros:
✅ Highly absorbent
✅ Lightweight litter
✅ Amazing odor control
Cons:
❌ Customers complained about the price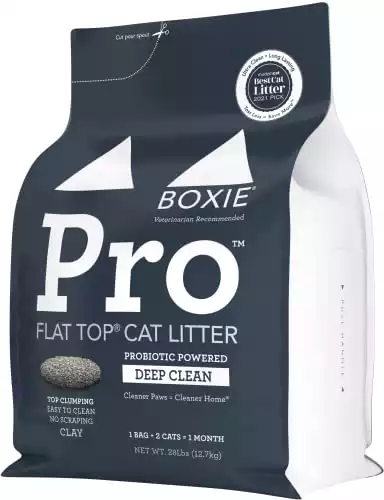 BoxiePro Probiotic Clumping Cat Litter is an award-winning cat litter and is considered one of the best cat litters for heavy urination. It's a clumping litter, and it does a great job at trapping all the moisture that gets in the litter box, keeping it dry at all times.
Besides this, it also saves money as there's always some dry litter left to be used in the litter box.
Pros:
✅ Great for heavy urination
✅ Money-saving option
✅ Highly absorbent
Cons:
❌ Some cat owners reported uneasy clean-up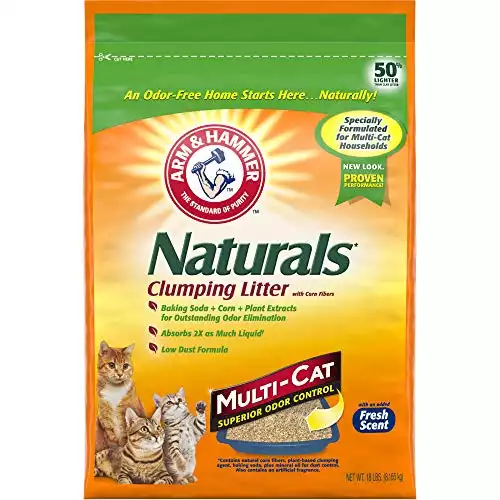 Another one of the Arm & Hammer cat litter types that is great for heavy urination in cats.
This litter has a 2x absorbing formula that deals with cat urine and absorbs all unwanted smells, so your home doesn't get stinky if you can't clean the litter box the second your cat pees.
This Arm & Hammer cat litter is made of plant-based materials and corn fibers and, most importantly, it's dust-free.
Pros:
✅ Dust-free
✅ Highly absorbent
✅ Made of plant-based materials
Cons:
❌ Some customers complained about the scent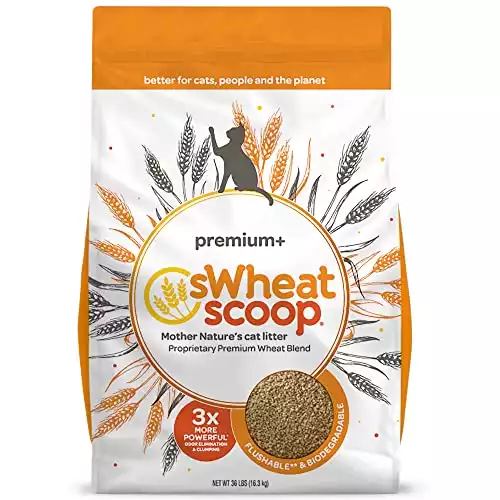 Wheat-Based Natural Cat Litter is a fast-clumping litter that is great at reducing urine smells. The enzymes in this litter are made completely out of wheat, and that improves clumping and helps with odor control.
The clumps form and get solid pretty quickly, which makes cleaning incredibly easy. This litter is also flushable since there are no harmful chemicals, and it is completely natural. It's biodegradable and doesn't contain additional scents or artificial dyes.
Unlike most regular litters, the ingredients of this wheat-based cat litter are all-natural; grown on a farm, crushed, and packed up.
This cat litter is appropriate for all cats and for multiple cat households as well. It's eco-friendly, flushable, and biodegradable.
Pros:
✅ Clumping
✅ No artificial dyes
✅ Flushable and biodegradable
✅ Suitable for all cats
✅ Suitable for multiple cats
✅ Eco-friendly
Cons:
❌ Might have low odor control
What To Look For When Choosing the Best Cat Litter For Heavy Urination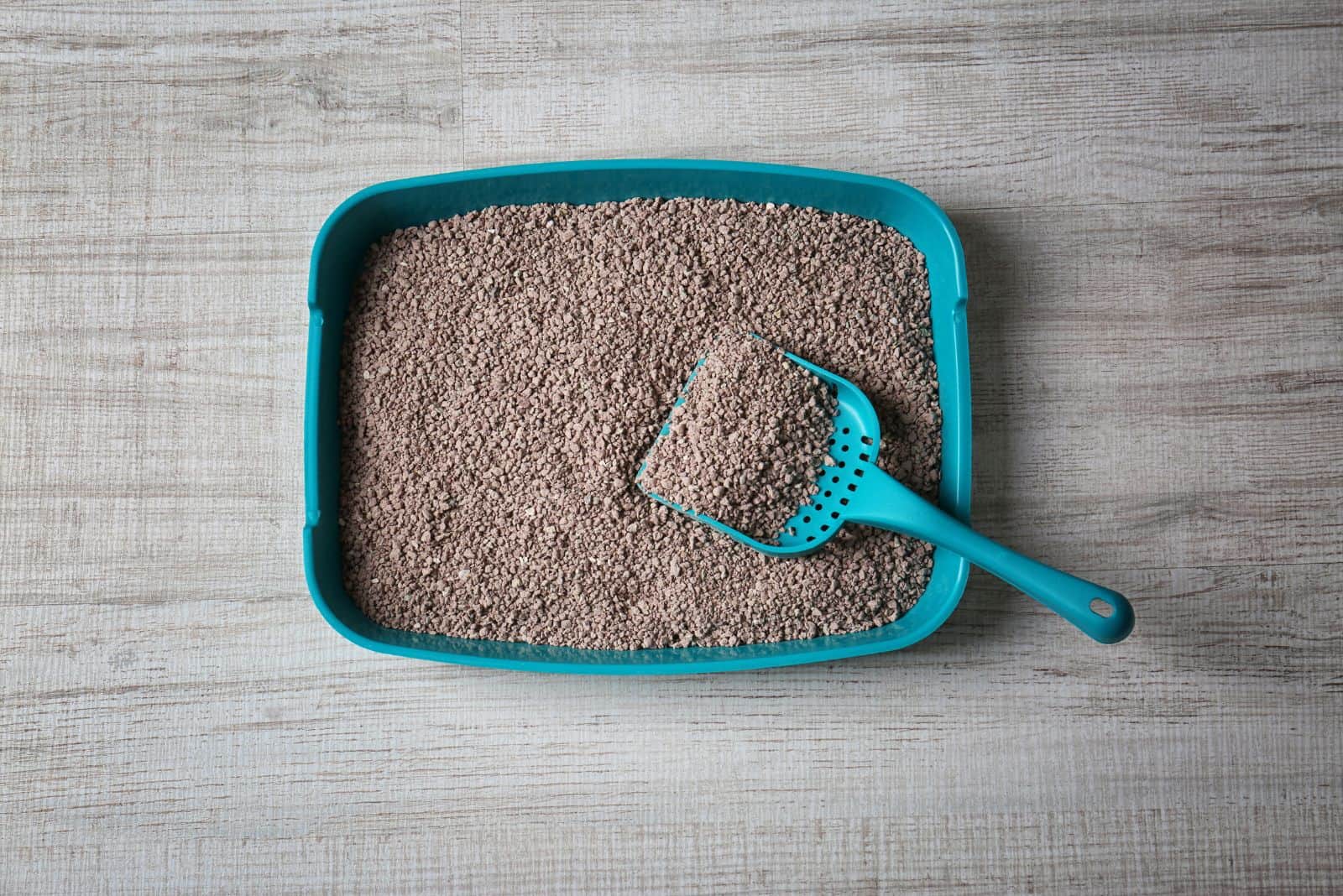 There are a few things you should consider when choosing the best cat litter for heavy urination. Let's quickly look at what factors influence the frequency of your cat's litter box visits. Cats usually pee two to three times a day, but some urinate more than others.
If your cat uses the litter box more frequently, or even less frequently, in comparison to other cats, that doesn't necessarily mean that it's sick.
Just like us, some cats simply use the litter box more frequently, and it can be that your cat simply excretes more urine. It may be your cat's natural need, and there's probably nothing to worry about.
So, let's see what you should look for when choosing cat litter for heavy urination.
See also: Best Sifting Litter Box For Pine Pellets
1. Dust-Free Litter
There are some cat litters that create dust once your cat moves around in them, and finding a dust-free litter is a top priority for several reasons.
First, cats that pee heavily and use the litter more frequently will leave so much tracking that your floors will be more dust than carpet. Cats are not at fault here; that's just what happens with dusty litter.
Another reason you should opt for dust-free litters is because it's safer. Dust can be extremely harmful to your cat's health. Your cat could inhale dust any time it uses the litter box, and this could lead to respiratory issues.
Always make sure that the litter you choose is dust-free, and in the case of heavy urination, make sure it's designed for that as well.
2. Absorption Level
Finding the best cat litter for heavy urination can be tricky because you want to find one with great absorption power. Cat litter can get stinky pretty fast, especially if it lacks absorption or is of poor quality.
If the cat litter has low absorption, cat urine spreads more easily, and the litter box becomes wet and smells pretty bad. If your cat's litter box has been known to smell foul, this is probably why.
Additionally, cat owners and your guests aren't the only ones who dislike smelly litter boxes – your cat doesn't like it either. Some cats might even refuse to go to a smelly litter box, which can lead to them going somewhere else in your home.
The best type of cat litter is the one that will control any foul odors so your cat doesn't have the urge to avoid its litter box. So, to be on the safe side, choose a clumping litter, preferably one that forms hard clumps.
This will not only stop the odor from spreading around, it'll also prevent the cat pee from ruining the litter box completely. With clumping litter, cleaning will be easier as well.
There's no need to empty the entire litter box every time you clean, which is why clumping is better than non-clumping litter, especially in the case of cats with heavy urination.
3. Lightweight Litter
Cats like to dig around their litter box when they use it. Because of this, it's desirable to buy a lightweight litter so your cat can easily dig in, to move, and it's easy for its paws.
This litter is easier to scoop, and it's easier to pour it in once you need to fill the litter box again. So whenever possible, you should decide on lightweight cat litter.
4. Unscented Vs. Scented
What is better in masking the pee smells? Well, everyone would think that it's scented. Scented cat litter can help greatly in odor control, but it won't eliminate it completely.
However, scented litters do a great job at controlling the odor and stopping it from becoming unbearable. However, every pet owner will have their preference when it comes to scented vs. unscented litter.
A scented litter might be a problem in homes where there are allergies present, but an unscented type will be perfect.
Some other cat owners might not want to risk their cats having health problems linked to scents in the scented litter, and additionally, some cats prefer an unscented one.
You should look for natural scents if you don't want artificial scents in your home and your cat doesn't mind scented litter. There are scented litters that have natural scents in them, so you can use those instead of unscented versions.
The smell of this litter will be mild, but you or your cat won't be exposed to any of the harmful chemicals that might be present in scented litters.
Check out: Pretty Litter Or Kitty Poo Club: Which One Is Better?
Why Does My Cat Pee So Much?
When you notice that your cat's litter box visit lasts for quite some time, and then when you go to clean it up, there's just so much urine, it's normal that you'll wonder why that is. Are there any health issues involved?
There are several things that can have an impact on how frequently your cat pees, for example, your cat's water intake, meds, or food diet.
Food & Water Intake
If your cat happens to start consuming more water at a certain period of time, you'll notice that it's peeing more as well. Similarly, wet cat food provides an additional source of hydration for cats.
So, if your cat eats wet food on a regular basis, its fluid intake will increase, and your cat will simply need to pee more.
Polyuria
There's another thing that can happen if your cat pees more than usual, and that's polyuria. Polyuria occurs when your cat urinates in greater quantities than usual. This is usually due to the body's inability to regulate urine formation.
The cause for this can be excess glucose in the blood, diabetes, kidney disease, or hyperthyroidism.
FAQ
Why is my cat peeing high in the litter box?
Your cat is most likely peeing unusually high in its litter box because it wants to mark the territory. Territorial "marking" is a normal behavior that can be provoked by the appearance or odor of another cat.
Some cats, however, will "mark" their environment because of stress or anxiety. Cats' urinating patterns may also change if they have problems with the litter box or tray.
Can cat litter cause urinary problems?
When minerals and organic components accumulate in the bladder, bladder stones form. Bladder stones, which are usually the result of inflammation or disease, block the cat's urethra, making it impossible or extremely difficult for your cat to pee.
They are frequently associated with dirty litter boxes and are typically caused by UTIs. If the litter box isn't cleaned on a regular basis, urine and feces accumulate, and ammonia toxins build up.
Living in an ammonia-filled environment can cause significant respiratory issues.
What should I do if my cat is peeing outside the litter box?
If your cat is unexpectedly peeing outside the litter box, see your veterinarian first to rule out any health issues. If your cat's health is fine, you may want to consult with a cat behaviorist to assist you in working through the litter box issues.
What is the difference between clumping and non-clumping cat litter?
Non-clumping and clumping cat litter are the two main types of cat litter. Clumping litter is, as the word says, the one that forms clumps. Whereas non-clumping doesn't form clumps no matter how soaked it gets.
Most cat owners find the clumping one easier to clean. Now, deciding which one is better is a personal preference. That decision will depend on what you want and what your cat eventually prefers.
Most cats prefer the clumping version since it's easier to dig in, but there are some that prefer the non-clumping one.
What is the best way to clean cat urine from the carpet?
Follow these steps, and your carpet will be stain-free and smell fresh:
1. Blot the area with cotton or paper towels to absorb the urine.
2. Rinse the spot your cat peed on and vacuum it.
3. Put some Enzyme Cleaner and soak the stained spot.
4. Allow it to sit for a bit before blotting it again with a clean cloth.
5. Stop your cat from going to that area again.
6. Reapply the Enzyme Cleaner if you need to, and repeat the process once more.
Should I use non-clumping or clumping clay litter for heavy urination?
Both have advantages and disadvantages. In the case of clumping litter, the clumps absorb all of the urine and provide easy clean-up.
With non-clumping litters, they are also absorbent, but they don't clump. The litter continues to absorb moisture until it's saturated. When the litter becomes urine saturated, you must change the entire litter.
Final Words
To conclude, I hope you'll give these kitty litters a try and that you'll end your search for the best cat litter for heavy urination. I've written what my final choice was and how my cats couldn't be happier.
It's important to choose the right litter for so many reasons, you want your cat's paws to stay healthy, and you want your cat(s) to stay healthy overall! Be sure to check the absorption power, odor control, and ensure the litter is dust-free.
Another thing to keep in mind is that some cats might not like scented types of litter, but you can give them a try as well. Just keep an eye on your cat to be sure whether they like it or not.All in all, hope you'll get lucky and pick out the best cat litter for your cat on the first try! Good luck.
Like this post? Share or pin it for later!