This post contains affiliate links, and I will be compensated if you make a purchase after clicking on my links, at no extra cost to you.
This cat food brand is popular among cat owners, especially those who are looking for the best priced food, so I decided to see it for myself and make my final decision.
So, is Meow Mix good for cats? If you want to learn more about Meow Mix, its products, my rating, and reviews, then I suggest you keep reading!
Meow Mix – All About The Cat Food Brand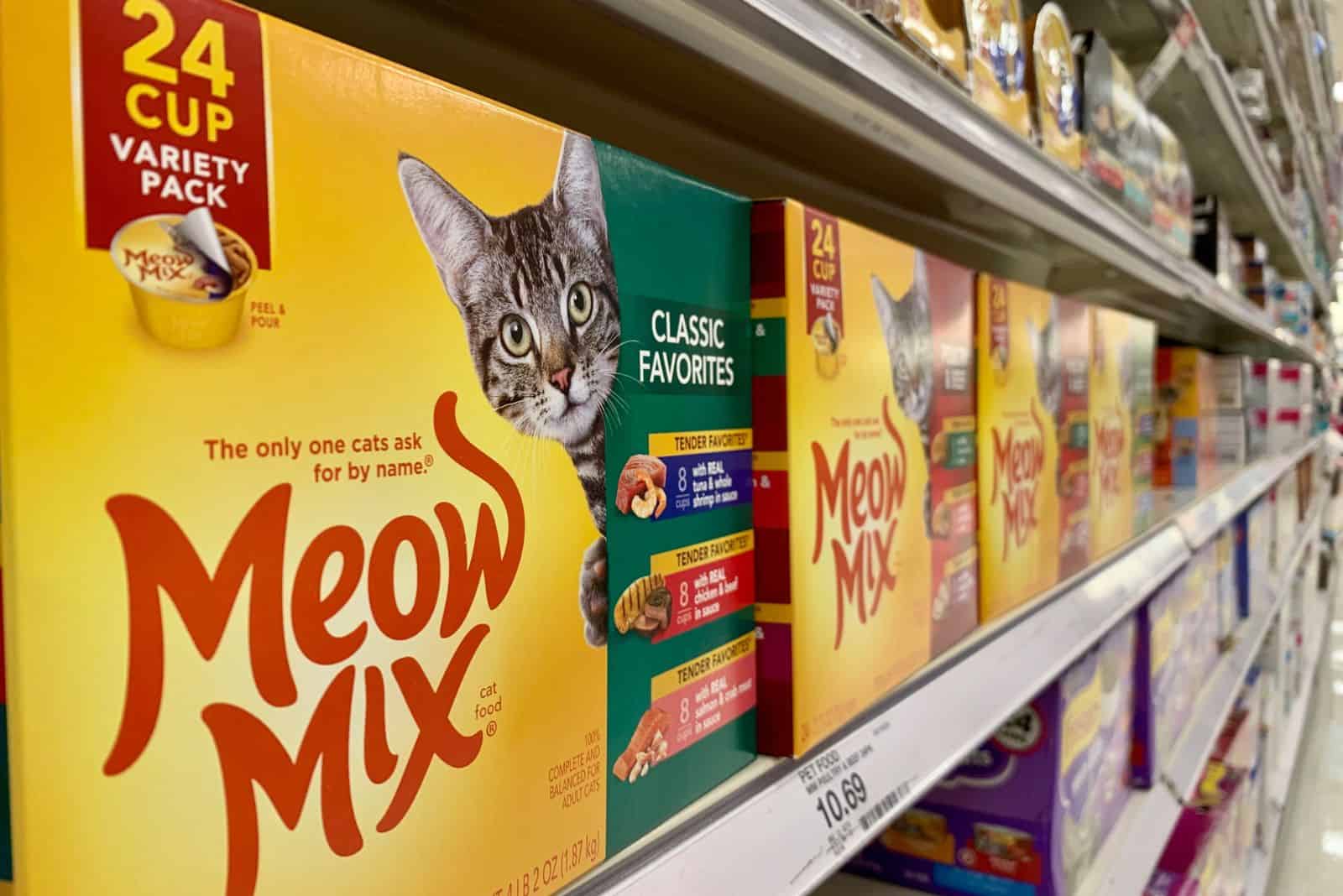 In case you never heard of Meow Mix, worry not, as this Meow Mix cat food review will help you learn everything about this food brand.
Meow Mix was founded by Ralston Purina Company which is nowadays known as Nestle-Purina. However, the year of the company's foundation is also the start of a long journey.
Since 1974, this brand has been sold from owner to owner for 40 years, and of course, many things have changed throughout these years.
Meow Mix was first sold to Del Monte Foods, which also owned Big Heart Pet Brands. Later on, Cypress Group took over this brand, and after some time, it was again returned to Del Monte Foods.
For some time, this food brand was owned by the J.M. Smucker company, the owner of popular brands such as Rachael Ray Nutrish, 9Lives, and similar.
Despite that eventful journey, this brand still managed to attract customers with the products and advertisements, such as the tagline – the food cats ask for by name, and the jingle.
Now that we've got to know a few things about Meow Mix, we can continue digging more information to find out if Meow Mix is good for cats!
What Does Meow Mix Offer Its Customers?
Meow Mix produces many varieties of products, including both dry and wet cat food.
Dry food products include both regular kibbles and those that have a special formula for certain issues, such as digestive issues and similar. The most popular types of dry food are:
• Tender Centers
• Original choice
• Hairball Control
• Indoor Formula
• Bistro Recipes
• Seafood Medley
Moreover, Meow Mix also offers wet cat food, and there are several types:
• Simple Servings
• Classic Pate
• Tender Favorites
• Pate Troppers
Ingredients & Manufacturing
This cat food brand makes its products in two different places. Dry food is made in Decatur, Alabama, while wet food is made in Thailand.
There is no sourcing information available, but by observing their products and ingredients, there are things we can discuss about the ingredients.
Most of their products have high-carbohydrate levels due to different ingredients that aren't very beneficial for cats.
Moreover, their products use animal by-products as the main ingredients, along with corn products which are not the safest for our felines.
It can be said that Meow Mix doesn't use top-quality ingredients for its products because some ingredients that they often use are flavor additives, plant protein such as soybean, which is not safe for cats, and similar things.
Cats are obligate carnivores; therefore, their system requires real meat and animal protein. Meow Mix products usually have high amounts of carbs and fats and low amounts of protein, and that's not an ideal combination for our cats, especially indoor ones.
This is why it's always important to find the best, high-quality cat food that will be affordable, available, and that your kitty will like. Only then will your cat be safe and healthy.
Despite these bad ingredients, Meow Mix still uses good ingredients, which can actually be helpful for a cat's overall health, but I will talk more about that further in the article.
Recall History
Meow Mix cat food doesn't have recall issues. However, this brand, along with the other four cat food brands, took part in a study of toxins.
Of all the analyzed products, it was discovered that Meow Mix Tender Centers is a risky product due to the highest mycotoxin mold contamination.
Mycotoxins are considered to be bad because they can result in an immediate illness or, can induce cancer, kidney and liver toxicity, as well as persistent immune system suppression, if consumed frequently.
CHECK OUT: Smalls Cat Food Review – Pros, Cons, and Product Recommendations
The Review And Rating Of 3 Meow Mix Products
Product My Rating
Meow Mix Tender Center Salmon & White Meat Chicken 3.2
Meow Mix Tender Favorites With Real Tuna & Whole Shrimp 3.9
Meow Mix Original Choice Dry Cat Food 3.3
My Final Rating 3.4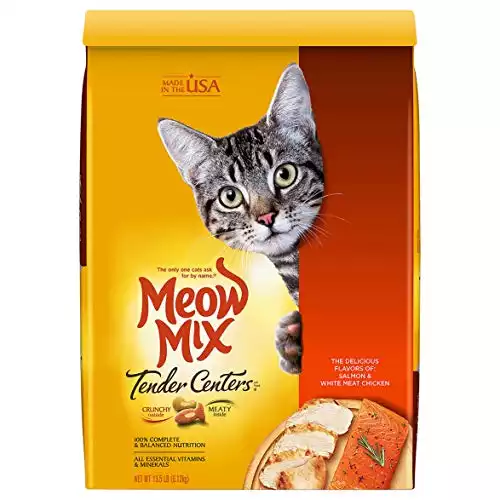 About The Product
Tender Center cat food by Meow Mix is an improved type of dry food compared to the standard kibbles of the same brand. The main difference is that these kibbles, as the name suggests, have soft centers, making the kibbles even more delicious for our furry friends.
But is it healthy for our cats? Well, the ingredient quality is not satisfying. Still, that doesn't mean that it will harm your kitty or that it won't eat this food.
Many cats eat this food, and it suits them, however, if you pay special attention to the ingredients list and the cat's health, then you should move on and choose another cat food brand.
So, this cat food product contains chicken by-product meals as the first ingredient and the primary protein source, which isn't really the best thing. The even worse thing is that these kibbles aren't grain-free.
Just like most other Meow Mix products, this one is also made mostly from corn, which is also the first ingredient on the list.
It also contains whole ground corn, corn gluten meal which serves as a filler, soybean meal, whole wheat, and other similar ingredients which don't have any nutritional value for your cat.
Moreover, the kibbles are full of animal fat which is not a source of protein, which means it's not nutritive. In fact, animal fat and animal digest ingredients serve only to give the kibbles their meat flavor.
The only good thing I noticed about the kibble ingredients is that it contains salmon meat which may contribute to the amount of animal protein, vitamins, fatty acids, and minerals.
However, I personally wouldn't choose this food as it contains many bad ingredients that I usually avoid when buying cat food for my felines, such as corn syrup, plant ingredients, carrageenan, and artificial ingredients.
The food has high carbohydrate levels, while it's low in protein. So, all in all, despite the fact it may be delicious, it's not beneficial. Therefore if both you and your kitty are satisfied with this food, then it's completely okay.
If you want to provide your cat with high-quality food from which it can benefit a lot and improve its overall health, then I suggest you choose another cat food brand with healthier ingredients.
Pros
✔️ Comes in different flavors
✔️ Made in The USA
✔️ Affordable
Cons
❌ High amount of carbohydrates
❌ Contains plant ingredients
❌ Contains carrageenan
❌ Contains artificial ingredients
❌ Contain chicken by-products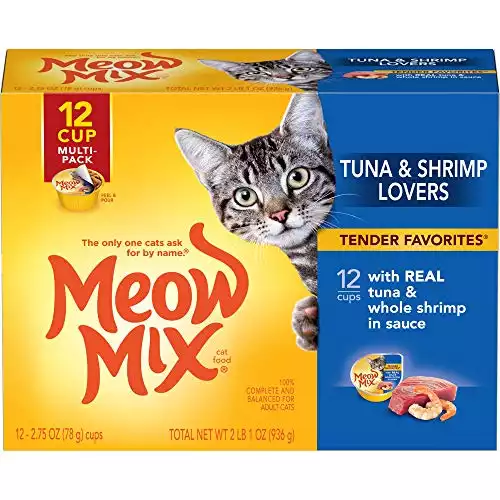 About The Product
In comparison to the previous products, this Meow Mix wet cat food variety pack contains real fish meat, specifically tuna. It is the first ingredient on the list, and the main protein source of the food is real salmon, which isn't bad after all.
Besides salmon and tuna, the food also contains other fish such as shrimp and other types of ocean fish. Unfortunately, even this wet food is full of bad ingredients.
This food also contains ingredients such as soybean oil, artificial colors, guar gum, and carrageenan, that I always avoid when choosing the right cat food.
The combination of these two ingredients is used to stabilize the food; however, both of these ingredients may be extremely bad for our feline friends.
The reason for that is that degraded carrageenan is considered a carcinogen and can badly affect the cat's health.
This food-grade carrageenan is considered to be safer, but still, many cat owners who pay attention to the ingredients avoid products that contain carrageenan.
Despite these bad ingredients, which may be the reason why the food is affordable, this wet cat food also contains good ones, such as vitamins, amino acids, minerals, antioxidants, calcium, and similar ones that are proven to be good and healthy for cats.
All in all, this food contains good and bad ingredients, but it may be a better choice than kibbles because it has low carbohydrate levels and it's rich in protein.
Still, if you decide to feed your cat this food, I suggest you mix it with another type of food with more quality ingredients, mostly because fish-based food isn't good for long-term meals, and also some cats may not like the smell and flavor of the food.
Pros
✔️ Low carbohydrate level
✔️ Affordable
✔️ Rich in protein
Cons
❌ Contain artificial ingredients
❌ Contains carrageenan
❌ Contains soybean oil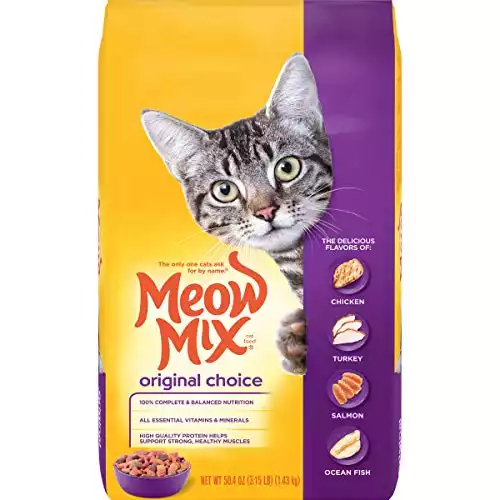 About The Product
These kibbles may be delicious, and many cats may adore them, however, if you're looking for high-quality pet food that has good nutritional value, then you should avoid this one. The first ingredient of this dry food is ground yellow corn, which I always avoid.
Again, these kibbles contain plant ingredients that should be avoided when it comes to the cat's diet. The main reason for that is because these ingredients contribute to the carbohydrate and calorie level in the food and make the food seem to be more delicious.
Our feline friends don't need high levels of carbs and calories in their food, but their meals need to be rich in animal protein and real meat, which is not the case with these kibbles.
Moreover, the kibbles also contain chicken by-products, but that's the only thing we know. So, we don't know whether the meat by-product refers to the skin, flesh, connective tissues, and similar things.
The main thing I don't like about this product is the soybean meal. In this dry food, a soybean meal is a source of plant protein; however, I always avoid foods with this and similar ingredients because it can cause many health problems to our cats due to the high content of phytoestrogen.
That's not all, because the food also contains artificial colors, which may also lead to severe issues if consumed frequently. Further on, the Original Choice contains several fish meals and artificial flavor additives, which is not the best ingredient to include in your cat's diet.
The only good thing is that the kibbles are rich in minerals, essential vitamins, and amino acids that actually have some kind of nutritional value for our cats.
All in all, it contains many bad ingredients, and it has high carbohydrate content, while it has low protein and fat levels.
Pros
✔️ Affordable
✔️ Contain animal fat
✔️ Made in the USA
Cons
❌ Contains artificial ingredients
❌ Contains plant ingredients
❌ Contains soy ingredients
❌ High carbohydrate content
READ ALSO: The Best Cat Food For Persian Cat: Yummy Guide
What Other Meow Mix Products There Are?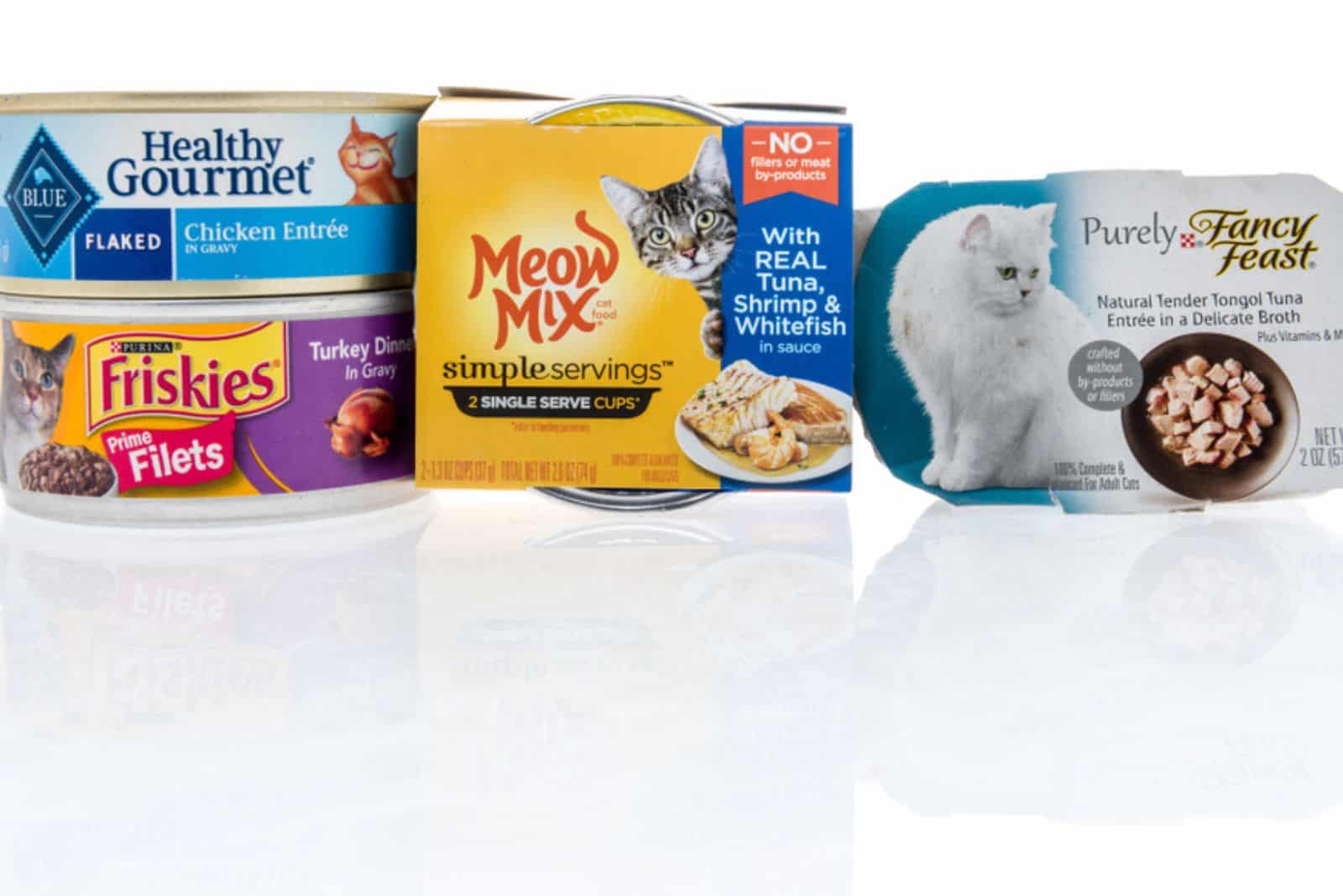 This article provides you with a review of the 3 most popular and sold Meow Mix food products. However, this cat food brand also has many other products, both wet and dry cat food, including cat treats, that you can check out and test if you want.
Here are some of the products:
• Meow Mix Pate Toppers Wet Cat Food – affordable cat food with balanced nutrition that is suitable for cats of all life stages.
• Meow Mix Kitten Li'l Nibbles – the quality and delicious kitten food that helps kittens to grow and maintain a healthy weight.
• Meow Mix Simple Servings Wet Cat Food – a delicious wet cat food that provides your feline friend with mess-free portions, a feature that most cat parents adore.
• Meow Mix Real Tuna And Whitefish – this fish-based wet cat food is grain-free, and it doesn't contain fillers or artificial ingredients.
Where Can You Buy Meow Mix Cat Food?
Meow Mix is popular because it's very affordable, and despite certain bad ingredients that it contains, most cats adore this cat food.
Not only is this food brand affordable, but it's also widely available. So, if you want to buy and test this food, you won't have trouble finding these products as they're available in many grocery stores or pet supply stores.
However, if you're a fan of Amazon or Chewy, then you can check for Meow Mix products on these websites, and maybe you can even catch some discounts.
How Much Does Meow Mix Cat Food Cost?
This cat food is probably one of the most affordable brands on the market; therefore, it's not a surprise that it's so popular.
The price of Meow Mix dry cat food is around $0.03 and $0.11 per ounce. On the other hand, the price of wet dry food is a bit higher than dry food, but still way more affordable than some other cat food brands.
Should You Feed Your Cat Meow Mix Cat Food?
If you're looking for quality food for your feline friend, then Meow Mix shouldn't be your top choice, because most of the brand's products contain low-quality ingredients.
Moreover, the food is based on plant ingredients and usually only contains animal by-products. Besides that, it contains many unhealthy ingredients that can badly affect the cat's health.
So, even though it's affordable, there are many other cat food brands that can be way healthier for your feline friend at a decent price.
CHECK OUT: Top 5 Choices Of Homemade Cat Food To Gain Weight
Final Thoughts On Meow Mix
If you're interested in this cat food brand, then before buying, I suggest you determine what you are looking for in cat food.
Is Meow Mix good for cats? Not really. Good, healthy food for cats is usually based on real meat and is rich in animal protein, and doesn't contain ingredients that can be harmful to cats.
This brand is very affordable, which may be the main reason why many cat owners are buying it.
However, if you pay special attention to the ingredients of the food, then It cannot be a good food, as most of the products contain ingredients that can be harmful to our cats or those that don't have any nutritional value.
I personally pay special attention to my cats' diet, and I always choose the best-quality food for them that can improve their health. There are cat owners whose felines adore Meow Mix cat food.
On the other hand, there are those who had negative experiences with the same food, but apparently, it depends on every individual cat whether it will be okay for it or not.
If you've liked this article, you might want also want to check out:
American Journey Cat Food – Yummy Or Not?
Smalls Cat Food Review – Pros, Cons And Product Recommendations