This post contains affiliate links, and I will be compensated if you make a purchase after clicking on my links, at no extra cost to you.
Cats can safely consume pumpkins, either raw or cooked. It's delicious on its own or in pumpkin cat treats. However, you should start by feeding your cat small amounts (perhaps 2 tbsp a day).
Sudden dietary changes might cause your cat to have an upset stomach. You shouldn't give your cat a slice of that holiday pumpkin pie, but luckily there are many pumpkin treats designed specifically for cats.
This is the ideal time to add them to your kitty treat stash. In the spirit of Halloween, I've written a short review on the best pumpkin cat treats. With any of these tasty and healthy pumpkin treats for cats, you can amuse, distract, and reward your feline friend.
Add the taste of pumpkin into your cat's daily diet to ensure good digestion and make your furry friend not only happy but healthy as well! Check out the following pumpkin cat treats you can find on Amazon or Chewy, or try out one of the recipes I've written below.
8 Best Pumpkin Cat Treats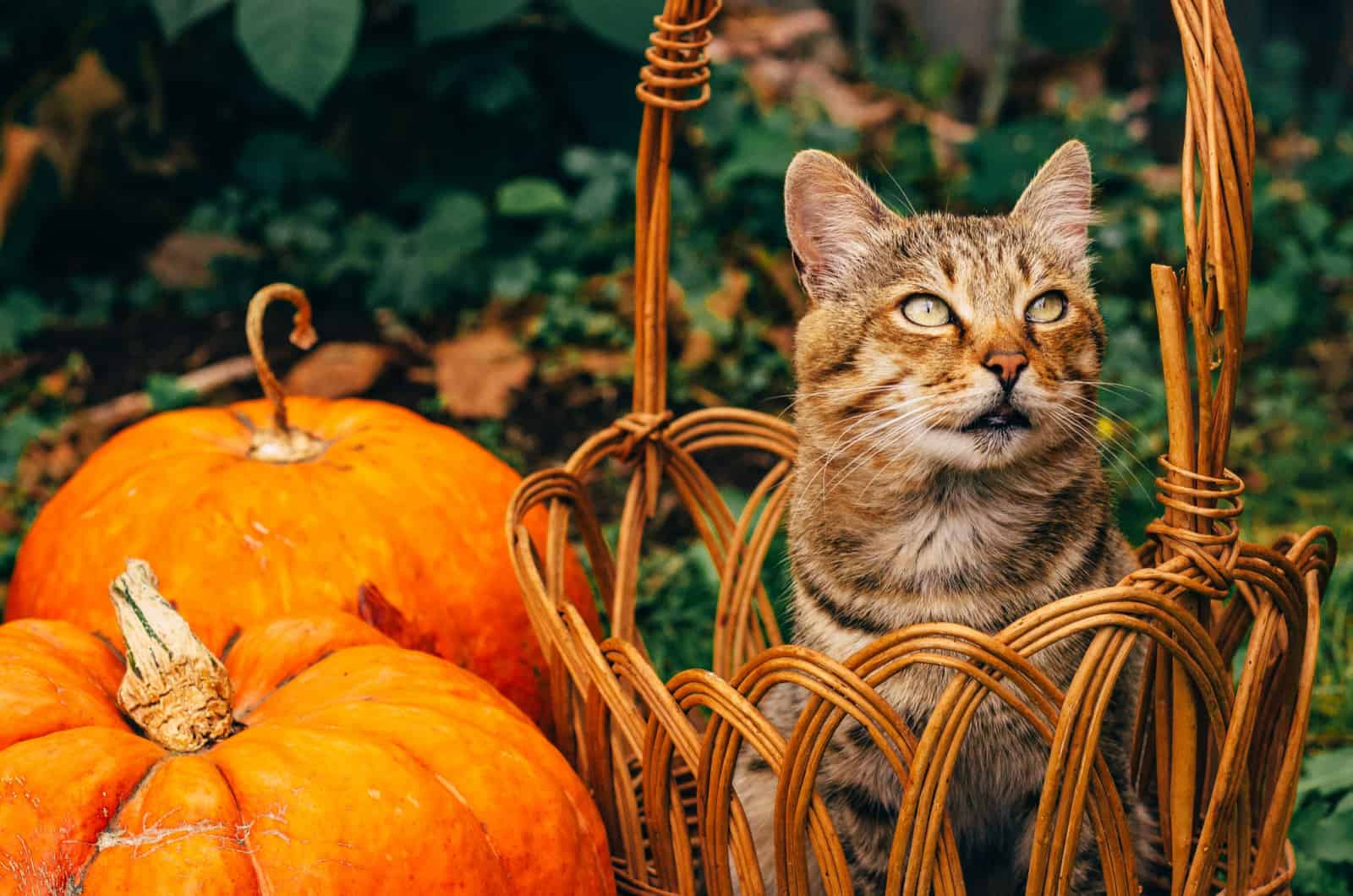 Treats can be an important part of training for cats who can be encouraged by food. You can use rewards to motivate your cat to do things like use a crate, walk on a leash, or even perform a trick.
Veterinarians recommend that treats account for no more than 10% of your cat's daily calorie intake. However, some healthy treats, such as one-ingredient, high-protein treats, can be given in larger quantities.
Read the calorie info and feeding guidelines on any treats you buy. Concerning cats and pumpkins, it's a win-win. In fact, many vets advise using pumpkins in case of digestive problems. It will get the digestive tract moving a little better in constipated cats.
The following list contains some of the best pumpkin cat treats you can find. As I always do, I will first put the number one treat that was a win for my cats. I still feed my cats the Tiki Cat Crunchers, but I've tried some others as well.
All the pumpkin cat treats from the list are healthy and yummy for our cats, it will just depend on your cat's preferences which one you eventually stick to.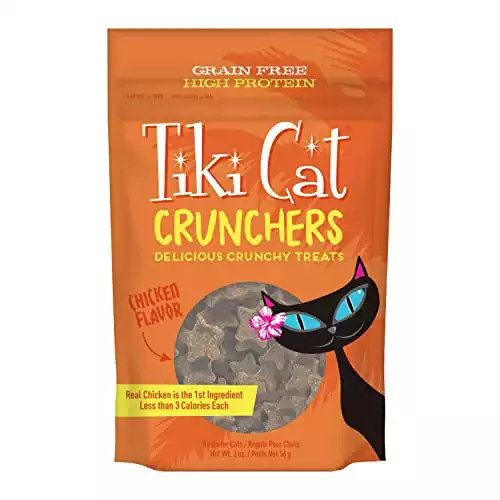 These Tiki Cat Crunchers were the best treat I could have given to my cats. They simply love it, and ever since I added them to their diet plan, there have been no digestive issues whatsoever. These treats are grain-free, corn-free, gluten-free, and wheat-free.
They are full of low-calorie ingredients like salmon and flaxseed and are highly nutritious for your cat, plus they help keep your cat's coat healthy and shiny. These treats are called meat-first because the primary ingredient is chicken.
This contributes to the nutrition your cat requires, as well as the flavor every cat enjoys. Pumpkin is also great for digestive issues, and these treats provide a great source of fiber for your cat. There are also no artificial colors, flavors, or textures.
| Pros: | Cons: |
| --- | --- |
| high nutritional values | some cats might refuse to eat them |
| chicken is a primary ingredient | |
| low-calorie content | |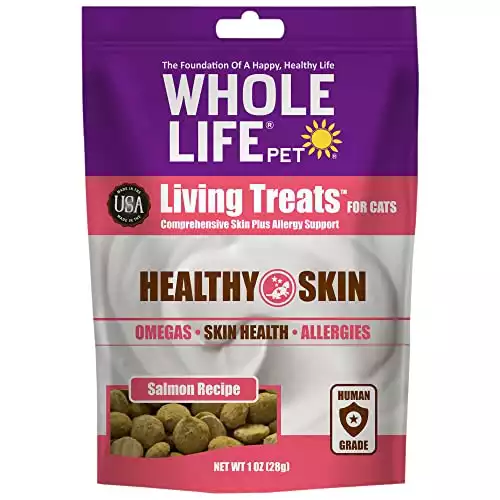 These Whole Life Treats for cats are made of blended human-grade ingredients, which are ideal as an addition to your cat's meals. They contain salmon, cranberries, potatoes, flaxseed, yogurt, and, most importantly, pumpkin.
These treats are freeze-dried to preserve their rich protein content. There are no artificial flavors, preservatives, salts, or chemicals. These treats are specifically designed to improve your cat's digestion.
Instead of cooking the treats, they freeze-dry them to preserve their freshness, flavors, and overall quality, while avoiding the use of harmful chemicals. Choosing cat foods and treats is one of the most important decisions you, as a cat parent, have to make.
The quality of cat treats is what's important because your cat(s) can't choose what treats to get, so you have to choose what exactly to feed them.
These Whole Life treats are tested, 100% safe, human grade, and are manufactured in accordance with the FDA standards for Human Grade Food Manufacturing.
These treats are made and manufactured in the USA. They make fresh batches every day, and they are ideal as an everyday addition to any cat's healthy diet plan.
| Pros: | Cons: |
| --- | --- |
| high-quality ingredients | lack of smell |
| freeze-dried | |
| no artificial additives | |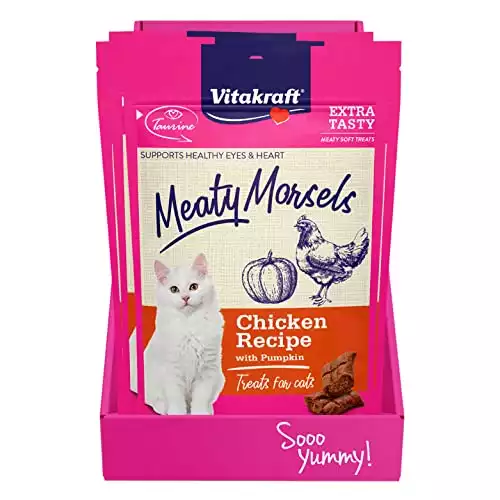 These meaty, soft, and yummy treats are loved by most cats. They are popular among cat owners not only because they strike gold with their cats but also because of their size, texture, and high meat content.
These soft Meaty Morsels are designed specifically for cats. They have an appealing aroma and are just the right consistency for chewing.
Their production batch size is small, so the treats are gently oven-roasted and are made from high-quality ingredients. They're extremely soft and fresh once you open the packet and feed them to your kitty.
Also, small packs offer the chance to try different flavors without committing to one large package. You can buy just one pack or a box of four or even nine small packs of treats. The Meaty Morsels are very meaty, with delicious filling and a soft texture.
They're a great choice for hiding medication and are simply terrific for senior cats because they're easy to chew and eat. These extra meaty treats are free of added sugars, artificial colors, and flavors.
| Pros: | Cons: |
| --- | --- |
| Extra meaty | Texture might repel some cats |
| Great for all, especially older cats | |
| No artificial ingredients | |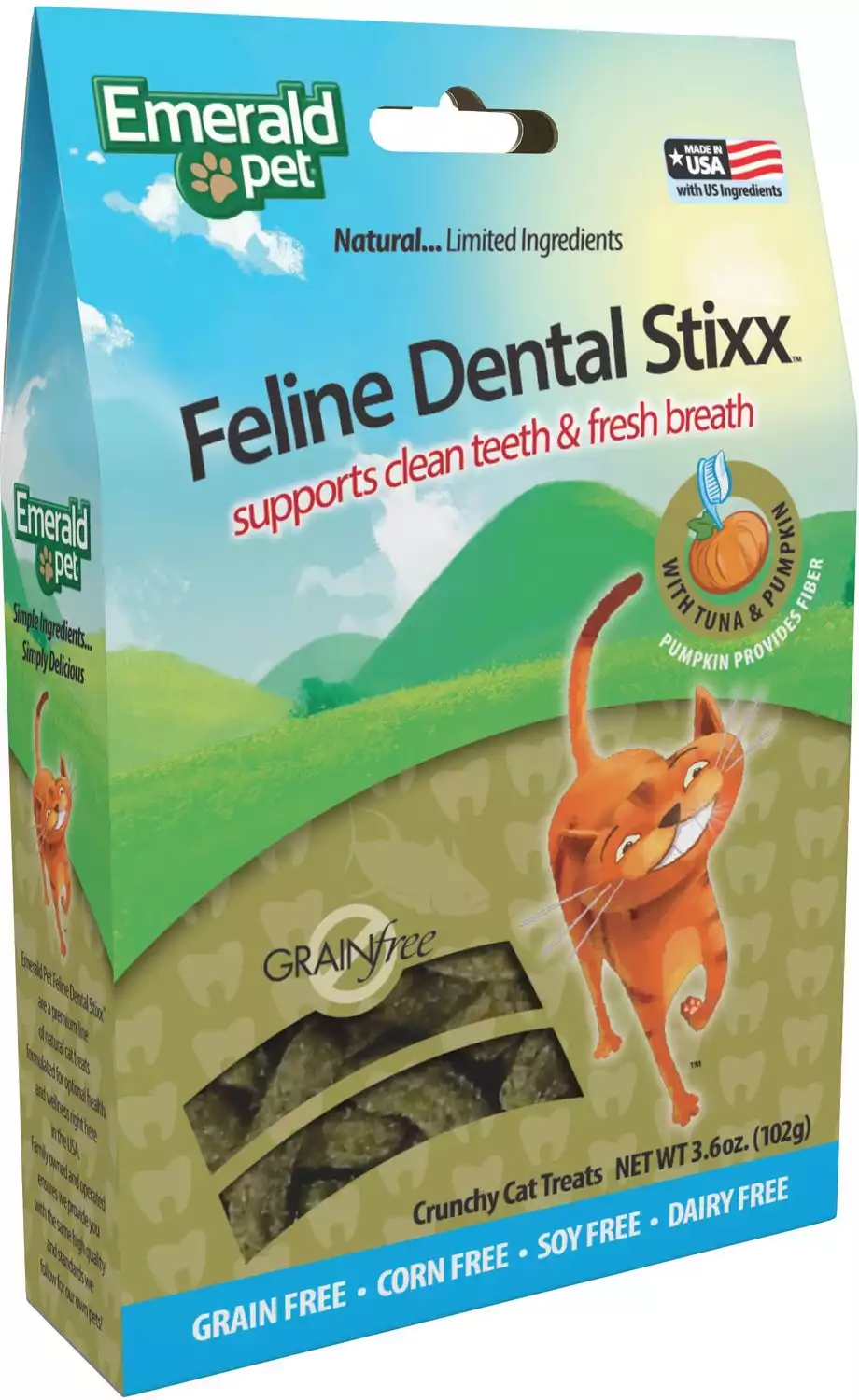 These feline dental sticks are made in the United States using only natural ingredients. There are no artificial colors, flavors, or artificial ingredients whatsoever. These yummy and healthy treats are also free from gluten, grains, soy, and dairy.
However, they contain pumpkin, which is, as I already said, high in fiber content and extremely beneficial to your cat's digestive health.
It is also helpful and healthy for your cat's dental health because it helps get rid of plaque and prevents tartar buildup while your cat chews.
Rewarding your cat with these treats will make you feel great too. Check the product info on Chewy to see the feeding instructions and full list of ingredients.
| Pros: | Cons: |
| --- | --- |
| No artificial ingredients | Might be too hard to chew |
| Great for dental health | |
| High fiber content | |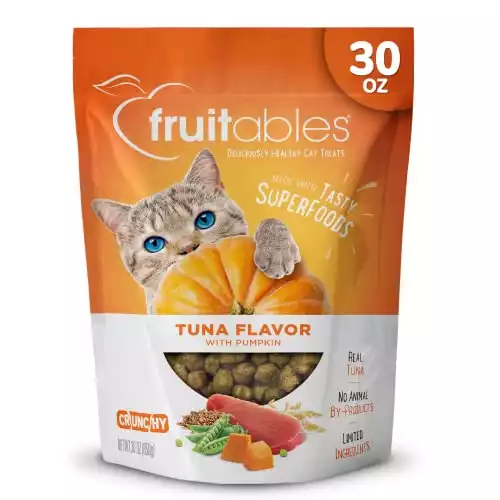 The Fruitables Crunchy Cat Treats are healthy and low in calories. Each treat contains less than 2 calories, so I guess someone thought of cat owners feeling good when giving their pet treats. Spoiling your cat has never been easier!
These crunchy cat treats are made with real tuna and delicious pumpkin. They contain savory protein flavors which your cat will simply enjoy, just like the additional flaxseed and pea fiber.
All ingredients are natural, there are no artificial colors or flavors, soy, wheat, animal byproducts, or corn. These treats are only made with simple ingredients you can trust!
You just shake the baggie to attract the attention of your cat, and in no time, you'll enjoy seeing how much your cat enjoys these crunchy, flavorful treats. The Fruitables Crunchy Cat Treats will simply be a hit with your feline friend!
| Pros: | Cons: |
| --- | --- |
| Real tuna | Some owners suspect the formula has changed |
| Low calorie content | |
| All-natural ingredients | |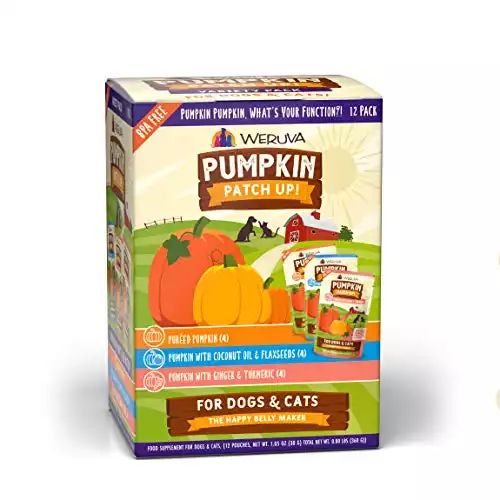 The Weruva Pumpkin Patch Up are cat and dog treats that your pets will definitely enjoy! These 12-pack pumpkin puree super treats are fantastic and filled with fiber. These treats are great for upset stomachs and diarrhea.
You can use these wet treats as a topping or as a treat by themselves. These pouches come in a handy package that is easily stored. Weruva is a family business that produces its foods in BRC (British Retail Consortium) certified human-food facilities.
This pumpkin supplement is high in fiber, which is great for your pet's digestive system. You can add these treats to your cat's meal or feed them in between meals every day.
| Pros: | Cons: |
| --- | --- |
| Affordable 12-pack | Amazon delivery might be an issue |
| Great for digestive issues | |
| High fiber content | |
This human-grade, freeze-dried, wet treat powder is made of 100% pure canned pumpkin puree.
It can be made in a flash, simply add water and stir. It is great for a cat's digestion; in case of constipation, simply feed it to your cat and digestive problems will be resolved in no time. This powder can be used as a food topper or as a separate treat.
It was developed for cats and dogs who are prone to digestive issues such as constipation, diarrhea, or vomiting. Once you open the package, there's no need to refrigerate it. You can store it in a resealable bag in the kitchen pantry.
However, you should buy smaller packages since this one tends to harden up. Many customers have reported that the powder is too hard.
These treats are great for cats and dogs, especially for their immune systems. Pumpkin is generally high in beta-carotene content and full of antioxidants, which helps pets of all ages maintain a healthy immune system.
Be sure to check the videos under the product info on Amazon to see how other people use this product.
| Pros: | Cons: |
| --- | --- |
| 100% pure pumpkin puree | The powder tends to become solid |
| Great for solving digestive issues | |
| Easily stored | |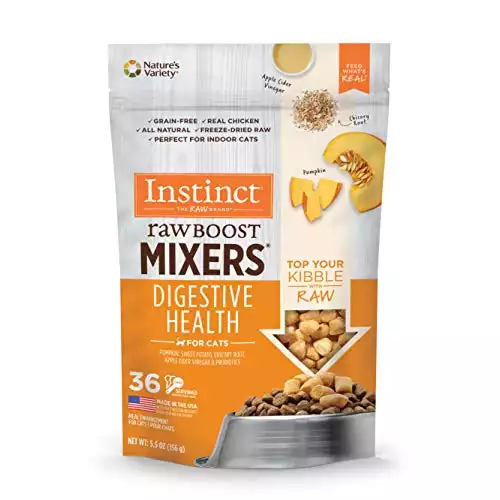 This freeze-dried cat food topper is great for cat's digestive health. You can also add it raw to your cat's food. Chicken is the primary ingredient, and chicken meat is from cage-free chickens.
This is followed by all-natural secondary ingredients, such as pumpkin, chicory root, sweet potato, and probiotics for digestive health. It contains no artificial colors or preservatives.
These treats are made of whole-food, raw ingredients which are gently freeze-dried so there's no moisture, but the yummy flavors and nutrients are preserved.
If your cat happens to be a picky eater, with these treats, you can add variety and make any meal more appealing to your cat.
All these treats are made from real meat and are minimally processed, made in the USA. Their foods are made from real raw ingredients that are never cooked so their nutritional values are preserved.
| Pros: | Cons: |
| --- | --- |
| Chicken meat is the primary ingredient | Some owners reported digestive issues |
| Highly nutritious | |
| Gently freeze-dried treats | |
Easy Homemade Cat Treats With Pumpkin To Try At Home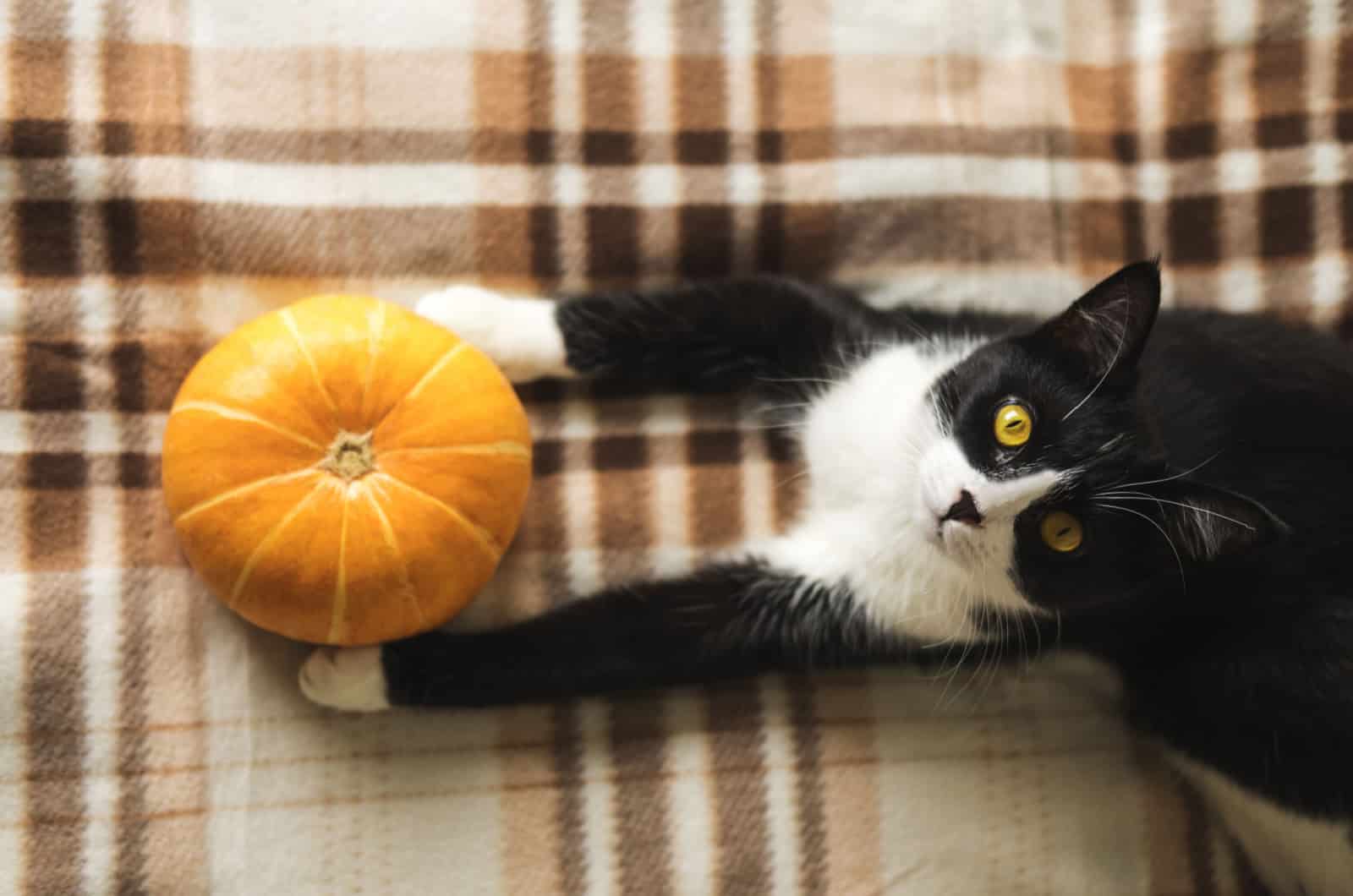 In case you want to try and make homemade pumpkin cat treats, here are three easy recipes that'll be easy to make but healthy and yummy for your cats.
Prep time for each of these recipes is less than an hour.
Recipe No 1
What you'll need:
• 1/3 cup pumpkin puree
• 14oz can of salmon (without any oil or salts)
• 2 tbsp avocado oil
• 1/2 cup of old-fashioned oats
• 1 egg
As for the making process, you'll first need to preheat the oven to 325 F. For the mixture, blend the oats into fine flour and before you mix everything, drain the excess liquid from the can of salmon. Then, mix the salmon, oat flour, egg, avocado oil, and pumpkin together.
When you've mixed it well, form the mixture into small "cookie-like" shapes. You can make this job easier using cookie cutters if you have some small ones. When you form these small shapes, place them on a baking sheet.
You need to bake them in a preheated oven for about 30 minutes or until you see they're firm. Always allow the treats to cool down before feeding them to your cat. These treats are great for digestive issues, especially in getting those stuck hairballs out in no time!
Monitor your cat when you feed it for the first time, and if you feel you need to, break the treats into smaller pieces so they're easier to eat.
These treats can be safely stored in the fridge for up to four days.
Recipe No 2
What you'll need:
• 1/3 cup of canned pumpkin puree
• 1 tsp dried catnip
• 1/2 cup oat flour
• 15 oz can of tuna in water
First, as with the first recipe, you need to preheat the oven to 350 F. Then mix in all the ingredients until you get a dough-like mixture. Roll out the dough between two baking sheets, then cut it into small pieces or, again, use small cookie cutters if you have them.
Place the shapes onto a lightly greased cookie sheet and bake for about 15 minutes or until firm. Always allow the treats to cool down, then store them in an air-tight container and keep them in the fridge.
Recipe No 3
What you'll need:
• 7 oz turkey breast or fresh tuna
• 0.7 oz pumpkin
• 0.7 oz carrot
• 1 tbsp olive oil
• 1 tbsp catnip
• 0.8 cup of plain oat flour
• 1 egg
First, preheat the oven to 350 F. Then roast the pumpkin and tuna together and let them cool. If you choose turkey for this recipe, cook the turkey meat and roast the pumpkin. Once they're cooled down, crush them into smaller pieces.
Beat the egg and mix it in a bowl with pumpkin, carrot, catnip, tuna, and olive oil. Mix all of it well, and then add plain oat flour. Mix it all until you get a doughy texture, then let it sit for 5 minutes.
Spread the dough and make shapes with small cookie cutters. Put the cookies on a greased cookie sheet and bake them at 350 F for approximately 10 to 15 minutes. After they're cooled down, feed them to your cat.
FAQ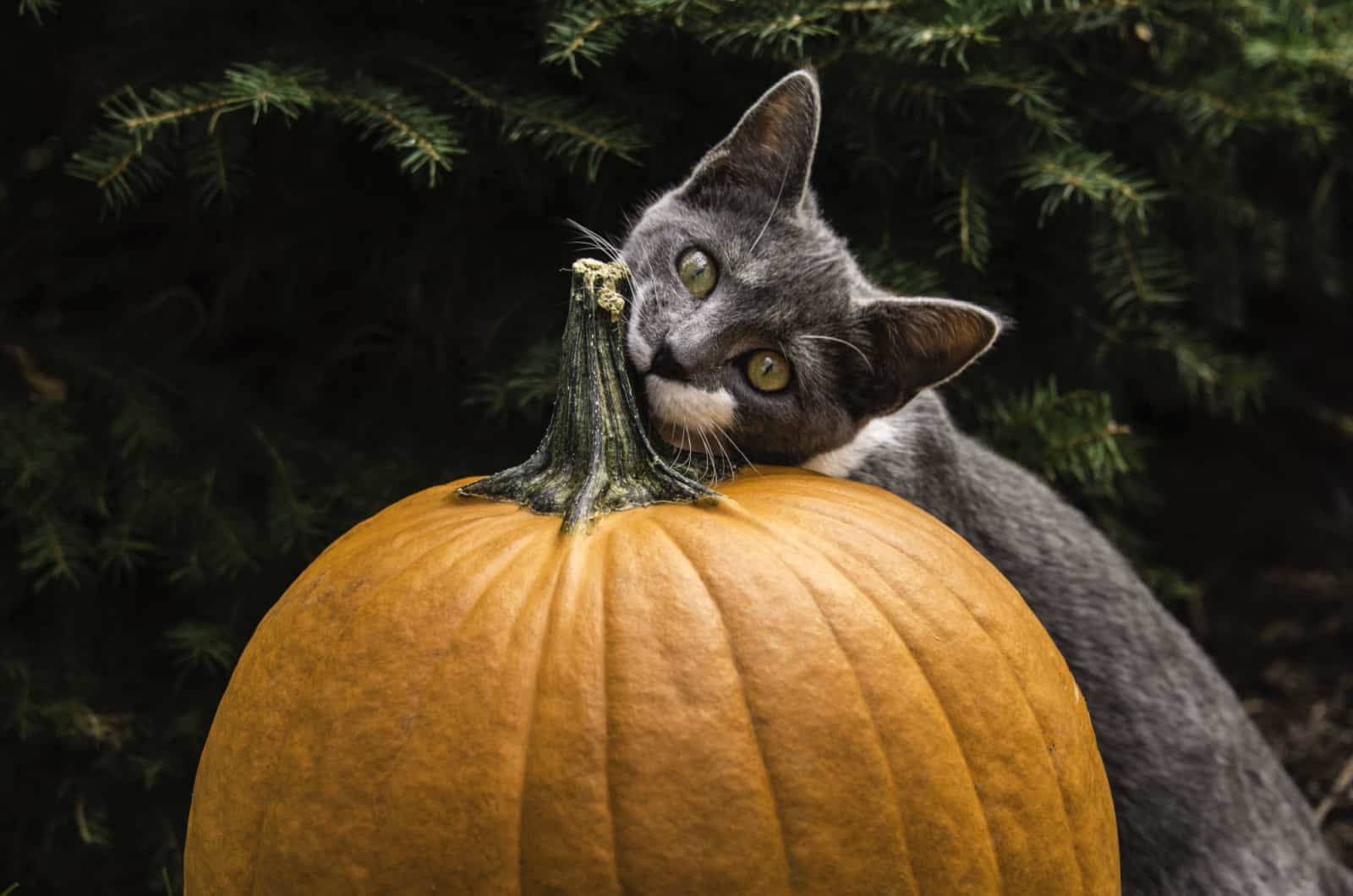 Can cats eat pumpkin every day?
Yes. The simple answer is yes. Cats can eat pumpkin every day, which is why including pumpkin cat treats is a great idea.
However, cats can't only eat pumpkin treats. You still need to respect their diet plan and provide them with high-quality foods with proper nutritional values.
Why is pumpkin good for cats?
Pumpkin is good for cats because it's high in fiber. Fiber is beneficial to your cat's digestive system. Including pumpkin treats in your cat's daily diet plan is a great way to prevent constipation or other digestive issues.
Dietary fiber does a great job at absorbing stomach acids and any excess water, it is also very helpful with getting stuck furballs out without creating more problems.
How many calories are in a pumpkin?
For example, 1 pound of pumpkin contains 118 calories. When serving to our cats, we usually use small quantities, for example, 1 oz of pumpkin contains only 7 calories.
What are some other foods that are good for cats?
Other than meat, which is obvious since cats are meat lovers. Cats can benefit from pumpkins, carrots, eggs, lentils, lettuce, bell peppers, celery, spinach, or dates, for example. A small amount of these veggies is safe and beneficial to your cat.
Final Thoughts
Your cat requires high-quality foods and treats. You should always look for high-quality ingredients and follow the guidelines for feeding the treats you choose. You need protein sources that will keep your cat's weight under control.
Always remember that a healthy weight leads to healthy and happy cats. I hope you'll try some of the products I have mentioned and that they'll benefit your cat as much as they did mine.
Or, if you know your way around the kitchen, you can try out the recipes I've written. The total time you need for each of them is less than an hour, so give them a try!
For further reading, check out some of the related articles linked below.
Related Articles:
• Can Cats Eat Pumpkin? Prepare Your Kitty For Spooky Season
• Are Cats Lactose Intolerant? Do They Need Dairy Products?
• Why Won't My Cat Eat Wet Food? All There Is To Know!
Like this post? Share or pin it for later!