This post contains affiliate links, and I will be compensated if you make a purchase after clicking on my links, at no extra cost to you.
It's not that easy to pick the best cat litter, and I should know; I have six cats, and having all of them agree on one litter brand is as difficult as it sounds.
Whether you're trying to find the best tofu cat litter, you're not happy with your current litter brands, or you're switching from clumping clay litters to some that contain more natural ingredients, check out these tried and tested choices and read some reviews to help you decide.
I've included the top 12 Amazon and Chewy options below, with the number one being the best tofu cat litter that I have tried, and the one I currently use ( my cats seem to absolutely adore it!).
You can begin by checking out the ratings for these products, and then go on to read my tofu cat litter review. I really hope this helps you make the right decision for you and your pets.
Tofu Cat Litter Review – Product Ratings
I am a cat lover who has been rescuing cats for some time, and right now I have 6 rescue cats living with me! It's hardly surprising that I have tried many different cat litters, but after some time I wanted something natural and eco-friendly as well as functional.
I discovered and restricted my options to these 12 options, which are available on Amazon or Chewy. You can view the top 3 ratings in the table below, and you can also check them out when you go to buy the items online.
From the 12 products listed below, I purchased the Rufus & Coco Wee Kitty Tofu Cat Litter. My kitties started using it straight away when I first bought it. However, I have two litter boxes in my house, and the other one is only used sometimes and mostly by two of my cats.
In this second litter box, I always put ZenKitty Clumping Tofu Cat Litter with Lavender Fragrance, and I can tell you that these two are great options for tofu cat litter.
I keep the second litter box in the living room, so it is good that my cats are ok with it being lavender scented. These two also have reasonable prices for a good quantity of litter.
I hope that this can help when choosing the best tofu cat litter for your furry friends. Let's have a look at the information and product reviews I've gathered regarding these other tofu cat litters.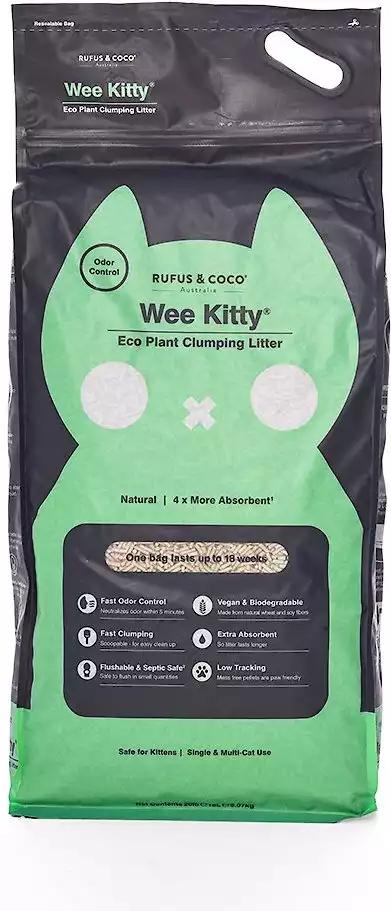 Pros:
✅ 100% natural and biodegradable
✅ Rapid odor control
✅ Low tracking
✅ Clumping and flushable
✅ Great value for a great price
Cons:
❌ The smell of cat pee is noticeable after a few days
Rufus & Coco Wee Kitty Tofu Cat Litter is a great option if you're looking for a cat litter that is both eco-friendly and vegan.
This litter is made from organic absorbent wheat and soy fibers that are both durable and able to trap ammonia odors in a matter of minutes.
The Rufus & Coco Wee Kitty Tofu Cat Litter absorbs up to four times its own weight in liquid, and it also clumps which means easy scooping, every time.
The large pellets and minimal dust help keep tracking to an absolute minimum, and because it's natural, you can discard it in your yard and use it as ground fertilizer!
The only disadvantage of this cat litter is that you need to clean the litter box more thoroughly in between fillings because the urine and poop smells tend to become more embedded in the cat litter box.
Despite this, this one was the best choice of tofu cat litter for me. You get a bag containing 20lbs of litter for a great price (plus it is often discounted if you buy it on Amazon or Chewy).
After a while, I could smell cat's pee, but cleaning the box more frequently doesn't bother me; what's more important is that my cats love it and have no problems using the litter box when it has this litter in it.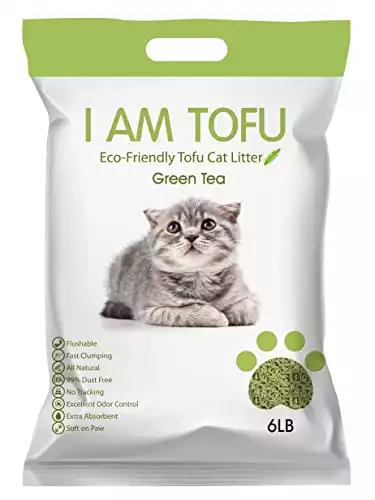 Pros:
✅ Eco-friendly cat litter
✅ Biodegradable
✅ No additives or chemicals
✅ It absorbs urine up to four time its weight
✅ 100% safe to flush
Cons:
❌ Blocks the sewer system if flushed all at once
'I AM TOFU' is created from soybean and corn starch. It has no synthetic ingredients, chemicals, or clay litter, making it very safe for cats.
It is also completely biodegradable and it will dissolve rapidly in water, making it safe to flush down the toilet.
Using a natural clumping solution, this cat litter clumps in a matter of minutes and is always easy to scoop soiled areas.
It is also 99% dust-free, so it will not add to the dust in your house and will not aggravate anyone with allergies. It absorbs up to four times its weight in water, so a litter bag of 6 pounds can last 3 to 4 weeks for one cat.
The powder at the bottom of the bag is the raw ingredient for tofu cat litter and has no effect on regular use. With its anti-tracking design and formula, the litter won't get spread all over your house.
The litter contains a natural clumping material, which causes it to clump together into little balls when exposed to moisture. This makes it easier to scoop up and clean, and it eliminates the need to scrape down the edge of the litter pan.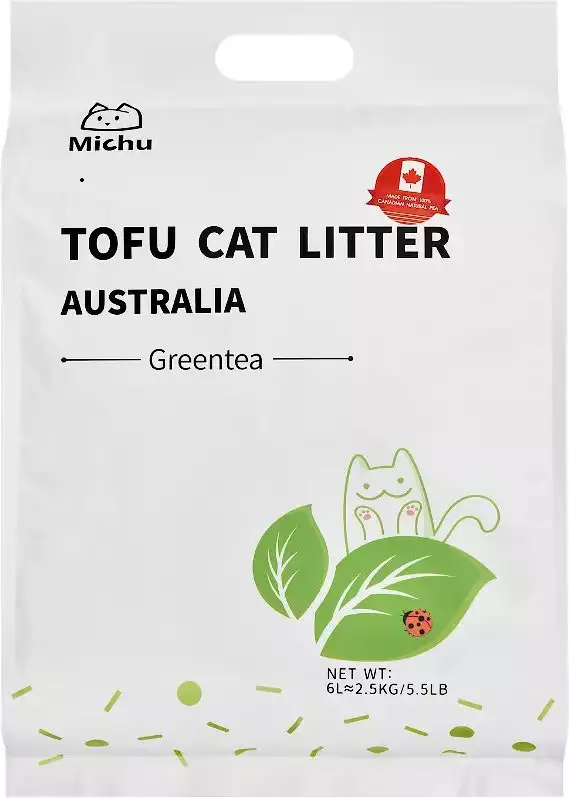 Pros:
✅ Different varieties available
✅ Fast-clumping and easily scooped
✅ Made in paw-friendly pellets
✅ Great deodorizer
✅ Clumping and flushable
Cons:
❌ The full list of ingredients isn't displayed
This high-quality cat litter is made with advanced technology and quality ingredients, and one bag will serve your cat for a month.
Fast-clumping litter allows you to scoop up waste quickly and easily without wasting any of the clean litter left in the box.
When exposed to moisture, the litter rapidly absorbs it, producing tight bunches that won't break up or fall apart while being scooped.
This excellent, fast absorption action aids in the rapid elimination of smells, keeping the room with the litter box smelling fresh and clean.
Each pellet is also tough and tight to prevent decomposition, which lowers dust and litter particles in your cat's paws so that tracking is reduced as well.
Because it is 100% natural and eco-friendly, the litter degrades quickly after use and is ecologically beneficial!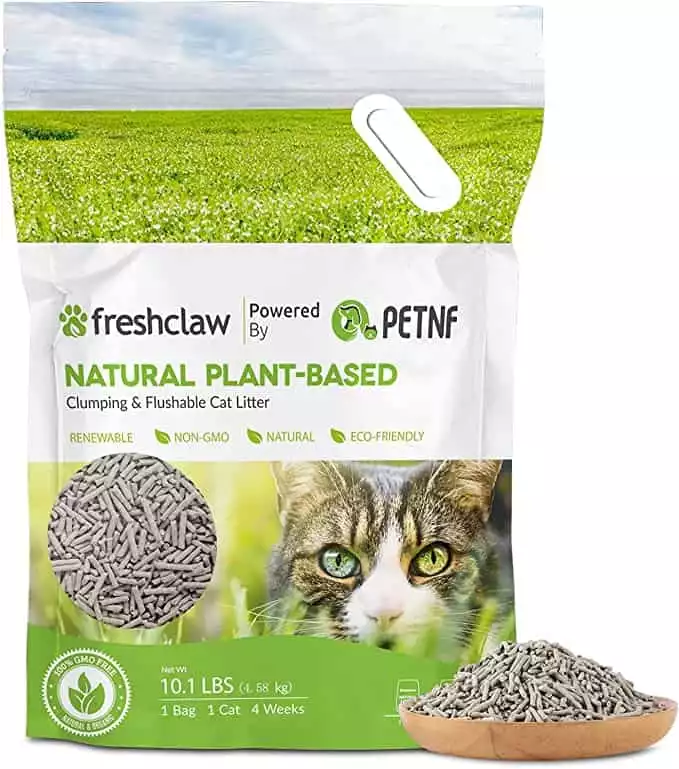 Pros:
✅ Great deodorizer
✅ Really good absorption
✅ Biodegradable material
✅ Lightweight and flushable
Cons:
❌ Not great for multi-cat households
This environmentally friendly and flushable cat litter is made with pea fiber, activated charcoal, and other ingredients. It is another excellent tofu litter substitute made with natural materials.
This litter is excellent in odor containment and scent reduction.
This cat litter is 99% natural and dust-free, so it keeps your floors clean and is ideal for household members and cats that are prone to allergies. When you add more litter into the box, a dust cloud will no longer form!
This litter is super clumping and simple for scooping. Fast water absorption of 1.5 seconds lowers the likelihood of any litter adhering to the cat's paws or the bottom of the cat litter box.
Plant Cat Litter is safe and high quality, and using starch and dried soybean residue makes the raw materials significantly safer and healthier.
With 5x greater absorption and clumping, the litter is easily cleaned and waste-free. Because the litter clumps into little balls, it is great for odor control so there's less ammonia smell.
Depending on the litter scent you choose and the odor control you want, you can select unscented, lavender, or green tea scented litter.
As the natural litter is flushable, you may dispose of the litter in a safe, non-messy manner. You can be confident that this is a safe alternative because it contains no dangerous chemicals or artificial substances.
The litter is also considerably drier than other varieties, which means that bacteria development is reduced, making it a safer and cleaner place for you and your cat.
The litter is safe and harmless if your cat happens to ingest it because it is manufactured from natural components.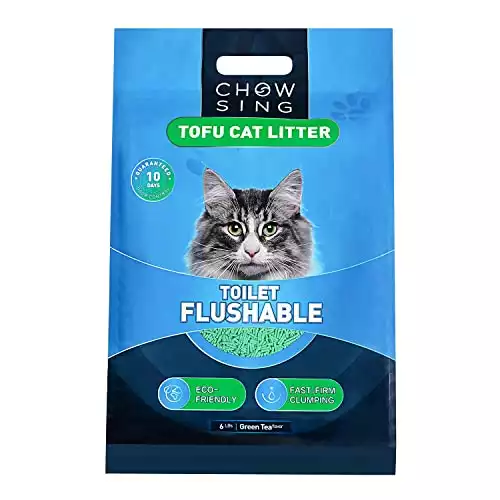 Pros:
✅ Different scented types available
✅ Great at odor control
✅ Biodegradable and natural
✅ Eco-friendly
Cons:
❌ Litter can stick to cat's paws
This is yet another excellent tofu litter that is completely natural and odorless. Pea residue, guar gum, soy flour, cornflour, and green tea powder are the main ingredients.
This clumping cat litter has excellent odor control and it quickly absorbs moisture to create clumps that are easily removed from the litter box tray, which saves you extra cost and time.
As this litter is created from natural elements, it is totally dissolvable and degradable in water, allowing it to be flushed away. It may also be used to fertilize your garden! This makes it so easy to deal with soiled cat litter.
This litter's no-dust, no-tracking granules keep the area around your cat's litter box (and the rest of your house) clean, so you and your cat won't suffer from allergies triggered by the excess dust found in cat litter.
This 6lb bag of tofu cat litter can last up to a month for one cat because of its excellent absorption level and moisture management, which means it lasts much longer than the average cat litter.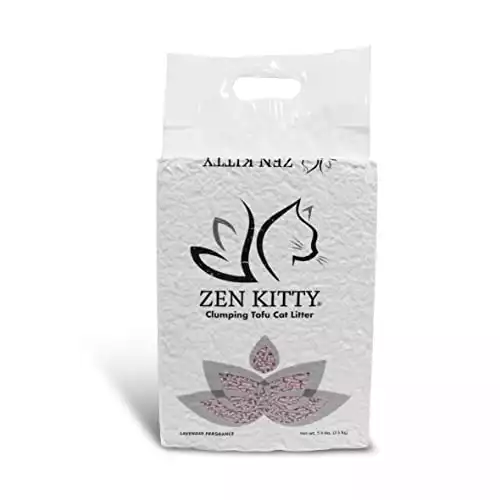 Pros:
✅ Sweet-scented odor control
✅ Dust-free
✅ Low tracking
✅ Neutralizes ammonia odors
Cons:
❌ Forms sticky clumps
ZenKitty Clumping Tofu Cat Litter has a lavender scent that is not only great at masking odors but also adds a fresh fragrance to the surroundings.
It is composed entirely of natural components so it does not generate any additional allergies or dust when added to the litter tray.
This litter produces clumps that are easy to scoop, making cleanup a breeze. This makes daily litter box upkeep quite simple.
Thanks to the improved odor control, you won't notice the cat litter in the corner of the room, so it can be used for a longer period of time than other litter alternatives.
The low tracking formula means that less litter will be strewn over the floor, helping to keep the area around the litter box clean. When the litter has been used, it can be flushed or decomposed, so it is easy to get rid of.
ZenKitty's lavender tofu cat litter helps neutralize the ammonia odors from the urine present in cat litter.
Its absorbent natural fibers can last a long time, and it clumps well for simple disposal – this product offers all the advantages that a tofu litter can offer!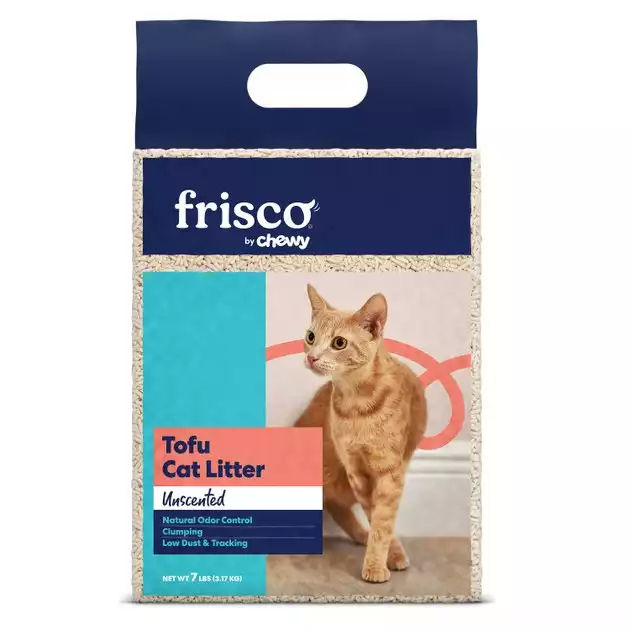 Pros:
✅ Natural and great odor control
✅ Maximum absorption
✅ Low-dust
Cons:
❌ Not flushable
Chewy's odor-fighting, kitty-friendly litter from Frisco has no additional perfumes; the natural tofu ingredients absorb liquids and clumps rapidly to combat any unpleasant odors.
Natural components make this a wonderful alternative to traditional clay litters. Clump removal is made much easier thanks to the pellet form.
As a bonus, there will be less mess thanks to a low-dust, low-tracking formula.
Chewy's pet specialists designed, tested, and approved this product. You can only dispose of this kitty litter in the garbage. In order to avoid environmental contamination, don't flush it, or dispose of it outdoors.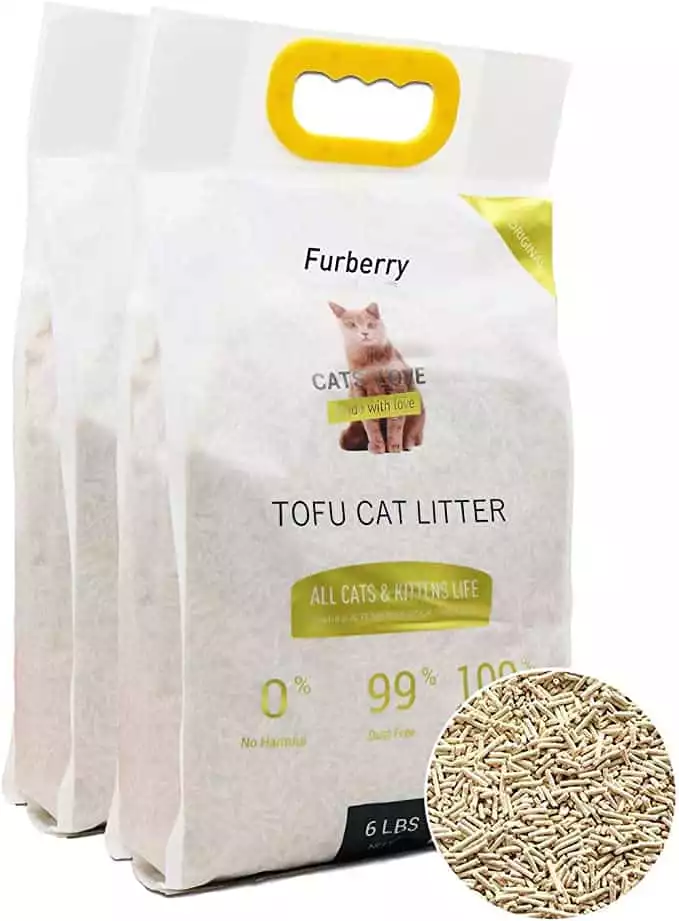 Pros:
✅ Small pellets great at absorption
✅ Clumping and flushable
✅ Creates solid clumps
✅ 99% dust-free
✅ 100% biodegradable
Cons:
❌ Not highly effective with poop odors
Furberry Clumping Cat Litter is eco-friendly, flushable, and completely biodegradable. It is totally safe for your cat to use and it's not harmful to the environment because it is made from natural by-products.
Cat litter clumps fast when it gets wet, so it is simple to scoop up and keep the litter box clean.
If you scoop out the clumps on a regular basis, this tofu litter can last for up to four weeks before needing to be refilled.
The Furbaby litter offers good odor control, eliminating the smell of cat urine while leaving a more pleasant scent in the room. It also creates less mess because it is 99% dust-free and non-tracking. The cat litter area will be super clean!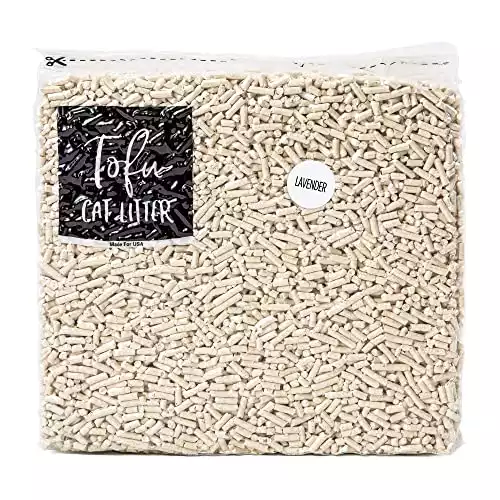 Pros:
✅ Great absorption
✅ Great odor control
✅ Zero tracking
✅ Dust-free
Cons:
❌ Doesn't clump very well
This 99% natural, dust-free cat litter keeps the surrounding area clean and tidy and is ideal for allergy-prone households. When you put litter into the litter box, you shouldn't get a dust cloud!
With 5 times greater absorption, this litter is clumping and so it's simple to clean and waste-free.
As the litter clumps into little balls, it's great for odor control so there's less of that unpleasant ammonia smell.
This natural litter is flushable, so you can dispose of it in a safe and eco-friendly way. With no dangerous chemicals or artificial ingredients, you can be confident that this will be a safe choice for your cats and the entire household.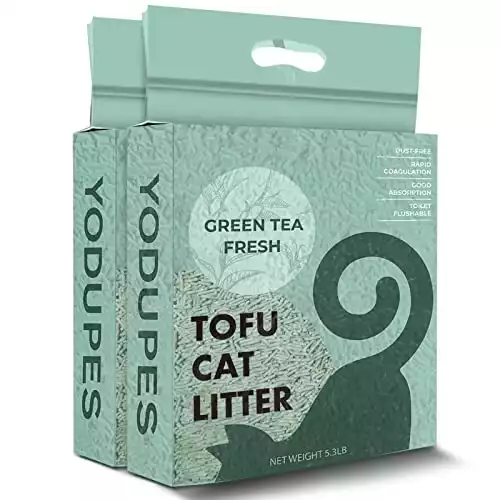 Pros:
✅ Great absorption
✅ Easily cleaned
✅ Great price value
✅ Scented and great at controlling odors
Cons:
❌ Strong chemical smells
YODUPES Clumping Tofu Cat Litter clumps fast and doesn't adhere to the paws of cats, forming solid clumps that can be scooped out easily without disintegrating.
This is a 99.9% dust-free, low tracking cat litter that has been screened to eliminate dust clouds when being poured into the litter box and to safeguard the urinary and respiratory health of your cat.
Tofu Cat litter contains green tea extract for odor management, so you won't smell unpleasant scents when you get home from work or wake up in the morning.
This natural tofu cat litter can be flushed into the toilet safely, rather than thrown away in the garbage, making it super easy for you to get rid of. You get 5.3 lbs per bag of this lightweight cat litter.
The cat litter's high absorption efficiency makes it a perfect choice for single or multiple cat households!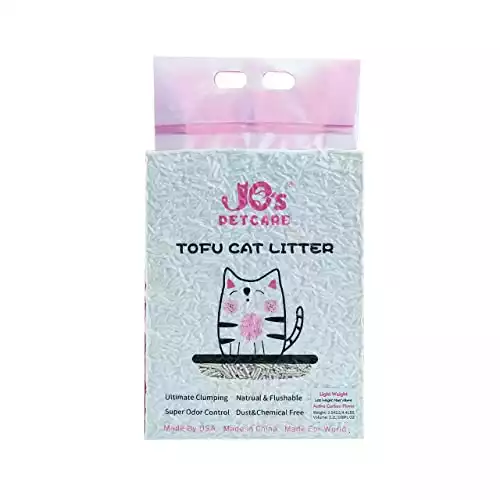 Pros:
✅ Different scent varieties
✅ Low tracking
✅ Dust-free
✅ Biodegradable and flushable
✅ Natural and eco-friendly
Cons:
❌ A bit expensive considering package weight
Jo's Petcare Tofu Clumping Cat Litter is natural and flushable, made with bean dregs and other biodegradable and flushable components!
The lightweight pellets have a new composition that promotes more volume and less weight, resulting in more pellets in the same size bag.
The pellets are 99% dust-free and low-tracking, with superior clumping and odor control. The litter has all of the advantages you might wish for when buying tofu cat litter, plus it is ecologically friendly!
With this cat litter, you have a choice of two types: milk or active carbon. This tofu cat litter needs to be stored in a dry place once opened.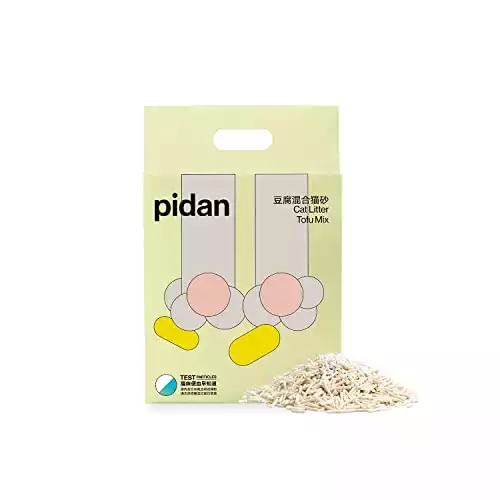 Pros:
✅ Super absorbent
✅ Easily cleaned
✅ Scented litter
✅ Great odor control
✅ Flushable
Cons:
❌ Doesn't dry fast
Blood traces are invisible to the naked eye, but when exposed to colorless trace blood, test particles will react and show it up. This cat litter is capable of absorbing liquid like a sponge.
Clumping is faster, and the bottom of the cat litter box is less likely to get dirty. Water absorption is adequate, and consumption is low. It also has less scattering and better wrapping.
This cat litter is a really great option and it can also be flushed down the toilet. Getting rid of soiled litter is more convenient due to its solubility in water. However, don't flush too much into the toilet at once.
This type of litter absorbs fluids more completely and more quickly than previous litters produced by this brand. In only two seconds, it can absorb a fluid, i.e. cat urine, with a volume four times its own.
The spacing between the pellets becomes significantly tighter due to the varied pellet sizes. As a result, moisture does not settle to the bottom of the litter box.
Remember, the mineral substances in bentonite might impair detection effectiveness. This litter is not to be combined with other litters.
The vacuum pack's design serves merely to aid transportation and storage, and air leakage has no bearing on its usability.
There are several ways to dispose of this litter after its usage. If you want, you can flush it down the toilet, dispose of it as rubbish, or use it as fertilizer.
FAQ
Is tofu cat litter good?
Yes. Tofu cat litter is one of the best choices, not only for your cats, but for you and your living environment too. Tofu cat litter is a safe and effective option. Tofu cat litters are durable, highly absorbent, easily cleaned, and provide one of the best odor controls available.
Is tofu litter toxic to cats?
No. Tofu cat litter is not toxic to cats, it is one of the best and safest alternatives to traditional cat litter.
How long does tofu last in cat litter?
Generally speaking, tofu cat litter is highly absorbent and this allows the bag of 6 lbs to last for approximately 30 days.
How much does tofu cat litter cost?
The cost of tofu cat litter varies; it depends on the product brand and the weight of the bag or box you want to buy. Overall, the price is usually between $13 and $40.
Is tofu cat litter eco-friendly?
Yes. Most tofu cat litters are eco-friendly and biodegradable, safe to flush or use as fertilizer.
What can you mix with tofu cat litter to make it better?
You can use tofu cat litter alone, or mix it with bentonite cat litter to make it even more absorbent.
Is tofu cat litter better than clay litter?
Many cat owners consider tofu cat litter to be better since it is made of 100% natural ingredients. It is eco-friendly, absorbent, often flushable, biodegradable, and dust-free. The main difference between tofu cat litter and clay cat litter, is that tofu litters dry almost five times faster than clay litters, making them better for odour control as well.
Final Words
When you're switching from regular litter to new litter for the first time, try and gradually mix in a bit of the new litter so your cat has time to get used to its new type of litter.
You just have to be careful, as some cat litters can not be mixed with other types of litters.
If you're trying to find the best tofu cat litter, I believe that the choices laid out for you above will help you find the perfect litter for you.
It's not easy to pick the right cat litter, and I should know; I have six cats, and getting all of them to agree on one litter brand is very tricky.
I've included the top 12 Amazon and Chewy options above, and the number one is the best tofu cat litter that I tried, and the one I am currently using.
For me, buying tofu cat litter was, and still is, the best choice. I enjoy the lavender scent of the one in my living room, and I don't mind cleaning both of my cats' litter boxes.
As these litters are also eco-friendly, it means I don't feel bad buying them. I hope that this tofu cat litter review will help you to choose the best tofu cat litter for your beloved pets.
Related Articles:
Tidy Cats Breeze Pellets Alternative: Top 15 Choices (2023)
Using Horse Pellets For Cat Litter – Is It Doable?
Pros And Cons Of Using Wood Pellets For Cat Litter + Products