This post contains affiliate links, and I will be compensated if you make a purchase after clicking on my links, at no extra cost to you.
After you have chosen the perfect cat food, the next most important thing for your cat's health is to choose the right cat litter. Perhaps you're choosing cat litter for the first time, or maybe you are thinking about transitioning from your current litter to wood pellets. Whatever stage you are at I've done some research and tested out several types of wood pellet cat litters to make your choice easier.
I have six cats, ao I go through a lot of cat litter every day! Continue reading to find out everything you need to know about using wood pellets for cat litter including their pros & cons, my (unbiased!) product recommendations according to my experience, and a guide on how to transition to this new litter in the best way for both you and your cat.
Is Using Wood Pellets For Cat Litter Safe?
First of all, let's determine what exactly wood pellets are. Wood pellets are little bits of wood fiber that are produced by compressed wood. They are most commonly used to stuff cat or animal bedding, but they are becoming increasingly popular for use as cat litter. Using wood pellets for cat litter is considered safe. There are many advantages and some disadvantages to choosing wood pellet litter, as we will discover…
Pros & Cons Of Wood Pellet Cat Litter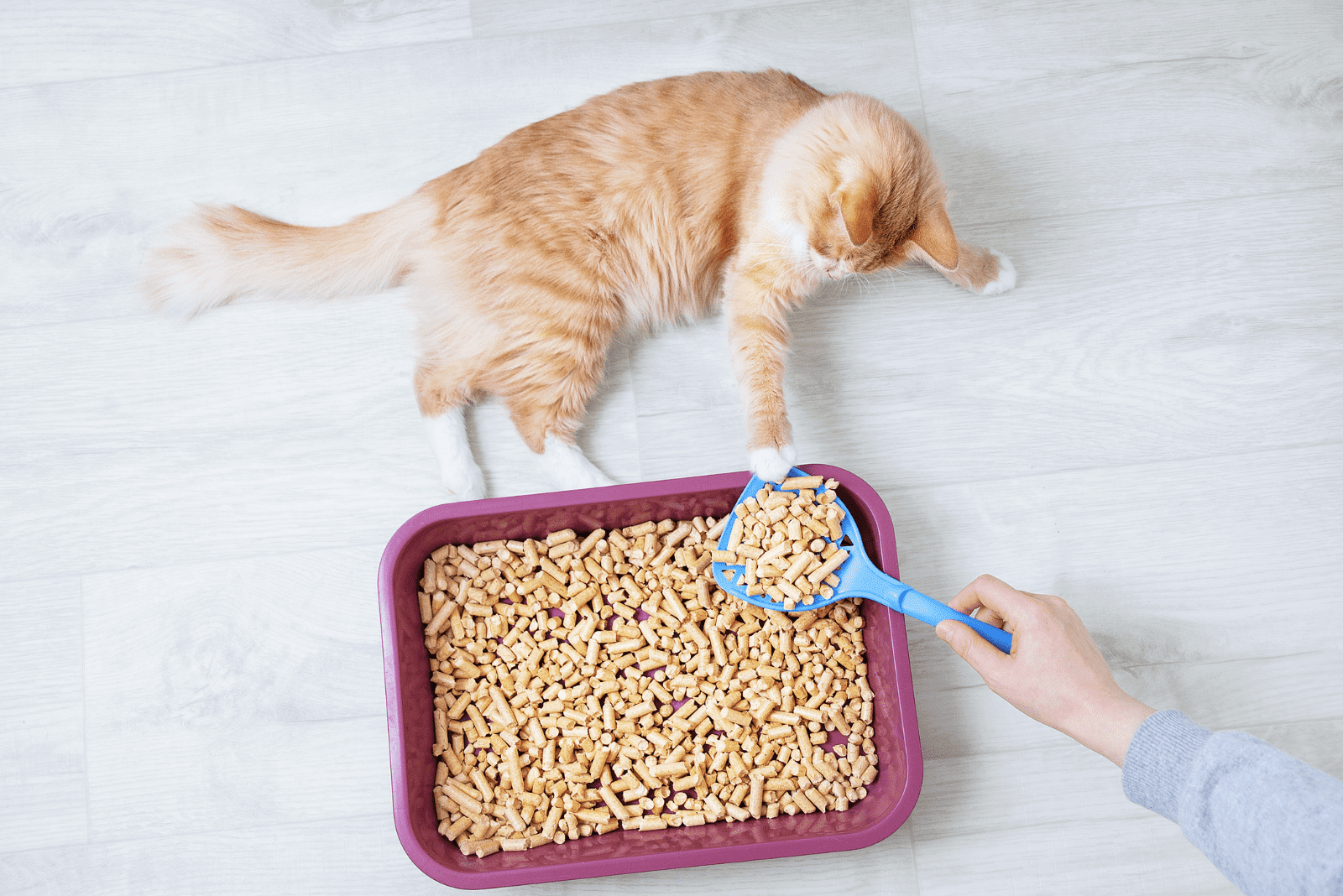 Wood pellets for cat litter are becoming more and more popular. There are two basic types; hardwood and softwood pellets. Hardwood pellets are typically made from oak and/or applewood, while the more popular softwood pellets are usually made from cedar or pine. Let's check out the pros and cons of using wood pellets for cat litter.
Pros:
Cat's Health
The first and most important advantage of wood pellet cat litter is to do with your cat's health. When using the litter box, your cat digs in with its paws, which it will later lick and bite when cleaning itself. If your cat ingests bits of regular clumping litter, it can cause digestive issues, such as a blockage, for example.
Wood pellets are free from added chemicals and are generally all-natural and dust-free, which reduces the risk of respiratory problems for your cats.
Wood And Pine Pellets Are Eco-Friendly
Wood pellets are generally eco-friendly and are a great alternative to regular clay litters. Wood pellets, unlike clay litter, are created from a renewable resource. The majority of wood pellets are generated from recycled timber, formed from waste material in the furniture manufacturing process. This implies that no new trees are used for the production of wood-based cat litter.
Furthermore, wood pellet litters are biodegradable and compostable, which helps minimize trash build-up. Another thing to look at is that the cat litter doesn't have any artificial fragrances or additives and it's been dried using a kiln, which also helps get rid of any harmful allergens, e.g. phenol.
Great At Preventing Odors
Most cat litters only cover up unpleasant odors, but pine litter actually helps to reduce and eradicate odor. When wood pellets get wet, they degrade into sawdust, which retains and removes urine and ammonia smells. Pine pellets also effectively reduce odor-causing microorganisms due to their inherent antibacterial characteristics.
Many cat owners have discovered that clay does not effectively absorb scents, whereas wood pellets offer a mild, pleasant, and natural aroma. Furthermore, pine naturally contains antibacterial qualities; shikimic acid, which may be found in pine trees, has been demonstrated to reduce and prevent dangerous germs.
There's Less Mess With Lightweight Wood Pellets
Because wood and pine pellets are lighter in weight compared to regular clay litter, it is easier to carry, fill the litter tray, and dispose of used litter. Clay litter is heavy, making cleaning the litter box a much more difficult task. Wood pellets are lightweight and, when wet, they simply convert into sawdust. Cat owners will be all for anything that makes cleaning the litter box easier than usual.
Pine pellets are almost dust-free and considerably bigger than most granular litters, so this means tracking, spreading, and dusty pawprints are minimized. Unfortunately, there is no such thing as a totally clean litter box, and occasionally some sawdust will undoubtedly end up outside the litter box.
Wood Pellets Are Long-Lasting & Affordable
Wood pellets outlast most other litters, particularly when compared to clay litter and other plant-based litters. Wood pellet litter will need to be replaced every four weeks on average.
One of the cheapest plant-based litters is wood and pine pellet cat litter. Buying horse bedding and/or wood stove fuel pellets in bulk can be utilized as litter to cut costs even more. You can even get up to 40 lb bags for less than $10. Just check that it's safe for your cat first!
Wood Pellets For Cat Litter Are Biodegradable And Easily Disposed
Biodegradable wood pellet cat litter can be buried, and it will slowly decompose. This helps in reducing solid rubbish. Compost can also be used as an upgrade to soil. Feces can be scooped out of wood pellets and flushed down the toilet, but you should never flush the pellets. Wet pellets degrade into sawdust, which may then be composted.
Cons:
Costs More Than Regular Clay Litter
Even though wood pellets for cat litter are one of the cheapest options when it comes to plant-based cat litter, they typically cost a lot more than clay litters. However, wood pellets are lighter in weight, so you should consider that when comparing the price per weight of different litters.
When Switching Litter, You'll Need A New Litter Box Too
If you decide to switch your current litter to wood pellet cat litter, you'll probably need to buy a new litter box as well. You can use wood pellet litter with a regular litter box; but, it is meant to be used with a sifting litter box. Using it in a sifting litter box means you minimize garbage waste, your litter lasts even longer, and the clean-up process is easier and more effective.
Wood pellets do not clump; when they get wet, they break down into sawdust, which retains moisture. Unfortunately, it is more difficult to totally remove sawdust from a normal litter box, and also, when it isn't scooped out, and it gets soaked in urine again, it isn't as absorbent as it was, and it loses its ability to control odor and microorganisms.
It Usually Isn't Clumping
Wood pellet litter is mostly non-clumping. Wet pellets, on the other hand, break down into sawdust, which is great at absorbing moisture. Litter needs to be sifted in order to dispose of sawdust and retain unused fresh pellets. However, there are some wood pellet cat litters that are mixed with some other ingredients which contribute to clumping.
Though not exactly a disadvantage, as some cat owners prefer non-clumping litter, it does take a little longer to clean a wood pellet litter box.
How To Use Wood Pellets For Cat Litter?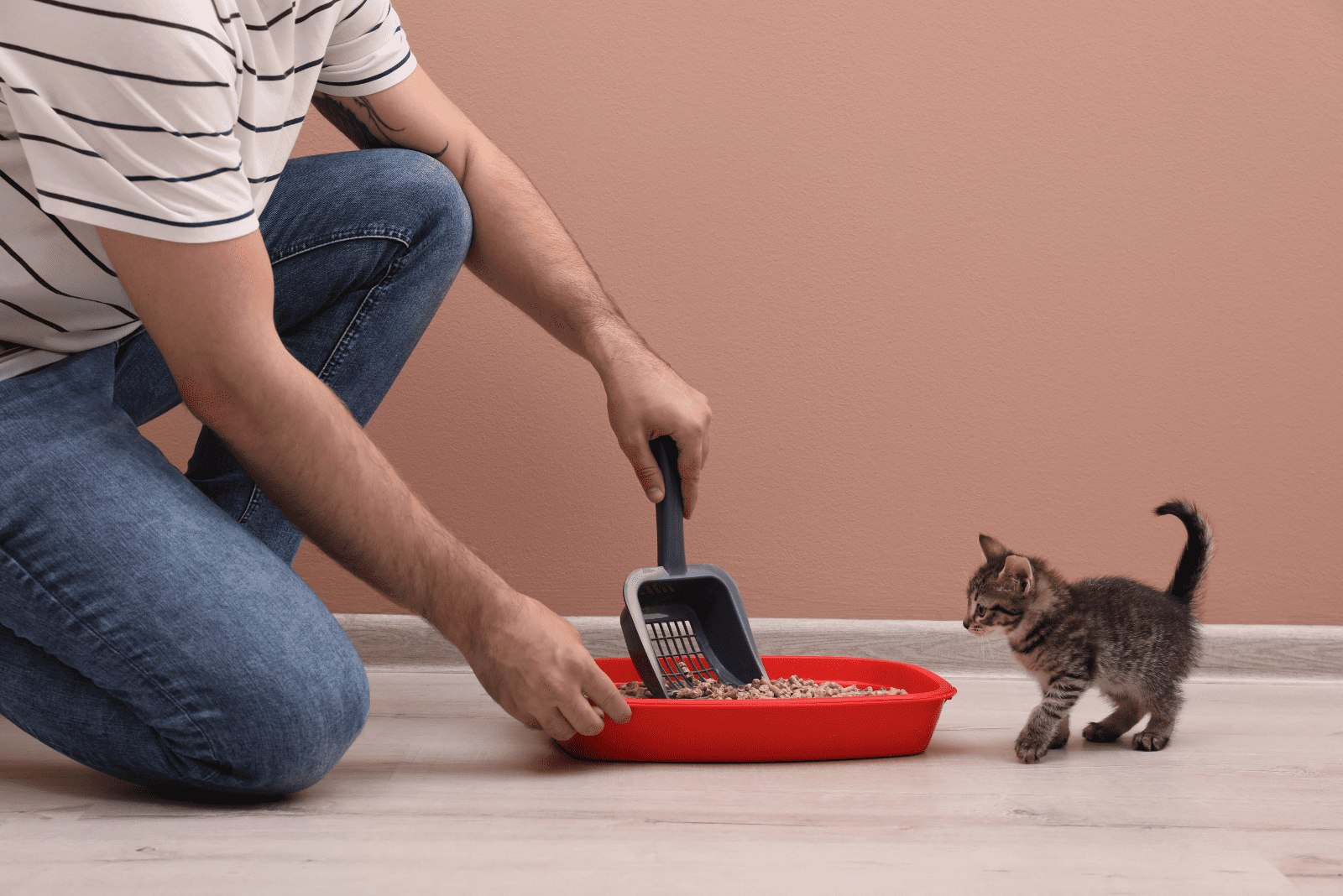 If you decide to switch to wood pellets for cat litter, try the following steps to make the transition process easier, both for you and your feline friend.
1. Change The Litter Box Too
Allowing your cat to gradually transition from its old litter box and type of cat litter makes it easier for the cat. You should, for many reasons (age of the litter box, type of the litter), change the litter box too when you change the type of litter, especially if moving to wood pellets as these work best with a sifting litter box.
2. Mix New With Old, Or Use Two Boxes
As with any change in your cat's everyday life, you should introduce the new wood pellet cat litter by gradually mixing it in with the old litter. Combine a bit of your cat's old litter, even a cup of the already used litter from the box.
This way, this new litter box will have a familiar scent, and it won't repulse your cat. Then when you go in to clean the litter box every day, remove chunks of the old litter, and when adding fresh, clean litter, only add the new type, i.e. the wood pellets for cat litter.
3. Fill It With The New Wood Pellet Litter
Put the new type of litter into the litter box, and locate it somewhere your cat is sure to pass or spend time. Another thing you might also want to do is sprinkle bits of old litter and/or baking soda. This helps it smell more familiar to your cat, and baking soda helps eliminate any odors at the beginning of this new change for your cat.
4. Finally, Switch To Wood Pellets Only
By now, your cat will have switched entirely and become used to the new type of litter. You won't need the additional box or the old type of litter anymore, so it's best to start using only the new one from now on.
However, it is critical to pay close attention because if your cat isn't using the litter box, and prefers to go somewhere else (whether this is somewhere in the house or outside) you should consider switching again. Making major changes like this can be pretty difficult, especially for adult cats who are set in their ways. Be patient, and try again if it doesn't work the first time.
The Best Wood Pellets For Cat Litters
I've done some research and tested out a couple of varieties of wood pellets for cat litter. As I have six cats, finding a litter that they all like wasn't an easy task. I gave all of the following a try, but my kitties decided that the best cat litter for them is the Recycled Wood + Green Tea Fresh Litter, and I couldn't be happier.
I have three additional litter boxes around the house – I know the litter box system is +1 per number of cats, but right now, I don't have much room, and my kitties are satisfied.I still use tofu cat litter, along with these recycled wood pellets. I get a 5 pound bag for about $29, and it is frequently on discount as well (plus Amazon offers free delivery). Free delivery and eco-friendly are the buzzwords for me! lol
Check out the following wood pellet cat litters, these are the TOP 8 options you can find on Amazon.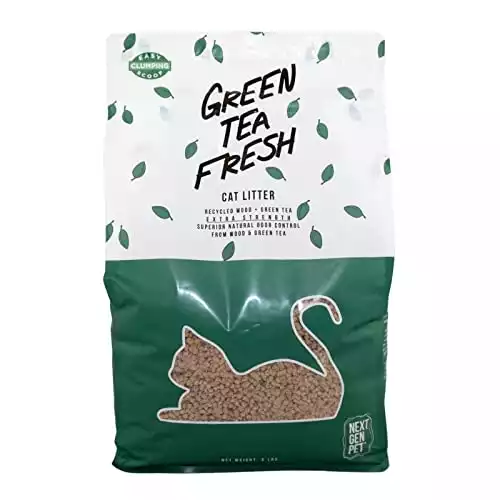 The Recycled Wood + Green Tea Fresh Cat Litter is one of the best wood pellet cat litters on the market. It is a little more expensive than some other litter solutions, but I feel it is well worth the money! I tried various other wood pellets for cat litter until I bought this one. Since then, I've been buying this type (and for the additional litter box, I buy tofu cat litter), and my cats are as happy with it as I am.
This litter is amazing at reducing smells because it is made from reused wood, mixed with green tea. The wood pellets absorb urine very quickly, which is great for preventing odors, while the green tea and wood scents help mask any remaining pee or poop smells.
Furthermore, the natural smell of the green tea is derived from genuine green tea in the composition, rather than adding any artificial fragrances. You get all of the benefits of wood pellet cat litter while conveniently scooping the trash away, and because it is flushable and biodegradable, disposal is simple.
This litter is lightweight, and its pieces are small. This may make the adjustment to new litter easier for cats that are accustomed to clumping litter. Compared to larger wooden pellets, this more closely resembles the traditional clay litter in the way it feels on their paws. This is a significant benefit if your cat is perhaps a little picky!
Unfortunately, these small lightweight granules adhere more readily to your cat's paws. This increases the likelihood of litter tracking.
Pros:
✅Natural odor
✅Small wood pellets
✅Clumping & Biodegradable
✅Flushable
Cons:
❌Small pellets result in tracking and sticking to paws or litter pan
❌Green tea scent isn't popular with all cats
❌A bit more expensive than other cat litters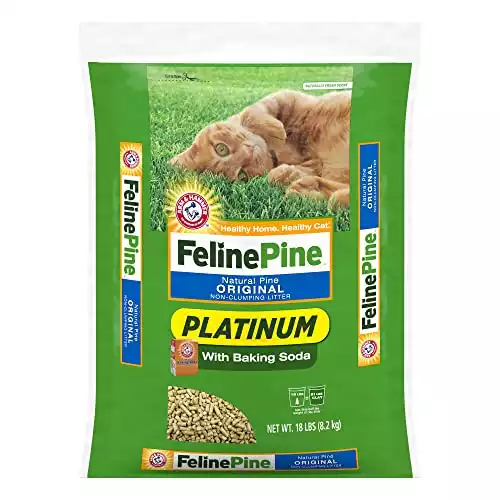 If you're willing to experiment with a non-clumping pellet litter, choose the Feline Pine Non-Clumping Cat Litter. This is a traditional non-clumping wood pellet litter manufactured from pine fibers. All of the wood used in the production of this litter is recovered from timber manufacturing, so it is a terrific environmentally friendly solution.
This litter is free of chemicals and has no hazardous dyes. Even when dumped into the litter box, it creates very little dust. It absorbs urine rapidly and retains scents well.
Each wooden pellet functions like a little sponge, swiftly absorbing all urine. This guarantees that unpleasant ammonia odors are trapped as soon as possible, resulting in excellent odor prevention. It's also quite aromatic, even though it is unscented, as it emits a mild natural pine smell that helps to cover any unpleasant smells.
The biggest disadvantage of this litter product is that it is neither flushable nor biodegradable and must be discarded in the garbage. This might be an issue for the more ecologically aware owner if they are attempting to be as environmentally conscious as possible.
The pellets in this litter are very tiny, which is fantastic news for your cat, as they have soft and delicate paws. It does, however, make cleaning more difficult. You'll need to use a litter scoop or buy a sifting litter box so you can separate the sawdust and the unused pellets. You should also be cautious when selecting a scoop; if its holes are too wide, the pellets and the sawdust will pass right through.
Pros:
✅Free of chemicals
✅Low-dust and highly absorbent
✅Fresh and natural scent
✅No added materials, 100% pine
✅No tracking and strong odor control
✅Soft for your cat's paws
Cons:
❌Can't be flushed
❌Sifting and cleaning are difficult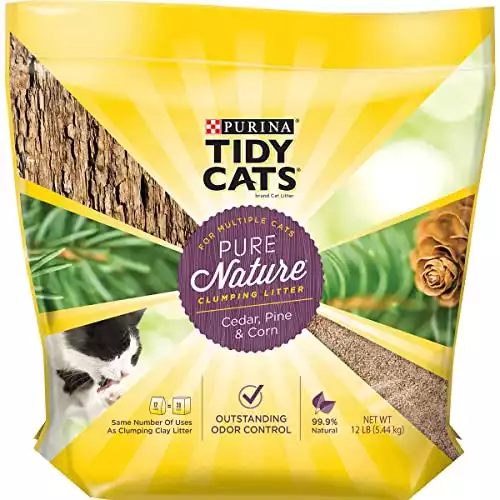 Purina Tidy Cats Breeze is another excellent choice when it comes to wood pellet cat litter. This is more a semi-wood pellet litter with a clumping recipe, composed of two types of wood: pine and cedar; and also corn. This cat litter is excellent at just about everything!
Corn is well-known for its high absorbency. As soon as your cat pees in the litter box, the corn absorbs it, containing the urine before it can emit unpleasant scents around the house. Pine and cedar also help with odor control, with their inherent woody aroma masking any scents that the corn fails to trap.
This is another biodegradable cat litter. Furthermore, the natural components make it a safe alternative if your cat happens to accidentally consume some of it. Because it is dust-free, there is a reduced chance of respiratory problems for both you and your cat, as well as less tracking.
It is also clumping, so you can conveniently dispose of mess as it tightly binds dirty litter together. However, this kitty litter isn't entirely natural because a substance known as glycerin is included among the components. As a result, the litter isn't flushable, and must be discarded in the garbage.
Pros:
✅99% natural ingredients
✅Affordable
✅Clumping
✅Great odor control
✅Low dust and no tracking
✅ 10-day guarantee for odor control
Cons:
❌Contains artificial fragrance – glycerin
❌It's not flushable or compostable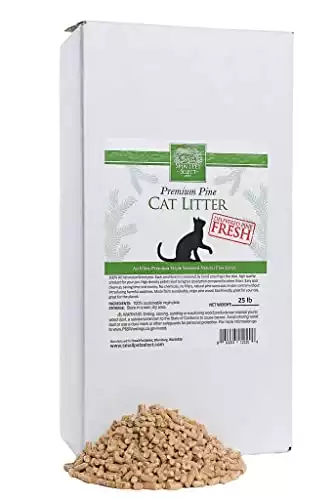 Small Pet Select Premium Pine Pellet Cat Litter is another great choice. This cat litter is completely made of pine pellets, with no additional additives or harmful chemicals. This not only benefits the environment as it is biodegradable, but it also makes this cat litter one of the safest litters on the market.
These all-natural pellet shavings have a lovely natural aroma as well, which efficiently masks scents and contributes to a pleasant odor in your house. Furthermore, because wood pellets are incredibly absorbent, they will swiftly absorb any urine in the litter box.
As this is a non-clumping pellet litter, wet pellets convert to sawdust. The pellets are large, so it is pretty simple to separate the fine dust from the complete unused pellets. To separate it, any litter scoop or sifting litter box should suffice, making cleaning easy! Furthermore, bigger particles and low dust mean tracking is minimized.
Unfortunately, the bigger granules can make your cat's paws slightly irritated. Most cats will adjust to the transition over time, although some cats may take a bit longer than usual when switching from a clay litter since it is not only the brand you're changing, but the type, consistency, and scent as well.
Pros:
✅No tracking
✅Biodegradable
✅Low dust
✅No artificial additives0
✅No artificial fragrances
✅Natural pine scent
✅Works well with any scoop or litter box
Cons:
❌Not flushable
❌A bit more expensive
❌Some cats take longer to adjust to the size of pellets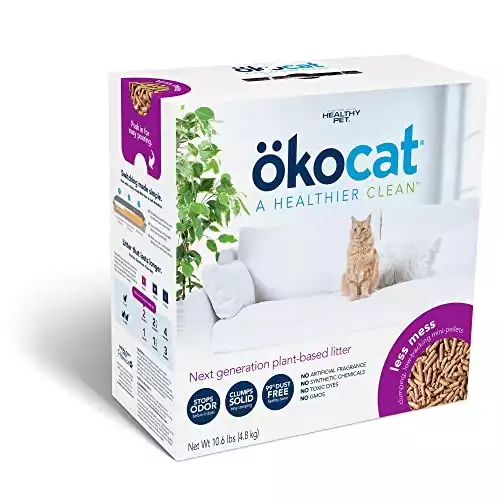 Try the Okocat Natural Wood Cat Litter if you have a long-haired cat breed, as this cat litter features bigger pine particles that are less likely to get tangled in your cat's beautiful long coat. Tracking is also considerably less than with the regular cat litter types.
The one disadvantage of these bigger pellets is that they might be difficult for your cats' feet. It may also take your cat a bit longer to adapt to the use of wood pellet litter because the pine pellets are much larger than typical clay litter particles.
Another significant advantage of this type of cat litter is that it is low dust. While this reduces tracking, it is also beneficial to both your and your cat's respiratory health. Furthermore, because this is clumping wood litter, the pellets will not break into sawdust when exposed to fluids, further decreasing the mess.
The excellent clumping action also traps smells, as well as making scooping easier. It is biodegradable and flushable, making disposal simple and ecologically friendly.
Pros:
✅Clumping and biodegradable
✅Suitable for long-haired cats
✅100% natural pine pellets
✅Low tracking
✅Low dust
Cons:
❌Large pellets can be irritable to a cat's paws
❌Cats might need longer to get used to this type of litter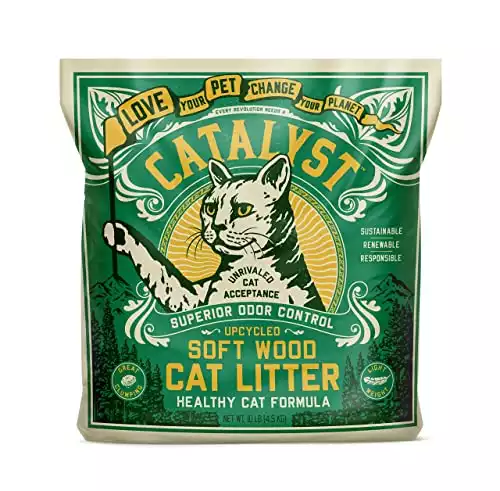 If one of your main concerns is the fragrance of your cat's litter box, this might be the type of wood pellet cat litter for you!
The Catalyst Upcycled Soft Wood Cat Litter's pine pellets absorb all liquids incredibly quickly, swiftly trapping any undesirable odors. This litter also contains zeolite, a highly absorbent substance capable of absorbing up to three times its original volume. These two substances work together to ensure that your cat's litter box always smells fresh.
You do still have to clean and scoop the litter box on a daily basis, but because this is a clumping cat litter, you can easily sweep up all feces as you would with ordinary clay litter. The lightweight composition makes it easier to handle when cleaning and changing the litter.
Unfortunately, although this cat litter is đdust-free, it is also lightweight, which allows it to stick to your cat's paws or coat and spread around more easily, which is why this isn't recommended for long-haired cats, however short-haired cat owners should definitely consider it.
Pros:
✅Clumping cat litter
✅Soft for the cat's paws
✅Natural ingredients
✅Lightweight and dust free
✅Wood pellets and zeolite mix for a great odor control
✅Easy disposal
✅Natural pine scent
Cons:
❌Low tracking
❌Not suitable for long-haired cats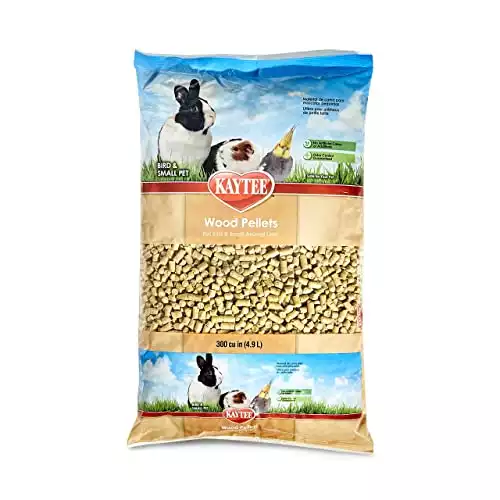 Kaytee Wood Pellets Cat Litter is extremely low in dust and comes in a variety of sizes, making it a fantastic choice if you've never used wood pellets for cat litter before and you want to give it a try. The larger granules will not adhere to your cat's paws, so there'll be no tracking. It is not only suitable for cats, but also rabbits, hamsters, and other small animals.
Kaytee Wood Pellets are fantastic and highly absorbent. However, they occasionally break down and turn into sawdust, which many people find a disadvantage since it can get messy.
This litter also lacks a bit when it comes to odor control, so you need to do a good job cleaning the litter box and replacing the litter more often.
Pros:
✅Low dust
✅100% pet safe
✅Low tracking
✅Available in different sizes
Cons:
❌Insufficient odor control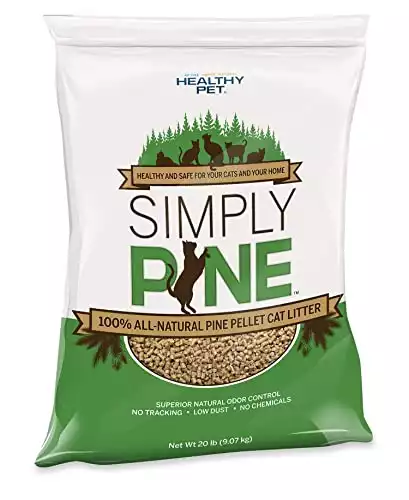 Simply Pine Natural Cat Litter is biodegradable, and it has a nice pine scent that is great for hiding odors. It is incredibly absorbent and naturally antibacterial, making your cat's litter box safe and fresh to use. It has no additives, chemicals, or synthetic dyes. Your cat might need more time adjusting to the texture of this type than they would if you just switched the brand of their usual clay cat litter pellets.
The disadvantage many cat owners claim, and which I also encountered, is that it doesn't regulate odor adequately, and its dark color disguises feces very well – making clean-up more difficult.
Pros:
✅Natural ingredients
✅Antibacterial
✅Natural scents
✅Highly absorbent
Cons:
❌Lacks odor control
❌Dark pellet color
FAQ
Are wood pellets good for cat litter?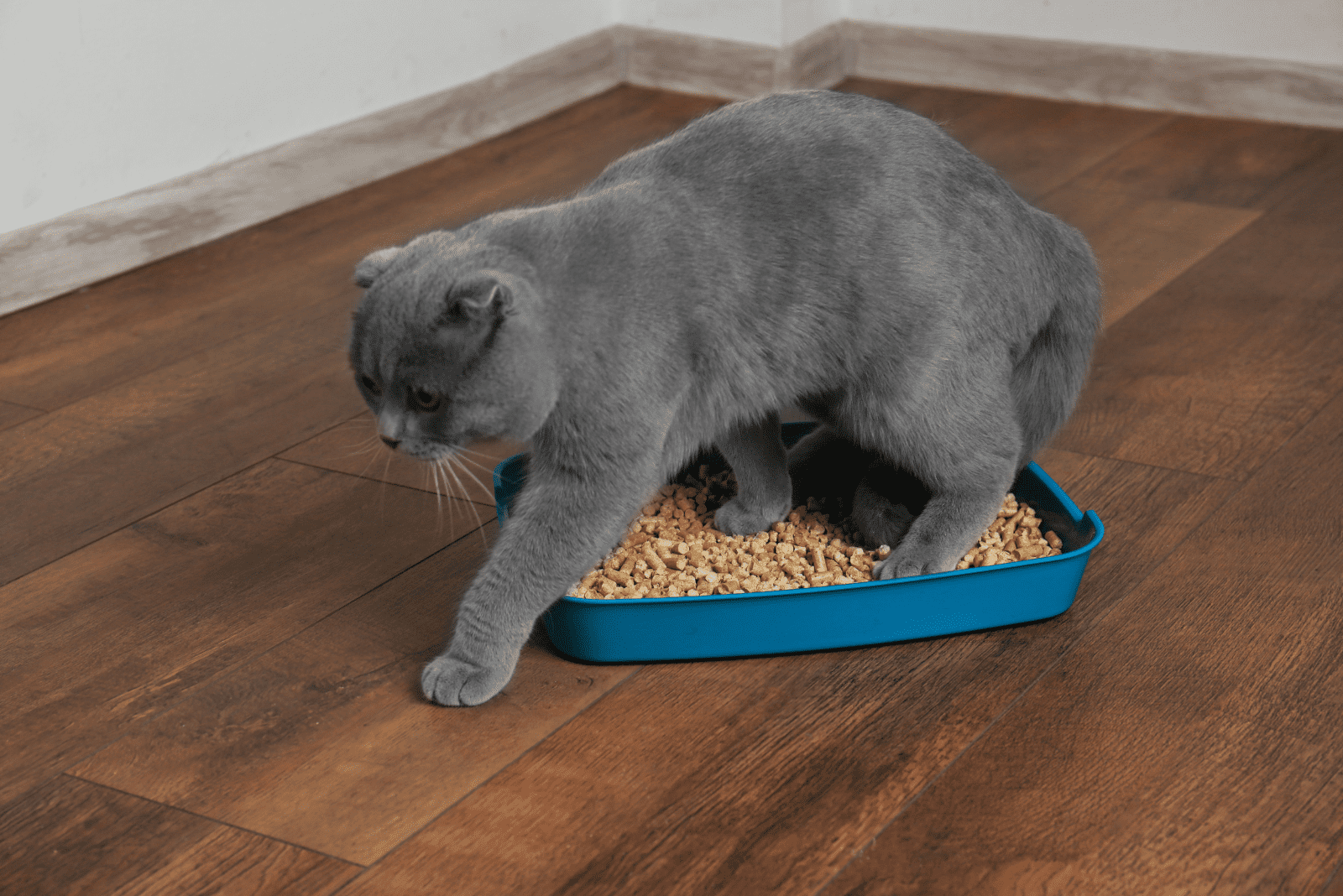 Yes. Using wood pellets for cat litter has become increasingly popular and more and more people are deciding to try it. Many cat owners have found it to be better than other types of cat litter; it is eco-friendly, and there are many options to choose from.
Are wood pellets better than cat litter?
Comparing wood pellets with regular cat litter types, wood pellets are more eco-friendly, and almost all types are biodegradable. However, most clumping cat litters are better at absorbing and have better odor control. You can find a wood pellet cat litter that is also clumping, but it won't be 100% wood pellet.
Do wood pellets absorb cat pee?
Yes, it depends on the product, but generally, wood pellets for cat litter are highly absorbent. They soak any drop of pee that touches them, and the pellets turn to sawdust when they get wet, so it's easy to clean. They also do very well in preventing bad smells from spreading around the house.
How often should you change cat litter wood pellets?
Wood pellets need to be replaced every four weeks on average. Wood pellets for cat litter are known for their extraordinary characteristics that mean they outlive most other types of cat litter. The first thing you notice is that when moist, dirty pellets disintegrate, you can easily see which part has been peed on and what you need to scoop out.
Can you flush wood pellets from cat litter?
Yes, but not all wood pellet cat litters are flushable. You should always check to be sure whether the product you choose is flushable. Cat litter may also block drains and sewage pipes, resulting in pricey repairs. Please don't ever flush the feces! Cat poop can be contaminated with Toxoplasma eggs, which can survive in the wastewater and further contaminate rivers, water, etc.
What are the benefits of wood pellets for cat litter?
The general benefits of using wood pellets for cat litter primarily include the safety of your cat's health; if the cat happens to ingest some bits of wood pellets, it isn't harmful. Another advantage is that it's eco-friendly, pretty great at odor control, there is less mess, it's lightweight, affordable, long-lasting, and biodegradable.
What size is the pellets?
The diameter of all wood pellets is consistent, but the length might range from 0.25 to 1.5 inches. And as far as the package size goes, there are different sizes and prices. You can find a 5 lb bag for twenty-something dollars, or you can buy stove pellets or horse bedding pellets for a lower price and get a bag of 30+ lbs (just make sure it's cat safe).
Final Words
I'm sure that by now, clay litter is already yesterday's news! Seeing all the advantages and the many different product options of wood pellets for cat litter, I'm sure that you're eager to give it a try and transition from whatever cat litter you've been using.
With all the eco-friendly advantages and various sizes and prices available, you will have a wide variety of options to choose from, so chances are, you'll be more satisfied with it, and so will your cat, of course!
Following the aforementioned guidelines, advice, and product recommendations, you'll have no trouble choosing the best cat litter for your feline friends.
Related Articles:
• Pretty Litter Vs Kitty Poo Club: Which Cat Litter Is Better?
• Using Horse Pellets For Cat Litter – Is It Doable?