This post contains affiliate links, and I will be compensated if you make a purchase after clicking on my links at no extra cost to you.
Taking care of a Maine Coon is not that different from taking care of any other domestic cat breed, but they do require larger items and more space in your home. Of course, you'll need a bigger rather than a smaller litter box.
From bigger cat trees to bigger litter boxes, you'll have to search a bit more to satisfy your cat's needs. It is good that you're here to do some research before making your purchase. I've listed the top 10 Maine Coon litter boxes you can choose from.
When choosing, you want to pay attention to the size, durability, and type of litter box. Additionally, the price of the litter box is sometimes a crucial factor. This is why I've divided my review into sections and graded all these aspects separately.
An Unbiased Review Of The Top 10 Maine Coon Litter Boxes & Trays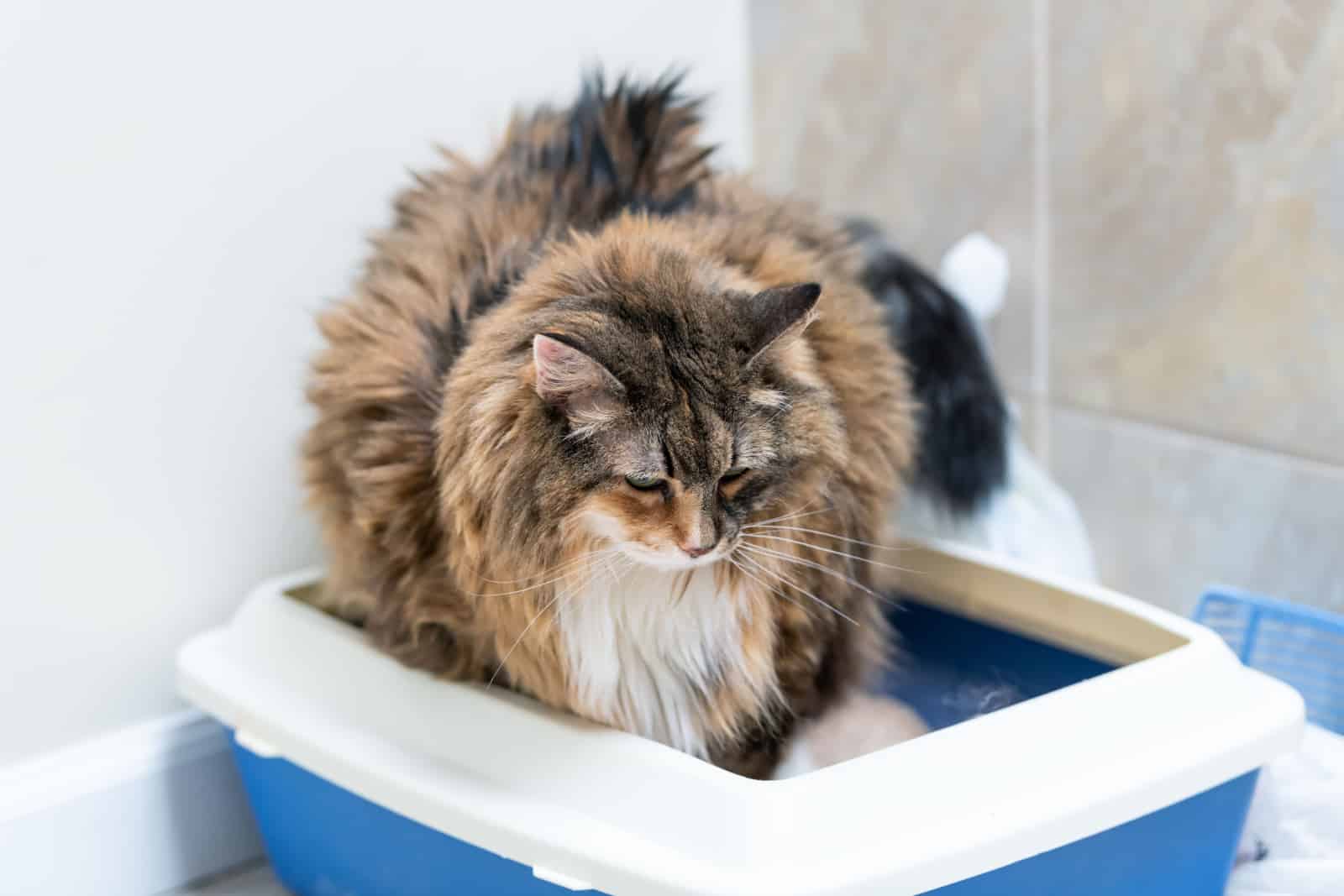 Based on my research, I've selected the TOP 3 out of the best ten products. I'll also provide my review, product info, and how I graded the specific characteristics of each litter box.
The following table contains the TOP 3 Maine Coon litter boxes, with a grading based on customers' product ratings on Amazon.
Before you read on, I have to say that I've tested out the following list of products to understand their usage better.
Besides my six cats, one of which is a Maine Coon, I've tested some of them in the veterinary clinic and in a shelter I volunteer at with my fellow veterinarians. For others, I've gathered information from our trusted cat owners that visit the clinic often.
All of the TOP 10 products were tested for a short period of time with Maine Coon cats as helpers. I hope this unbiased review helps you decide which of these is the best litter box for your lovely Maine Coon kitten.
Note: None of my research was funded, we bought the products at our own cost, and it was all for the purpose of writing this unbiased review.
You can choose open or covered litter box designs and select the type of entrance you want it to have. I hope you'll find the one that best suits your cat and the style of your home.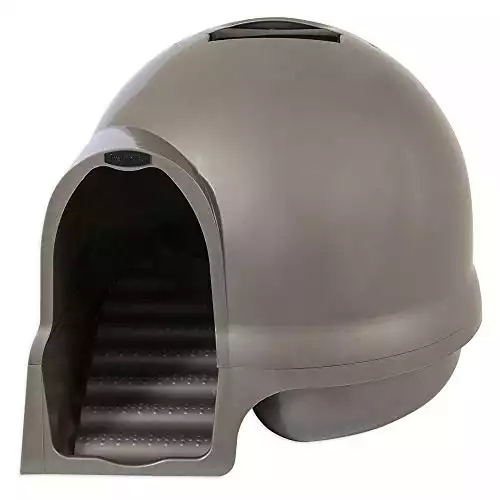 Size: 10/10
This Petmate giant Booda litter box is 22.5′′ by 22.5′′ which is 50% bigger than typical ordinary litter boxes, making it ideal for Maine Coons.
The tray is so spacious that tiny dogs and other animals may fit inside, but it is unsuitable for multi-pet families. Customers have said that this litter pan would be wonderful if it weren't for this.
Overall: 10/10
For starters, the dome shape eliminates the possibility of litter being scattered outside of the tray, allowing diggers and sprayers to have fun without leaving a mess in your house.
This is beneficial for two reasons: elderly or arthritic cats may easily use their litter pan without pain, and the ramp reduces litter trail, keeping your home cleaner.
I also discovered that the dome shape retained scents inside, preventing the spread of aromas around your house. This is aided further by the built-in charcoal filter, which is designed to eliminate smells.
Finally, it is available in three different colors, allowing you to select the design that best complements your house easily. I prefer the dome-shaped litter boxes over open ones as you can't see the litter, and it's more visually pleasing.
Price: 10/10
| Pros: | Cons: |
| --- | --- |
| ✔️Bigger than most cat litter pans | ❌Not suitable for multi-pet homes (since smaller pets can fit into it) |
| ✔️Suitable for Maine Coon cats | |
| ✔️Ideal for cats that suffer from arthritis | |
| ✔️Minimal litter tracking | |
| ✔️Shape minimizes smells and stops mess from spreading | |
| ✔️Filters also minimize the spread of scents | |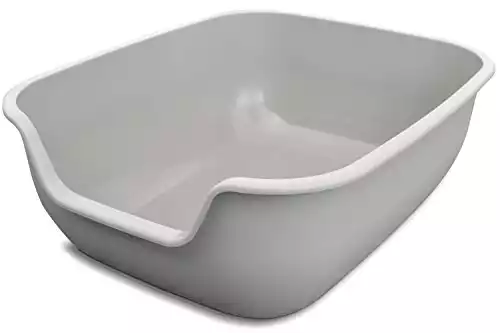 Size: 10/10
This is an extra broad litter box that measures 22.6″ by 18.1″ so it has enough space for huge cat breeds.
Overall: 10/10
The litter box also features high sides, which help minimize the mess caused by litter dispersion or spraying.
The low entrance point is great for older cats, as it allows them to climb inside without placing additional pain or pressure on their joints. When it comes to cleaning, this tray is by far the finest.
The nonstick surface reduces the amount of trash trapped in the bottom of the pan by 70%. I used to have an issue with damp litter becoming stuck to the base and becoming difficult to clean. This problem is completely avoided with this litter tray!
Furthermore, I prefer hooded litter trays since they assist in concealing odors. Still, despite being an open tray, odors are kept to a minimum thanks to the non-stick, antibacterial surface.
Price: 10/10
| Pros: | Cons: |
| --- | --- |
| ✔️Suitable for older cats | ❌Not suitable for "diggers" as the entry is low |
| ✔️High-sided tray | |
| ✔️Non-stick coating prevents smell-spreading | |
| ✔️Easily cleaned | |
Size: 9/10
The Modkat XL Litter Box is a large litter box with front or top access. Thanks to its smooth foundation, this box is one of the greatest solutions for top access for Maine Coons.
It is 21″ L x 16.3″ W and 17″ in height, which provides plenty of room for even the largest Maine Coon cat. With its multiple access holes, this litter box will not feel too confining to your cat.
Overall: 9/10
A large cat, such as a Maine Coon, will require its litter to be scooped more often, which is why reusable liners are a fine addition to their litter boxes.
The base is seamless and has high sides, which ensures less leakage and greater odor control. Large cat breeds, such as the Maine Coon, will benefit from a spacious litter box with tough materials, towering sides, and many access places.
In order to prevent litter from spreading, the side entry has a high step with a walk-off platform, but you can also close it and leave only the top entry.
Price: 7/10
| Pros: | Cons: |
| --- | --- |
| ✔️Open top entry | ❌Price is a bit high |
| ✔️Ideal for large cat breeds | ❌Not for senior cats |
| ✔️Easily adjusted | |
| ✔️Comes packed with all you need | |
Size: 10/10
This box is a lifesaver if you've been looking for a hooded litter tray with a large enough opening for Maine Coon cats. It measures 22.4′′ by 18.8′′ and has an entry door wide enough for huge cat breeds to fit through.
Overall: 9/10
Hooded litter boxes are handy as they assist in controlling the mess caused by litter dispersion and spraying while also keeping smells contained.
This model also has a carbon filter, which eliminates foul odors and leaves your house smelling clean. When it comes to cleaning, opening the door allows you to quickly scoop up your cat's waste, making your life so much easier.
If you wish to empty the tray and replace the litter, the top half of the box easily snaps off, making it simple to disassemble and clean. Furthermore, the door helps to reduce litter tracking, decreasing the mess generated in your home.
Price: 10/10
| Pros: | Cons: |
| --- | --- |
| ✔️Easily separated and cleaned | ❌Doors might not be your cat's favorite |
| ✔️Carbon filters neutralize smells | |
| ✔️Large entrance and tray | |
| ✔️Hooded design absorbs odors | |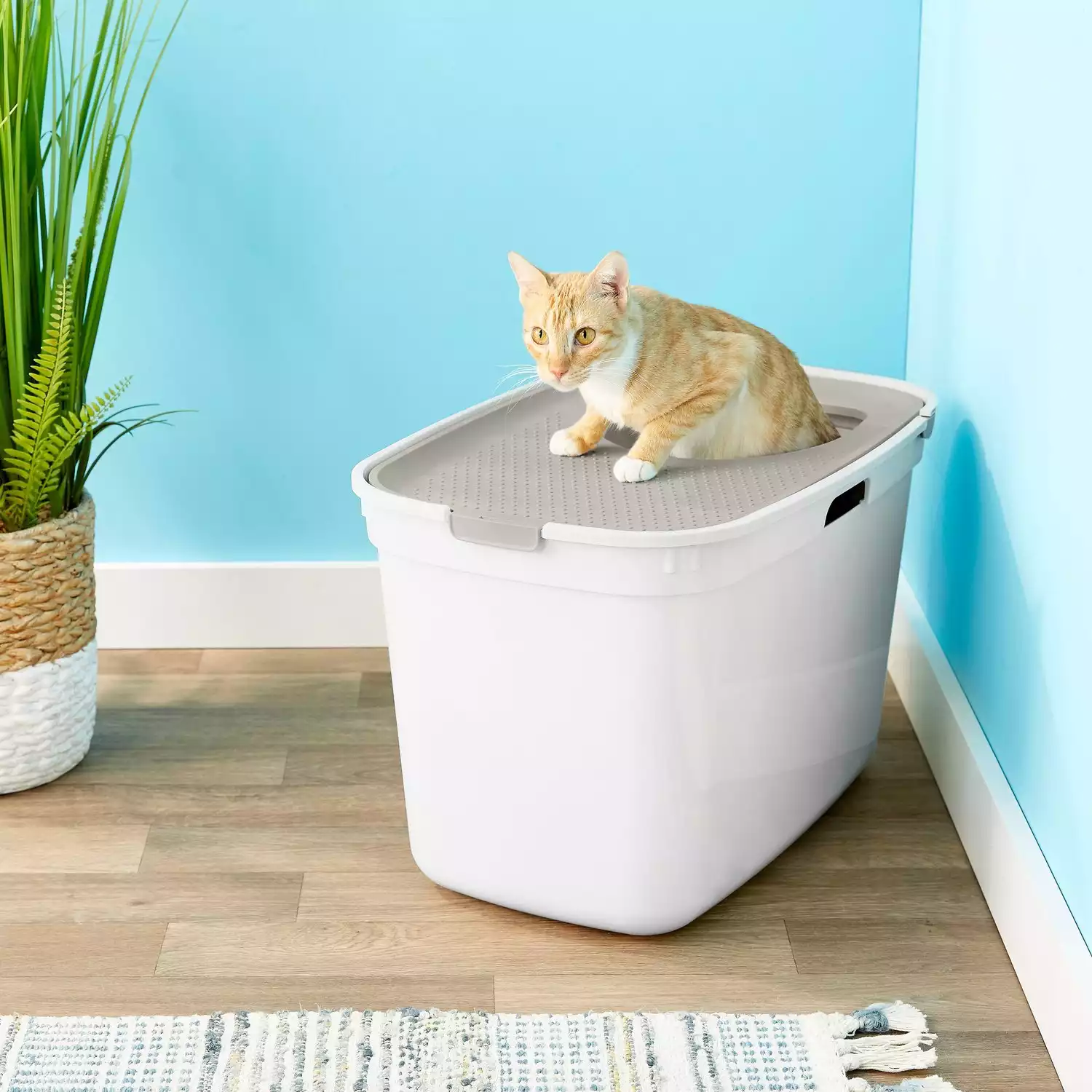 Size: 9/10
The Frisco Top Entry Litter Box measures 23.2" by 15.4" with a wide entry suitable for large cat breeds.
Overall: 9/10
The enclosed design keeps odors and debris contained, and tiny dogs and other animals cannot get inside the tray. Its form also makes cleaning easier because there are no hard-to-reach areas where filthy litter might accumulate and begin to smell.
Because it has a grooved surface, the lid of this litter box also helps to decrease dust from the litter being tracked around your home.
Unfortunately, there are no holes in the lid for the litter to fall back into the tray, which is a design problem because the cover must be cleaned each time the box is opened. It is quite effective in preventing tracking and smells.
The only disadvantage to this product that I've come across is that it doesn't include a litter scoop. While you can get a separate scoop for a low cost, it might still be an issue, especially if you don't notice it's not included right away.
This litter box is a terrific choice for you if you're looking for a top entry in an extra large cat litter box.
Price: 9/10
| Pros: | Cons: |
| --- | --- |
| ✔️Great at absorbing odors | ❌Litter scoop isn't included |
| ✔️Minimizes tracking | |
| ✔️Ideal for Maine Coons | |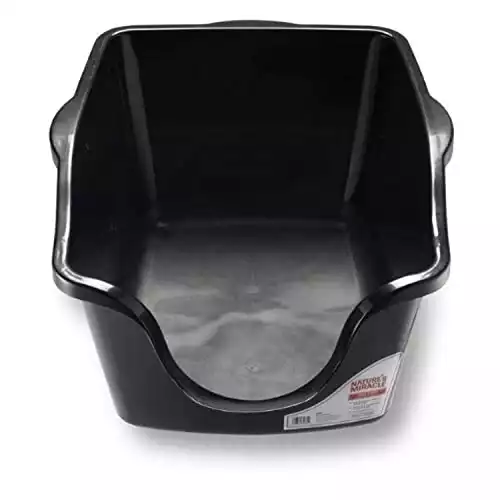 Size: 10/10
This is a litter box with a simple design, but it is large enough for Maine Coon cats and does the job nicely without any issues. The litter pan is 23.4′′ by 18.25′′, making it suitable for bigger cat species such as Maine Coons.
Overall: 9/10
This cat litter box is low on the entrance side, which helps senior cats comfortably climb in and out. Your cat's potty habits will decide whether or not this is an issue.
Due to its simple design, this huge litter box is also simple to scoop and clean, and it has a nonstick surface for easy cleaning.
Unfortunately, the open design allows aromas to circulate freely throughout your home, and there is no filter or mechanism in place to keep odors to a minimum.
However, this extra large litter box that will be more than adequate for your Maine Coon is still fantastic value for money.
Price: 10/10
| Pros: | Cons: |
| --- | --- |
| ✔️Ideal choice for Maine Coons | ❌Bad odor control |
| ✔️Best value for money | |
| ✔️High sides minimize tracking | |
| ✔️Low entry suitable for all cats | |
| ✔️Easily cleaned | |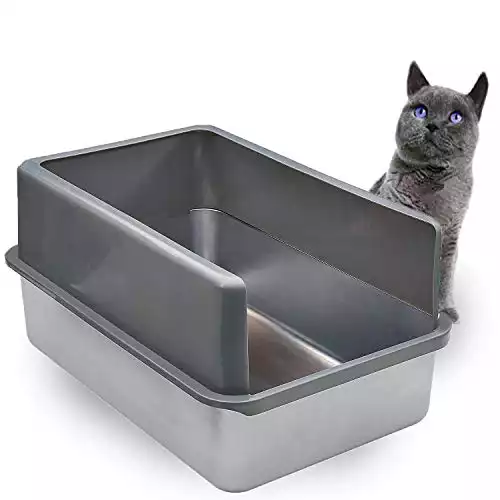 Size: 9/10
The Iprimio litter box in the extra large size is the greatest stainless steel litter box. It measures 23.5" by 15.5". It is ideal for Maine Coon cats since it is extra large, plus the fact that it's constructed of stainless steel is its finest characteristic.
Overall: 9/10
This is a better litter box material than plastic since it is much more robust and will not scrape with time. It also does not collect smells or stains, is completely rust-free, and has a nonstick layer on its surface for simple cleaning.
The litter pan is six inches tall and comes with a removable cage to help control any mess caused by kicking litter or spraying. This significantly minimizes the time you'll spend cleaning up after your cat!
The sole disadvantage is that the 6″ high entry point might make it difficult for elderly Maine Coons to enter. So if your kitty has joint problems or mobility issues, you should choose a box with simpler access.
Price: 9/10
| Pros: | Cons: |
| --- | --- |
| ✔️Made from durable stainless steel material | ❌ Not suitable for cats with mobility issues or senior cats |
| ✔️High sides minimize the mess | |
| ✔️Has a non-stick layer which makes cleaning easier | |
| ✔️It is 100% rust-free | |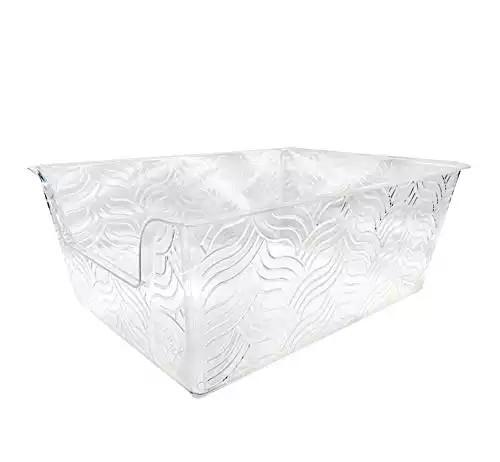 Size: 8/10
Although it is not as huge as the other litter boxes on our list, measuring 21″ by 16″, it will easily fit most Maine Coons. I particularly like that this box has 8″ high walls, which will aid in keeping the mess confined.
Overall: 8/10
Most cat owners report that their cats love this model because this litter box has a top entrance, but some cats might not like it. The open top also keeps the litter box ventilated, preventing odors from spreading throughout the house.
What makes this litter box outstanding and truly unusual is that it is completely transparent. This is really useful for recognizing trash because it is plainly visible.
As a result, you can clean it up fast, which helps your property retain its fresh scent. It also provides a really elegant design.
Price: 9/10
| Pros: | Cons: |
| --- | --- |
| ✔️Transparent design helps you see any dirt | ❌Smaller than other boxes from the list |
| ✔️Stylish and pretty design | |
| ✔️High sides reduce mess | |
| ✔️Suitable for Maine Coons | |
| ✔️Easily accessible with the top entry | |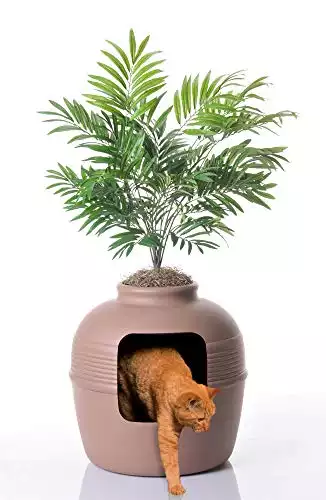 Size: 8/10
With dimensions of 19″ long x 19″ wide x 20″ high, you can accommodate enough litter for your cat while still allowing room for the largest fur baby. This litter box is ideal for large cat species such as the Maine Coon.
Overall: 8/10
Maine Coon cat owners understand the importance of purchasing tough items to handle their large cats. This litter box is composed of long-lasting polypropylene that is easy to clean and does not wear out quickly.
Tall sides make it easier for a huge cat to enter inside without difficulty. The litter box part fits snugly between the "pot's" top and bottom portions.
There's a fake plant on top to help hide this litter box even better. This box has a wide space that accommodates your cat while maintaining a nice appearance. Many cat owners have limited space or demand locations for many litter boxes.
This litter box helps with that problem as well as it resembles a pot with a plant in it. Install the Good Pets Hidden litter box in your home office or room to avoid the unsightly appearance of a regular litter box.
A filtered vented system generates a lot of airflow. With this litter box, your cat will not turn up their nose at foul scents. You can keep the litter box's dust and stink under control.
Price: 8/10
| Pros: | Cons: |
| --- | --- |
| ✔️Great odor control | ❌The top needs to be removed for cleaning |
| ✔️Suitable for large cats | |
| ✔️Suitable for older cats | |
| ✔️Unique design | |
| ✔️Fits into any beautiful decor | |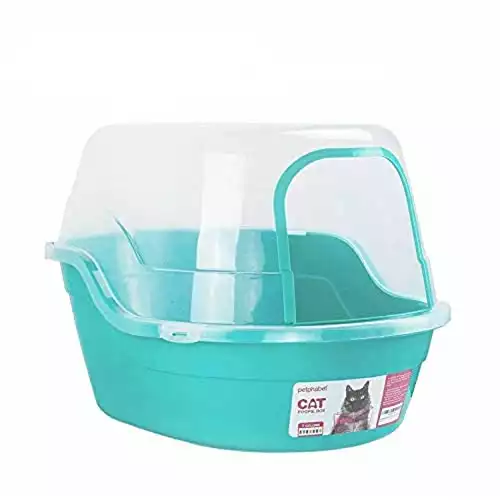 Size: 10/10
The Petphabet Jumbo XL Hooded litter box measures 25" by 19" and is covered, a characteristic most cat owners prefer.
Overall: 9/10
I like hooded litter boxes because they assist in minimizing the mess caused by litter dispersion and spraying while preventing smells from spreading throughout your home.
However, they partially isolate your cat from the outside world when they go to the restroom. If you have a shy or frightened cat, you may have difficulty training them to use a hooded litter box.
Because the top part of this litter box is transparent, your shy feline might feel safer when using their litter box because they can see what's going on around them.
This litter box also does not have a door, which can assist timid cats in acquiring confidence while using their new box.
As a result, you can enjoy all of the advantages of an enclosed cat litter tray without your furry friend being scared and refusing to use the litter box. This litter tray is extremely simple to clean.
The entryway is spacious, which is vital if you have a Maine Coon. It does, however, make everyday scooping easier. The translucent cover also aids in identifying waste, allowing you to clean up after your cat as soon as possible.
Furthermore, the litter tray has no edges, which means there are no difficult-to-reach areas while cleaning.
The sole disadvantage of this litter box is that some owners have experienced leakage between the tray's top and bottom portions. However, this seems to be an issue only if your cat sprays a lot.
Price: 9/10
| Pros: | Cons: |
| --- | --- |
| ✔️Extra large size | ❌The litter box might leak in between the bottom and top joints |
| ✔️Curved design and wide entrance | |
| ✔️Easy to clean | |
| ✔️Hooded design minimizes odor spread and mess | |
Final Words
When choosing a Maine Coon litter box, or generally, a litter box suitable for large cat breeds, you must find one that meets certain criteria.
You must first look at the size and the durability of the materials it's made from, that it has high walls, and so on. If you're buying a new litter box, you'll already know by your cat's usage of the old one which type of litter box it prefers.
If, perhaps, you're buying the first-ever litter box for your new kitty, look for reviews by other Maine Coon owners, and hopefully, my reviews will help you as well.
If you've adopted your Maine Coon from a reputable breeder, your kitten will most likely be litter-trained by the time you bring it to your home, so you shouldn't have trouble with that. I hope that my review will help you find the best litter box for your cat.
Related Articles:
• How Much Litter To Put In A Litter Box? A Complete Guide
• Using Non-Clumping Horse Pellets For Cat Litter – Is It Doable?
• Cat Genie Reviews: The Best Self-Cleaning Litter Box Ever?!