This post contains affiliate links, and I will be compensated if you make a purchase after clicking on my links, at no extra cost to you.
Choosing the perfect cat food may be challenging, considering how many different cat food brands there are on the market.
As cat owners, we are more aware of the specific ingredients, what is healthy for our feline friends and what is not, and there are more and more healthy cat foods with natural ingredients.
Most of my colleagues like the American Journey Cat Food; only a few told me that their cats didn't like it.
So, I decided to give it a shot and try some American Journey products. My feline judges tried the food, rated it, and made their final decision. Keep reading and see if my felines approve of it!
All About American Journey Cat Food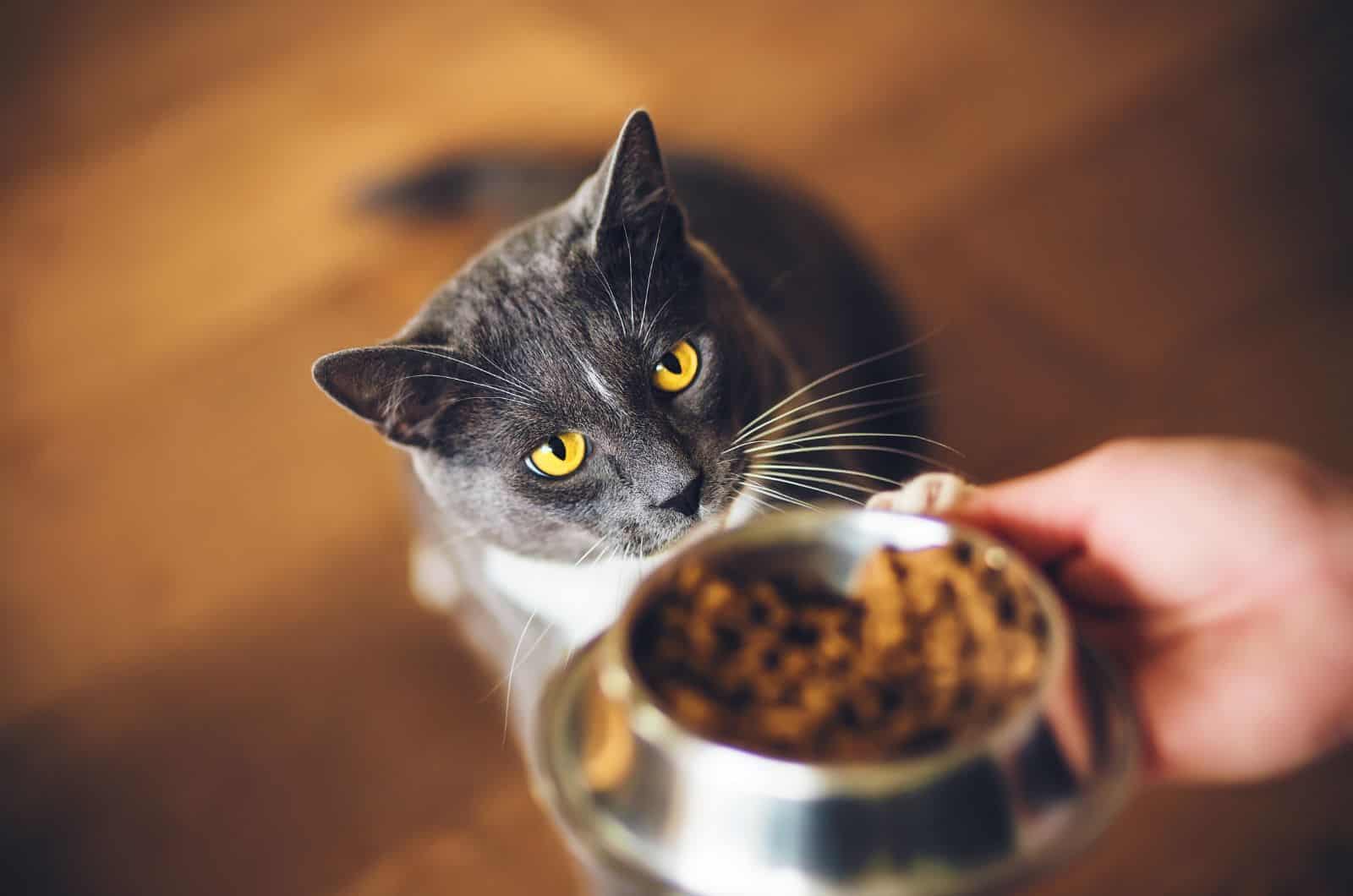 American Journey is a popular cat food brand owned by Chewy.com. The food brand was introduced to society for the first time in 2017.
Chewy sells its products through its own website, which allows it to cut out the middleman and provide many cat owners with affordable, top-quality cat food.
Their price is often way lower than that of competitors, which is why most cat owners buy this food from Chewy. Chewy pays attention to its customers by offering an automatic shipping option.
This means you can set how often you need cat food and how much. After inputting this information, they will send you your products automatically, so you don't have to worry about running out of cat food and similar.
It's also important to mention that this cat food is made in the USA, in Kansas. The manufacturer from Kansas also pays attention that all the ingredients are high-quality, so they are sourced from the United States and China, Chile, Germany, Mexico, and New Zealand.
When I was testing this cat food, I chose 5 different products and gave them to two indoor cats of mine to see how each one would react to this new food.
So, keep reading and check out our opinions!
You may be interested in learning whether cats can taste spicy food!
Rating The American Journey Cat Food Products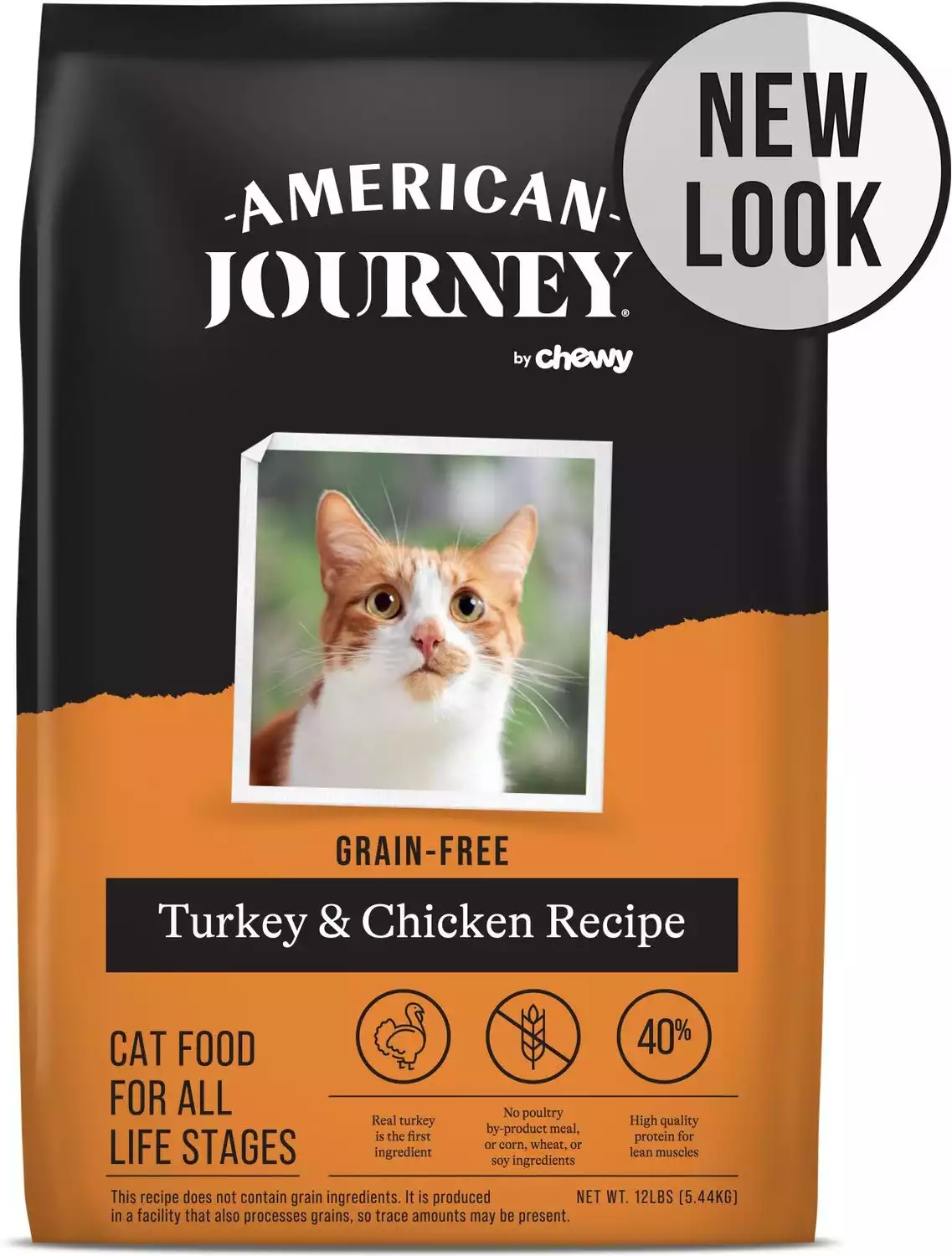 The Review
My furry friends adore this dry food with turkey and chicken recipe by American Journey. The best thing about this pet food is that it's grain-free, considering that cats are obligate carnivores.
The main ingredient in this kibble is real meat; deboned turkey and deboned chicken meal, to be precise. Other healthy ingredients in this dry cat food include the high protein content, menhaden fish, and omega fatty acids that will improve the cat's skin and coat.
Moreover, the kibbles also contain amino acids as well as a natural source of taurine that is good for a cat's health.
This dry food is especially great because it contains probiotics and antioxidants that can help improve the cat's immune system. Finally and most importantly, the food doesn't contain any artificial ingredients, such as colors, flavors, or toxic preservatives.
Both of my cats enjoyed eating these kibbles; I'm sure they liked it because empty bowls were left. The only other thing I noticed is that they drank a lot of water after eating this food.
I know that this is a normal thing for cats after eating dry food, but I would say that the food has a slightly high salt content. However, all in all, when compared to other products, my cats vote for this one as their best!
Pros
✅ Probiotics from the food help in supporting a healthy gut
✅ The food contains omega acids 3 and 6
✅The food has a high protein content
✅ The food is low in carbohydrates compared to other dry foods
Cons
❌ Not enough moisture
❌ Too salty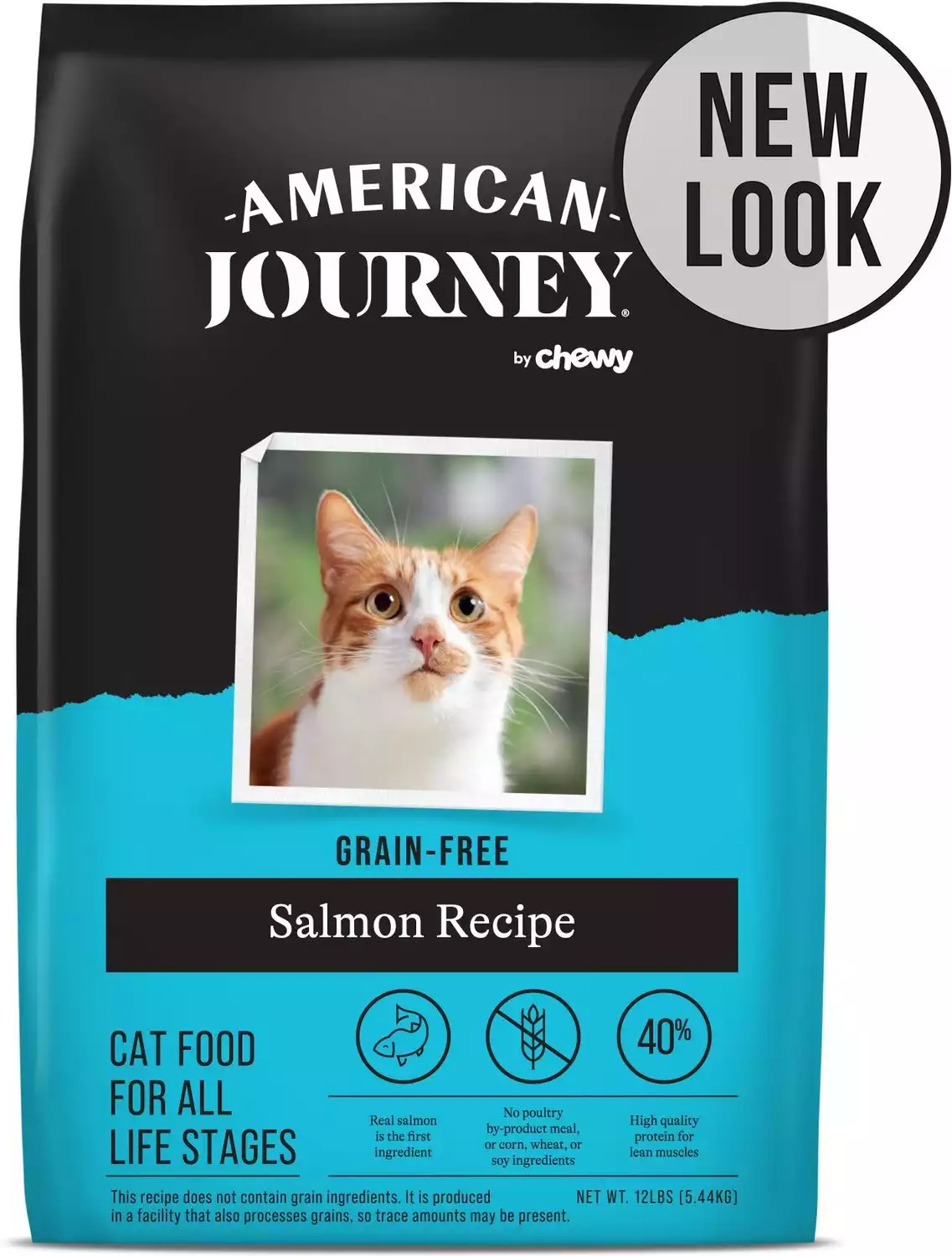 The Review
This type of dry food with salmon is another product that my cats simply adore. It also offers many health benefits for our feline friends.
The main ingredient of these kibbles is salmon, the primary protein source. Another ingredient in these kibbles is eggs, a source of animal protein.
I'm sure this product is perfect because it's rich in minerals, proteins, vitamins, amino acids, and probiotics that help with digestion.
The only drawback, in my opinion, is that these kibbles also contain specific ingredients which affect the carbohydrate level, making it high, which I don't prefer when choosing cat food.
Some cat owners complain that the kibbles are too small, but I don't think that's a drawback.
I think it's great because that way, it's suitable for many cat breeds, such as Persian cats, who should eat smaller kibbles due to their small jaws, or even for young kittens, as the food is suitable for all life stages.
However, my kitties didn't mind the size, and they really enjoyed these kibbles.
Pros
✅It contains essential amino acids
✅The food has lower carbohydrate levels than other dry food
✅It contains top-quality meat ingredients
✅It doesn't contain artificial ingredients or toxic preservatives
Cons
❌Low moisture level
❌Rich in carbohydrates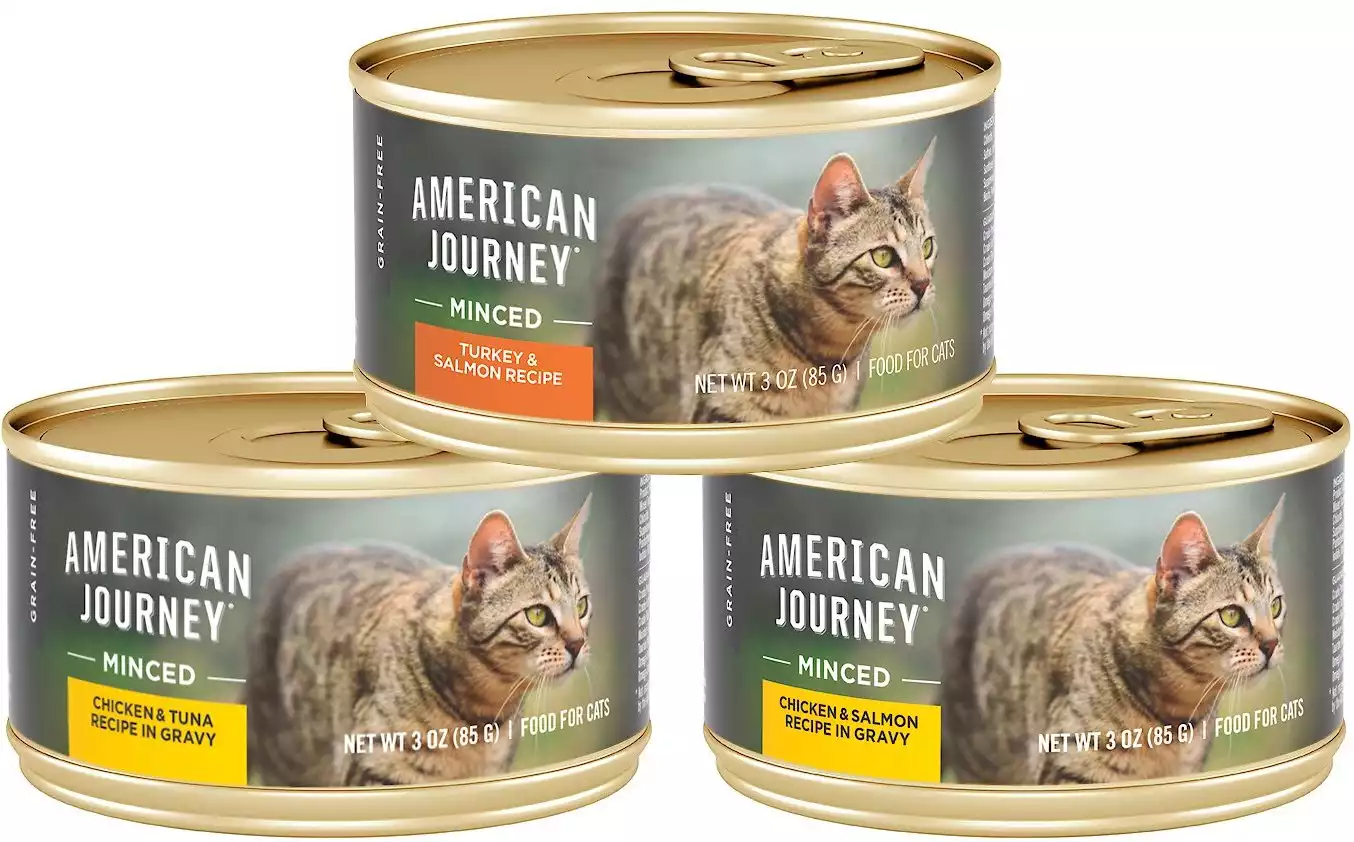 The Review
While trying different products by this brand, I also decided to try this American Journey wet cat food with poultry and seafood. Of all the products I tested, this one is the most affordable, so if your kitty likes it, it's a BINGO!
I usually prefer wet food as it's higher in moisture, but kibbles also have certain benefits, which is why I often use a combination of these two types of food for my felines.
This wet cat food is based on real meat and animal protein, with three different flavors: chicken & tuna, chicken & salmon, and turkey & salmon.
Each of these foods is rich in quality ingredients that are essential for a cat's immune system and overall health, such as omega fatty acids, antioxidants, vitamins, minerals, protein, and taurine.
The food also contains traces of healthy fruits and vegetables, which are supposed to give the food better flavor.
When my cats tested this food, I noticed a few differences. One of my cats, which usually isn't picky, ate the food without any problems; however, my other cat started eating but soon gave up.
I think my cat didn't like the seafood smell because it's quite different in wet and dry food, as I noticed. So, it turns out that whether your kitty will enjoy this food depends on the individual cat.
Pros
✅Rich in vitamins and minerals
✅Has a natural source of taurine
✅Based on chicken, turkey, and tuna meat
✅Full of omega fatty acids
Cons
❌It doesn't contain a high amount of protein
❌Noticeable seafood smell
Also, read on to find out how much wet food you should give your cat per day!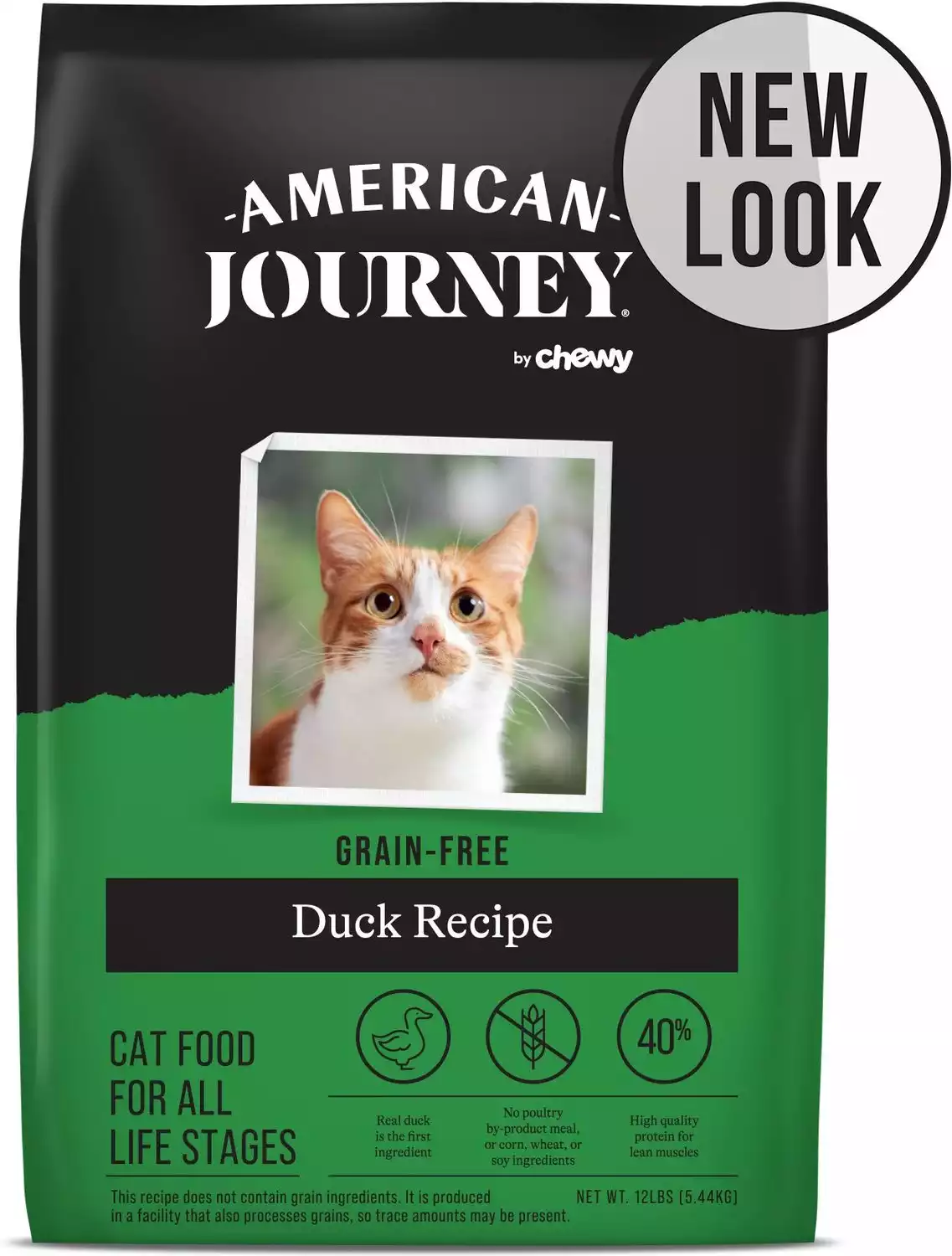 The Review
The main ingredient in this type of cat food is deboned duck meat which most cats adore. Moreover, the food is grain-free and doesn't contain any artificial ingredients, preservatives, corn, soy, or wheat.
Besides this, it contains other ingredients that help improve the cat's immune system, such as taurine, amino acids, omega fatty acids, and similar, and it's also suitable for cats with allergies.
Even though it contains many healthy ingredients, some cat parents complain that their cat's poop is smelly after eating these kibbles.
Luckily, I haven't noticed any changes in my cats. One of them enjoyed the meal, while the other wasn't amazed but still finished it.
Pros
✅Rich in protein
✅High amount of amino acids
✅Suitable for cats with allergies
✅Free from artificial ingredients
Cons
❌Some cats may not like the smell
❌Some cats may have smelly feces
Rich in carbohydrates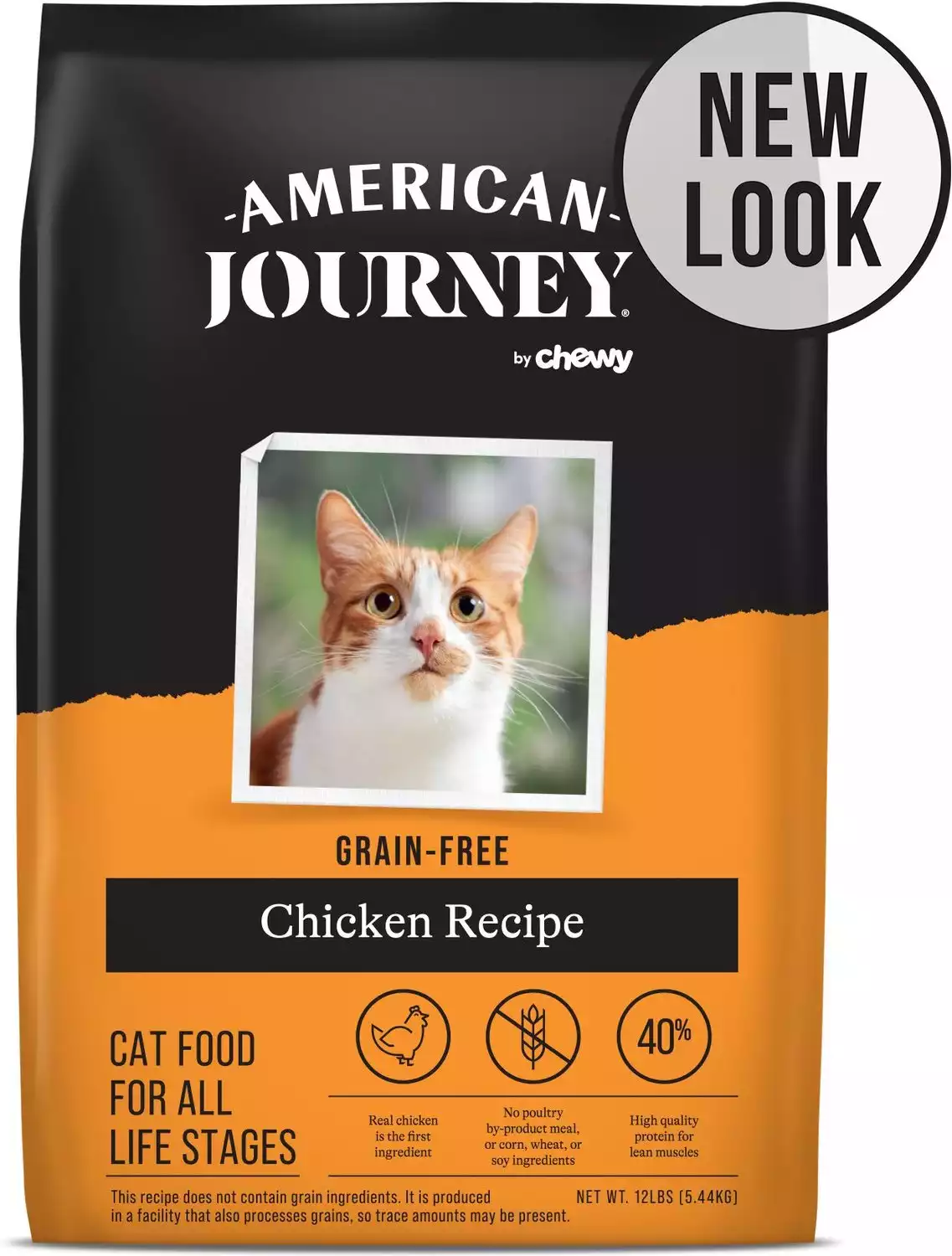 The Review
Chicken is always a good choice for my feline gang, but were they amazed by this food?
The main ingredient of this grain-free dry food is a deboned chicken. Besides, the food is rich in nutritive ingredients for our cats, including flaxseeds, animal protein, vitamins, minerals, and similar.
It's important to know that this dry food, like previous ones, is free from artificial ingredients, flavors, and preservatives that may also be very toxic.
When I provided my cats with these kibbles, they ate normally, and I would say they enjoyed it. However, I noticed that one cat was having gas issues for a while, so I stopped feeding them this food as I didn't want more issues.
Still, I think that every cat deals with it differently, as my other cat didn't have any problems.
Pros
✅The main ingredient is deboned chicken meat
✅Suitable for cats of all life stages
✅It contains a natural source of taurine
✅It contains flaxseeds and antioxidants
✅Mixed with vegetables and fruits
Cons
❌The food may result in bloating issues and gas
The Benefits And Drawbacks Of American Journey Cat Food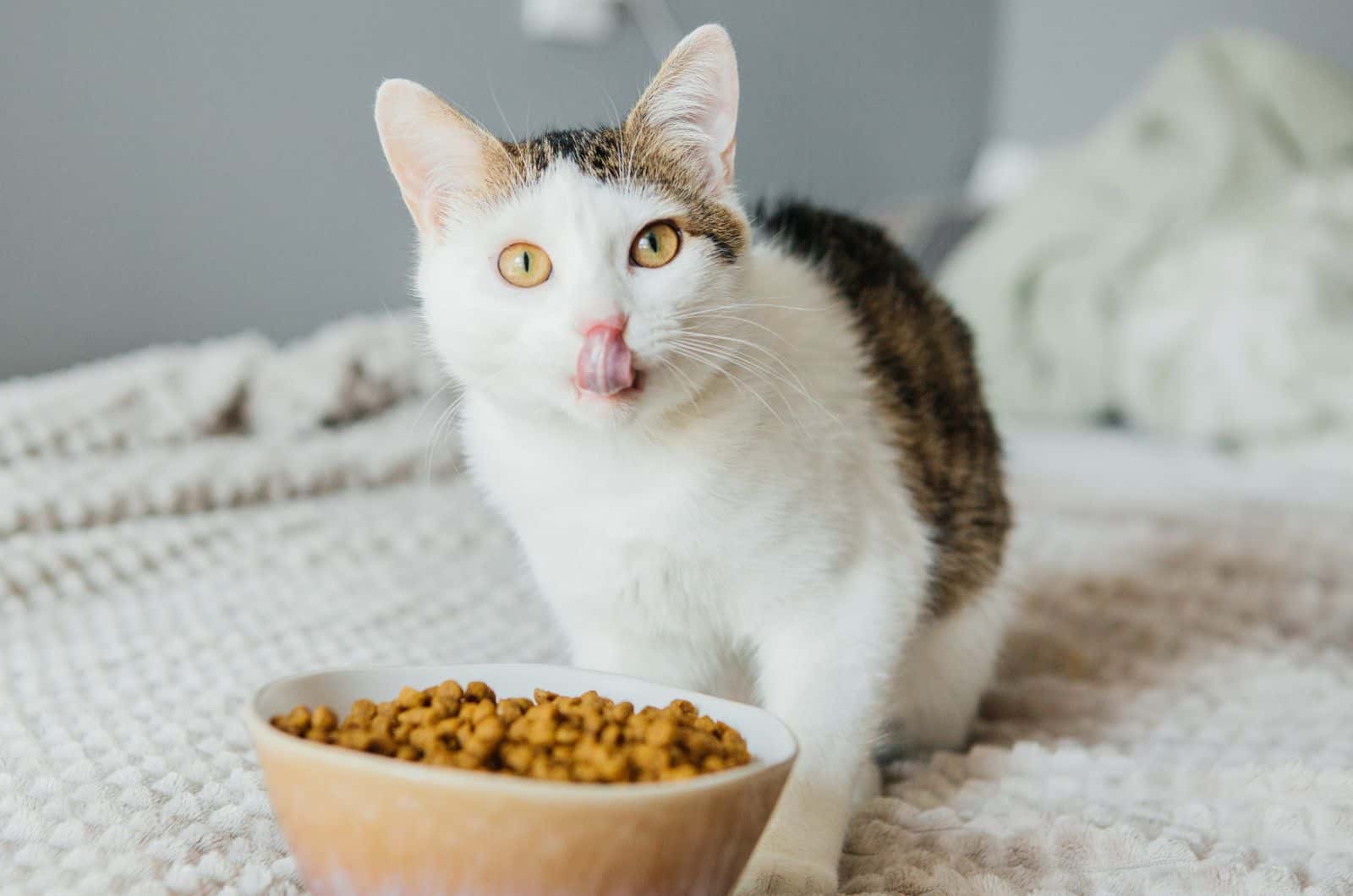 All in all, the American Journey cat food is very good, mainly because it contains many healthy ingredients that are nutritious for cats and help improve their immune system. Like all cat foods, it has both benefits and drawbacks for our feline friends!
Benefits
These products contain healthy and nutritious ingredients. However, this food is most suitable for healthy cats with no health issues or who aren't prone to allergies.
Various ingredients may cause cats different problems if they suffer from such issues.
Still, as already mentioned, some cats will like this food, and some may not, and it all depends on the flavor, so you have to choose the right one that your cat will love.
This natural pet food doesn't contain artificial flavors, colors, toxic preservatives, or similar ingredients
Instead, it's rich in protein, real meat, crude protein, vitamin e and other minerals, and similar ingredients that are good for a cat's coat health, skin, digestion, eye health, heart, and the cat's overall immune system.
Moreover, these products are suitable for cats of all stages, including adult cats and younger kittens. Another thing I like is that the kibbles are small, so they are ideal for younger cats or those with small jaws.
The good thing is that this brand offers both dry and wet cat food. So, if you feed your cat both types of food, as I do, you can provide your cat with both dry and wet food of the same brand.
Drawbacks
I found several things that I didn't like about these products; that is, things I noticed that weren't good for my cats. However, that doesn't mean that they'll badly influence your kitty too.
First, I didn't like that most of these products contain tapioca starch, pea protein, and similar ingredients that give the food a higher carb content.
Another thing that didn't amaze me was that the food contained wholesome fruits such as blueberries and similar, but still, my cats didn't have any issues with that.
You need to be careful as this brand is recommended for healthy cats with no health issues like chronic illnesses or allergies.
So, if your kitty has some allergies or other health issues, you may want to avoid this food brand, especially if you're looking for a specially formulated type of food.
If your kitty has a sensitive stomach, try some of the American Journey food products formulated especially for a sensitive stomach.
Also, even though the kibbles are small, if you have a kitten, it's always better to provide quality kitten food specially formulated for it.
Other Food Recommendations
In case your cat doesn't like the previously reviewed products, or you notice your cat having issues due to this food, you can try and test other products from this brand as different cats react differently to specific ingredients. You could try some of the following products:
• American Journey Paté Turkey & Salmon Recipe
• American Journey Landmark Tuna & Tilapia Canned Cat Food
• American Journey Landmark Chicken Canned Cat Food
• American Journey Landmark Chicken & Turkey Recipe in Broth Grain-Free Wet Food
In case your kitty doesn't like these products or some ingredient doesn't suit their system at all, then some of the best natural pet food brands you can try are the following:
• Solid Gold
• Purina One
• Hill's Science Diet
• Wellness Complete Health
You may also want to know which is the best food for old cats who vomit!
Ingredients In American Journey Cat Food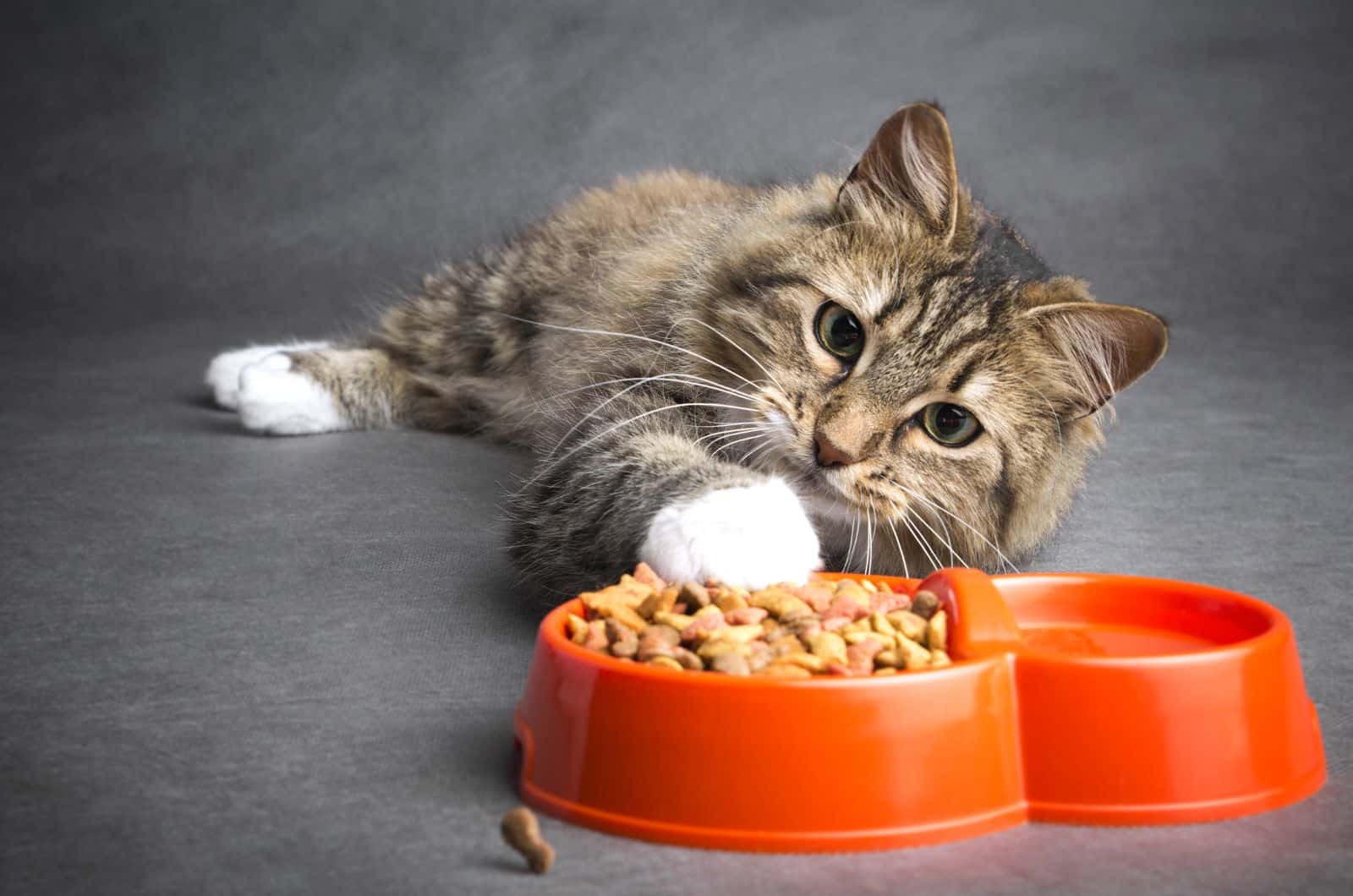 A quality protein source is usually the first ingredient when it comes to this food brand. The food mostly contains chicken and turkey meat, or fish, depending on which type of food you choose.
Moreover, each product is free from artificial ingredients, animal by-products, and preservatives, and it's grain-free.
The reason why this brand doesn't use grains is that they're aware of the fact that cats are obligate carnivores and cannot benefit from grains.
Usually, grains are often used as binding agents in dry kibbles; however, the American Journey uses potato and pea starch instead, but in small quantities.
These aren't perfect for cats either, but they're far better than grains and are used in small amounts. If your cat is sensitive to starch, then you can try using wet food from the same brand, as it doesn't contain any binding agents.
This brand pays special attention to the ingredients, which is why its products are always rich in protein, minerals, vitamins, amino acids, and omega fatty acids.
Final Thoughts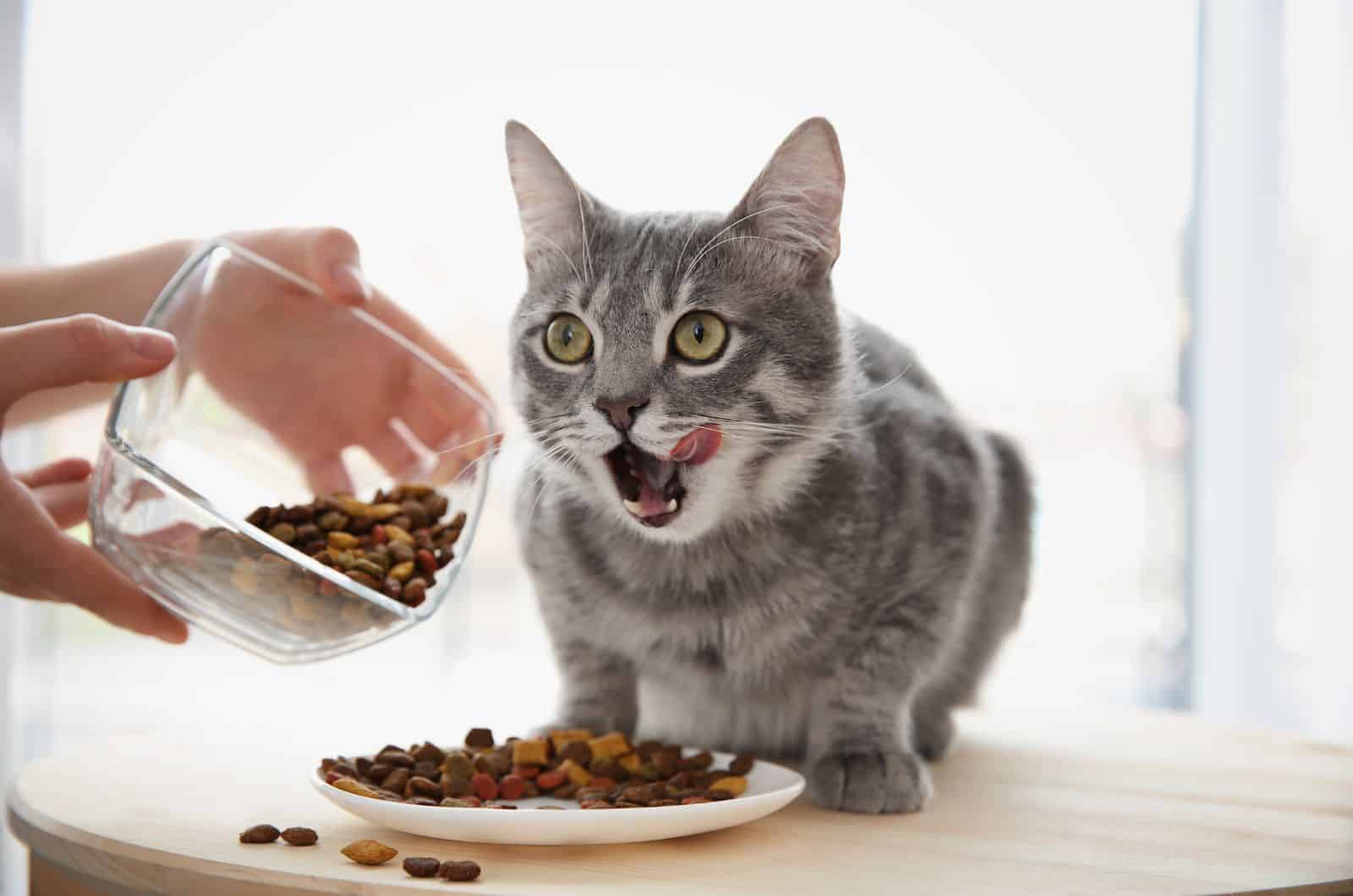 After testing five different products by the American Journey brand, I came to a certain conclusion. My final rating for this cat food brand is 4.6, and my kitties didn't have any major problems after consuming this food.
However, after eating dry kibbles with chicken, one of my cats was dealing with gas, and the other one had a smelly poop after eating dry kibbles with duck.
The food my kitties liked most was the dry food in the turkey and chicken flavor, and the kibbles with salmon. My cats enjoyed eating these two types of kibbles, but I didn't like the fact that the kibbles have a high amount of carbs and salt.
So, it's a very good cat food brand, and you should give it a try because it contains nutritious ingredients and it's affordable. Keep in mind that not every cat will like this food, so if your kitty doesn't like it or if it starts having some issues due to the food, you can test some other products from the same brand or try some other cat food brands and their products.