This post contains affiliate links, and I will be compensated if you make a purchase after clicking on my links at no extra cost to you.
Researching before you set off to buy cat food is a great idea! Also, if you're thinking of switching to a different diet plan, reading about other people's experiences and reviews can be really helpful.
That's why I'm glad you're here! I've tested out different cat food brands over the years and various types of food.
As you may already know, I have six furry friends, which is why it's not a big surprise for my friends when they see me buying pounds and pounds of cat food.
I've tried out more than ten soft dry cat food products from different brands, and here's my unbiased review.
16 Choices Of Soft Dry Cat Foods: My Review
I've tried different cat foods before, and ever since I started writing about it, I've been trying out more and more types and brands of food.
I bought some of these due to positive reviews, whereas others were recommended to me by my friends or veterinarians. Read on to see whether my cats liked or disliked every one of the following 16 soft cat food choices.
This particular choice of Purina One products is some of the best soft dry cat food you can pick out! This food is incredibly high in protein, it's natural, and the primary ingredient is real chicken. Also, what's essential is that this food is grain-free.
There are others that are not grain-free but are still acceptable and of good quality for certain cats. This Purina One True Instinct is targeted at adult cats, it helps promote strong and healthy hearts and strong and healthy bodies.
It is full of omega-6 fatty acids, which are great for keeping your cat's skin and fur healthy and beautiful. This type of food is also fresh, digestible, full of minerals and vitamins, and manufactured in the USA with the recommendations of veterinary experts.
For more intel on this particular product, be sure to check out the comments and reviews section on the link I provided. There you can also see the 28-day challenge that cat owners from all around have accepted and tried out with their furry friends.
It is a challenge in which you try out the Purina One True Instinct and see how your cat's health, energy, and appearance improves. Now I haven't tried the challenge, because I gave my cats different foods over the same period of time.
I think I'll try out a month with only this one too! To conclude my review of this Purina product, all my cats seemed to like it, and I haven't experienced any problem with them eating or digesting it.
Pros:
✅ real meat and protein
✅ no poultry by-products
✅ high in protein content
✅ promotes active lifestyle
✅ full of flavor and texture
✅ rich in moisture
Cons:
❌ some owners reported their cats didn't want to eat it
This original recipe from Wellness Core is grain-free and made from deboned chicken and deboned turkey. It is rich in protein and without any meat by-products.
Some veterinary experts have taken a look at it, along with my colleague Iram Sharma (DVM), and praised this line of products. Their CORE line is overall grain-free, low in carbs, and full of necessary proteins.
Many veterinarians recommend this soft dry cat food since it is grain-free yet it has great texture and is incredibly tasty, plus, you can choose the recipe for your cat's particular life stage.
However, all their formulas differ in protein content, fat content, as well as calorie content, which is great since you can choose exactly what your cat requires.
Pros:
✅ completely grain-free
✅ contains premium proteins
✅ offers a variety of choices suitable for all cats
✅ no by-products, preservatives, or artificial dyes
Cons:
❌ it might be too expensive
I've tried a few Blue Buffalo products, and even wrote a review of their top 5 products at the time. There are many different cat foods I frequently buy, some my cats love, some they adore, lol.
However, once I came across this Blue Buffalo Wilderness Chicken Recipe, I've been buying it ever since. My cats simply like it.
It's got all cats need. Its primary sources are chicken and peas prebiotics, it contains taurine, vitamins, minerals, there are no by-product meals, the protein content is high, the carb content is low. Only the moisture content might be an issue as it's not very moist.
Pros:
✅ contains omega-3 and omega-6 fatty acids
✅ cats like the taste
✅ low carbohydrate content
✅ good for cat's digestion
Cons:
❌ lacks moisture
Read about my experience with some other Blue Buffalo products: Is Blue Buffalo Good For Cats? Unbiased Cat Food Review
This superfood of a product is great on so many levels. Other than taste and savory smell, the price, Amazon shipping and discounts are also a plus! The ZIWIPeak Air-Dried cat food is chewy, meaty, nutritious, and full of flavor.
Most of the content is mackerel, and what's equally important is that it is grain-free. I know how it can be hard to find a cat food that falls into the dry food category and have it be savory and delicious at the same time.
This food is all that and more! It is low in carb content, there are no artificial fillers, no added carbohydrates, plus it is ideal for cats with sensitive stomachs.
This product helps promote healthy weight, digestion, joint health, less shedding, healthier fur, and supports brain and heart health.
You can use it as a separate meal or add it to your cat's food as a topper. This food is made with only high-quality ingredients from farm animals raised without hormones, meds, or any artificial growth promotants.
I've scrolled through different reviews and found that quite a few cat owners reported that their cats threw up after trying this food.
There's also one person who wrote that this is their cats' favorite food, and then after some time (about a year or so, you can see it on Amazon review section of the product) wrote their cat still loves it but they suspect it developed bladder crystals from this food.
So, it's up to you whether you want to give this food a try, but I haven't had any issues with my cats. They ate ZIWI for about two months, along with most other foods from this list (some of them we've tried before).
Pros:
✅ no sugars, added carbohydrates
✅ no artificial fillers
✅ grain-free
✅ full of protein
✅ suitable for all cat ages
Cons:
❌ Some customers reported their cats vomited after eating this food.
Purina One Tender Selects Blend is the soft dry cat food choice that most owners turn to. It offers balanced nutrition and satisfies the needs of almost any cat. This is probably why most people choose it, so there's no worry that your picky cat will refuse it.
This product has salmon (or you can choose chicken) as its primary ingredient and protein source. It is supplemented with turkey and most cats seem to adore it! Of course, some cats are pickier than others.
I have six cats, as you already learned if you've been reading my reviews. One of them didn't want to try this Purina recipe. This was surprising, but I thought that it might just be that he liked the other bowl of food more.
The other one had Purina One True Instinct, so who can blame him? However, what is important is that none of my other cats had any health issues upon eating this type of food.
It is delicious, smells great, it's full of protein and helps to keep your cat's muscles lean and strong. This food, as the name suggests, was selected with care.
It has all the important minerals, vitamins A and E, and antioxidants; all of which boosts your cat's immune system and helps keep its fur and skin beautiful and healthy. Plus, this food is often on discount, so you can easily buy a 16lb bag for about $28.
Pros:
✅ no fillers
✅ high-quality ingredients
✅ omega-6 fatty acids
✅ real meat ingredients
✅natural probiotic fibers
Cons:
❌ not grain-free
❌ customers complain about messy digestion and vomit
All my cats are adults, and following my research based on the top 6 Iams products, I also bought this one to give it a try.
I read a lot of positive reviews so decided to see whether my cats will like this one, because other types of Iams cat kibble and wet cat food didn't go so well. Three of my cats ended up liking it and thankfully, there were no digestive issues.
However, they only finished the small 3 pound bag. Anywho, this Iams product has chicken as its primary ingredient and is full of fiber, nutrients, calcium, omega-3 and omega-6 fatty acids.
Calcium helps avoid dental issues, plus dry kibble is usually good for your cat's teeth and jaw. Not only is it good for your cat's digestive health, but it contains beet pulp fibers which are proven to be extremely helpful with hairball problems.
However, if your cat already has bad teeth, it probably won't eat hard dry foods, but soft dry cat food can be a great solution. This food doesn't contain artificial colors or preservatives, and is suitable for both outdoor and indoor cats.
It is also high in protein and low in carb content, which is every cat owner's desire. Many customers report their cats love it!
Pros:
✅ natural ingredients
✅ soft and crunchy kibble
✅ real salmon
✅ no artificial colors
✅ suitable for senior cats
✅ helps in weight control
Cons:
❌ Customers complain about the price
I believe this is a great choice of cat food for cats with sensitive stomachs. My friend Andrew bought this product and tried it out on his cat that had previously become dehydrated because she didn't want to eat wet food or drink water for weeks.
Fortunately, after successful hydration and treatment at the vet's, his vet suggested they try this food, and Luna's never been better.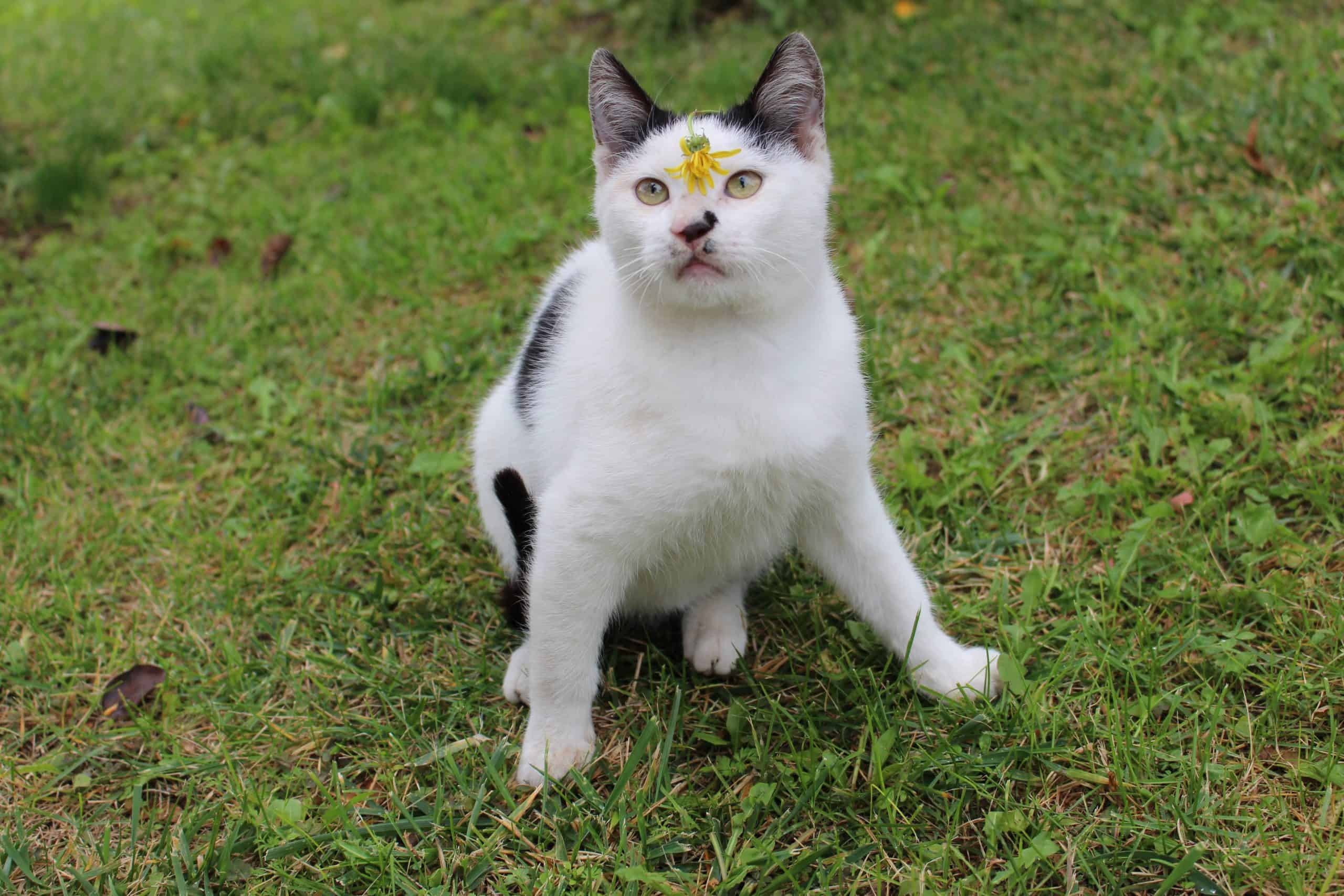 Also, from what I've read, cats seem to like it. It is tasty, soft, meaty, and full of vitamins, minerals, and antioxidants. There are no artificial flavors, byproducts, ground corn, wheat, or grains.
It contains deboned chicken, chicken meal, ground rice, omega-3 and 6 fatty acids, various vitamins, etc. Check out the detailed info on the Amazon page. This product has more than 80% positive reviews, and I'm talkin' 5 stars-positive.
However, there are some customers that say when the package changed, the quality changed as well. It's always up to you whether you're going to give it a try or not.
Pros:
✅ no artificial additives
✅ deboned chicken is the primary ingredient
✅ grain-free
✅ highly nutritious
Cons:
❌ some customers report the quality has changed over the years
This semi-moist cat food is an amazing choice of soft dry cat food for senior cats. It is easily digestible, and good for your cat's heart, kidneys, and joints. It has a special formula that is designed for senior cats and their well-being.
It keeps the cat's coat beautiful and promotes healthy skin. Hill's Science Diet Dry Cat Food Diet Recipe is great for weight control, improves digestion, is designed to support healthy immune systems, and is ideal for picky eaters.
This senior dry cat food is nutritionally well-balanced for indoor cats as it includes high-quality digestible ingredients. There are no artificial flavors, additives, or preservatives.
Pros:
✅ lean protein (helps in weight control)
✅ no artificial additives
✅ nutritious and well-balanced
✅ high-quality ingredients
✅ good for digestive health
Cons:
❌ not suitable for kittens
❌ not suitable for nursing or pregnant felines
Even though you can use Meow Mix Tender Centers Dry Cat Food as a whole meal, its tasty chunks with soft centers can also be used as yummy treats.
This is especially useful if you spend a lot of time training or playing with your cats and you want to reward them a lot.
Meow Mix Tender Centers is 100% complete and balanced; it is great for cats' teeth, and it is full of vitamins, antioxidants, and minerals that keep cats' coats slick, their skin healthy, and their bones strong.
It contains all the necessary vitamins as well as meat protein that all cats need. I always buy their delicious salmon and turkey recipe, but they offer a variety of flavors. Almost 90% of customers like this product, and I truly advise you to give it a try.
Many people use this type of Meow Mix as an addition to their cat's meal, a topper, or a complete meal. However, I wouldn't use Meow Mix as a complete meal, even though many cat parents buy it because of its affordable price.
If your cats really like it, I would include Meow Mix as an occasional treat and choose some other food for their everyday diet plan.
Pros:
✅ ideal choice for cat treats
✅ offers a variety of flavors
✅ full of vitamins, minerals and antioxidants
Cons:
❌ customers mostly complained about the package and shipping
Read more about my experience with some other Meow Mix products: Is Meow Mix Good For Your Cat?
The Rachael Ray Nutrish Premium choice I've tried was the chicken and brown rice recipe. It comes in the form of small chunks and is easy to chew. It is crunchy and crispy, but it's also a softer food that has that taste and texture of soft dry cat foods.
It's made from real meat, which is the primary protein source. There are no artificial preservatives, grain, fillers, poultry by-product meals, or gluten. I suggest you give it a try, since it has a savory taste, smells amazing, and is suitable for all of a cat's life stages.
However, keep in mind that it has a lower protein content than most other products on the list, so always have another cat food with a higher protein content to even it out.
Additionally, this recipe from Rachael Ray contains prebiotics derived from pumpkin, and pumpkin in any form is really great for your cat's health. You can choose different flavors and see which one your cats prefer.
Pros:
✅ chicken meat is the primary ingredient
✅ contains prebiotics
✅ suitable for all cats
✅ no artificial additives
✅ cats love the taste
Cons:
❌ contains corn gluten
❌ protein content is lower than most other soft dry cat foods
Yummy morsels! This Stelly & Chewy's Freeze Dried Morsels (chicken recipe) is very good. My cats went crazy for it, and who can blame them? The smell was amazing.
This natural recipe is tasty, savory, protein-rich, and nutritious, and even picky eaters seem to like it. This recipe is ideal for raw diets and for cats of all ages. It is good for digestion and helps keep your cat in good shape.
These freeze-dried morsels are almost 100% meat gained from cage-free chicken, full of vitamins, fibers, probiotics, and antioxidants. It's also gluten-free and grain-free, and free of any artificial fillers.
Pros:
✅ low carb content
✅ no artificial flavors
✅ minimal processing
✅ grain-free
✅ 98% meat, organs, bones
Cons:
❌ some cat owners report their cats didn't like the texture
The Purina Beyond Grain-Free And Natural line has different flavors you can choose from. I've bought the wild-caught whitefish & cage-free egg recipe, and my cats really liked the taste. However, the first thing that bugged me was the price.
I bought a 3lb bag for $10.99, and it was on discount. Maybe that isn't expensive to you, but it was for me, especially since I bought more than ten types of cat food to test out around the same time. Anywho, this soft kibble is meaty, yet crunchy.
It is free of gluten and grain-free. Whitefish is the first ingredient and primary source of protein, plus it contains natural probiotics to promote digestive health. There are no poultry by-product meals, artificial colors, artificial flavors, or preservatives.
Overall, Purina Beyond is a great line of cat food and it offers a variety of food and treat choices.
Pros:
✅ grain-free cat food
✅ whitefish as the primary ingredient
✅ no artificial flavors, colors, or preservatives
✅ contains natural probiotics
✅ eco-friendly sourcing
Cons:
❌ price might be too high
This product from Nature's Variety is a top pick for many people. Of course, I wanted to see why.
Many people claim that it's the perfect diet plan for any adult cat because it has animal protein as the primary source of protein, is low in carbs, doesn't contain plant-based fillers, is full of good antioxidants, great for digestion, and it boosts cat's immune system.
This sounds like most of these pet foods on the list, however, once you open this bag of Instinct Original Recipe, the smell is so good you want to try it!
This food is great for your cat's skin and fur, and it's truly great for their digestive system. It really contains duck, salmon, rabbit, and chicken; all ingredients that are carefully balanced to satisfy your cat's needs.
The only downside to it is the lack of moisture, but it is dry food, am I right? With the right choice of wet food, I think this might be a great choice!
Pros:
✅ no grains, plants, preservatives
✅ contains omega fatty acids
✅ high protein formula
✅ low carb content
✅ poultry and meat are primary ingredients
Cons:
❌ lack of moisture
Taste of The Wild is one of the best cat food brands, as it uses only high-quality ingredients. It is a family-owned brand, a family that loves animals and focuses on their health and well-being.
Their food is grain-free, full of vitamins, digestible proteins, minerals, and optimal amino acids that keep your cat healthy and content.
Moreover, this particular recipe, the smoke-flavored salmon and roasted venison, is ideal for cats with dental issues, or toothless cats, and for older cats in general. Older cats can easily chew on these small chunks that are super soft and tasty.
Pros:
✅ grain-free formula
✅ full of antioxidants, vitamins, minerals
✅ made from high-quality ingredients
✅ ideal for cats prone to dental issues
Cons:
❌ some customers report their cats don't like it
Yum, yum, yum! These are my cats' favorite soft treats. This product is exactly what it says it is, it's crunchy, soft dry cat food, and you can use it as a complete meal or as your cat's favorite treat. These meaty bits have a texture that hardly any cat can resist.
Real chicken, beef, and veggies, a sweet and tasty combo your cat will love. The shapes of these soft and crunchy bits will definitely interest your cats, as they did mine.
Friskies Tender & Crunchy Combo has a balanced and complete formula which strengthens your adult cat's muscles and preserves the health and beauty of their skin and fur. This food also contains taurine and vitamin A, which aid your cat's vision.
Pros:
✅ price
✅ soft yet crunchy
✅ 100% complete and balanced diet plan
✅ omega fatty acids
Cons:
❌ not grain-free
❌ contains chicken by-products
This recipe from American Journey seems to be the most preferred one among cats. I also bought and tested out the top 5 American Journey cat food products, and my cats seemed to like this turkey and chicken recipe the most.
Read more in my review of American Journey cat food. The first thing that won me over, and I believe my cats too, is that it is a soft dry cat food that is grain-free.
Real deboned turkey and deboned chicken are the primary ingredients, and other ingredients include menhaden fish, omega fatty acids, proteins, amino acids, etc. There are no artificial preservatives, flavors, or colors, nor are there any by-products.
As the American Journey says, there's no need to complicate your cat's diet when nature itself makes easy rules: feed them meat and you're all good.
Pros:
✅ real meat as the primary ingredient
✅ no artificial colors, flavors, or preservatives
✅ grain-free formula
✅ contains probiotics
✅ high protein content and low carb content
Cons:
❌ lack of moisture
❌ price might be too high
Other Cat Food Reviews That Might Help You
In case you're still in search of a perfectly balanced cat diet, check out my unbiased reviews and experience with some other food brands below.
It's always good to read and educate yourself on the cat food you buy, so you know what to look for and what to avoid.
# Unbiased Opinion On Cat Food Nulo – Review Of Top 5 Products
# Smalls Cat Food Review – Pros, Cons, and Product Recommendations
# Best Cat Food For Older Cats That Vomit: Top 18 Choices
Or, if you know your way around the kitchen and you'd like to try to make some yummy treats yourself, check out this List Of Best Pumpkin Cat Treats (+ Homemade Recipes).
I believe your cats will love these pumpkin treats, whether you buy some or make one of these recipes I tried.
Pumpkin is healthy and good for your cat's overall health; adding just a small portion of pumpkin to a cat's food or treats greatly helps your cat's digestive health.
Final Verdict
To conclude, I believe that including soft dry cat foods in your cat's diet is a great idea. It's good for your cat to try out different flavors and textures of food. Finding good and healthy food can be difficult, which is why I hope sharing my experience will help you choose.
Other than my experience, I've included some overall info about each food so you can get a glimpse of what that particular product is like. I've also included links to products so you can easily find them and see what other people said in the reviews section.
I genuinely hope that you found this review helpful and that you'll make the right choice that will suit your cat's preferences on the very first try!