This post contains affiliate links, and I will be compensated if you make a purchase after clicking on my links at no extra cost to you.
Skoon cat litter is a natural type of litter that is made solely of diatom pebbles. These porous pebbles are made using a low-heat thermal process, which makes the absorbency level super high.
Along with that, this litter brand is also hypoallergenic and dust-free. There is almost zero tracking, and when compared to clumping litter, this non-clumping formula minimizes the frequency of scooping you have to do.
Read on for more info, my experience with the brand, and an unbiased Skoon cat litter review of their top three products.
Note: Skoon offers a fine-grain type of litter as well, but this review is based on their three pebble types.
My Skoon Cat Litter Review Process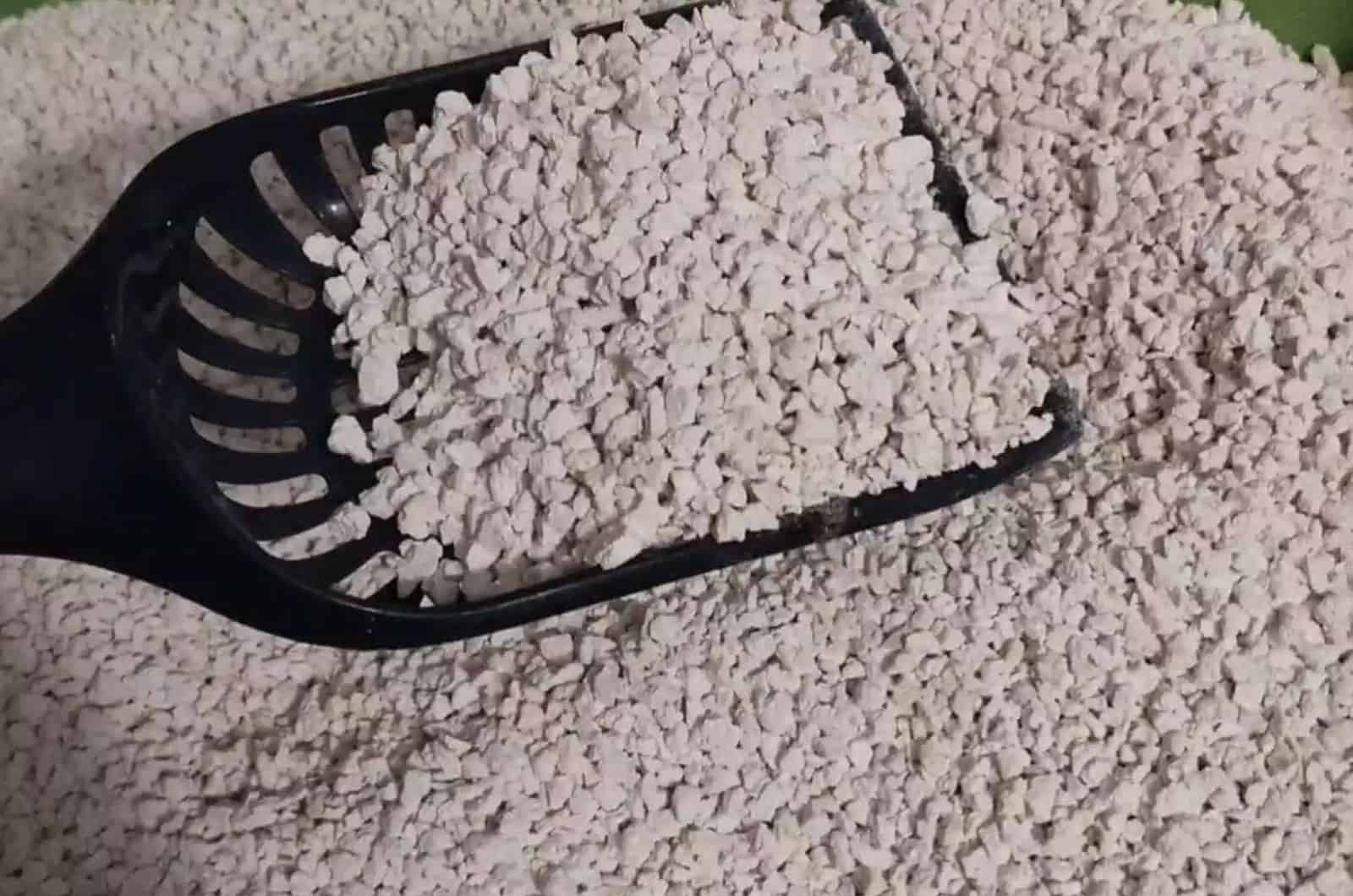 As you may have already noticed, if you're a regular reader of our site, I always try and test out the products on my cats. Or in some cases, I talk to my colleagues and the people at the local shelter I volunteer in.
No one funded the research I performed on the Skoon cat litter, I purchased the three types of litter myself.
Based on my research into the product brand, I found that it offers the following three types of Skoon cat litter, as well as one additional fine-grain type.
Skoon also offers disposable litter boxes, which can be a great alternative if you're waiting for your new litter box to arrive.
Most of the research I found was based on the three pebble varieties, so I did the same. You can find Skoon cat litter products on Amazon or Chewy. The prices are similar, except with Chewy's Autoship options, where you save about 5% per purchase.
I bought all my Skoon litter bags from Chewy because I'm used to ordering from their site (and at the time, I ordered a bag of cat food, too, so my shipment was free of charge), but you can check Amazon's shipping options as well if you decide to buy it.
Before you get into my detailed review of their TOP 3 products, here's my overall grade of Skoon cat litter.
| Rating Skoon Cat Litter | |
| --- | --- |
| Naturalness: | 5/5 |
| Multi-cat formula: | 4/5 |
| Variety: | 4/5 |
| Odor control: | 4/5 |
| Price per pound: | 3.5/5 |
| Overall grade: | 4 |
About Skoon Cat Litter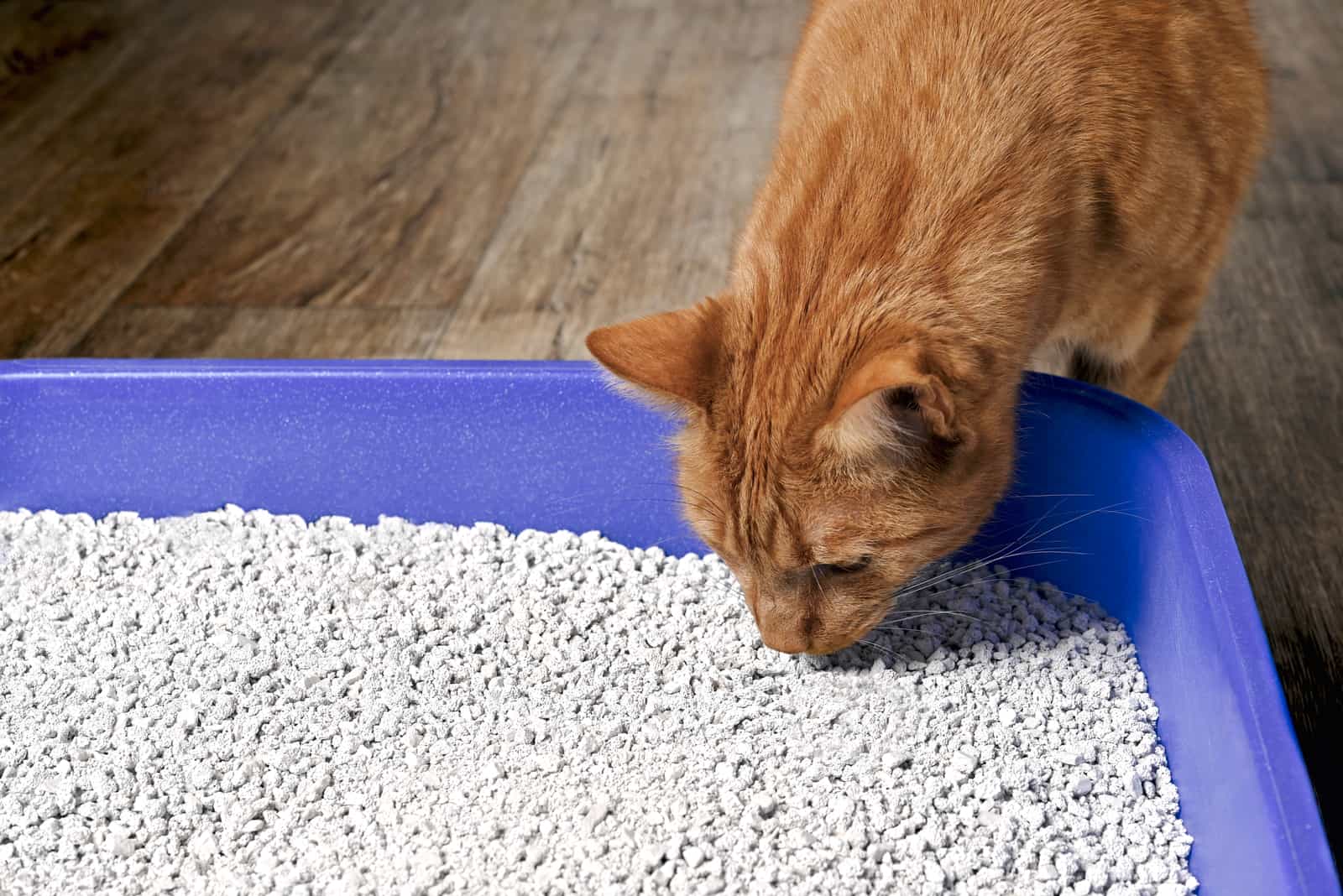 Skoon brand is a more distinctive and interesting litter than any other cat litter. The diatom pebbles it's made from are created by mining diatomite stones and breaking them down into pebble-sized fragments.
Dust is eliminated throughout the production process, and perfumes are added to the scented litter variations.
The final product result is a very absorbent solution that is biodegradable, eco-friendly, hypoallergenic, organic, and aids in the elimination of foul smells.
In terms of advantages to the cat, the pebbles are bigger than most regular litter types, but they are not sharp. The pebbles are actually quite comfortable on the cat's paws. Furthermore, these bigger pebbles minimize tracking, almost eliminating it completely.
Types Of Skoon Cat Litter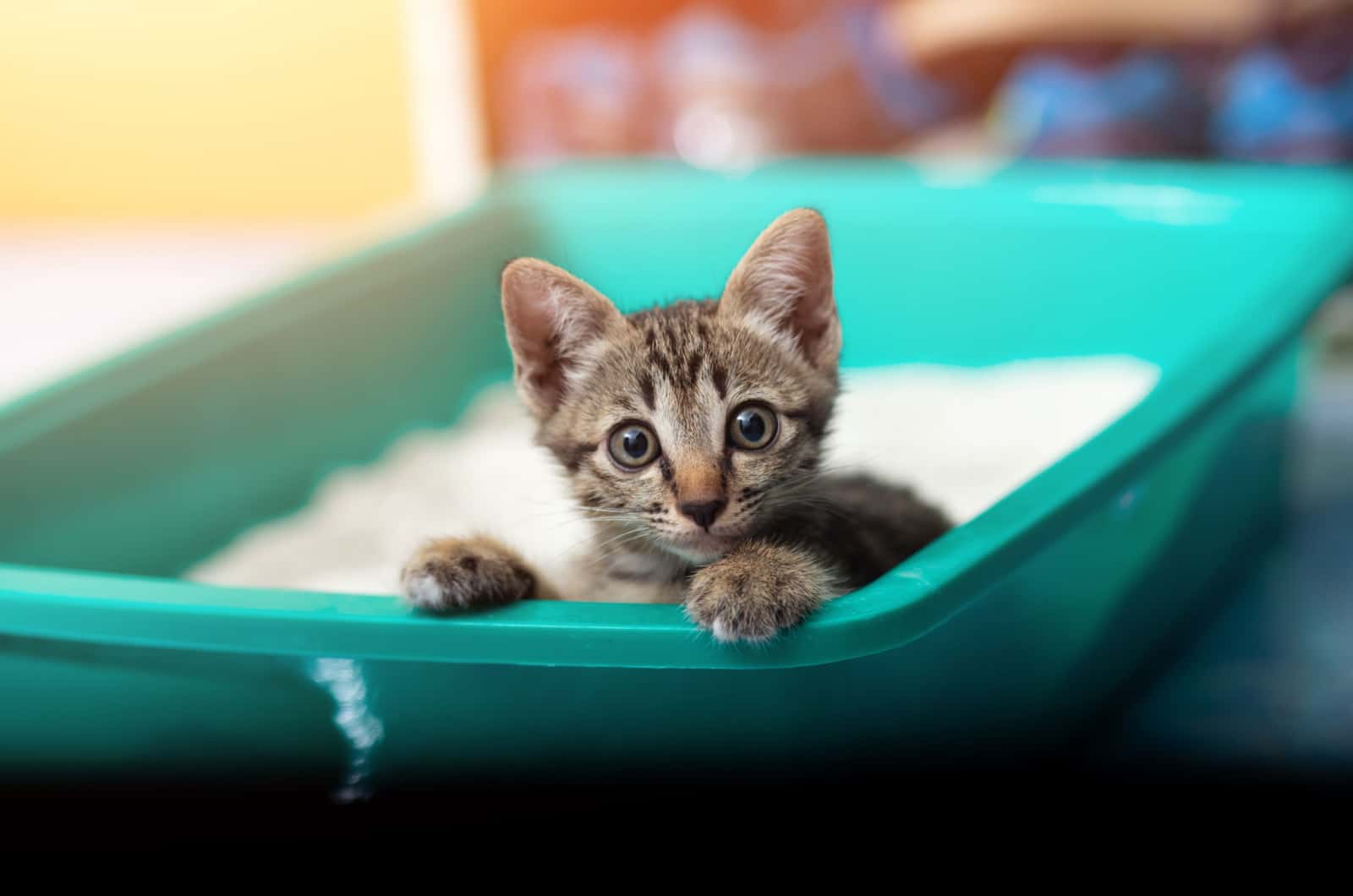 Skoon's original formula offers three different types: unscented, lemon-scented, or lavender-scented. All of these litter types are created using the same formula, components, and procedure.
Except, that is, for the scented ones, which have extra aromas added for improved odor control. Also, none of these recipes are clumping. Because of its components and production technique, this litter is unlike many others available for purchase.
Its distinctiveness adds to its remarkable absorbency as well as its environmentally friendly stance.
Benefits of the three reviewed Skoon litter types:
• All-natural ingredients
• Non-clumping litter
• Dust-free
• Biodegradable
• Hypoallergenic
Skoon has the advantage of being incredibly absorbent as well as non-clumping, which decreases the amount of effort and time you need to spend when cleaning your cat's litter box.
Additionally, because of its absorbency level, there will be no mushy patches stuck to the bottom of the litter box. Skoon, on the other hand, isn't considered the best option when it comes to poop because it is non-clumping.
I found that it works well for absorbing cat pee and controlling its smell but not so well for feces. Skoon is also a bit more expensive than other cat litter brands, but it lasts longer before you need to discard the entire batch of filling.
Unbiased Skoon Cat Litter Review
All litters come in an 8-lb bag, but as I see now, Amazon offers deals where you can buy two or three bags for a lower price. Keep this in mind for future purchases in case your cat likes this litter.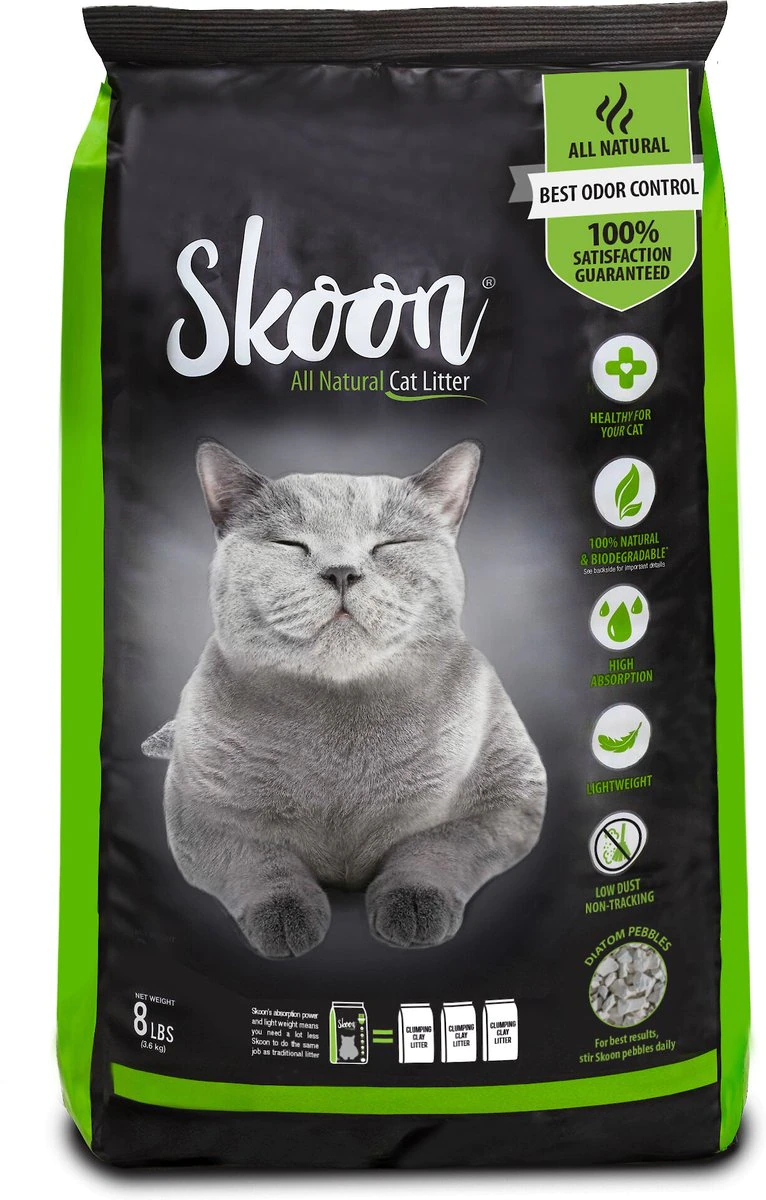 The stones are clearly bigger than those found in typical litter, and there was almost no dust while pouring it into the litter box or cleaning it. Furthermore, these pebbles are incredibly absorbent and do not get soggy with time.
In terms of odor control, this unscented version performs admirably! Also, despite the fact that it is non-clumping, the light color of the pebbles makes it extremely easy to see which areas you need to scoop out.
Again, since this is a non-clumping litter, it's not that helpful with cats' feces. However, even though it's unscented, it performed really well with odor management. Another thing that might influence your decision is the cost.
Skoon costs a bit more than traditional clay litters, but many customers argue that it's worth the price. Especially since it is good for the environment and lasts a bit longer than other types of cat litter you can buy.
The all-natural components are designed to be a more ecologically friendly alternative to most other cat litter brands available.
Note: Skoon is biodegradable and environmentally beneficial despite not being flushable.
| Pros: | Cons: |
| --- | --- |
| ✔️Almost completely dust-free | ❌Lacks odor control |
| ✔️Super absorbent | |
| ✔️All-natural ingredients | |
| ✔️No toxic or artificial substances | |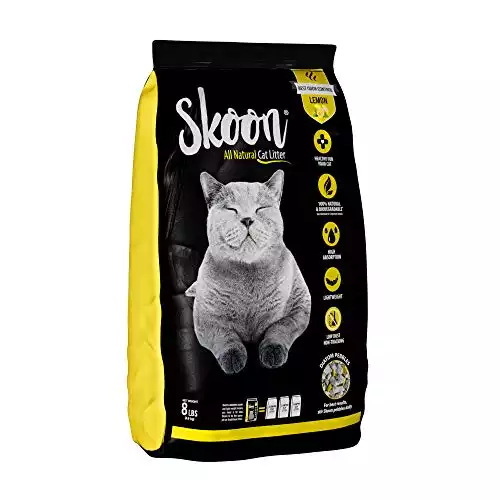 To repeat once again, Skoon is made from diatom pebbles that have been thermally activated using low heat, making the pebbles highly absorbent and hypoallergenic. This type of litter is also a more eco-friendly choice because the pebbles are biodegradable.
Although they're bigger than most typical (clay) cat litter, they are nonetheless soft on your cat's paws, plus, they decrease tracking and keep dispersion to a minimum. Now, when it comes to odor control, this variety is scented, unlike the first one on the list.
The lemon aroma of this litter can be unusual, but it does an excellent job of masking the unpleasant odors of cat pee. Also, it's highly absorbent, and it's super easy to recognize which pebbles are dirty and which portions of litter you need to scoop out.
In terms of cat poop, it wasn't that different from the unscented version since both are non-clumping, but the lemon-scented type has outstanding odor control.
| Pros: | Cons: |
| --- | --- |
| ✔️Little to no dust | ❌Price higher than most other brands |
| ✔️Great odor control | |
| ✔️Tracking is minimal | |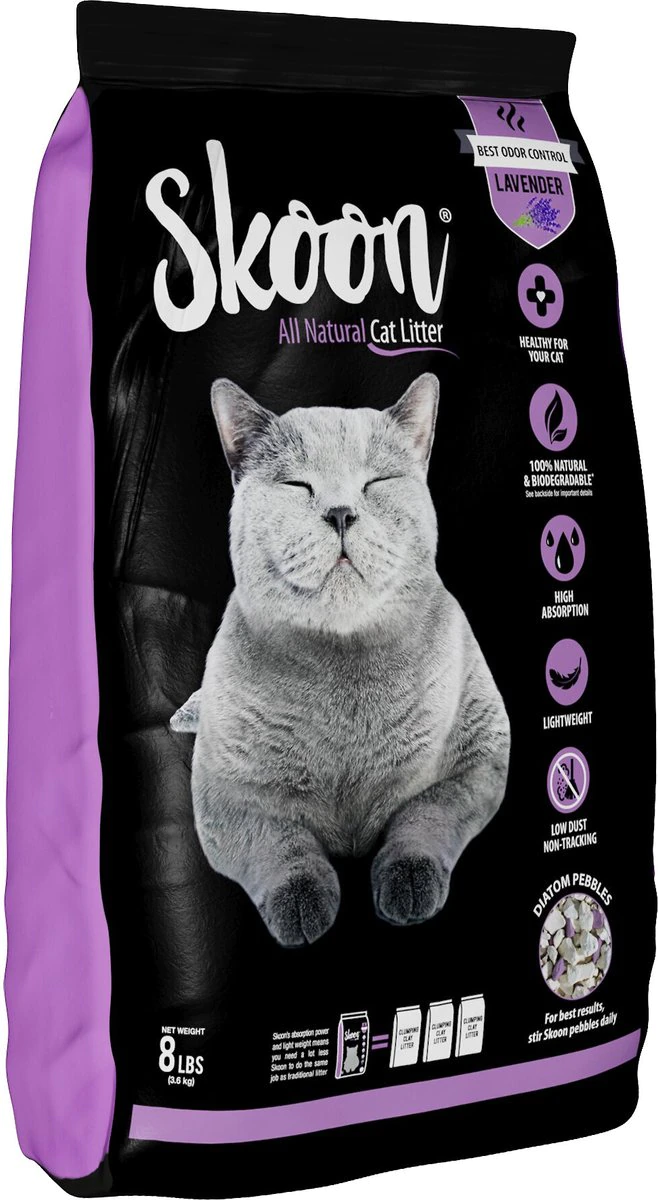 Skoon's lavender-scented formula boosts odor control to the max while remaining an all-natural cat litter. The lavender aroma is truly great, ultra-absorbent, and plus, with this one, there was little to no dust when I poured it into the litter tray or scooped it out.
This lavender-scented version showed excellent odor control with my cats. However, with this type of Skoon litter, there was the least smell noticeable. It was terrific for minimizing the pee smell, as well as fighting off the smell of poop.
This one is also non-clumping, as I already said, but it is extremely easy to scoop and clean it. Clean your cat's litter box regularly, and I believe that you won't miss the clumping versions.
| Pros: | Cons: |
| --- | --- |
| ✔️Hypoallergenic formula | ❌Price (as with the other three Skoon varieties) |
| ✔️Almost non-tracking | |
| ✔️Super absorbent | |
Final Product Rating
Other Customers' Reviews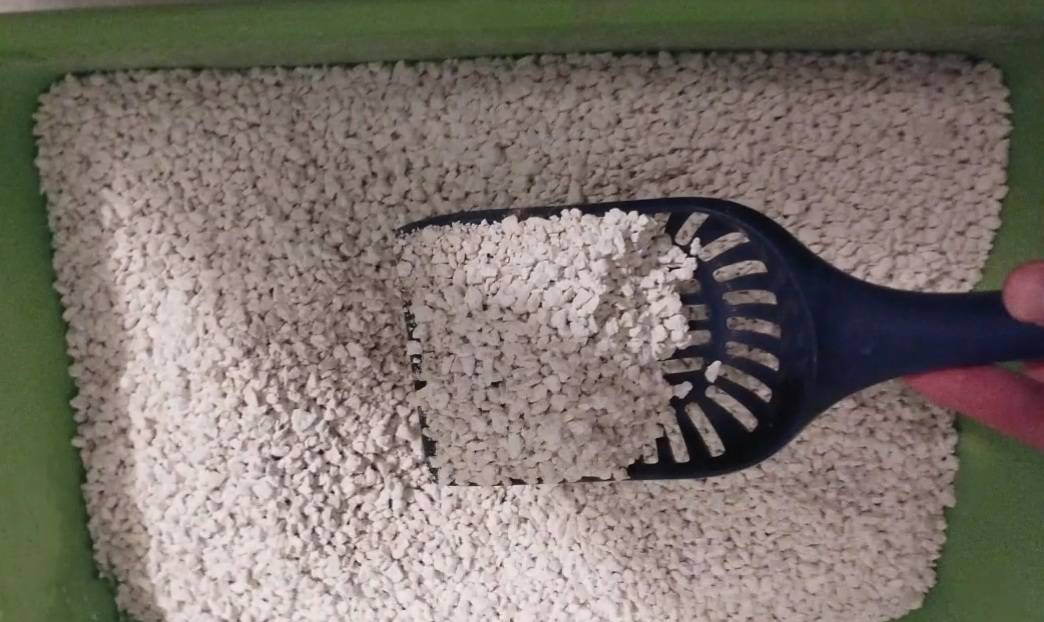 All three listed Skoon litter products have high customer ratings. The unscented variety has 3.9 on Amazon and 3.1 on Chewy, with the lemon-scented and lavender-scented 4.0 on Amazon and 3 stars on Chewy.
However, as with any product, they have good and bad comments and reviews written about them.
# Positive Reviews
Kelsey Busler, reviewing the unscented variety, says how she always wanted to find a litter brand that is highly absorbent but also helps with odor masking. Until she tried Skoon! She claims that: "…Skoon does BOTH!"
Another positive review, this one regarding the lemon-scented variety, claims that this type can last long without any smells escaping, plus it minimizes tracking.
"Obviously, I don't think there is any kitty litter out there that has no tracking at all, but this stuff lowers it like crazy! It's just a bit pricey, but if you are willing to spend a few bucks more, it's worth it."
Ariana says: "I have been buying this brand for years, but I had never tried the smell of lavender, and I loved it, it smells very good, and my cat accepted it. I recommend it!"
# Negative Reviews
One negative review comes from Tamara Smith, who claims that she gave the unscented variety a try, but she hated it. At first, it was terrific, but she didn't like the non-clumping part when she had to scoop the poop out.
Jody A. Doran says: "I really like Skoon. It lasts longer than normal cat litter, and it keeps the smell down…but the smell is very strong, and it hurt my kitty's nose a little. I think it depends on each cat, but my other cat goes in the box with no problem."
While another customer reported that mixing the lemon-scented variety with the unscented variety gave him the right scent, which his kitty now adores.
The lavender-scented variety didn't go without a negative review either. L. Wenderoth says:
"…I thought the lavender would help things smell better. First, the cleanup was nice- but I opened the bag and was SHOCKED by the size of the grains. Not grains, ROCKS! I was right to be concerned- my cats hated it! I used the fine granule version before, and the cats liked it."
Price Per Pound
The cost of Skoon cat litter may appear to be higher than most others, but it's also more durable. It is eco-friendly, as I've mentioned already, and most customers report that it's worth the cost.
The three types of Skoon cat litter analyzed above all have the same price, and they all cost $3.49 per pound. Skoon may appear to be more expensive than other standard cat litter, but it is very absorbent, long-lasting, and biodegradable.
Finally, Is Skoon Cat Litter Good For Cats?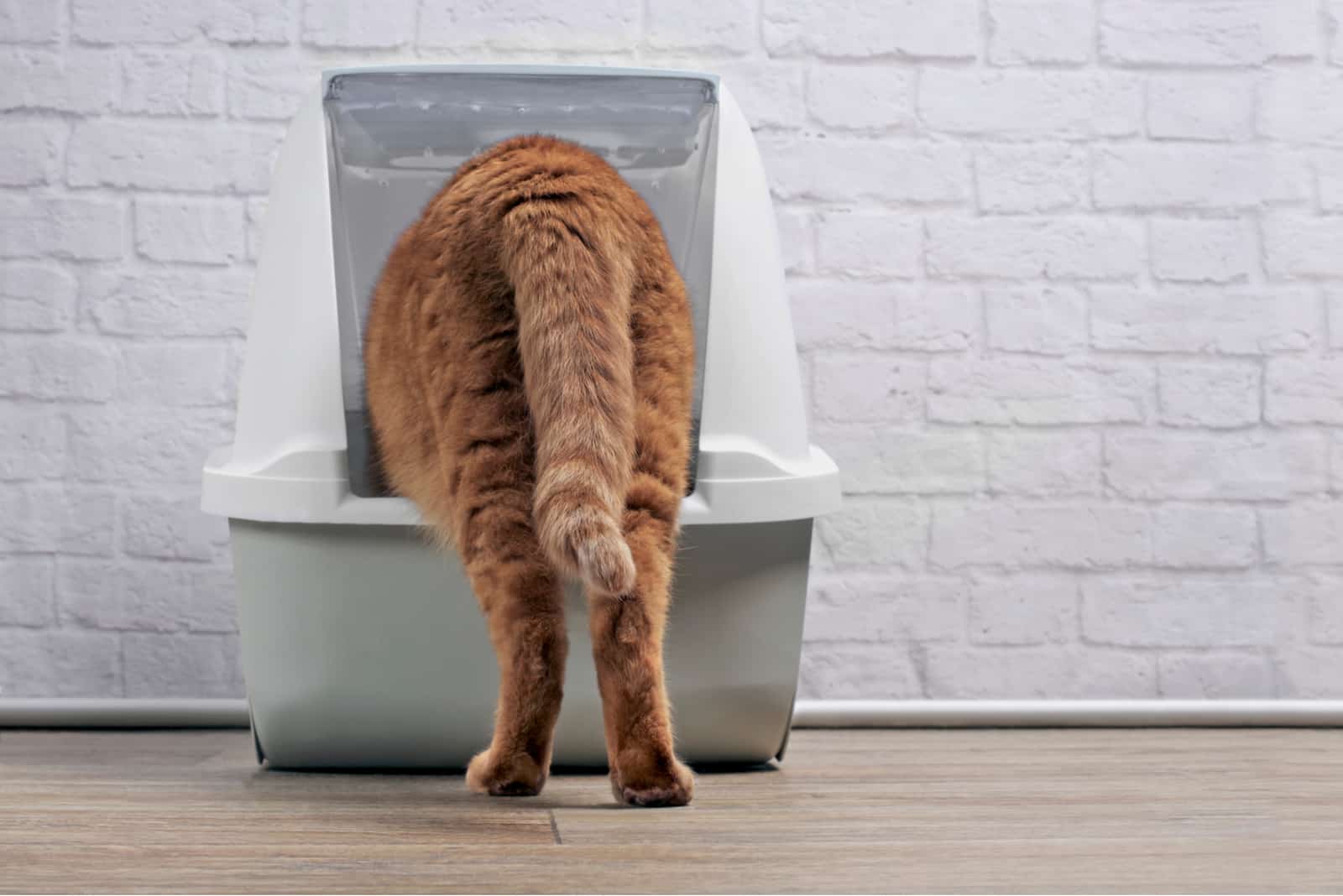 I've written a lot of good things about the Skoon cat litter and the three pebble varieties. Finally, all of them performed admirably, with only a few disadvantages (most of which are entirely dependent on your preferences and your cat's likes and dislikes).
The main difference between the three varieties I've reviewed is their fragrance. You can choose between unscented, lemon-scented, and lavender-scented. They all have the same level of absorbency, dust-free qualities, and overall characteristics.
This is why you need to consider what scent could be ideal for you and, most importantly, your cats. The second factor that seems to prevail for most cat owners is the price. Also, is the eco-friendly factor important to you, and how much?
If you're willing to spend a few more bucks on cat litter, and you're all hyped up when you hear that cat litter is eco-friendly, then Skoon is for you. I hope this brief, unbiased Skoon cat litter review helps you decide whether you want to give it a try.
Related Articles:
• Best Cat Litter Box Review: Buyer's Guide For Multi-Cat Households
• Pretty Litter Vs. Kitty Poo Club: Which Cat Litter Is Better?