Choosing a name for your cats can be tough! You browse and search for the best one, and then you don't know which one to choose. You can be guided by your cat's colors and patterns or by their personality and temperament.
If your kittens are quirky and active, you can see what they like and don't like, and it may stir your imagination.
In the list below, you'll find the best cat pair names for your cat siblings. Maybe you'll see a pair of names, and immediately they will feel like a good fit for your little feline friends.
I haven't divided these brother and sister cat names into female and male cat names since they work in pairs, so I have listed the male and female cat names together.
First, you'll find some names inspired by famous duos from the movie or music industry, and then some royal-sounding brother and sister cat names, and finally, some of the cutest and funniest brother and sister cat names.
Famous Brother And Sister Cat Names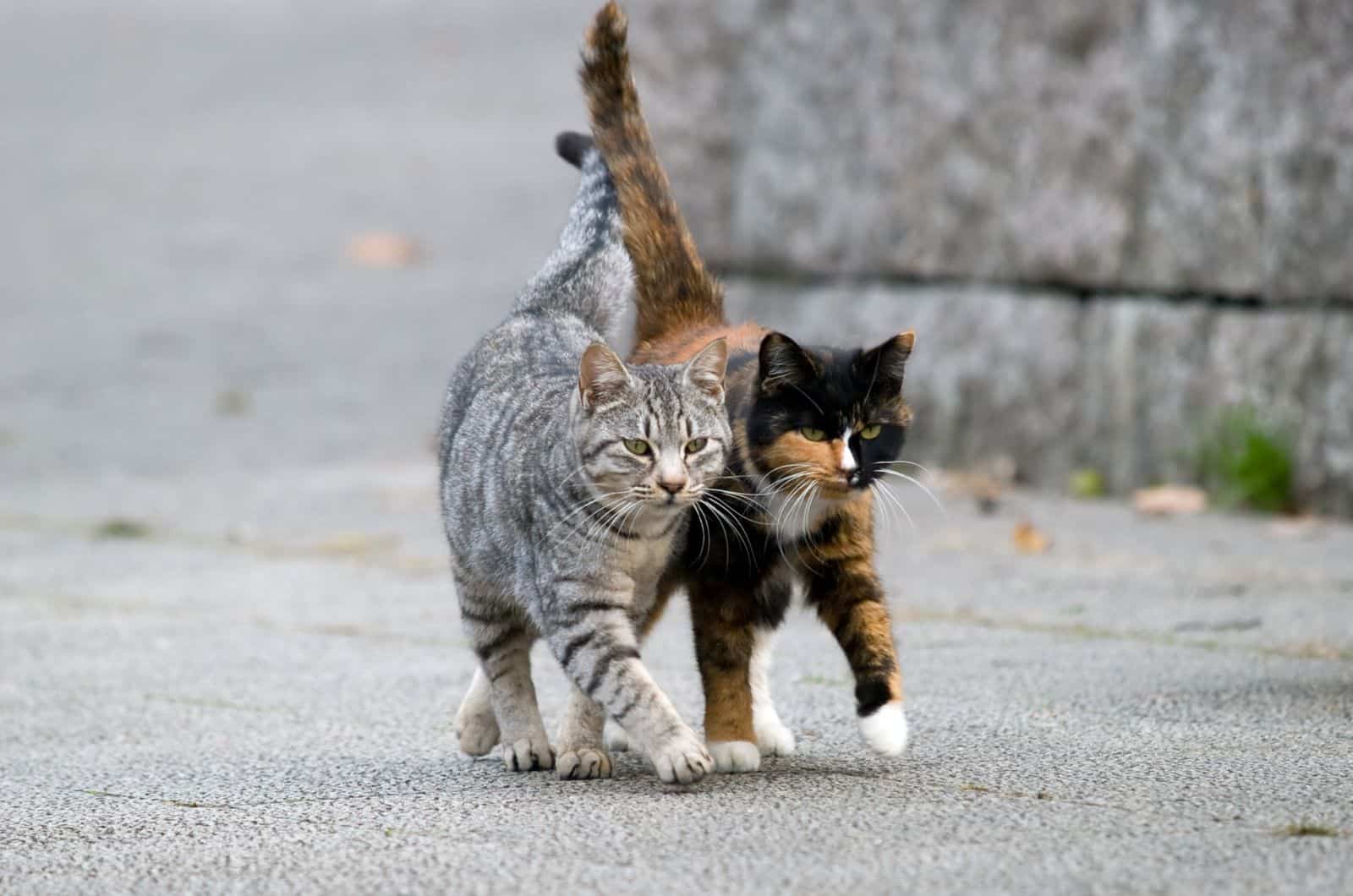 Here's a list of famous brother and sister cat names, names of movie characters, TV shows, pair musicians, or even food or clothing brands!
🐾 Lisa & Bart – the famous brother and sister duo from the animated series The Simpsons.
🐾 Lilo & Stitch – protagonists of Walt Disney's movie and cartoon series of the same name.
🐾 Luke & Leia – brother and sister from the Skywalker family in the franchise Star Wars.
🐾 Cher & Sonny – husband and wife, and also an American pop duo that entertained people in the 1960s and 1970s.
🐾 Dory & Nemo – the characters from the popular animated movies Finding Nemo and Finding Dory.
🐾 Nala & Simba – the names of the lion cubs who are best friends in The Lion King.
🐾 Jasmine & Aladdin – the names of the famous couple from the movie Aladdin.
🐾 Hansel & Gretel – brother and sister from the famous fairy tale.
🐾 Snoopy & Charlie – this could be a fun name idea if you owned a cat and a dog, since Snoopy is a cartoon dog's name, dog.
🐾 Fred & Wilma – the Flintstones. Need I say more? This funny couple brought laughter to many kids around the world back in the day, and the cartoon is still great.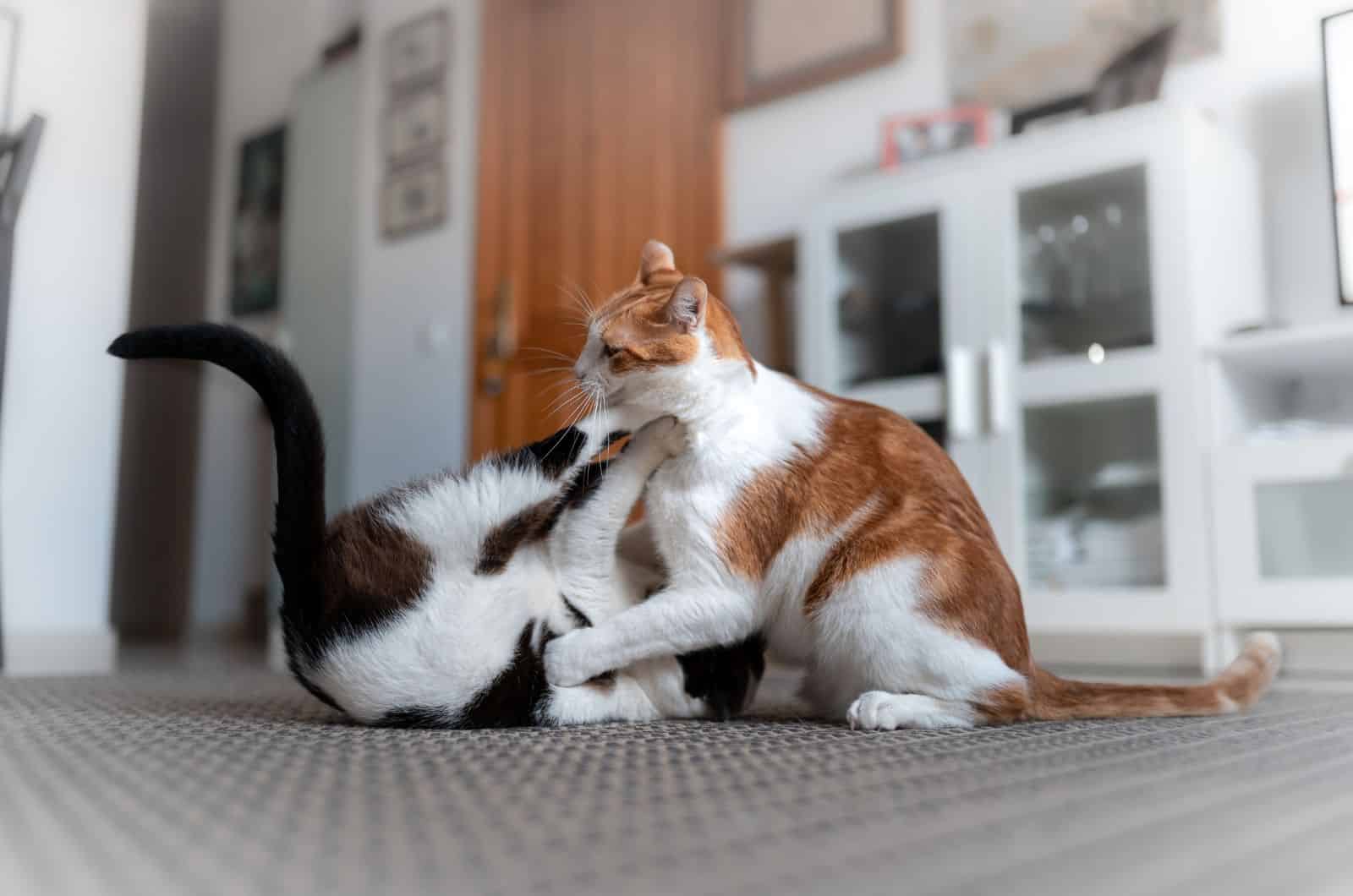 🐾 Shrek & Fiona – or Puss! If you have two male cats, it's a cool idea to name them Puss in Boots and Shrek.
🐾 Hermione & Harry Potter – true best friends from the Harry Potter franchise.
🐾 Irene & Charlie – comedic characters from the movie Me, Myself & Irene.
🐾 Lilly & Tigger – by Lilly the Tigger.
🐾 Lucy & Linus – the funny jazz duo, from the Peanuts animated special episodes.
🐾 Maggie & Jake – the Gyllenhaal siblings.
🐾 Marge & Homer – the main characters and the parents from The Simpsons; if you're a fan this is a great idea.
🐾 Daffy & Tina – Daffy was struck by Tina Russo, from the cartoon Looney Tunes. Next to Tom & Jerry, these are the best cartoons ever! I'd still watch them, lol.
🐾 Will & Grace – best friends and a great TV series, I'd name a female ginger cat Grace and any male cat could be Will, but especially a solid black one.
🐾 Boo Boo & Yogi – the cutest Hanna-Barbera cartoon characters. Two bears who are prone to mischief and having adventures.
🐾 Ron & Ginny – popular characters from the Harry Potter franchise.
🐾 Meg & Chris – the Griffin kids from Family Guy; funny and dumb Chris, smart and ignored Meg. Naming your cats Meg and Chris could be great if cat Meg likes to ignore people and cat Chris to be smart.
🐾 Brian & Stewie – great duo, dog, and baby. Again, from Family Guy; sarcastic and smart, witty, and adventurous duo.
🐾 Sokka & Katara – the names of siblings from the incredible movie Avatar.
🐾 Lucilla & Commodus – Brother and sister from the Gladiator epic.
🐾 Juni & Carmen – Spy Kids! These names really take me back; if I had new kittens to name, Carmen and Juni would definitely be my first choice.
🐾 Chip & Dale – Disney's very own chipmunk duo that has made countless kids smile.
🐾 Klaus & Violet – clever siblings from A Series of Unfortunate Events.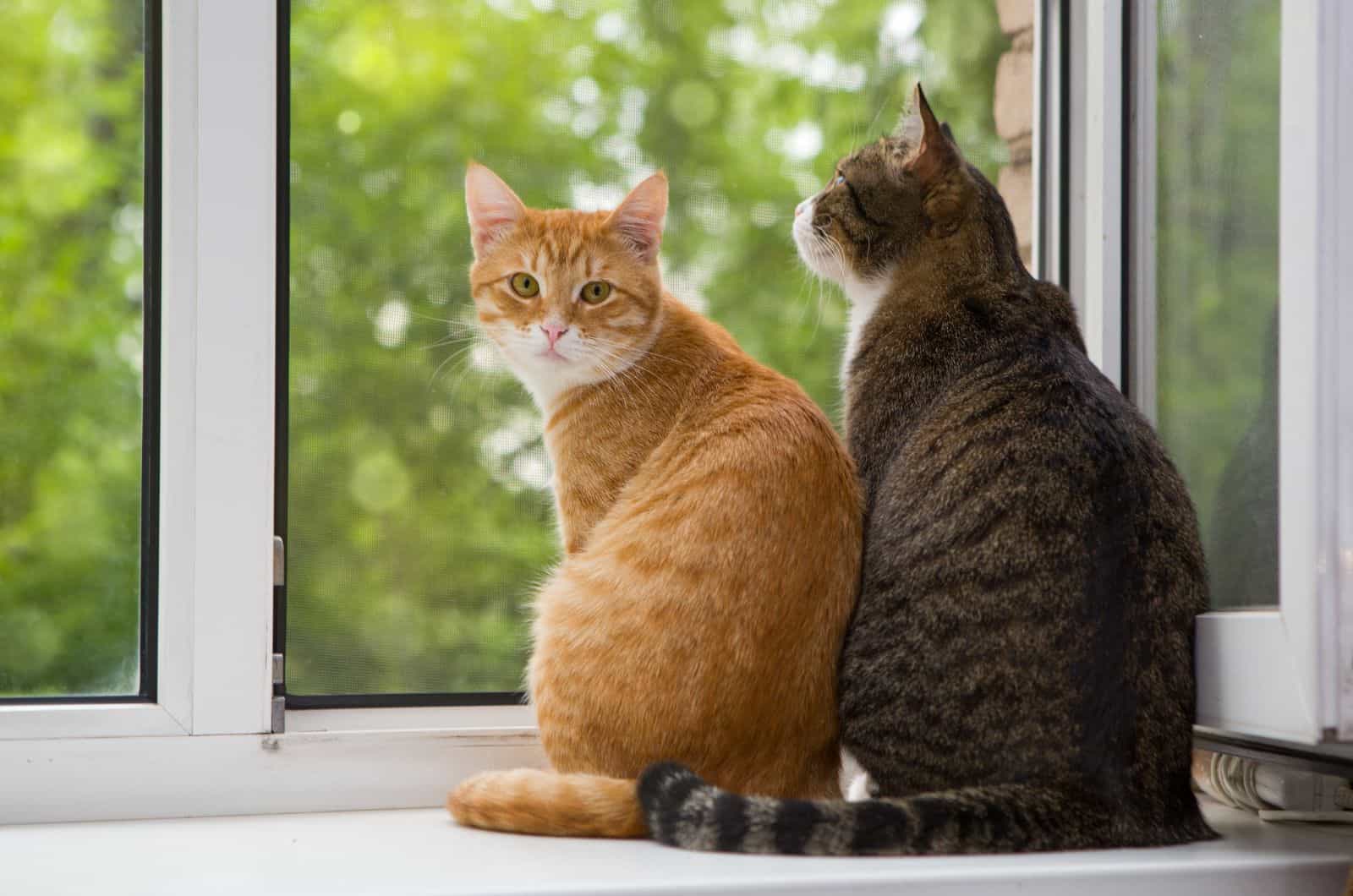 🐾 Riff & Raff – after the rapper Riff Raff.
🐾 Bonnie & Clyde – the infamous American crime couple.
🐾 Marie & Donnie – beloved characters from the 1970s American TV show.
🐾 Prada & Gucci – famous luxury fashion brands for a pampered puss.
🐾 Spongebob & Luna – best friends from the Spongebob cartoons, or if you have two male cats, name them Spongebob & Patrick.
🐾 Cagney & Lacey – a top TV show from the 1980s.
🐾 Ren & Stimpy – an American animated TV show from the 1990s.
🐾 Miss Piggy & Kermit – the classic characters from the Muppets.
🐾 Deedee & Dexter – mischievous sister and brother from the Cartoon Network show Dexter's Laboratory.
🐾 Wendy & Casper – Casper the friendly ghost, and the little girl from the cartoon Casper Meets Wendy.
🐾 Milo & Maggie – siblings from the movie The Skeleton Twins.
🐾 Mike & Molly – names of the couple from the Mike & Molly TV sitcom.
🐾 Dick & Jane – protagonists from several TV series, movies, and books.
🐾 Popeye & Olive – a fun couple from the retro cartoon Popeye.
🐾 Starsky & Hutch – intrepid police detectives from the TV series of the same name.
🐾 Bam Bam & Pebbles – the son and daughter of The Flintstones and their neighbors the Rubbles.
Check this out: 200+ Names For White Cats With Blue Eyes: Awesome Ideas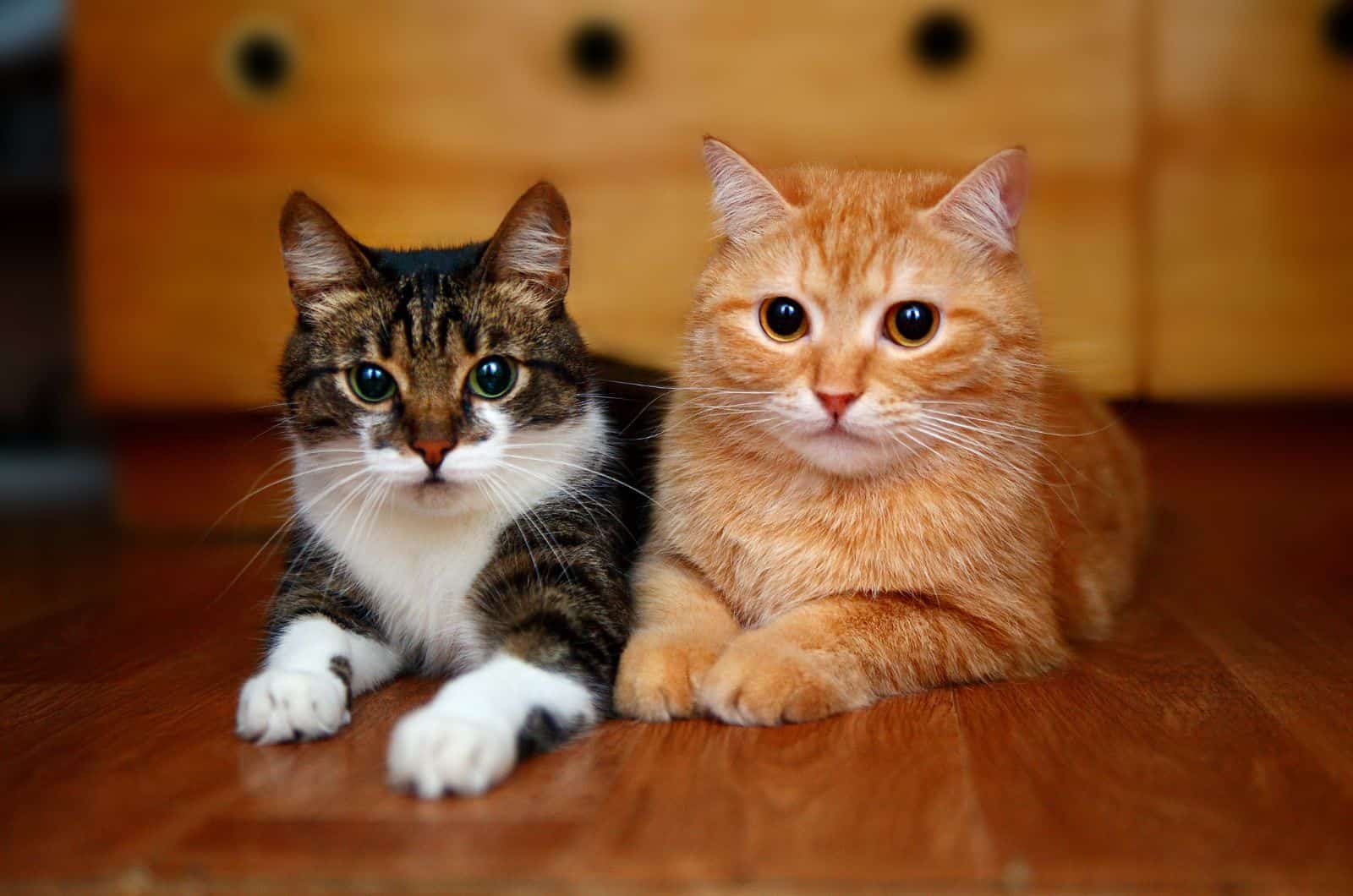 🐾 Minnie & Micky – the classic Disney mouse couple.
🐾 Jack & Jill – twins from the comedy movie of the same name.
🐾 Frasier & Niles – perfect brother cats from the TV show Frasier.
🐾 Tennille & Captain – artists from the 1970s.
🐾 Buttercup & Bubbles – two sisters, but Bubbles is a gender neutral name, from the Powerpuff Girls.
🐾 Orville & Wilbur – the Wright brothers, pioneers of early flight.
🐾 Daisy & Donald – Disney's adorable Duck couple.
🐾 Loyd & Harry – madcap characters from Dumb and Dumber. The greatest comedy of all time in my opinion!
🐾 Tweedle Dum & Tweedle Dee – characters from Disney's 1951 Alice In Wonderland.
🐾 Winnie Pooh & Piglet – beloved children's book characters and best friends.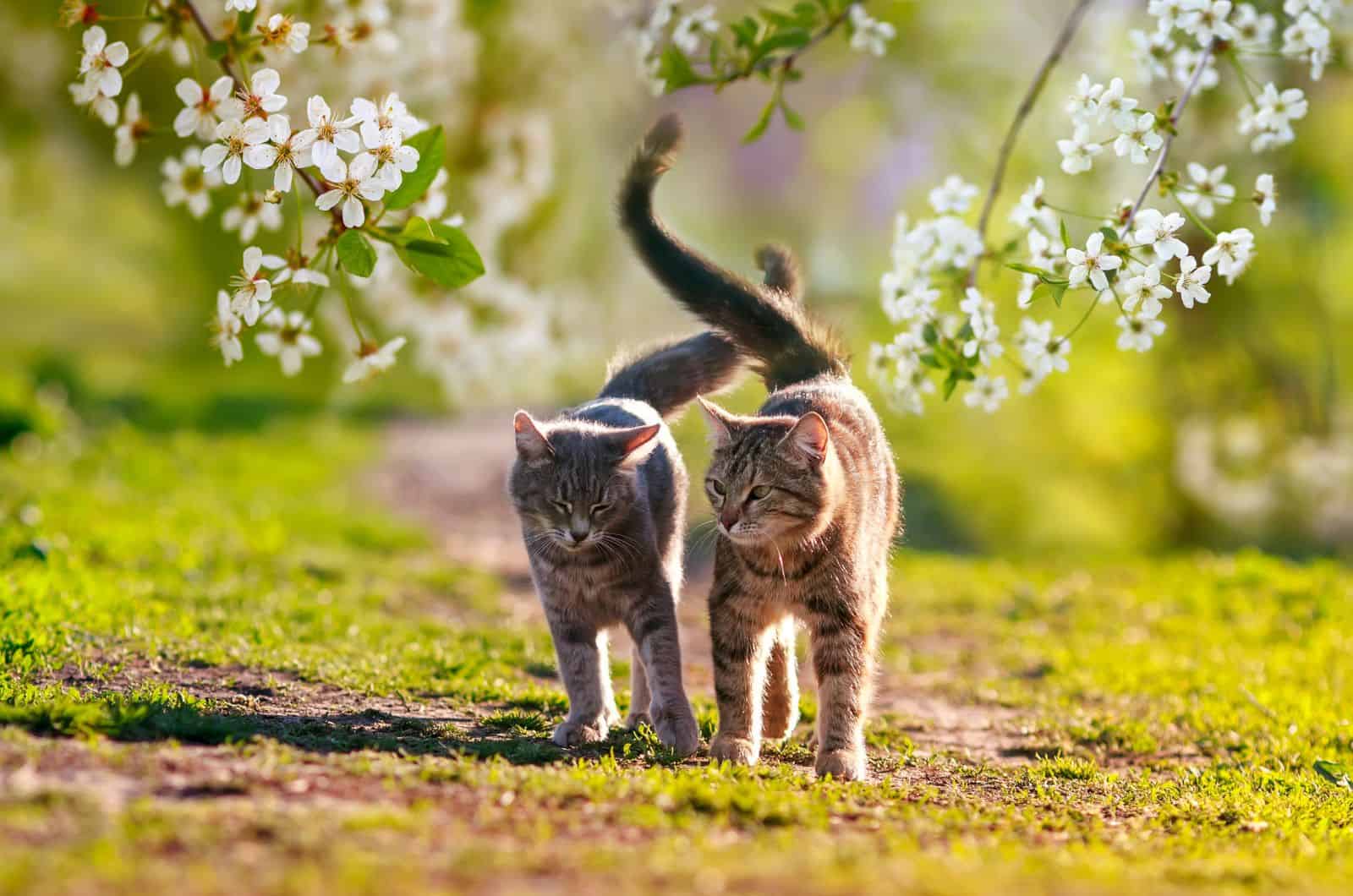 🐾 Yoko & John – famous artist/musician couple from the 1960s.
🐾 Puma & Nike – after the clothing brands.
🐾 Sally & Harry – from the old romantic movie, When Harry Met Sally.
🐾 Thelma & Louise – iconic duo, Thelma and Louise are movie characters; best friends that would do anything for each other.
🐾 Lois & Peter – the Griffin parents from Family Guy.
🐾 Ken & Barbie – everybody knows who these two are. These fictional characters have been the favorite toys of many generations.
🐾 Bridget & Jones – you could name your boy and girl cat by using the name and surname of the main character from the book and movies Bridget Jones Diary.
🐾 Ashley & Mary Kate – for female siblings, consider Mary Kate and Ashley, after the famous Olsen sister duo.
🐾 Janet & Michael – brother and sister music stars, Michael and Janet Jackson.
🐾 Dixie & Tabby – these were the cat names chosen by Abraham Lincoln.
🐾 Moneypenny & Boothroyd – characters from the James Bond spy movies.
🐾 Pumba & Timon – animated duo, best friends from Disney's franchise the Lion King.
🐾 Bert & Ernie – muppet characters from the ever-popular Sesame Street.
🐾 Marie & Donny – talk show and TV series characters.
🐾 Brad & Angie – our most famous couple both onscreen in real life. Alternatively you could use Mr and Mrs Smith.
🐾 Luigi & Mario – Super Mario Bros was the best video game back in the day and new versions are being released all the time. Mario and Luigi are brothers on a que st to save a princess.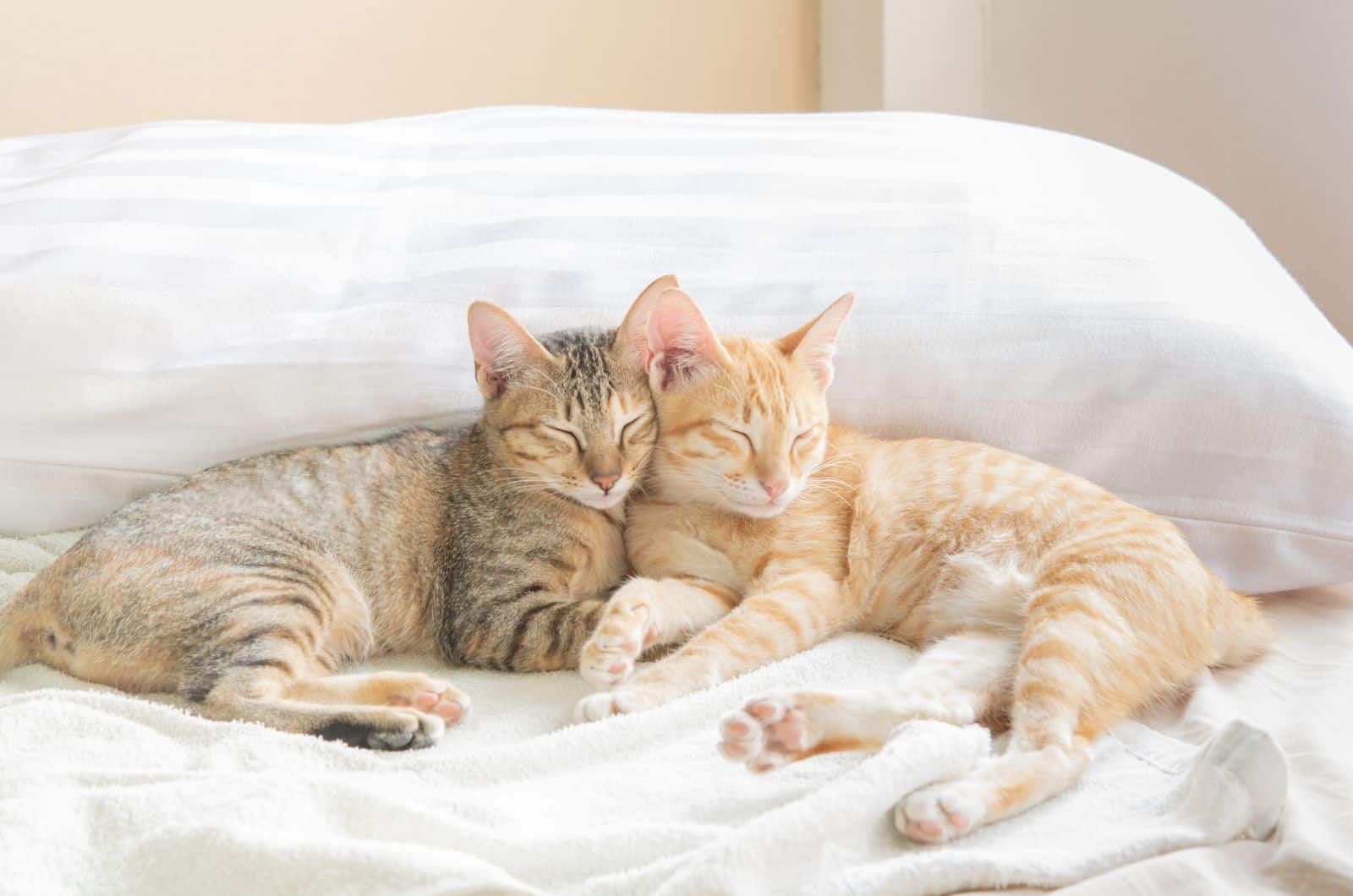 🐾 Phineas & Ferb – these are two brothers who are always doing crazy stuff and trying not to get caught by their sister.
🐾 Candace & Phineas – or you can call your brother and sister cats, Candace and Phineas, also from the aforementioned cartoon Phineas & Ferb.
🐾 Kim & Kanye – ah, the famous dramatic couple! Even though they have separated, you can still use these names as they are short and cool.
🐾 Lady & Tramp – even though they're dogs, this is a great cartoon, so why couldn't cats bear these names too?
🐾 Meg & Stewie – The Griffin children from the cartoon series Family Guy. Meg is smart but neglected in the family, and Stewie is quirky and intelligent, even though he's only two.
🐾 Fred & Ginger – famous glamorous main characters from classic movies dating back to the 1930s. Dance partners with incredible chemistry.
🐾 Beauty & Beast – a fantastic story about love and acceptance between the enchanted prince and Belle, a girl who goes on an adventurous journey.
🐾 Jane & Tarzan – classic story, movies, cartoons… a tale of adventure and love. Jane and Tarzan are an unmatched love, and their names are widely recognized.
🐾 Bill & Hillary – or better yet, Billy and Hilly, lol. The presidential couple; if you own Persian cats, it will work even better!
🐾 Scratchy & Itchy – another funny name idea for a pair of cats inspired by The Simpsons.
🐾 Cheech & Chong – a comedy duo that makes many people laugh.
🐾 Khal & Khaleesi – crazy love! Books are usually better, but in the case of Khal, the books cannot match the series, thanks to Jason Momoa!
See Also: 250+ Yellow Cat Names – Female, Male, Gender Neutral Choices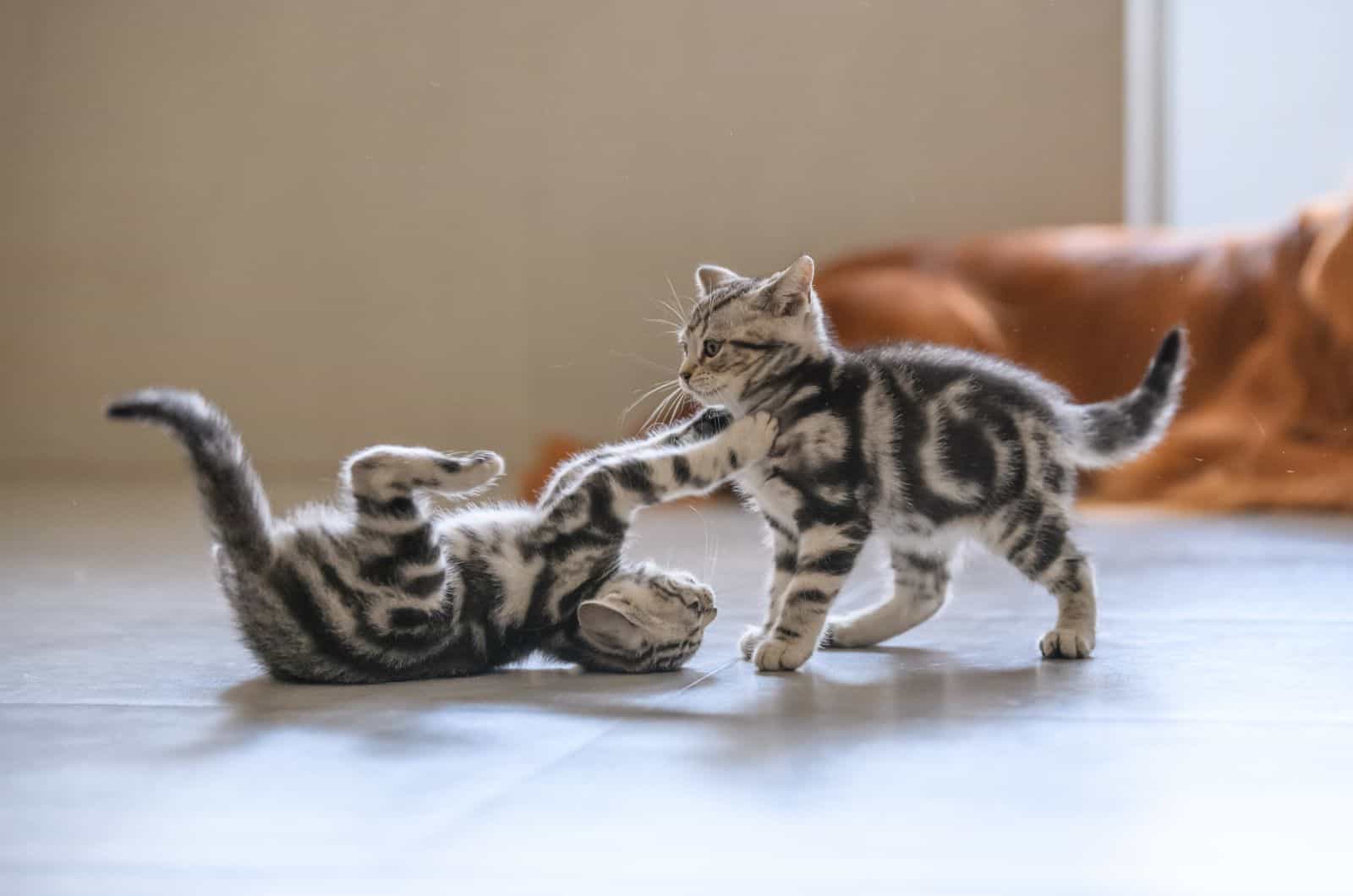 🐾 Melissa & Ace – Ace Ventura is a great pet name, and Melissa makes for a great twin cat name combo.
🐾 Batgirl & Batman – a little bit of a superhero mix-up. Calling your cats Batgirl and Batman will sound super cool.
🐾 Serena & Venus – professional tennis players, the iconic Williams sister duo.
🐾 Humpty & Dumpty – the fictional character from English nursery rhymes, and many cartoons and kids' songs.
🐾 Scully & Mulder – the main characters from the cult hit X-Files series.
🐾 Pugsley & Wednesday – the names of brother and sister from The Addams Family.
🐾 Nora & Nick – after Nick and Nora Charles from The Thin Man.
🐾 Perdita & Pongo – the cute Dalmatian couple from 101 Dalmatians also make great cat names.
🐾 Billie & Eilish – use the name and surname of the famous American singer.
🐾 Jack & Rose – could Jack have fit on that board? We'll never know, but you can name your cats Jack and Rose, just don't let them near deep water, lol.
🐾 Monica & Chandler – the greatest couple from the TV series Friends.
🐾 Rachel & Ross – on-again, off-again, will you marry already? If Ross and Rachel are your favorite characters from Friends, you could name your cats after them, or better yet, Ross and Monica as they are siblings.
🐾 Brenda & Dylan – oooh, Beverly Hills, this was THE show. The romance between Brenda and Dylan made us wait eagerly for the next episode back in the day.
🐾 Jay-Z & B – B, Beyonce, or even Bey, everyone will know who you're referring to. An iconic musical duo for many years, still kickin' it.
🐾 Priscilla & Elvis – great songs came from these people, but beware, if you name your cat Elvis, it might start to chirp. lol
🐾 Morticia & Gomez – iconic lovers from The Adams family! These two are the embodiment of true love, despite the gothic feel.
🐾 Meg & Ryan – using the name and surname of an American actress, you get cool brother and sister cat names. Be imaginative, and come up with a similar pair of names yourself, like Angie and Jolly, perhaps.
🐾 Phoebe & Joey – are iconic friends from the TV show Friends. Funny, quirky, much-loved friends.
Royal Or Shakespearean Twin Cat Names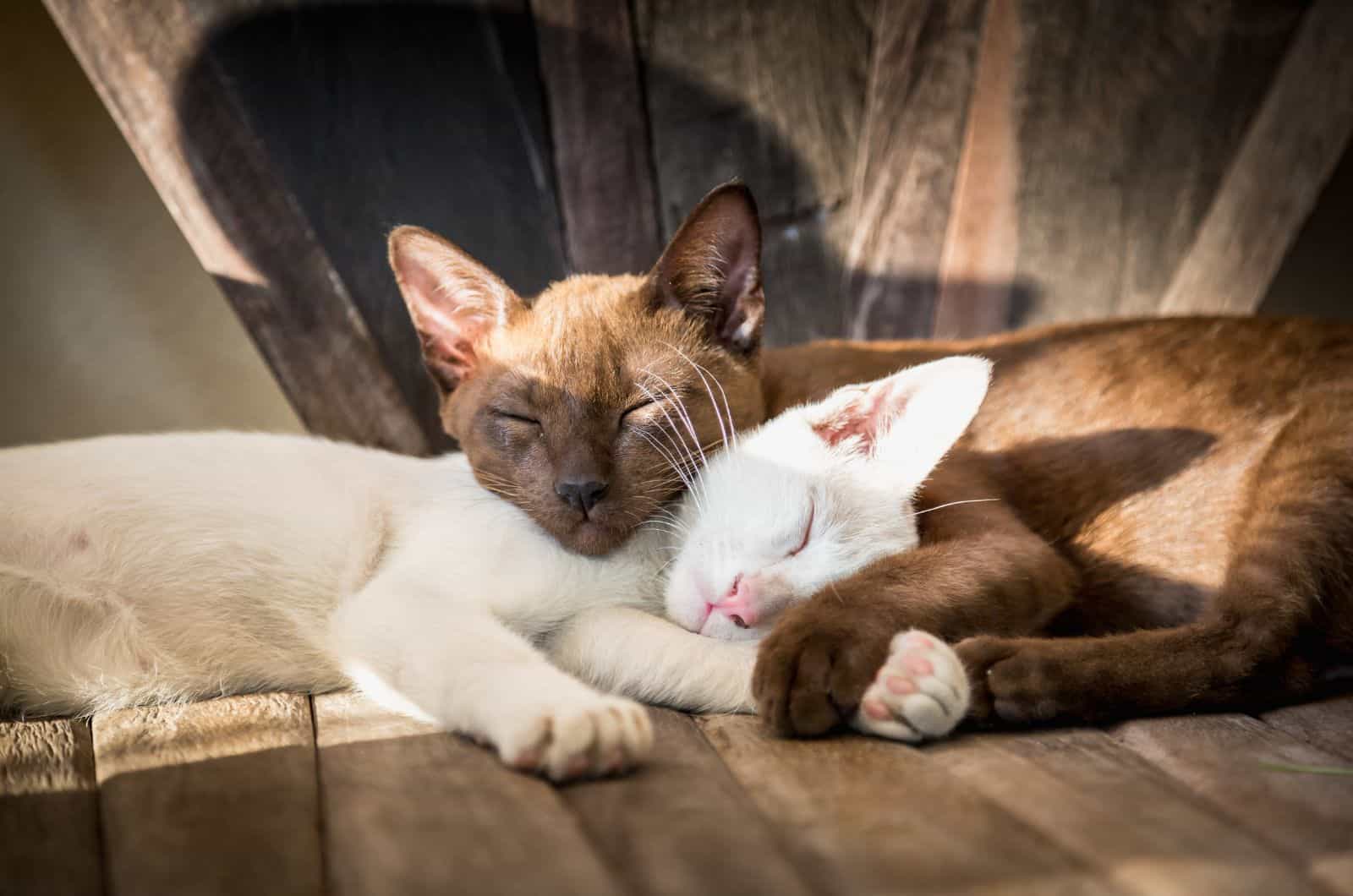 In the list below, you'll find some of the best character names from plays and books, words inspired by royal titles, and name ideas by some royalty.
🐾 Diana & Charles – after much-loved Princess Diana and Charles.
🐾 Romeo & Juliet – the famous couple from Shakespeare's plays, probably one of the most famous lovers in literature.
🐾 Jaime & Cersei – siblings who loved each other too much? From the Game of Thrones series and books.
🐾 Cleopatra & Mark Antony – next to Romeo & Juliet, these two are the most iconic historic couple. They're from Greek and Egyptian history.
🐾 Cain & Abel – the first two sons of Eve, as told in the Bible.
🐾 Hyde & Jekyll – characters from the novella Strange Case of Dr Jekyll and Mr Hyde. Great for cats with very different personalities.
🐾 Aphrodite & Zeus – are powerful names inspired by Greek gods.
🐾 Romulus & Remus – the mythological founders of Rome.
🐾 Apollo & Artemis – twin gods, the sons of Zeus in Greek mythology.
🐾 Adam & Eve – the first man and woman, any cat couple would be proud to bear these names.
🐾 Baroness & Baron – royalty names are always popular, I can see Maine Coon cats proudly bearing these names.
🐾 King & Queen – imagine you own a Persian male cat and a Siamese female, how perfectly would these names suit them? Or any other breed!
🐾 Troilus & Cressida – Shakespeare truly is the greatest writer of all time. Troilus and Cressida is a great play, and their names sound powerful and majestic.
🐾 Ophelia & Hamlet – even though Hamlet literally drives Ophelia crazy, these can be cool cat names for your sibling cats.
Cute & Funny Sibling Cat Names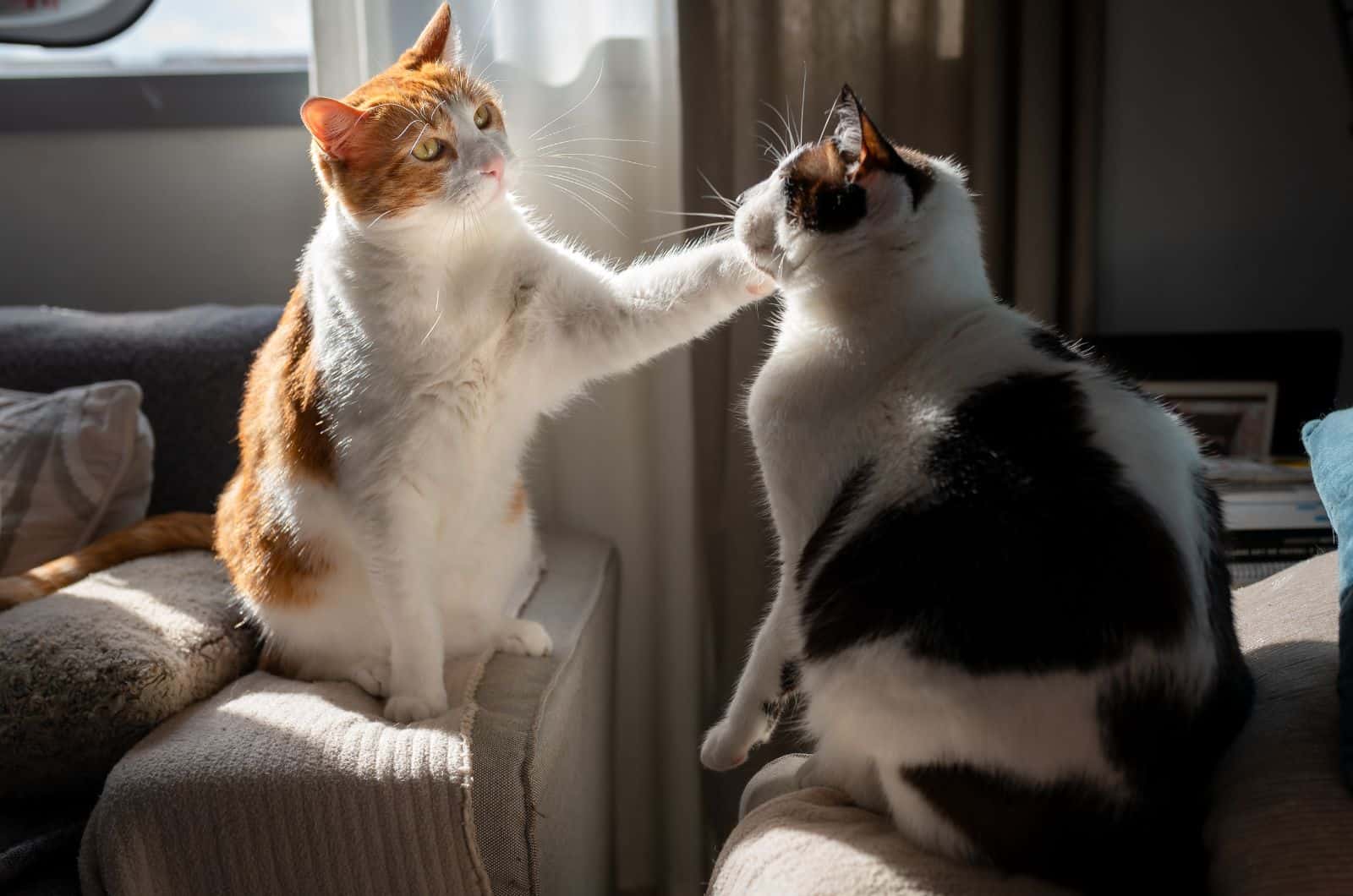 🐾 Bogey & Woogie – dancing to improvised blues. These are the best names to give your cats if you love to dance and have playful kitties.
🐾 Nice & Naughty – if you kittens can be characterized as such, you could name them Naughty and Nice, or even better, be ironic and name the naughty one nice, and vice versa.
🐾 Louis & Prada – inspired by luxury fashion brands.
🐾 Rock & Roll – perfect for music lovers! Alternatively, you could have Pop and Punk. Let the music flow!
🐾 Hershey & Kisses – chocolatey names for chocolate-point cats, maybe. Who wouldn't want their cats to be named after these delicious sweets, yummm!
🐾 Ben & Jerry – yum, yum, who doesn't love ice cream?
🐾 Crackers & Cheese – funny twin cat names, especially if you love cheese and crackers.
🐾 Chip & Dip – yum, yum, yummy! If you can resist the urge of eating chips 'n' dips whenever you hear these words, this is a cool idea for pet names.
🐾 Jimmy & Choo – named after the famous fashion brand, perfect for shoe lovers.
🐾 Jack & Colby – after the delicious cheese, Colby-Jack.
🐾 Brie & Gouda – say cheese! Any two cheese names would work – Cheddar & Edam?
🐾 Dot & Polka – inspired by the Polka dance, or the spotted pattern; it would be even cooler if your cat had a spotted coat.
🐾 Laffy & Taffy – the candy or the song. Ooh, shake that Laffy taffy! Either way, the names Laffy and Taffy sure do sound cool as twin cat names.
🐾 Dolce & Gabbana – after the famous luxury fashion brand. Ideal for glam cats.
🐾 Bread & Butter – simple and delicious!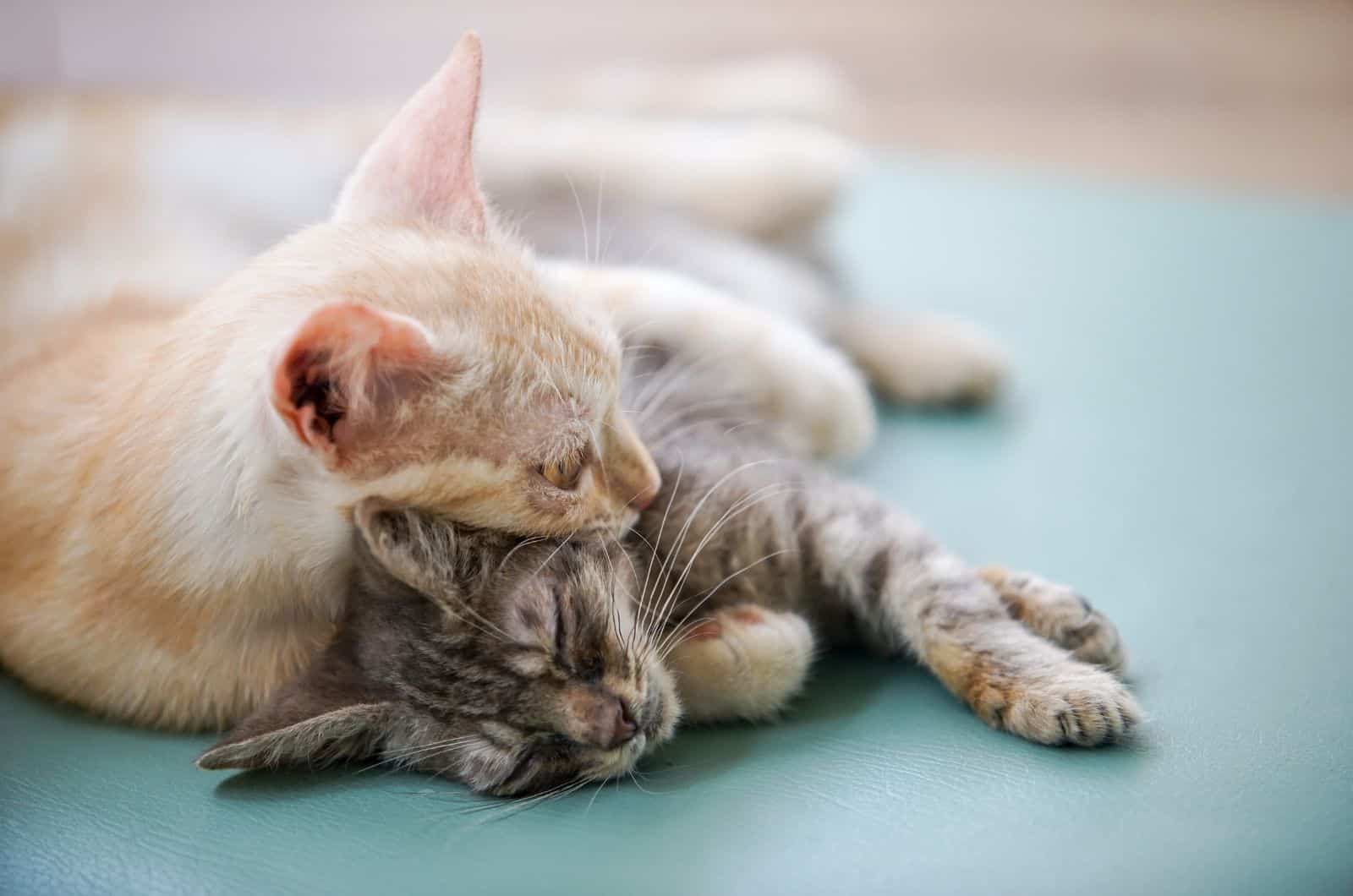 🐾 Fish & Chips – yum, yum, and yum. This popular hot dish will make you love your cats even more. Ideal for British breeds or for cats who love their food.
🐾 Cola & Pepsi – two rivals, but your cats might not be! Your cats will surely be popular with these names, and you can see which cat will be more favored, Cola or Pepsi, lol.
🐾 Apple & Plum – or any other fruit combo… Lemon & Lime or Cherry & Berry?
🐾 Scratch & Sniff – another fun name idea for cats.
🐾 Salt & Pepper – spice up your cat's name.
🐾 Double & Trouble – mischievous and fun cat names.
🐾 Rolls & Royce – after the famous luxury car brand.
🐾 Vice & Versa – A Latin phrase, but it sounds so cool as a name for a pair of cats too.
🐾 Yin & Yang – the good and bad of the world, this would be cool if you had black and white cats.
🐾 Ebony & Ivory – great name idea for black and white cats.
🐾 Winter & Summer – by the hottest and coldest seasons of the year, or if you're more of a fan of autumn or spring, mix it up.
🐾 Gin & Tonic – oh-la-la, I would love these as brother and sister cat names.
🐾 Rocky & Pebbles – these cute names would best suit cats that are calico or tabby, covered in spots and colorful.
🐾 Katty & Kitty – fun pun names, cute ideas for sister siblings.
🐾 Fuzzy & Wuzzy – furry kitties named Fuzzy and Wuzzy, could it get any cuter?
🐾 Spot & Dot – cats with spotted coats immediately come to mind, but you can also be funny and ironic, so you name a cat with a solid pattern coat, and when you call its name, people are sure to laugh.
🐾 Kanga & Roo – fun names drawn from the word kangaroo.
Finally…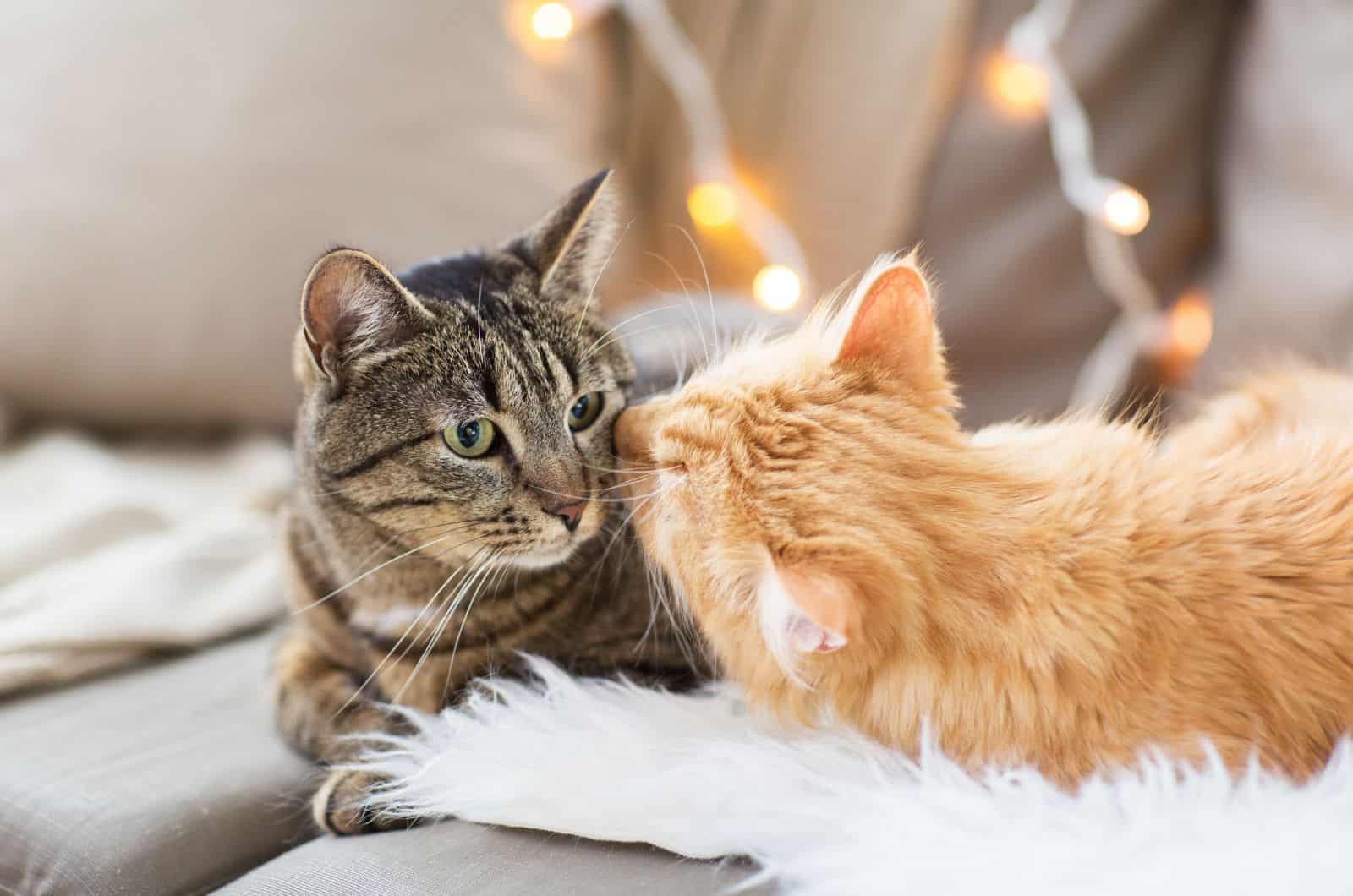 I hope you liked these name ideas and now you're thinking about how each of them would sound if they were to be cat names.
Have you found the perfect match for your pair of cats? Whether you need brother and sister cat names, or names for a sister duo, or brother duo, there are some great name ideas listed above.
I really hope that by the end of this article, you will have picked out a pair of cat names.
Remember, no matter which names you choose, your cats will love you and be happy, and you'll be happy with them. Cats are great, and once you choose a name, it grows on you because your little furry friends make it their own.
Related Articles:
150+ Hawaiian Cat Names And The Meaning Of Each One
222 Nerdy Cat Names For Cats That Would Look Good In Glasses