The best part of being a cat parent is probably the beginning when you get a kitten, bring it home, prepare everything for it, and start bonding with the little furball.
These are definitely some of the sweetest moments that you'll ever have with your furry companion, but a new kitten also comes with a lot of responsibility.
This period is all about bonding, getting to know each other, and building trust. One of the most exciting things is choosing the perfect kitten name. This can sometimes be a difficult task because there are a lot of good names.
It's even more difficult if you're looking for a special name that will describe your cat perfectly.
For example, white blue-eyed cats are gorgeous but also rare and special. The combination of white coat and blue eyes occurs due to a lack of pigment. Choosing a name for a striking cat like this may seem daunting but there are lots of fantastic names that will suit this type of cat.
Luckily, this article contains over 200 awesome names for white cats with blue eyes. Check them out, and have fun choosing the best one for your white kitten!
Best Names For White Cats With Blue Eyes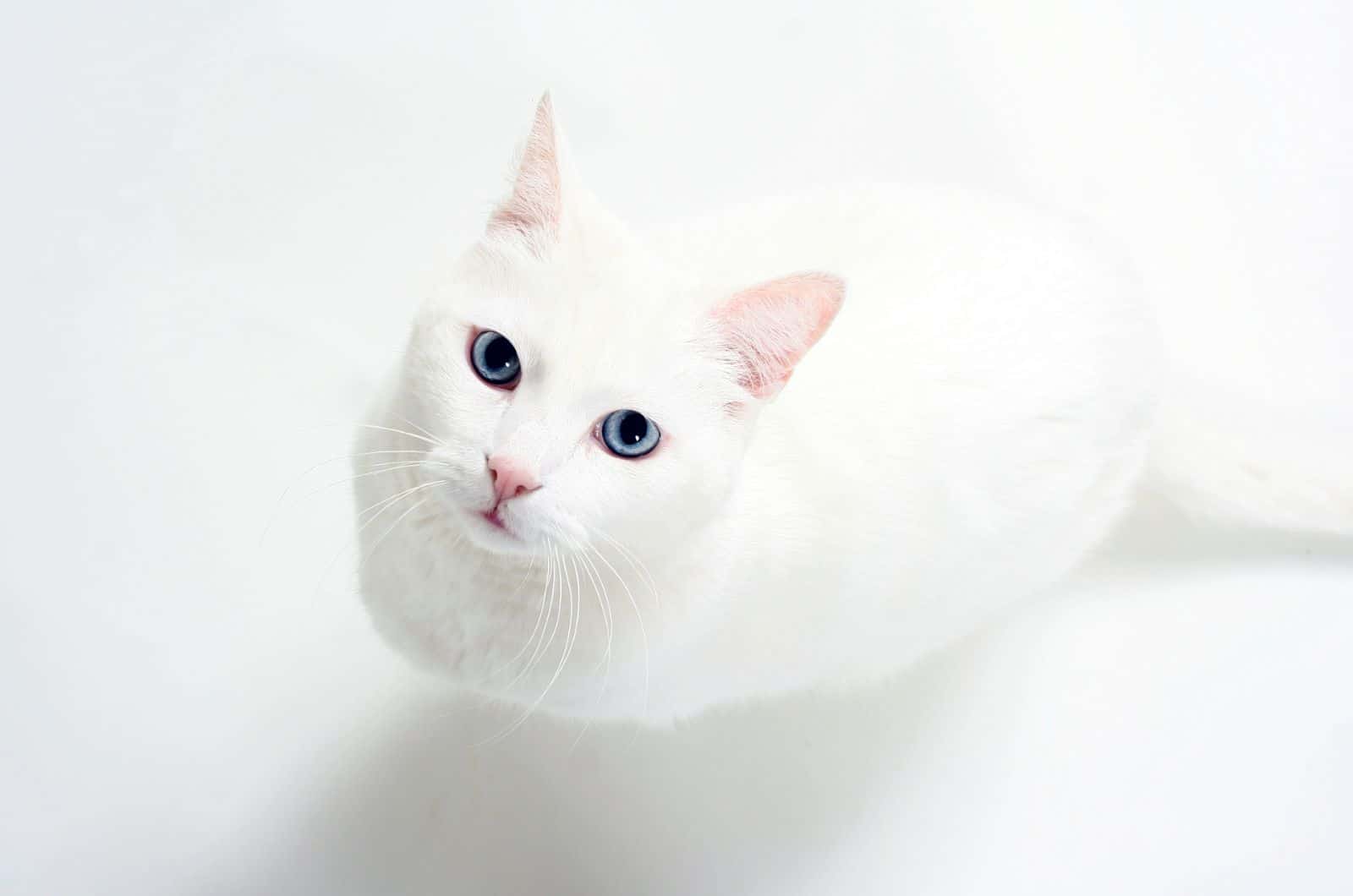 If you're looking for the best, cutest, or funniest name idea for your blue-eyed white cat, don't worry, as I'm here to help! There are a lot of cat breeds that can be white in color with gorgeous blue eyes, including the Persian, Ragdoll, SIamese, Himalayan, and many others.
Cat owners with blue-eyed white cat breeds usually give their pets names such as Snowball, Snowflake, Sugar, Blue, and similar because these are the names that describe them best.
However, if you are tired of these common names, you can always dig a bit deeper and find unique names that will also be suitable for your white blue-eyed cat. For example, if you're a food lover you can give your feline friend a perfect foodie name.
Or if you're a fan of other cultures, such as Japanese, there are plenty of name ideas that can perfectly describe your white kitty!
Read on to discover some awesome names for white cats with blue eyes. I have divided them into different categories so you can check them out and easily see which one you like the best!
Female Cat Names For White Blue-eyed Cats
Having a white blue-eyed girl cat is a blessing. These cats are magnificent, and as a result of their unique and absolutely stunning appearance, they're very popular among cat lovers.
So, if you have a white girl kitten and you are wondering what name you should give her, then read on for some fab name ideas that could be a purrfect choice for your lovely white kitty!
🐾 Luna
🐾 Blanche
🐾 Princess
🐾Bella
🐾 Alba
🐾 Mimi
🐾 Alaska
🐾 Betty (White)
🐾 Bianca
🐾 Marie
🐾 Swan
Male Cat Names For White Blue-eyed Cats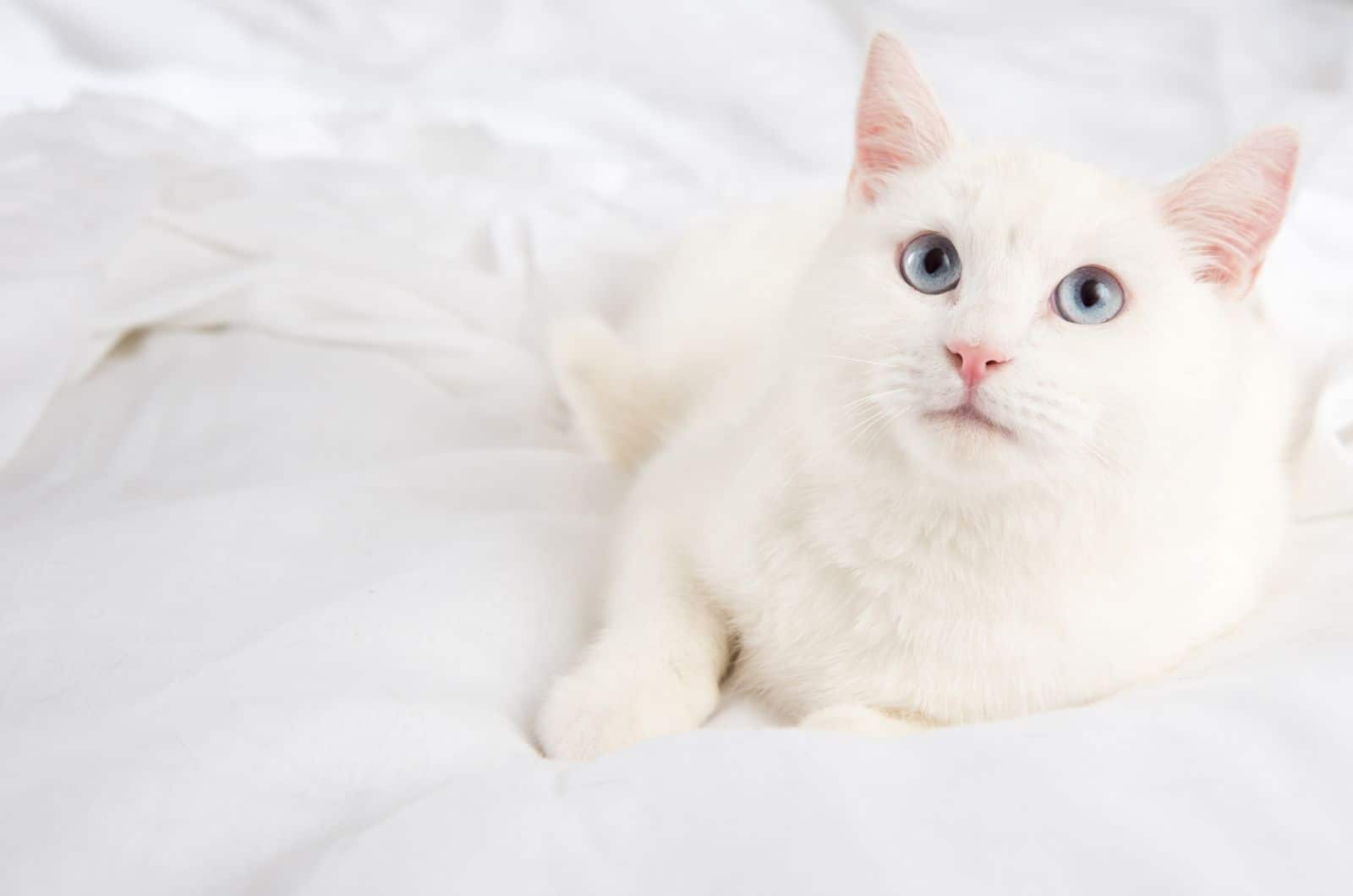 Male cats are quite different to female cats but they make just as wonderful companions. Male cats are usually larger than females and a white blue-eyed male cat can be a truly impressive sight!
If you have a male white cat and you are having difficulties naming him, don't worry because there are so many choices that are perfect for male white blue-eyed felines.
🐾 Bear
🐾 Stuart Little
🐾 Mister Bigglesworth
🐾 Blanco
🐾 Nicholas
🐾 Jon (Snow)
🐾Ice
🐾 King
🐾 Jack (Frost)
🐾 Sinatra
🐾 Milky Way
🐾 Galaxy
🐾 Klaus
🐾 Casper
🐾 Ice Cube
🐾 Gandalf
Perfect Names For A White Blue-eyed Cat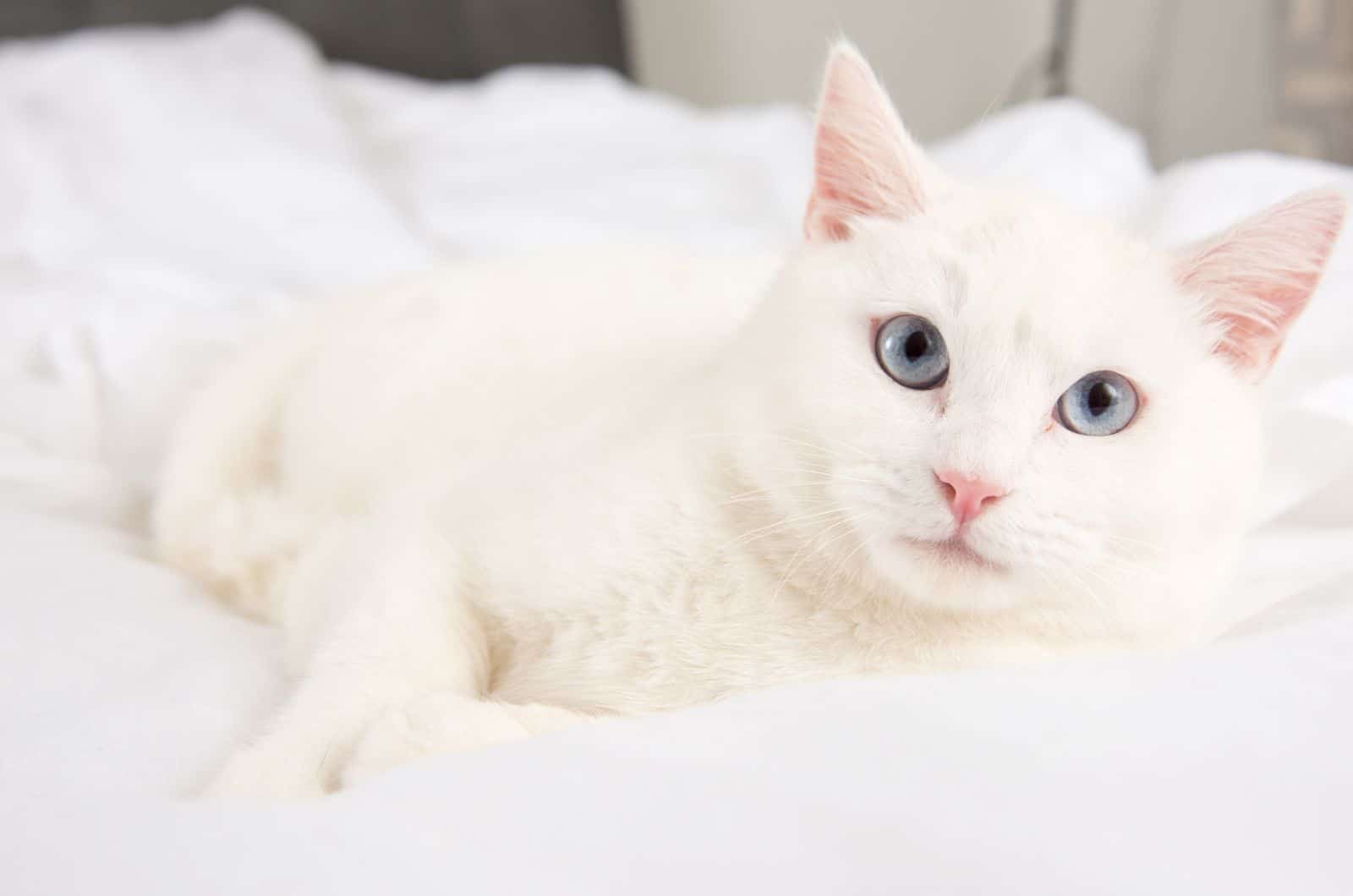 Whether your white feline friend is male or female, you will want to find the perfect name for your feline friend!
You probably want to get away from common names and find something a little different that will stand out. If that's the case, then here are some perfect name ideas to suit your blue-eyed white cat.
These name ideas usually refer to their beautifully soft white fur or their stunning deep blue eye color. So, let's see these ideas!
🐾 Smurf
🐾 Sapphire
🐾 Angel
🐾 Flower
🐾 Iris
🐾 Skylar
🐾 Cyan
🐾 Sully
🐾 Squirtle
🐾 Mystique
🐾 Lapis – a gemstone
🐾 Blueberry
🐾 Cerulean – a deep sky-blue color
🐾 Stitch
Best White Cat Names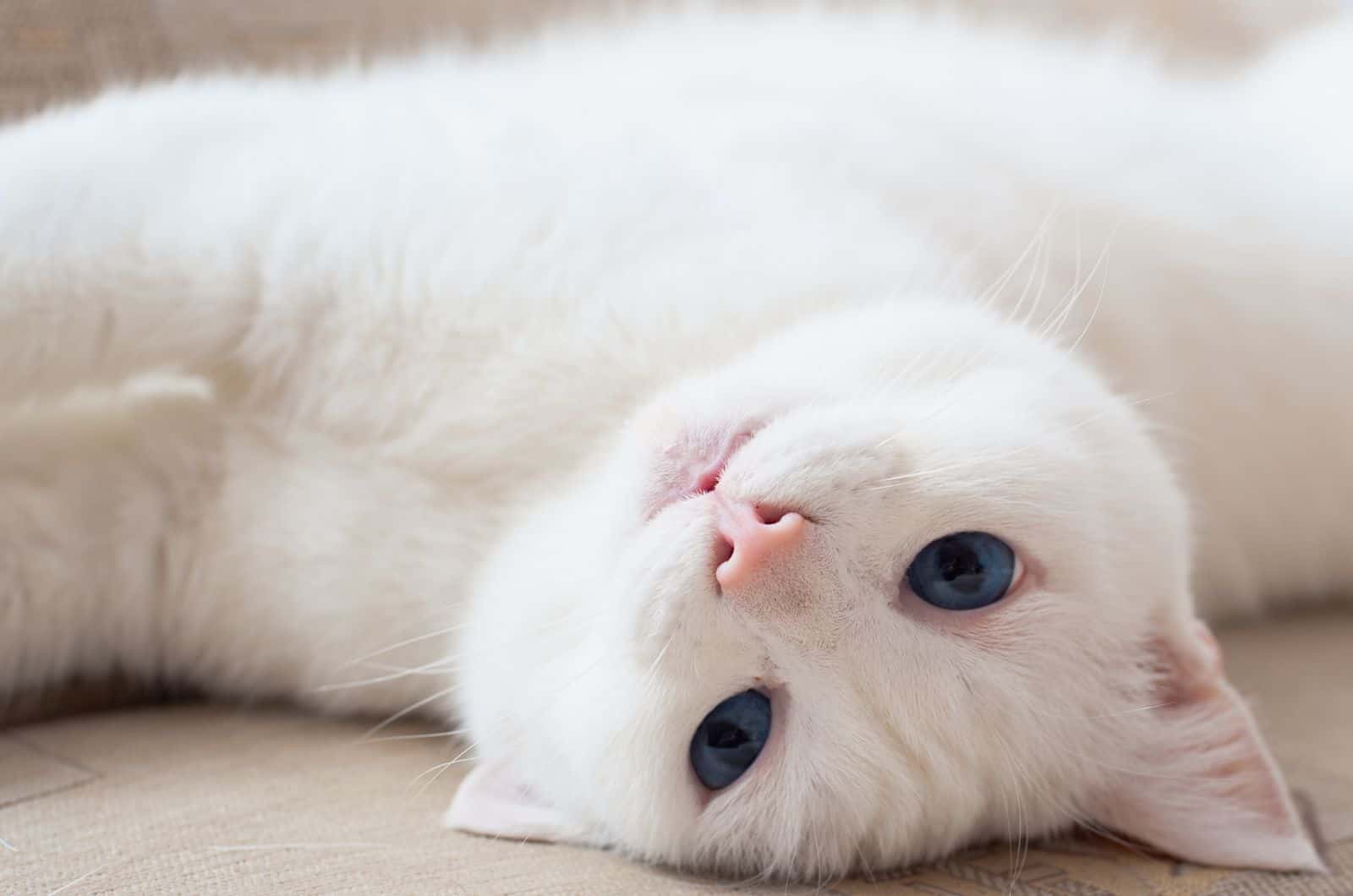 Every cat owner wants their pet to have the best and coolest name ever. So, if you want the best name ever for your furry family member with its gorgeous white coat, check out these name ideas for white cats with blue eyes. Which one do you like the most?
🐾Hedwig – an owl from Harry Potter
🐾 Icy
🐾 January
🐾 Nimbus
🐾 Wizard
🐾 Blue Bell
🐾 Afina
🐾 Radiance
🐾 Bluestar
🐾 Lilly
🐾 Illumine
🐾 Snowy
🐾 Topaz
🐾 Beryl
🐾 Electricity
🐾 Krystal
🐾 Frosty
🐾 Celeste
🐾 Azure
🐾 Iceman
🐾 Downpour
🐾 River
🐾 Aquamarine
🐾 Sky Eyes
🐾 Shiny
🐾 Dory
🐾 Jeans
🐾 Azora
🐾 Opal
🐾 Sparkle
🐾Polar
🐾 Shimmer
🐾 Ragdoll
Cute White Cat Names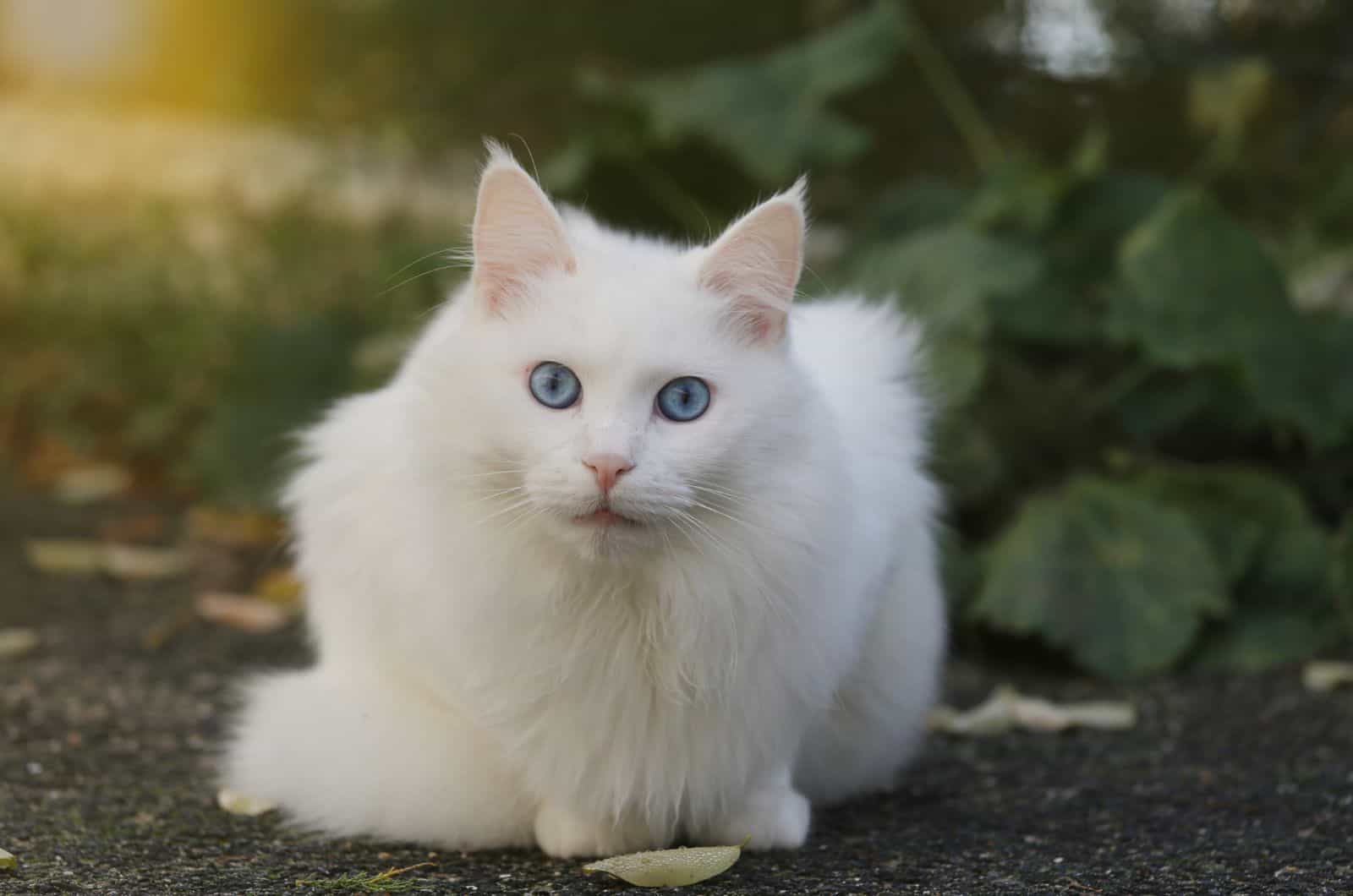 White blue-eyed cats are creatures and they deserve the cutest name. Here are some of the cutest name ideas for your white kitty!
🐾 Mercury
🐾 Precious
🐾 Lulu
🐾 Boo
🐾 Blizzard
🐾 Rain
🐾 Orion
🐾 Azy
🐾 Duke
🐾 Nona
🐾 Aspen
🐾 Trinity
🐾 Luigi
🐾 Ellie
🐾 Mala
🐾 Indigo
🐾 Clover
🐾 Aryis
🐾 Kenzie
🐾 Cotton
🐾 Oriel
🐾 Pearl
🐾 Darcey
🐾 Cato
🐾 Phoebe
🐾 Cloud
🐾 Cyril
🐾 Baby blue
🐾 Maya
🐾 Cobalt
🐾 Florence
🐾 Maverick
🐾 Magnolia
🐾 Misty
🐾 Glacier
🐾 Maisie
🐾 Snowball
🐾 Gemstone
🐾 Halo
🐾 Powder
🐾 Snowflake
Foodie Name Ideas For White Cats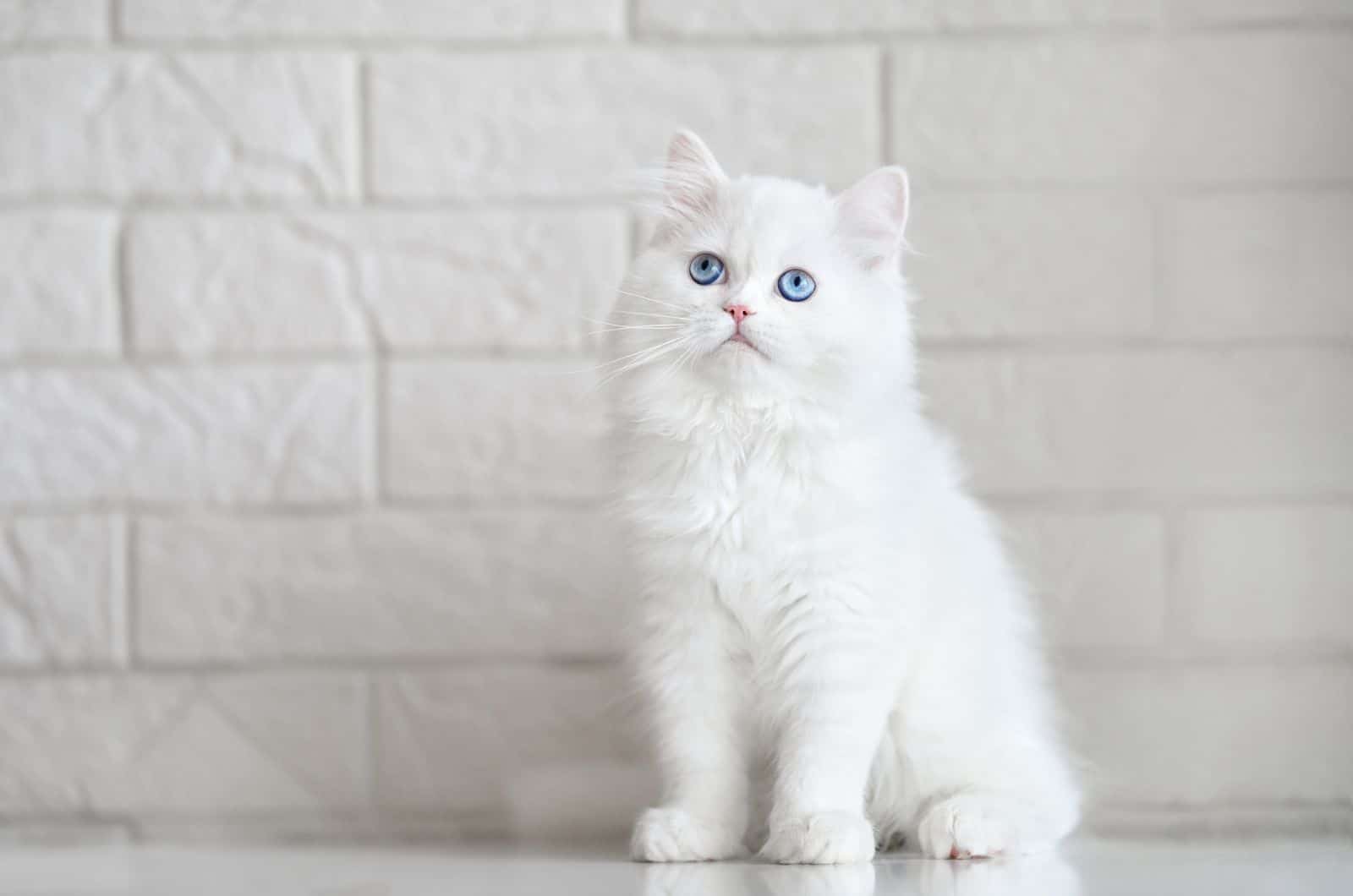 If you're a true food lover, why not choose a food name for your white cat with blue eyes. It's even better if your feline friend also loves food!
So, food and cat lovers, hear me out! Check out these food name ideas for white cats with blue eyes and give your furry friend a delicious name!
🐾 Bechamel
🐾Tic Tac
🐾 Coconut
🐾 Biscuits
🐾 Cream
🐾 Tapioca
🐾 Marshmallow
🐾 Sugar
🐾 Cool Whip
🐾 Cream Puff
🐾 Tofu
🐾 Mozzarella
🐾 Chardonnay
🐾 Brie
🐾 Flour
🐾 Eggnog
🐾 Moscato
🐾 Cauliflower
Funny White Blue-eyed Cat Names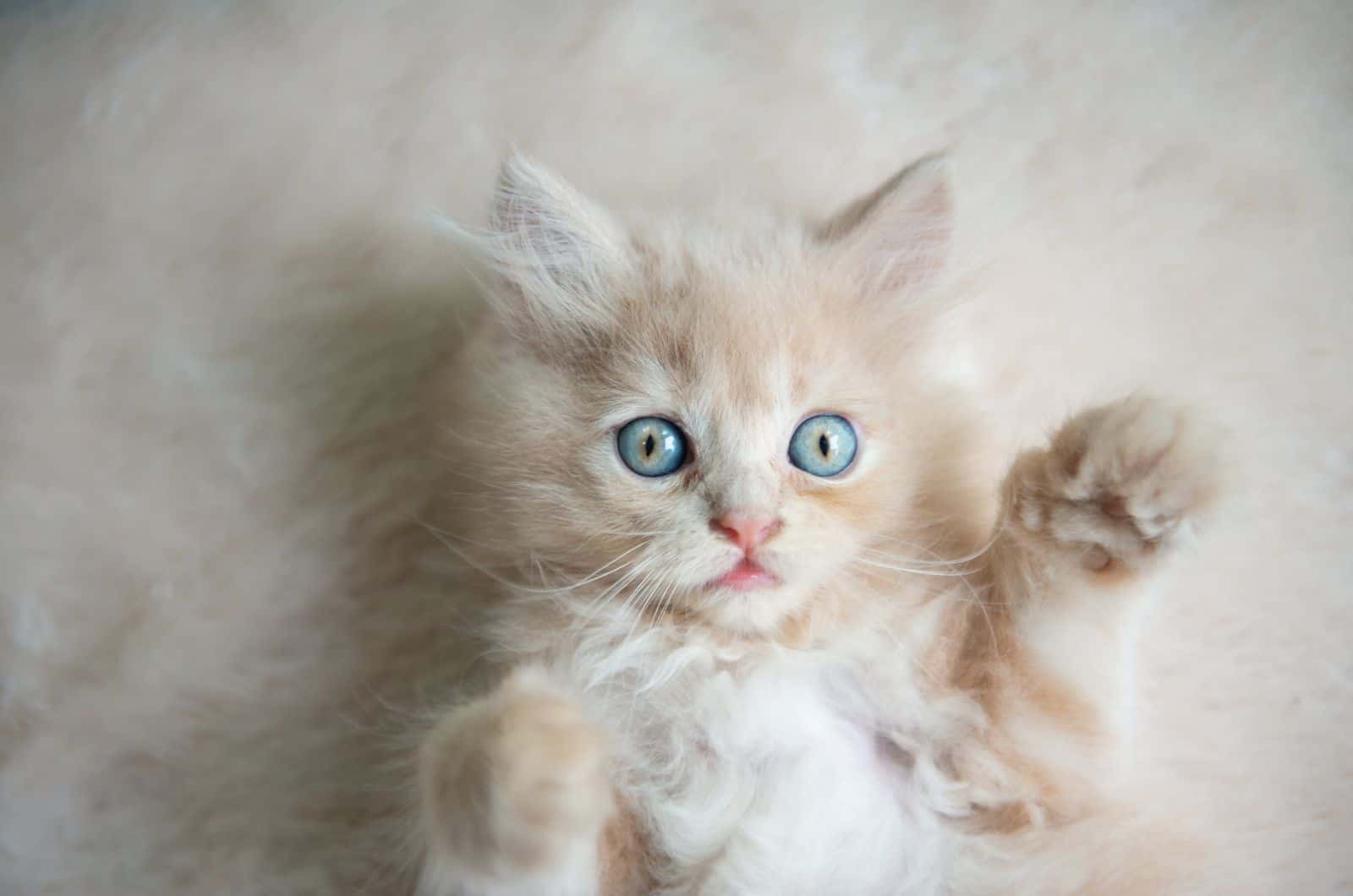 We haven't forgotten about the funniest cat lovers. If you love to laugh, maybe you can come up with a funny name for your gorgeous kitty.
To find a funny name to match your cat's fun personality, check out some of the following funny white blue-eyed cat names!
🐾 Owl
🐾 Diamond Claws
🐾 Flake
🐾 Marilyn Monmeow
🐾 Cat Creamer
🐾 Noodle
🐾 Wiffle (ball)
🐾 Eskimocat
🐾 Crest
🐾 Zenkitty
🐾 Santa Claws
🐾 White Claw
🐾 Beluga
🐾 Snowpaw
🐾 Chowder
🐾 The White Fuzzinator
🐾 Catsper
🐾 Mayocat
🐾 Picatso
🐾 Diamond
🐾 Fluffernutter
Unique Cat Names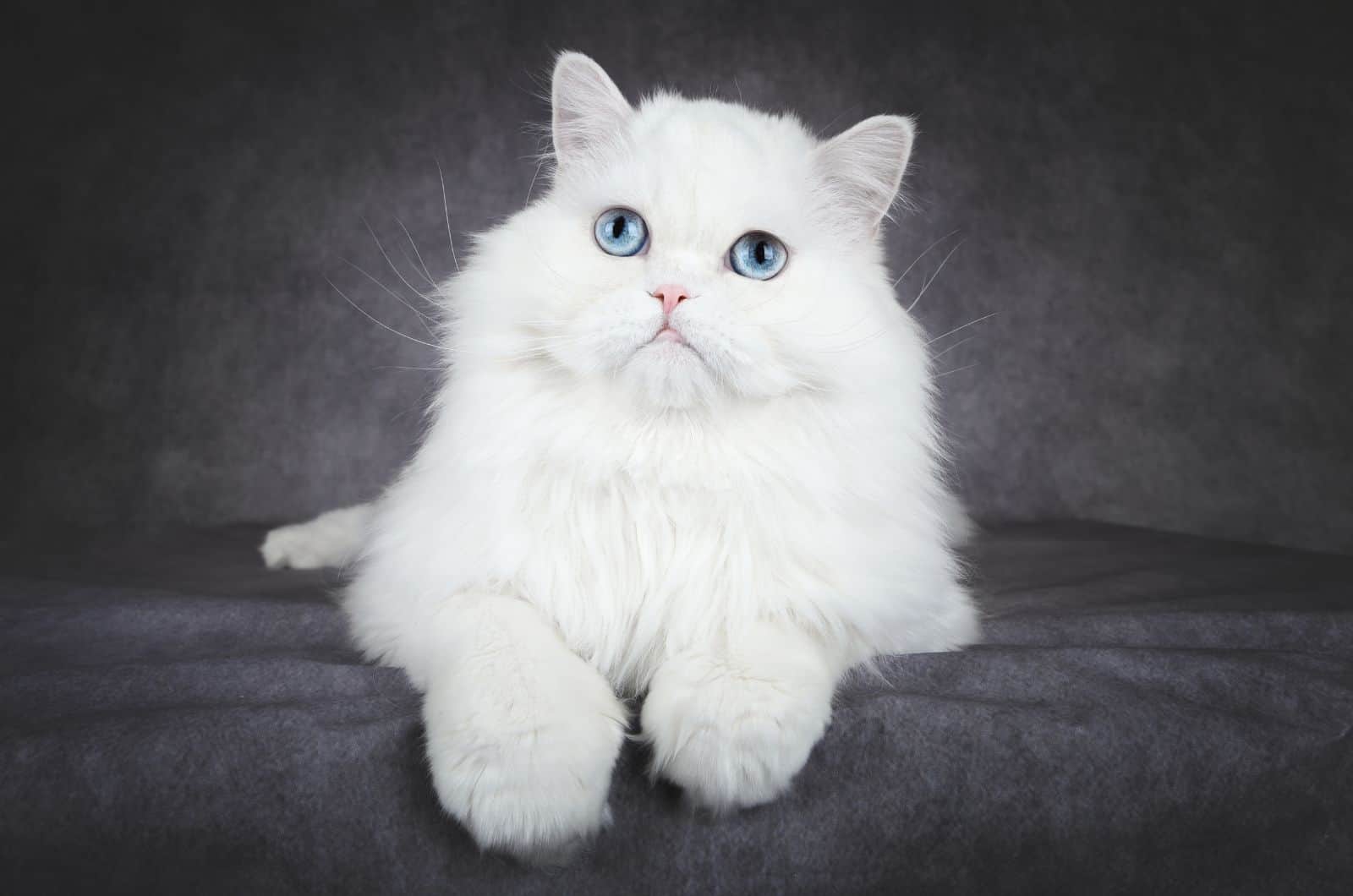 White blue-eyed cats have a truly beautiful look. It is rare to see a completely white cat with blue eyes, so a special and unique name is required! Here are some unique name ideas for your gorgeous feline!
🐾 Fog
🐾 Dandelion
🐾 Flamingo (all Flamingos are born white)
🐾 Whiteout
🐾 Shiro (Japanese for white)
🐾 Egret
🐾 Aspro (Greek for white)
🐾 Avalanche
🐾 Bleach
🐾 Sunri
🐾 Wit (Dutch for white)
🐾 Lux (Latin for light)
🐾 Dove
🐾 Fricassee
🐾 Lumiere (French for light)
🐾 Quartz
🐾 Chalk
🐾 Aspirin
🐾 Eggsy
🐾 Hollandaise
🐾 Alabaster
🐾 Asa (Japanese for morning)
🐾 Daisy
🐾Ina (Yoruba for light)
🐾 Colgate
Disney Names For White Cats With Blue Eyes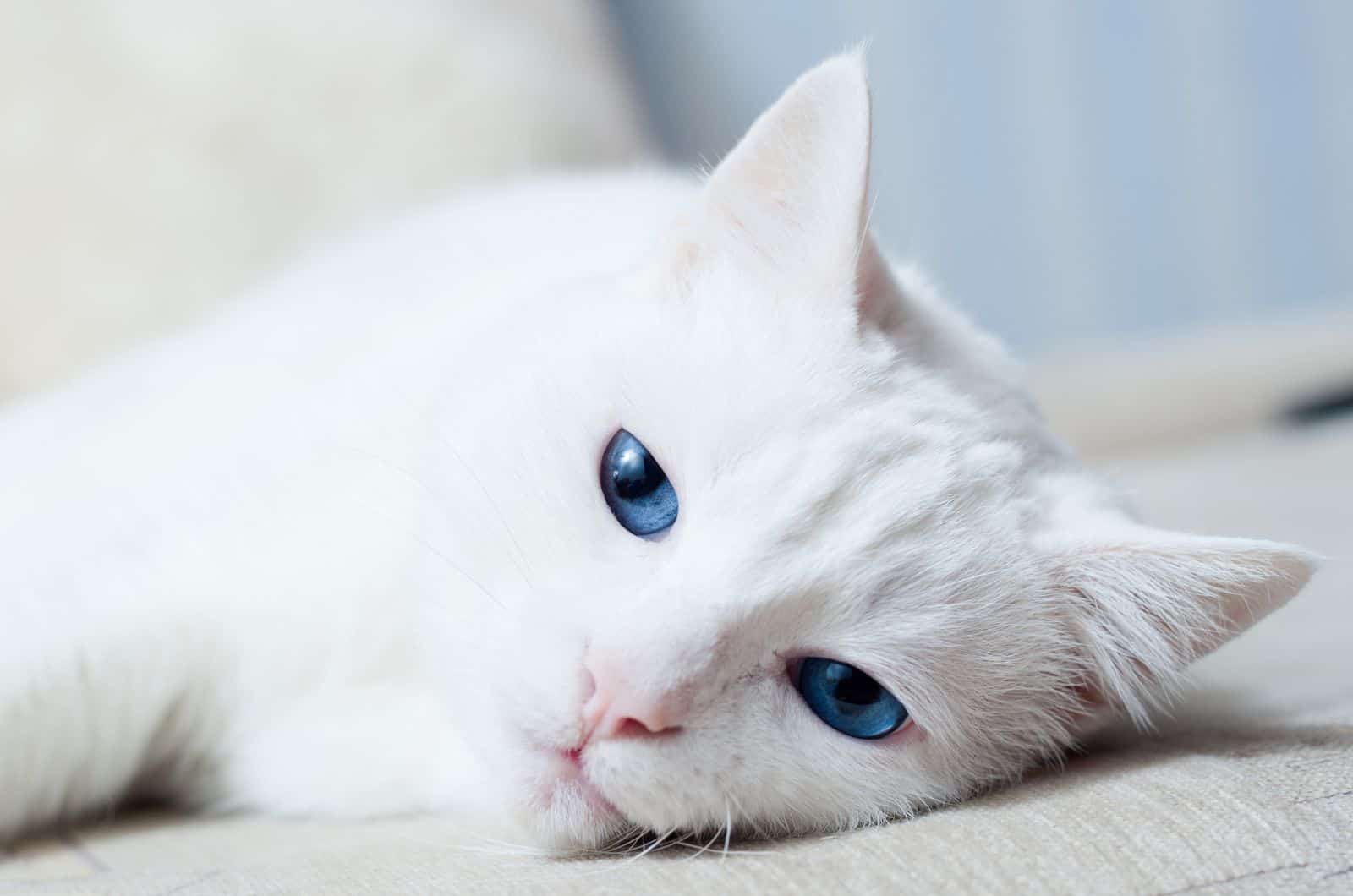 One of the most popular name ideas is Disney names. A lot of names that you will have heard from Disney movies are actually perfect for a white blue-eyed cat.
So, here are some of the best Disney name ideas, from princesses to princes, from wild cats to domestic ones and lots of other creatures!
🐾 Ariel
🐾 Pocahontas
🐾 Anna
🐾 Elsa
🐾 Hans
🐾 Olaf
🐾 Snow White
🐾 Aurora
🐾 Belle
🐾 Cinderella
🐾 Duchess (The Aristocats)
🐾 Marie (The Aristocats)
🐾 Jasmine
🐾 Tiana
🐾 Merida
🐾 Nala
🐾 Sarabi
🐾 Simba
🐾 Mufasa
🐾 Moana
🐾 Mulan
🐾 The Cheshire Cat
🐾 Rapunzel
Other Name Ideas
If you don't find the ideal name for your white feline friend in this article, then here are some other name ideas to inspire you. Read them carefully and who knows, maybe you will find the best name for your pawsome new friend!
• 250+ Best Music–Inspired And Musician Cat Names
• Space Names For Cats – 250+ Astrology & Celestial Cat Names
• 200+ Best Ever Nautical Cat Names
• Best 200+ Mischievous Cat Names
• 200 Outright Stupid Cat Names (You Will Love)
Final Thoughts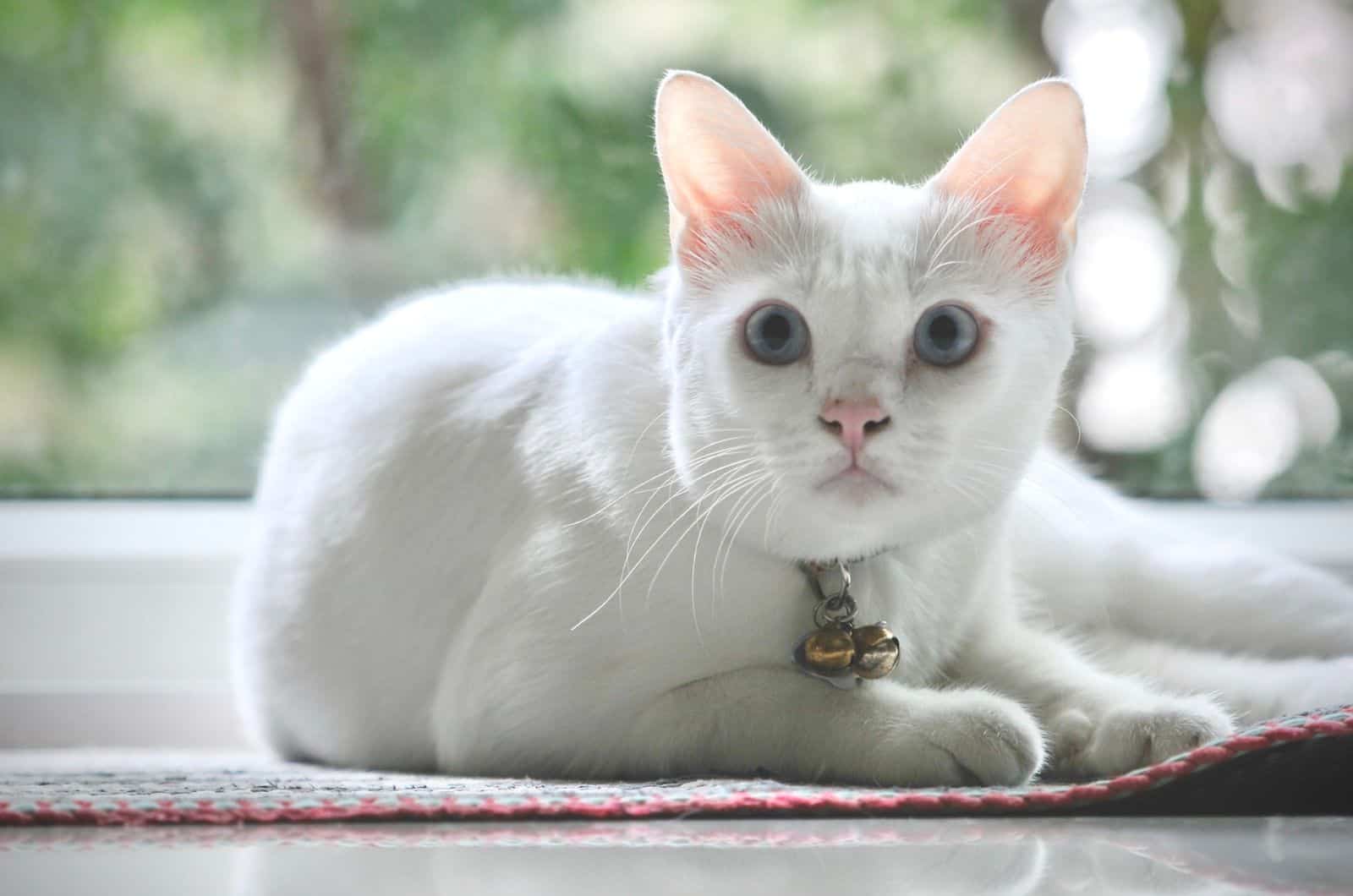 One of the most fun challenges when bringing a new cat home is naming it. That's why I have provided you with a list of over 200 names for white cats with blue eyes.
These cats are very special because of their striking appearance which is why they deserve a unique name that describes them best!
Be sure to choose carefully because the cat will get used to the name quite quickly and it will be its name for the rest of its life. Still, the name is not as important as the bond you have with your feline friend and that needs to be cherished the most.
Whatever name you choose, your cat will have the same appearance and the same personality, and the only thing they will care about is you – their owner!