This post contains affiliate links, and I will be compensated if you make a purchase after clicking on my links at no extra cost to you.
The SureFeed Microchip Feeder is an automatic feeder for cats and smaller dogs. It works with all common microchips, but if you're not sure whether it will work for your cat, you can easily check on their official website.
It will work with your cat's microchip or with microchips installed on your cat's collar. Other than helping with weight control and making it easier to have a set feeding schedule, it will also help you learn about your cat's behavior.
I have six cats and they're all very different.
My Review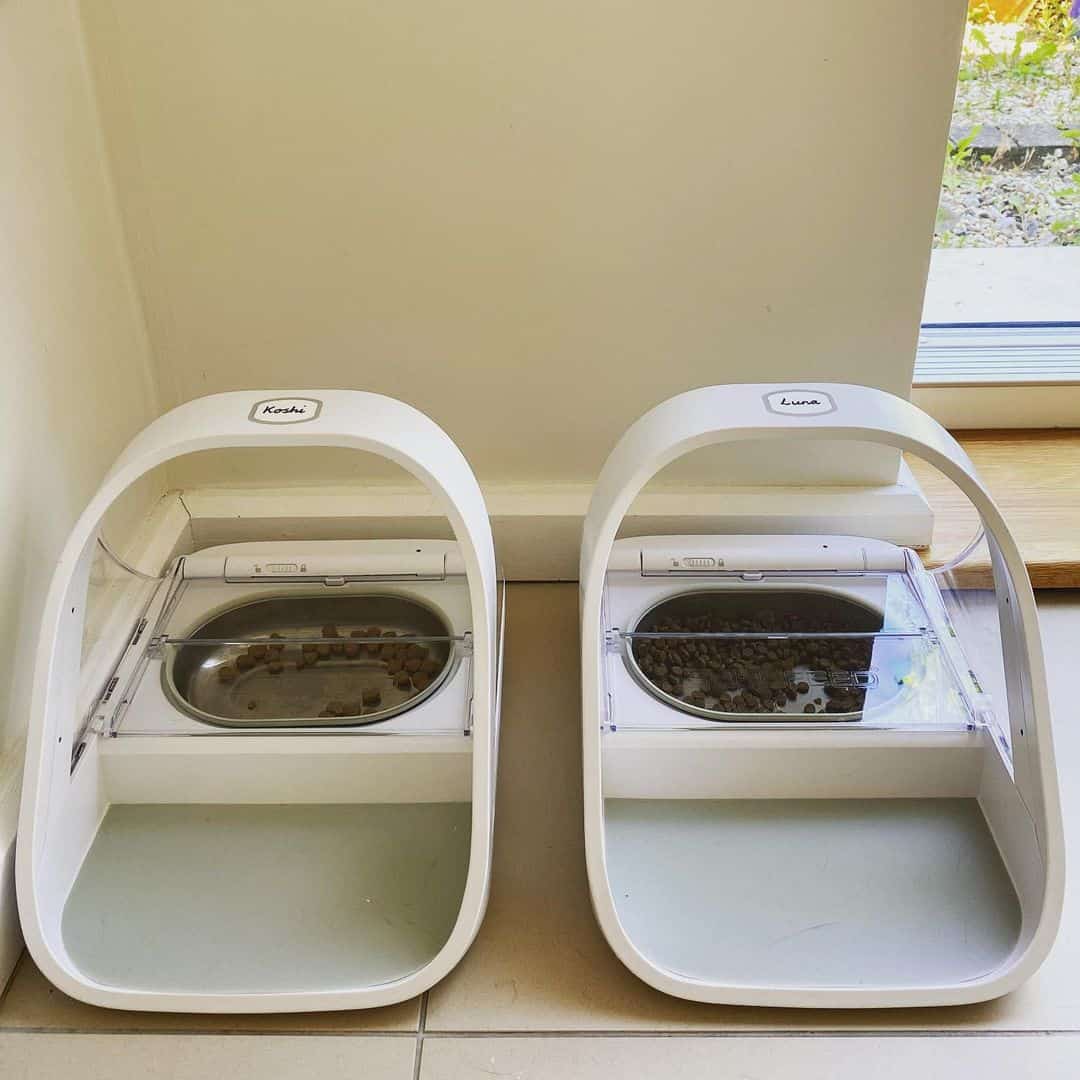 I have to say before I bought one I thought it wouldn't be enough for my six cats. However, I was wrong. You can put more than 30 pets into its program, and once you put in the info for your pets, you're all set.
I didn't have a problem with this, but if you have two or more pets, and all of them are on a different diet, then that could be a problem. Or if your cats are greedy or prone to aggressive behavior during feeding time, this might be an issue.
However, my cats are well-behaved, and they're not greedy, plus I spend a lot of time at home so I don't have problems keeping up with their feeding schedule.
A microchip feeder is a great thing to own and I believe anyone can afford it if they have one cat. Having multiple cats is a different story, since it isn't cheap, and buying each cat its own feeder is quite an investment.
Anywho, if you're thinking about getting a SureFeed Microchip Pet Feeder, I hope you learn from my experience.
How Does It Work?
First, you program your cat's microchip on it; you'll see there are only three buttons and you press the middle one to do it. Once you press it, your cat's microchip is stored in the feeder.
Then whenever your cat is in front of the lid, it opens and your cat can eat. When your cat leaves, the lid closes and remains that way.
The food stays fresh and other pets, whose microchips you haven't stored in the feeder's memory, can't steal any of it.
Some cats might be afraid of the lid movement at first so be sure to introduce your cat to the feeder slowly and gradually. Once your cat gets used to it, it will all go smoothly.
Why Did I Buy It?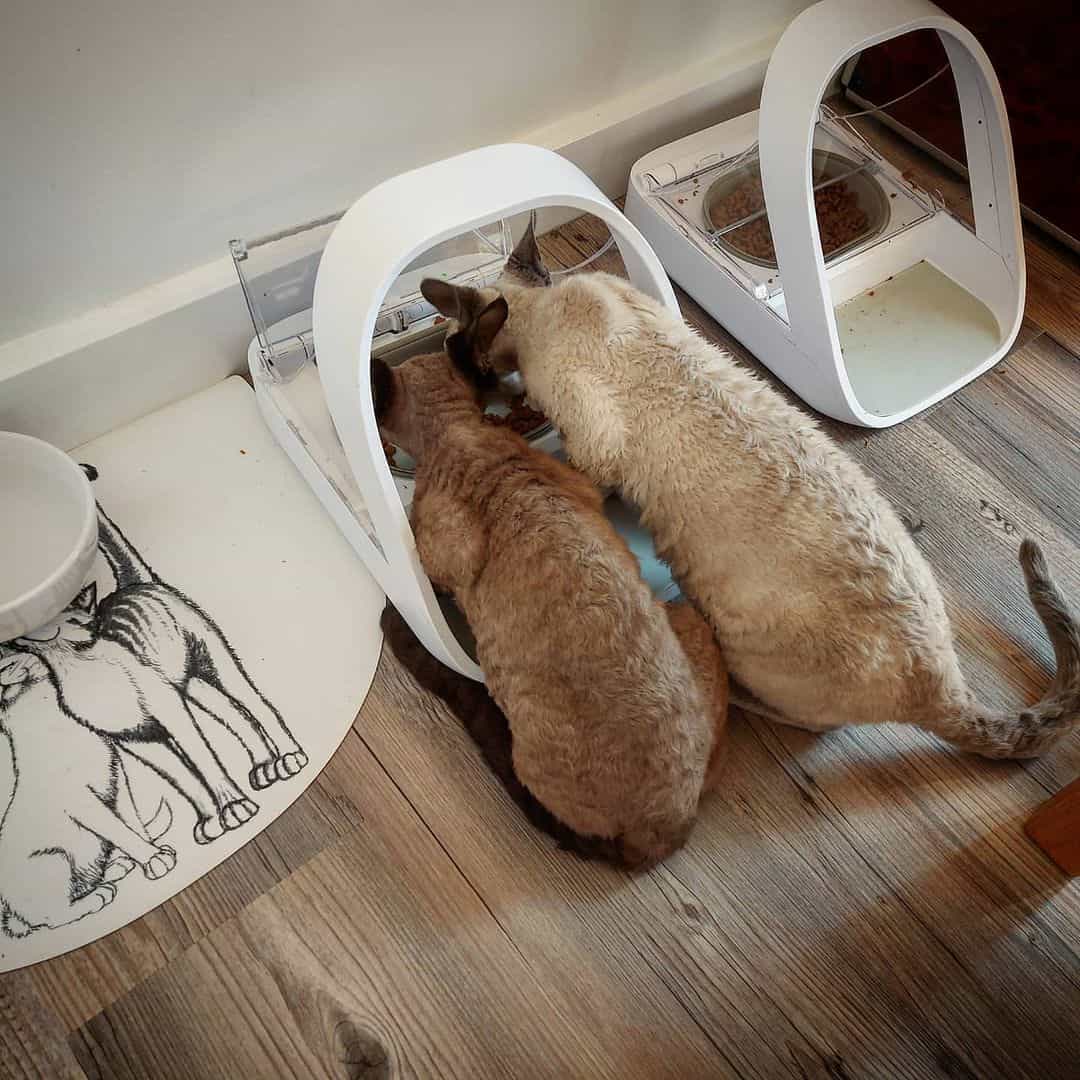 I honestly bought it just to give it a try, and to take a, let's say, precautionary measure if I ever have to spend many hours out of the house. However, once I set it up, I discovered it is a true blessing.
However, my positive experience with this feeder is solely due to my well-behaved cats. They don't mind sharing their food, but what was even better is that two of my cats didn't want to eat from it, but rather stuck to their original food bowls.
This made the task easier because four cats on one feeder seemed like a good idea. They all have their own food bowl, but they still use the automatic feeder. I keep watch, and their feeder is programmed to keep up with the schedule of all cats.
So when I give my cats their meal in their bowls, my cats who eat from the feeder go to eat there. If they all want to eat at the same time, only two of them eat from the feeder and the rest get their meal in their bowls.
It might sound complicated, but it really isn't. If you have only one cat, you won't have any problems, since you basically don't even need to think about your cat's meals during the day.
I've found that many owners bought this feeder because their pets would steal food from each other, and with an automatic feeder they found a solution. Every pet has its own schedule and no one can steal its food.
A lot of cat owners simply don't want to keep watch over their cats while they eat every meal of the day. I understand this completely! You can be relaxed knowing that the feeder will do its job and that your cat won't skip a meal.
There are some owners who can afford to buy each pet its own microchip feeder. I have a friend who owns two cats, and he bought them each a feeder. He works long hours and just feels better knowing his cats won't skip a meal, even when he's not home.
Again, if I had some issues regarding feeding time and my beloved cats, I would do my best to provide them with their own feeders, but luckily I don't. I wouldn't even know where to put all of them, lol.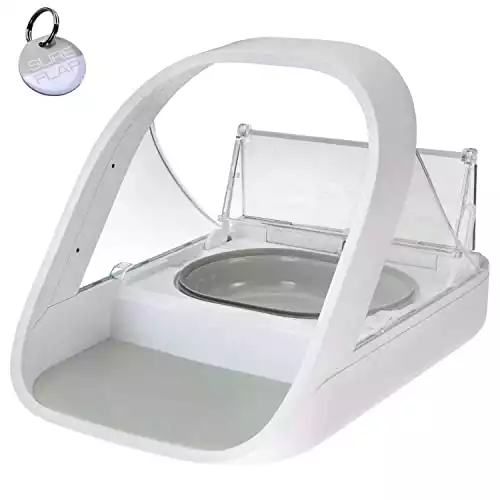 Many cat owners are more than satisfied with this product, saying that it helped with their cat's diet issues or with the problem of food stealing between pets. You don't want your cat to become a thief!
All jokes aside, I really like how technology just keeps thriving in different areas, including our pets' necessities. This SureFeed Microchip Feeder is great for multi-pet households, pets' malnutrition, or any type of weight management.
This automatic feeder is made of durable plastic, it's 8 inches wide and about 12 inches tall.
What's Good About It?
When I first heard about this cat feeder, I thought it cannot possibly work as the description says. It just sounded impossible. However, after I got it, I immediately saw that it looks like good quality. I simply put my cats' microchips in, and it really worked.
It took a couple of days of training my cats how to approach and use it. They weren't exactly scared, they just approached it slowly and tried to understand what this new thing in our house was. Now this feeder is a part of their everyday life.
I was worried, of course, and the first thing that came to my mind was that the lid would close on my cat's neck. As awful as that sounds, that was my first thought, but luckily that did not happen. The feeder works very well!
Another thing that is great about this product is that it comes with a three-year warranty. I'm still in my first year, but so far so good.
What's Not So Good About It?
The main disadvantage of the SureFeed Microchip Cat Feeder is that the height of the arch might not be suitable for large cats. My cats aren't small either, but I feel like a Maine Coon might need to bend down quite a bit to eat out of this feeder.
Another thing is the bowl. This might not be a problem for most pet owners, but I prefer stainless steel bowls for my cats' food and water, and this feeder comes with a plastic bowl.
Final Thoughts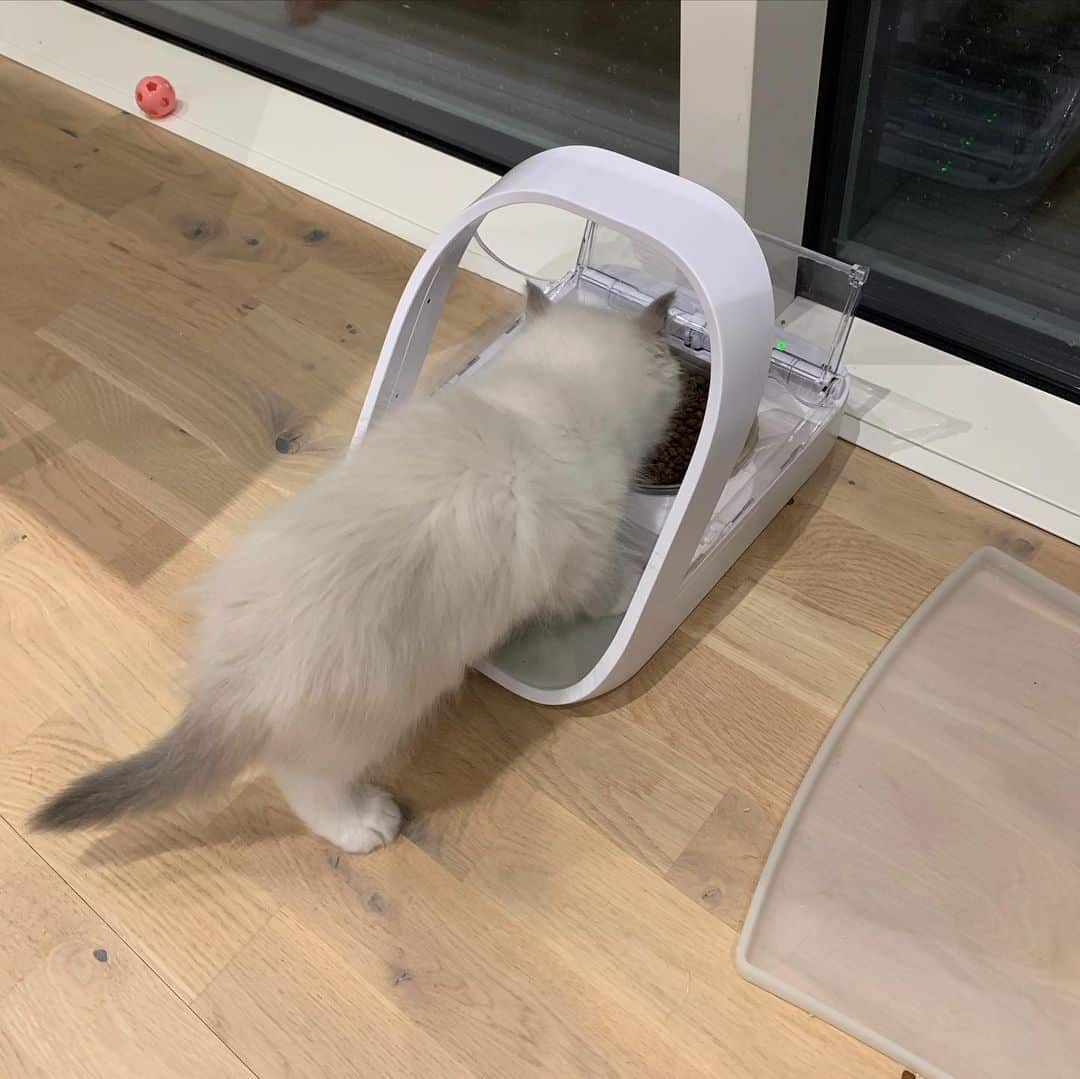 To sum up, I believe that this microchip cat feeder has more pros than cons, and I would recommend it to all owners who are having trouble with their pets stealing each other's food.
Pros:
• Keeps pets healthy
• Stops pets from stealing each other's food
• Helps with weight control
• Lowers the stress
• No more overfeeding
• Made from durable material
Cons:
• Plastic food bowl
• Battery-operated
• Might be too low for large cat breeds
All in all, the SureFeed Microchip Pet Feeder will surely help your cats manage their weight and lead a more healthy life, so I think it's definitely worth the money!
Related Articles:
• 3 Top Cat Feeders With Collar Sensor + Alternative Options
• Applaws Cat Food Review Of The Brand And Top Products