This post contains affiliate links, and I will be compensated if you make a purchase after clicking on my links, at no extra cost to you.
Some cat parents warn not to feed your cat Iams food, while others claim that it's completely okay.
This is why I decided to test several products from this cat food brand to write my reviews and, of course, rate them.
Cats need high-quality food that will provide them with the necessary nutrients, and it must contain real meat and animal protein.
The reason why most cat parents avoid this food brand is that Iams is a below-average dry cat food brand, from which it can be concluded that it doesn't contain high-quality ingredients, especially not nutritive ones.
So, keep reading the Iams cat food review and find out if Iams is good for cats, and if not, why?
About The Iams Cat Food Brand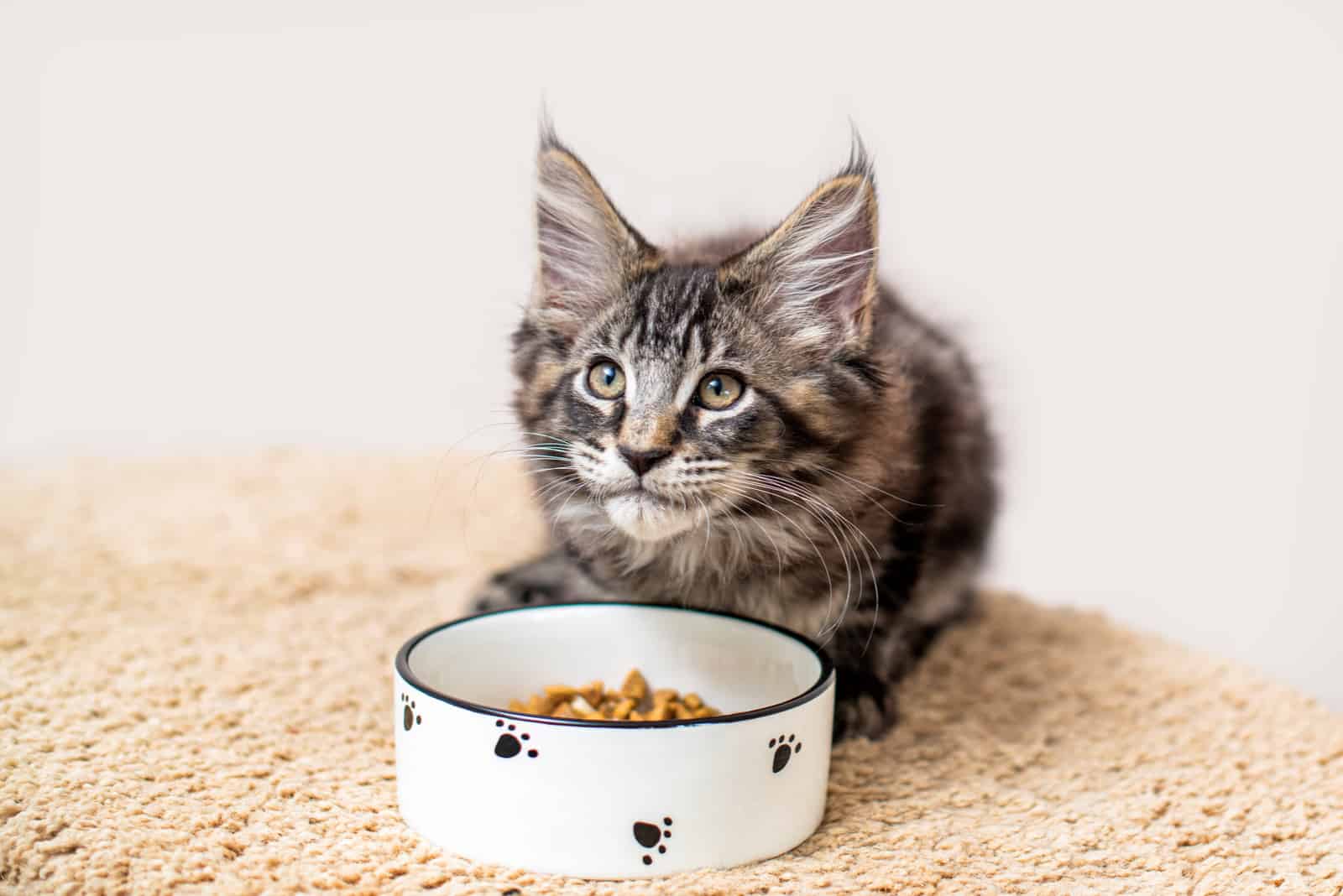 Iams is a pet food company which was founded by animal nutritionist Paul Iams. It is owned by Mars Inc. from Europe and manufactured by Spectrum brands.
The company started by producing high-protein dog food, and later it produced the first dry dog food, which was based on animal protein. Later on, they expanded their production to cat food as well.
Procter & Gamble (P&G) purchased the business in 1999, enabling Iams cat food to be offered in 70 different nations.
Iams, Eukanuba, and Natura were sold back to Mars Inc. in the spring of 2014, with P&G keeping ownership of the products offered on the European market.
Manufacturing
Iams pet food in Europe is manufactured in the Netherlands, while the rest of the food is manufactured in the United States, precisely in manufacturing facilities in Ohio, Nebraska.
According to the Iams food brand, the safety standards of their food are very strict. Moreover, they receive good results and certifications for the human food industry.
How much of that is true, we don't really know; Iams has never said where their ingredients are sourced etc. Let's read on to find out more!
Recalling Issues
Unfortunately, the Iams pet food brand has been recalled several times since the 1940s, the year of its founding. That may also be the reason why people started avoiding this food brand. Now, let's take a look at the reasons for these recalls.
• 2007 – it's possible that Iams was sourcing ingredients for the pet food products from China, just like many other pet food brands did. That was the year of their first recall due to the possible melamine contamination of their cat and dog food products.
• 2010 – this year was the year of a lot of issues. Iams canned cat and kitten food were recalled due to low levels of thiamine.
The same year, another feline formula was also recalled because potential salmonella contamination was discovered in the product.
• 2011 – the next year, the situation was not any better. So, even in 2011, Iams had recalling issues. Iams ProActive Health dry dog food was recalled due to aflatoxin mold contamination.
• 2013 – after a short pause, Iams was recalled again. Several Iams dog food products were recalled due to possible mold growth and salmonella contamination.
Iams Cat Food Brand – My Rating & Review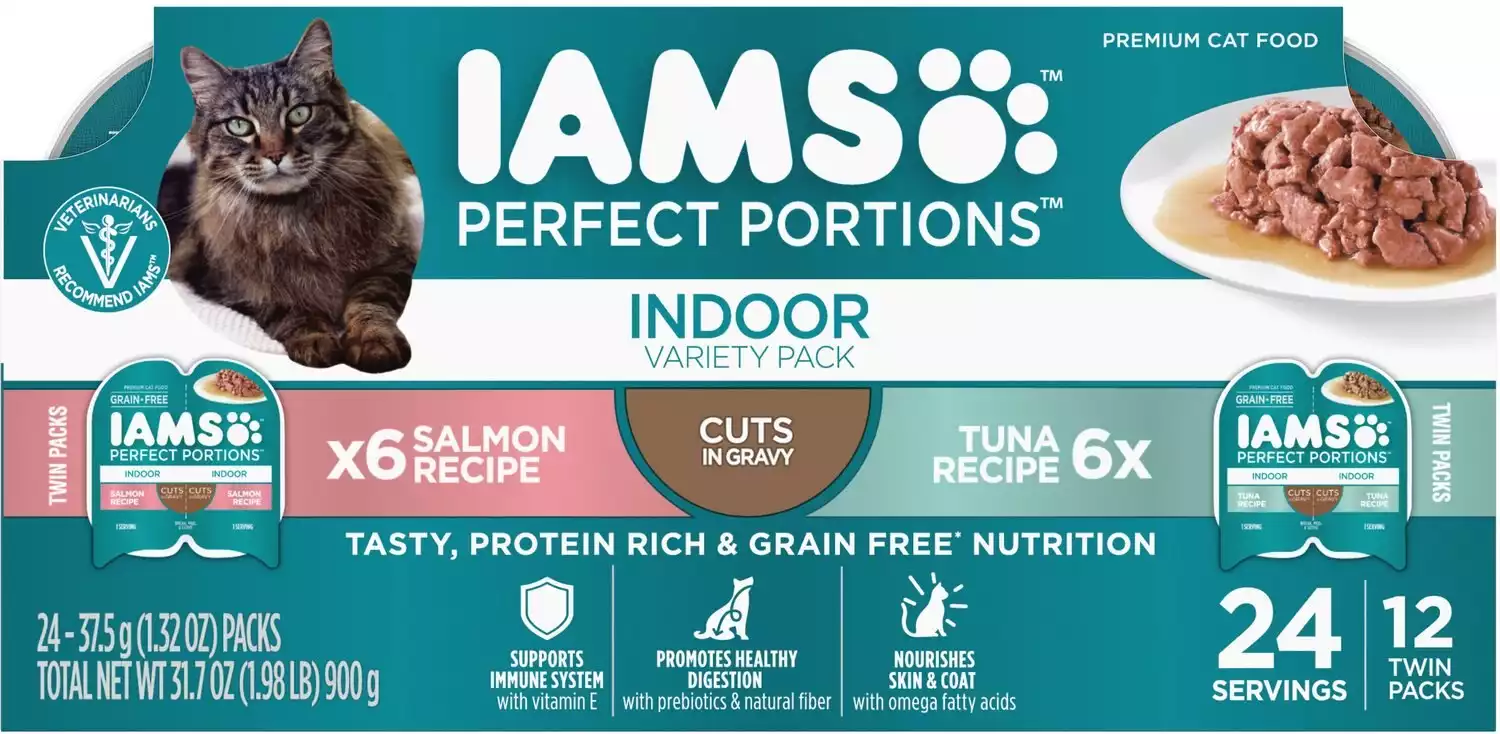 The Review
This is a wet cat food by Iams that is based on tuna, which means that fish is the main protein source of the food. The tuna itself isn't bad for our furry friends; however, the problem is that this product contains canned fish food, where the tuna is put in the sauce.
The sauce of this food contains carrageenan, guar gum, and modified tapioca starch. That's not the healthiest for cats because they're obligate carnivores, meaning that they cannot benefit from such ingredients.
Moreover, it's possible that carrageenan can cause inflammation and similar issues, so you don't want to risk it.
So, in the end, this food is high in protein, and it also has a low-fat amount and a decent carbohydrate content.
Still, I wouldn't recommend using fishy canned food as long-term cat food, especially with useless ingredients.
| Pros | Cons |
| --- | --- |
| High in moisture | High carbohydrate level |
| No animal by-products | Contains carrageenan |
| Rich in vitamins | Contains sunflower oil |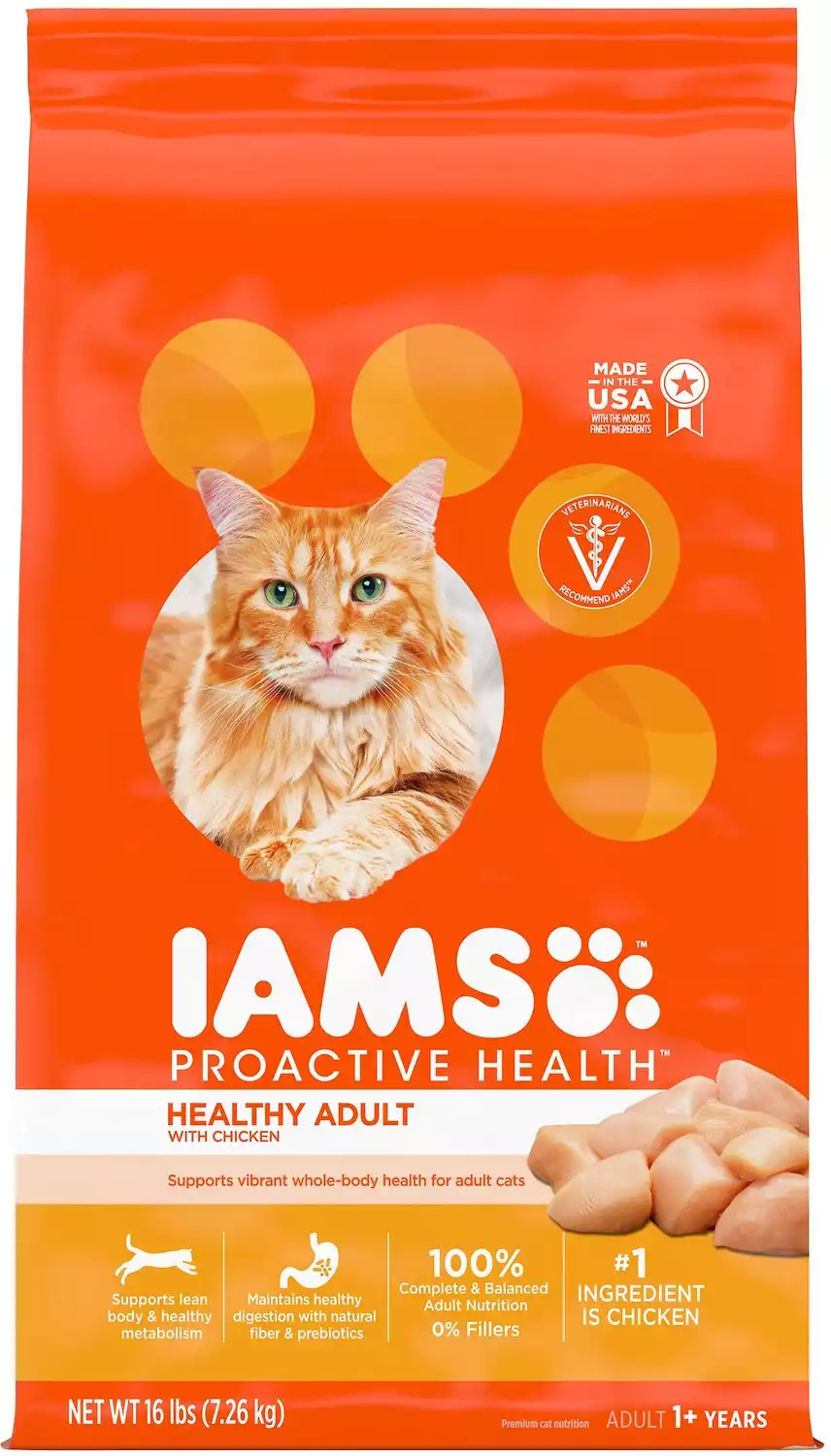 The Review
This Iams product is intended for healthy adult cats. The main ingredient of this dry food is chicken meat and chicken by-products. Besides that, the food also contains animal fats, including chicken fat.
In order to provide cats with healthy skin and nice coats, this food also contains fish oil as a natural source of omega-3 and omega-6 fatty acids.
However, the bad thing is that along with all of this, this dry food also contains grains, such as corn gluten meal, whole grain corn, and similar ones, which aren't beneficial for our kitties.
So, this food contains a decent amount of protein, but it's high in carbs, and the thing I don't like in this product at all is grain products as well as caramel color, which may even be cancerous.
| Pros | Cons |
| --- | --- |
| Contains omega-3 fatty acids | Contains high carbohydrate levels |
| Contains animal-sourced fats | Contains caramel color |
| Contains chicken and turkey meat | |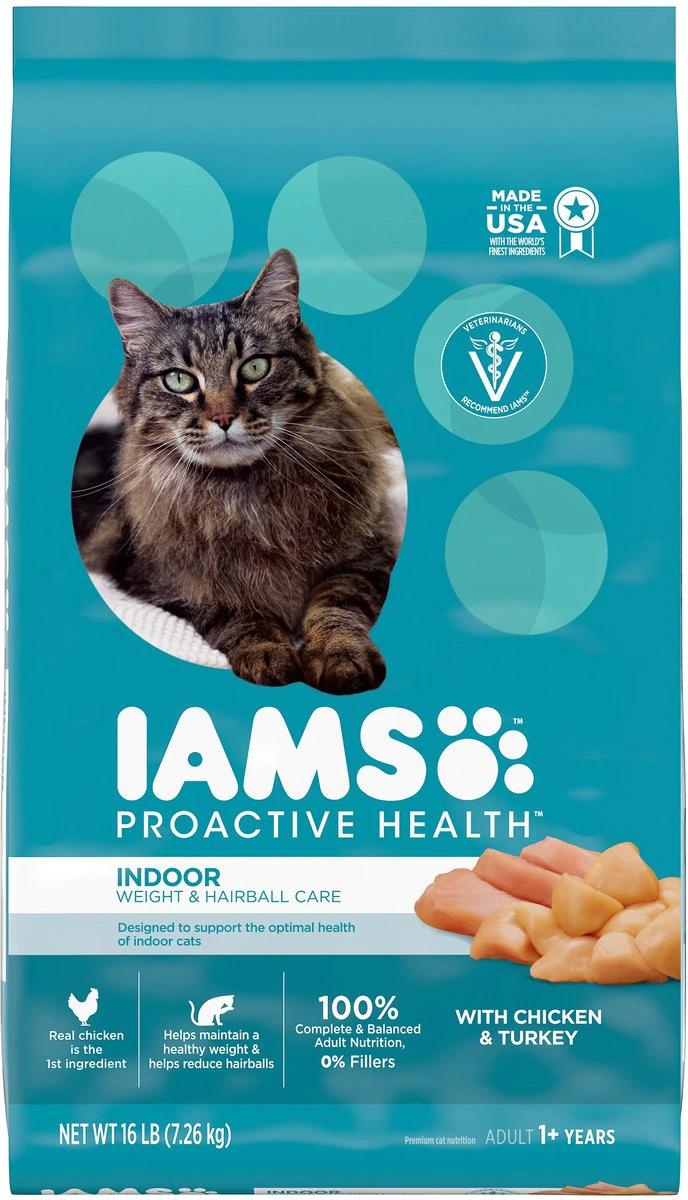 The Review
If you're looking for top-quality cat food which is rich in the necessary nutrients, then this product is definitely not what you're looking for.
This indoor cat food is formulated for weight control of indoor cats and for hairball control. The main ingredient of this product is chicken meat and chicken by-product meal.
What's good about this food is that it has a low-calorie level and it's rich in fiber, which justifies the formula of the food because these ingredients actually help with hairball and weight control.
Unfortunately, what's bad about this product is that it contains chicken by-products and different types of grains such as corn gluten, whole grain, corn grits, and similar ingredients, which aren't the best choice for our feline friend's digestive system.
Additionally, it contains a caramel color which is a big no when it comes to pet food. The main reason for that is that it may contain contaminants that may be cancerous.
Still, the brand tries to justify itself with the ingredients such as fish oil as a natural source of omega-3 fatty acids, as well as traces of healthy vegetables and fruits.
All in all, the weight and hairball formula of this cat food isn't that bad, but still, I would avoid this product because of the plant ingredients, the caramel color, and similar low-quality ingredients.
| Pros | Cons |
| --- | --- |
| Contains fish oil | High amount of carbohydrates |
| Contains chicken and turkey meat | Contains animal by-products |
| Rich in vitamins | Not grain-free |
| | Contains caramel color |
| | Contains low-quality plant ingredients |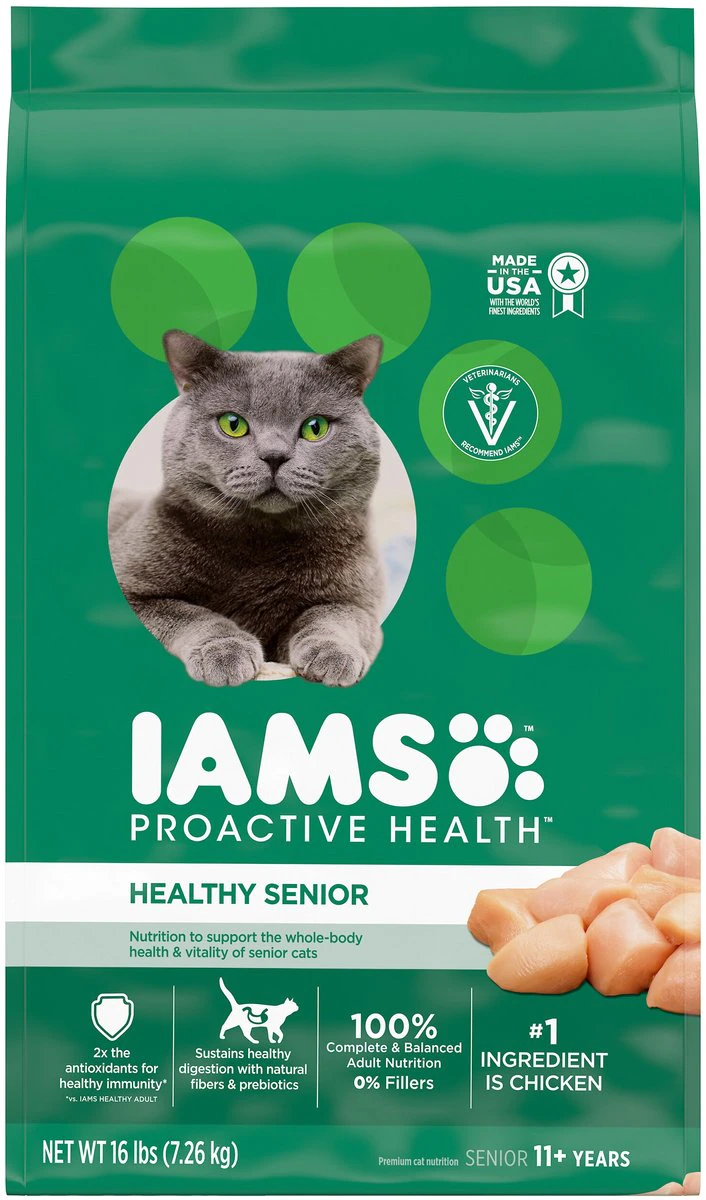 The Review
This ProActive Health Healthy Senior Dry Mature Cat Food by Iams is somewhat better than the previously mentioned products, but it's still not the best.
I fed my cats this food, and the results were surprisingly different. A few cats ate it, and they seemed fine and satisfied. However, one cat had minor digestion issues, even though the food contains fiber and antioxidants for better digestion.
The rest of the cats didn't even want to smell the food. So, I would say that whether your kitty will love it or not depends on the individual cat and its preferences.
As far as the product is concerned, the list of ingredients seems way better than with the previously reviewed products. This dry food for senior cats is rich in nutritive ingredients, including vitamins and minerals.
Moreover, it also contains a formula for weight management because the food is made with L-carnitine. This is good because many adult cats struggle to maintain a healthy weight. Of course, the main ingredient is chicken meat which most cats like best.
Still, this food contains chicken by-products that aren't very nutritious or necessary for our feline friend as well as a few grains.
According to some customers, opinions about this food are, again, divided. Some pet owners say that the food type is completely okay and that their cats love it, while some other cat parents say that their kitties didn't want to eat the food or that they had digestive issues after consuming it.
| Pros | Cons |
| --- | --- |
| Nutritive dry food designed for senior cats | High amount of chicken by-products |
| The main ingredient is chicken meat | Some cats don't like the food |
| Contains antioxidants and fiber | |
| Improves digestion | |
| Rich in crude protein | |
| Weight management formula | |
| Rich in vitamins | |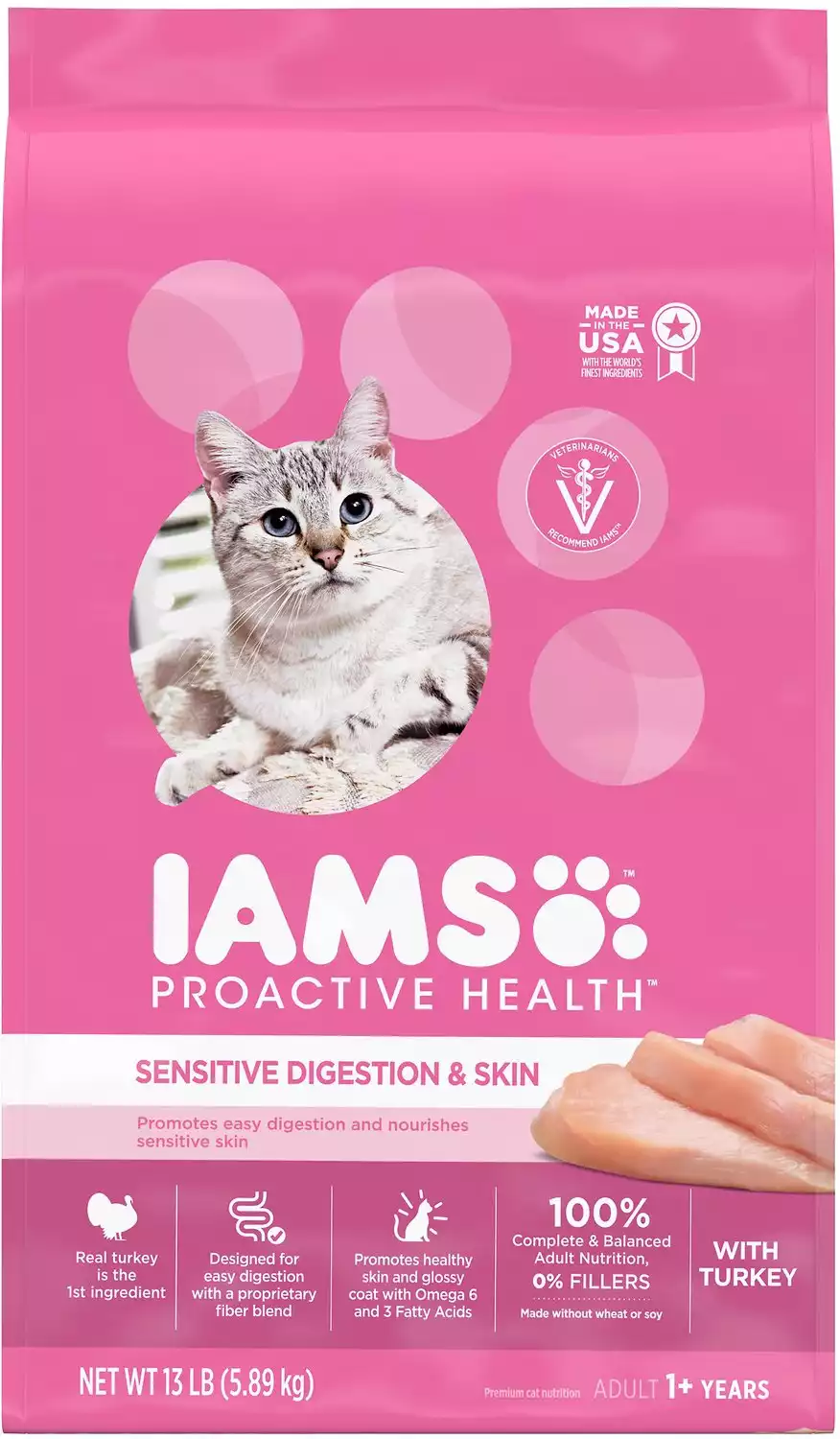 The Review
I haven't tested this food with my cats, but my friend and several other colleagues did, and they were shocked. This food turned out great for their cats, who loved it. This type of food is designed for cats with sensitive digestion and dry skin.
Therefore, the food contains turkey meat as the main ingredient, a high amount of fiber, including vitamins, minerals, and antioxidants that will help cats with easier digestion.
The food is rich in fish oil and omega fatty acids that are proven to be good for the cat's skin and coat.
So, considering the intention, the food turned out great. When you check the reviews, most of them are positive, with a minimal number of cats who experienced some issues after consuming this food.
Still, I found out that this product contains grains, chicken by-products, preservatives, and the color caramel which I personally try to avoid when buying the healthiest food for my furry friends.
| Pros | Cons |
| --- | --- |
| Contains omega-3 and omega-6 fatty acids | Contains caramel color |
| Suitable for cats of all ages and size | Not grain-free |
| The main ingredient is turkey meat | Contains preservatives |
| It helps in maintaining the cat's skin and coat | Contains chicken by-products |
| Rich in fiber | |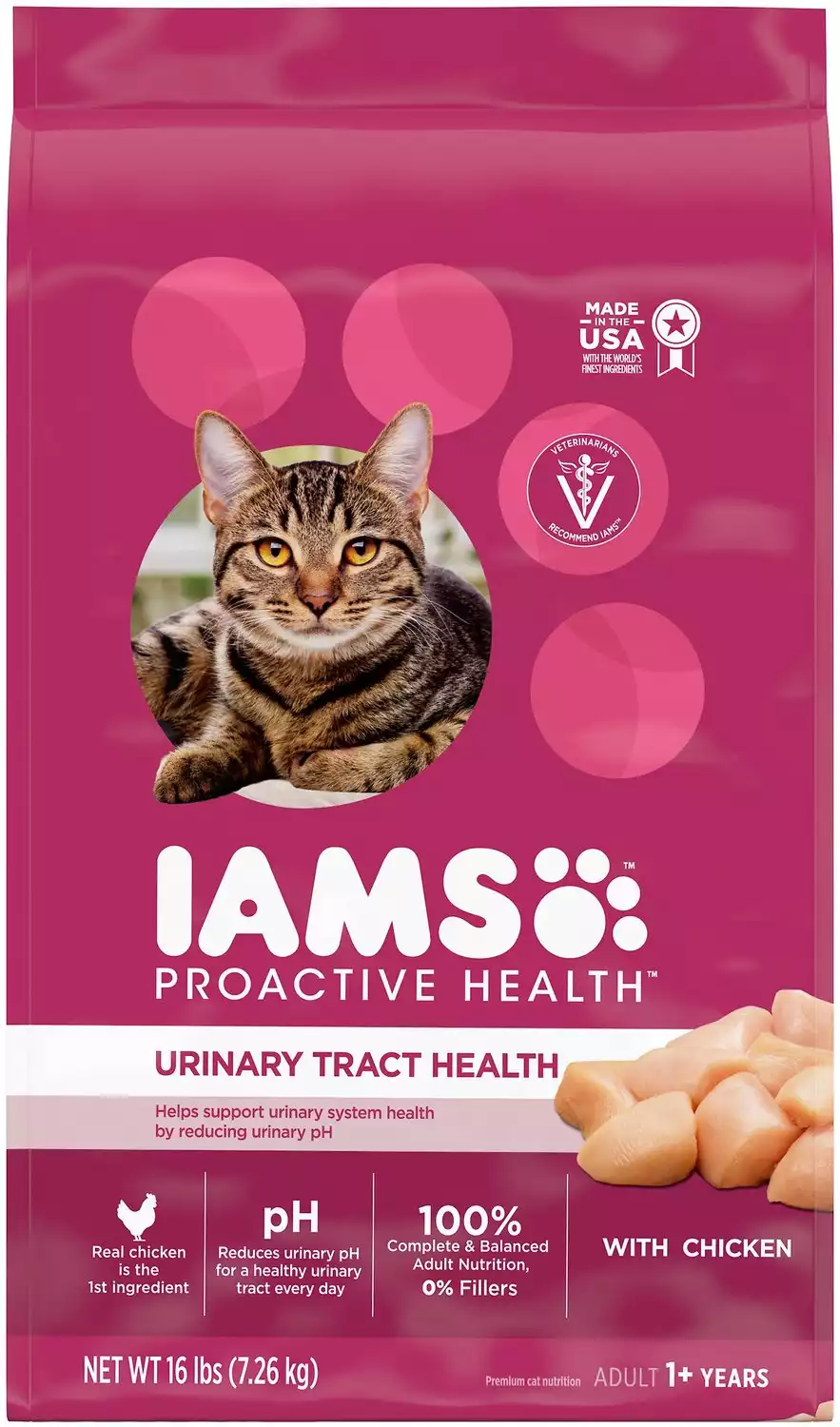 The Review
Despite several bad ingredients that these dry kibbles contain, they still turned out okay and are helpful for many cats dealing with urinary tract issues.
These kibbles contain chicken meat as the first ingredient, but they also contain unnecessary chicken by-products. Moreover, the food is rich in fiber and prebiotics, which prevent digestive issues in cats.
The food is formulated to reduce urinary pH and keep the cat's urinary system healthy. It's also rich in vitamins and minerals as well as in ingredients that improve the cat's skin and coat condition.
Many cat owners say that their pet cats adore this food and that it helps their cats with urinary issues. Additionally, some use this food as a preventative, especially if their cats are prone to such issues.
Still, I'm not sure whether I would use this food for my cats or not, mostly because of the ingredients, such as grains, preservatives, and similar ones that are not healthy for cats.
| Pros | Cons |
| --- | --- |
| Contains natural fiber and prebiotics | Contains preservatives |
| Contains potassium which is good for a healthy heart | Contains chicken by-products |
| Reduce urinary pH | Contains grains |
| Contains fatty acids | |
| The main ingredient is chicken meat | |
| Rich in vitamins and minerals | |
Should You Avoid Iams Cat Food?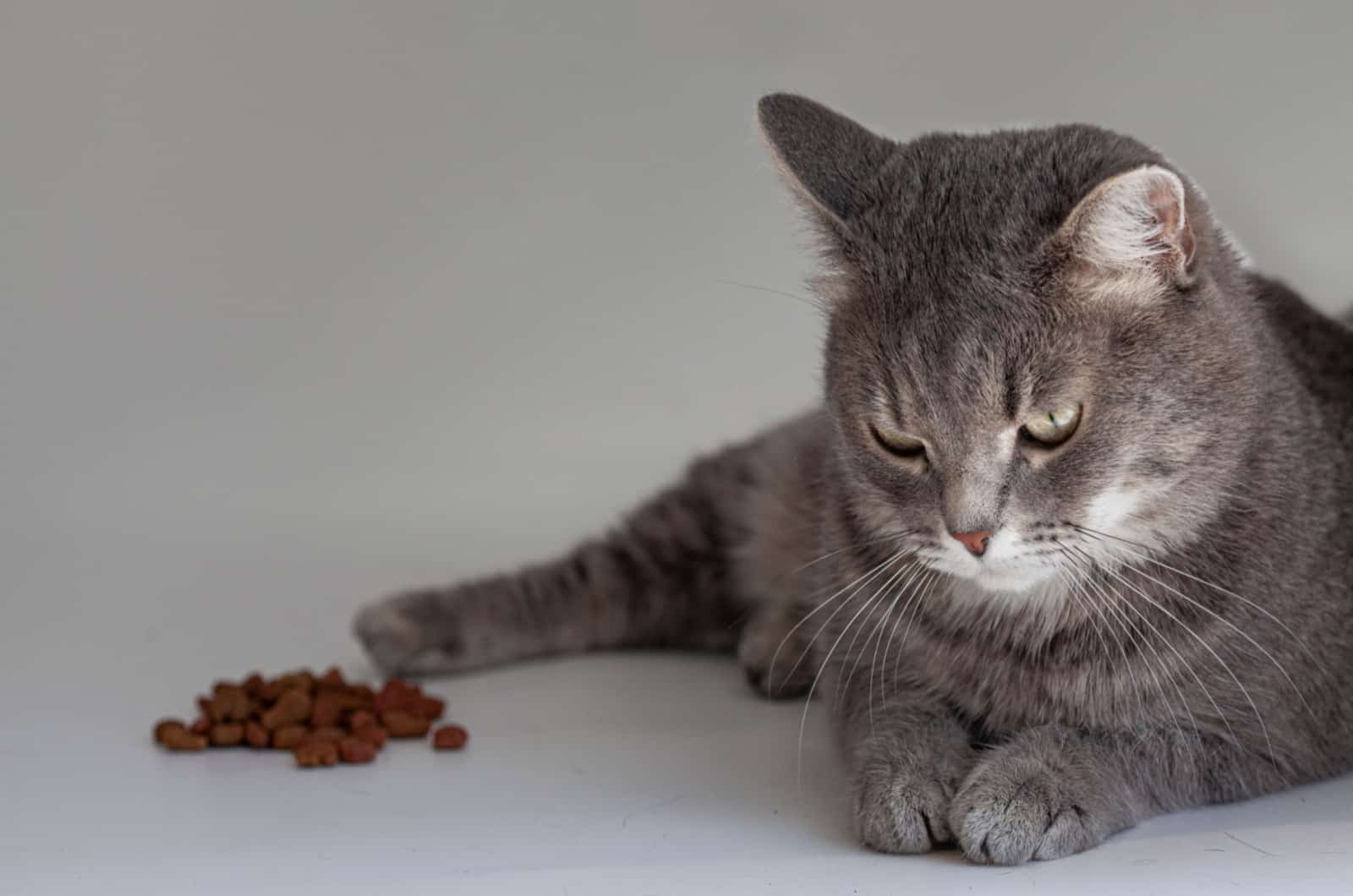 There's a great debate about whether you should feed your cats Iams Cat Food and similar cheaper products or not.
Well, some veterinarians, experts, and animal nutritionists claim that you shouldn't feed your cat Iams and other cheap cat food, especially cats with health issues, because the price says it all.
The reason why such brands offer cheaper cat food is that they use fillers and cheap, low-quality ingredients to save some money.
These fillers are not necessary for our cats, nor are they safe because most of them contain grains, and our feline friends are obligate carnivores which means that they need real meat and animal protein in their diet.
Furthermore, many Iams products contain animal by-products which cats cannot benefit from; therefore, they don't need it in their diet.
Still, some Iams products have a good ingredient list. Such products usually contain omega fatty acids, calcium, potassium, vitamin E, minerals, taurine, and fish oil. Besides that, some types of food are rich in fiber and prebiotics, allowing cats to have normal digestion.
So, all in all, Iams food is affordable but is it worth risking your cat's health? I don't think so.
Food types such as these specially formulated for urinary issues or digestion turned out to be good in the end because they contain more quality ingredients. Whether you'll feed your cat Iams food or not depends on you, your cat's preferences, and your budget.
If you can afford high-quality food, and if you want to make sure that your cat is provided with all the necessary nutrients, then I suggest you avoid this pet food brand.
Wrapping It Up
Now you have read this article, what is your opinion on all of this? Is Iams good for cats?
I think that this is the best budget cat food that you can find almost anywhere, from the grocery store to the pet supply store.
Whether this is the best cat food and healthiest choice for your feline friend depends on the ingredients of the food product.
So, if you want to provide your feline friend with top-quality food, then you should look for quality ingredients and avoid those that don't have any nutritional value for cats.
In that case, you should invest money in buying brands such as Royal Canin, Purina, Blue Buffalo, and similar ones.
Still, if your cat seems fine with Iams products, no one can forbid you to buy them, but remember that most Iams products contain bad ingredients which your kitty cannot benefit from.
Related Articles
• Best Cat Food For Older Cats That Vomit: Top 18 Choices (2023)
• Smalls Cat Food Review – Pros, Cons, and Product Recommendations
• Unbiased Opinion On Cat Food Nulo – Review Of Top 5 Products